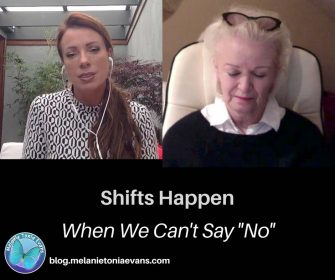 This Shifts Happen episode with Elizavetta is on a very important topic … The trauma that happens in our Life when we can't say "No". As a NARP Member, Elizavetta was stuck on trying to shift out the deep inner reasons why this was playing out in her Life. And, in this session I share an advanced technique that will help people working with Quanta Freedom Healing dislodge and shift big stuck survival programs that we can't seem to let go of. It was such a joy to see Elizavetta break through! If you know you struggle with saying "No" … watching and participating with this episode may be just what you need. (more…)
This Shifts Happen episode with Elizavetta is on a very important topic …
The trauma that happens in our Life when we can't say "No".
As a NARP Member, Elizavetta was stuck on trying to shift out the deep inner reasons why this was playing out in her Life.
And, in this session I share an advanced technique that will help people working with Quanta Freedom Healing dislodge and shift big stuck survival programs that we can't seem to let go of.
It was such a joy to see Elizavetta break through!
If you know you struggle with saying "No" … watching and participating with this episode may be just what you need.