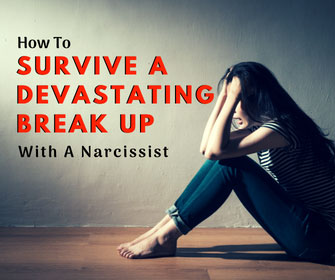 We all know what it is like … We are reeling, and can barely breathe … let alone get up, get on with it, recover and re-start our life. Trying to survive a breakup with a pathological abuser – meaning get away, stay away and heal after being in a relationship is one of the toughest things we will ever do. Why? Because we are hooked in and deeply traumatised. We feel helpless because of trauma-bonding and survival programs activated within us, that make us believe we can't live without this person. (more…)
We all know what it is like …
We are reeling, and can barely breathe … let alone get up, get on with it, recover and re-start our life.
Trying to survive a breakup with a pathological abuser – meaning get away, stay away and heal after being in a relationship is one of the toughest things we will ever do.
Why?
Because we are hooked in and deeply traumatised.
We feel helpless because of trauma-bonding and survival programs activated within us, that make us believe we can't live without this person.