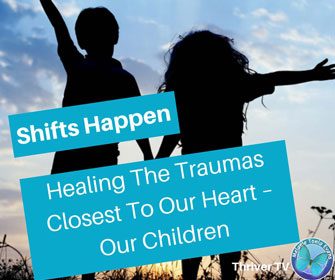 I can't tell you how excited I am for today's Shifts Happen Episode!
If you caught last week's episode, you would have seen how Devon and I did a Quanta Freedom Healing together – in relation to her trauma regarding her son's anxieties.
The following is so vital about this 2-part series … As I stated last week, this is the topic within Narcissistic Abuse Recovery that I am the MOST passionate about.
I am motivated beyond measure to find a way for us, as adults, to lead the way – to create a template of Inner wellbeing and health, Unity Consciousness, soul and emotional intelligence and personal power for our children.
To put an END to the scourge of abuse / abused that has traumatised humanity for so long.
Because it is only then that ourselves, our children and their future generations will no longer be torn apart.
Our focus has been on the wrong place all along, "Change them!" … and when we take our power back and create radical DNA change at the only level we can – ourselves – then miracles beyond our wildest dreams start to emerge.
Such is the case ALWAYS, that I have seen when parents do the Quantum Work inside their own bodies regarding their children.
Which is the exact process that myself and Devon demonstrate for you in this Shifts Happen 2-Part series.
But before I invite you to join in on this session with Devon and myself, there are so very important pre-requisites to understand.
You have worked solidly on your own Inner Self programs and traumas with Quanta Freedom Healing (The NARP Program) before attempting to work on your children's wounds through your body.
You have asked and received your Child's Higher Self permission before commencing. (You can muscle test for the answer, or trust your intuitive answer when you ask for permission.)
WARNING: Don't try to work on ANY narcissistic individual by proxy to heal their wounds. The only way to heal you and even potentially them (if that could ever unfold) is to work on healing your own wounds in regard to them ONLY. By connecting your own energy with a dark soul you are at serious risk of a psychic and spiritual breakdown.
Ok so now that's out of the way … in this episode you will discover exactly HOW to use your own Inner Being as proxy in order to create Radical Instant Healing for your children …. in ways that simply cannot be created by trying to change your child.
The Results For Devon's Son
Since Devon and I worked on these two sessions together …  1) working on Devon's traumas that were connected to the fears about her son, and 2) working on Devon's son directly whilst using her body as proxy or him … there have been amazing and instant shifts for her son.
(Please note apart from our sessions together Devon, has also done extensive work herself with The NARP Program during these two weeks to take these two sessions through to even greater completion.)
This is what Devon reported back to me two days ago …
"I'm completely blown away, even after dozens of incredible 'miracles' with my own NARP journey. I just feel like a totally different person… I'm astounded that it happened a week ago as it feels like such old stuff that I'm writing about now.
I'll just go ahead with dot points …
Immediately after the session and continuing to now he has started sleeping 11-11.5 hours at night instead of his standard 9.5-10.5 hours.
He has decided to sleep in his own bed and has gone to sleep there each night since the shift. We've co-slept for many reasons including 9 house moves in 3 years and 3 months of homelessness.
He's usually taken 1 hour to fall asleep (after books, massage, song and lights out) since the shift he takes less than 10 minutes.
The sleep disruption thing has been such a massive fixture in my life and now its gone. I've had 7 evenings to myself now in a row, words could not do justice to the feeling!
Oh my and the biggest one is that he's stopped wetting the bed. He's been out of nappies day and night for 18 months.  Just before his third birthday, he started wetting the bed on the nights after visitation.  A few weeks later he was wetting the bed every single night, so was for about 2 months. This week, since the shift, he's been dry every night.
His laughter has increased dramatically.
Today I had a phone call from the hospital regarding a referral for 1) his anxiety and 2) support for court. The referral was made in October last year and I had not heard from them since.
There was some 'incident' at a house neighbouring to the arranged changeover place and there has been a massive police presence (four visible police cars and others coming and going) for the last three changeovers. I don't know why/if this is relevant but it just felt like part of it. I know the narc was/is totally peeved by police and that my child and I have felt protected in their presence.
My child has to attend a weekly community group with the N where the adults and children are separated for over an hour. My child reports to me each week that he hates being away and often cries but gets ignored.  On Sunday there was some construction going on in the main hall and the whole group had to stay together in the one room throughout the program, my child came home delighted!
I've been marvelling all week at the changes and I know there's many more.  I'll write again as they pop up.  Much love to you Mel and THANK YOU!!!! a thousand times thank you xoxoxoxoxoxoxxo "
I can't be more thrilled for Devon and her son!
Humbly, Quanta Freedom Healing and NARP continues to inspire me beyond measure regarding how powerfully we can change ourselves and our children's lives when we do the work where it really needs to be done …
Inside of ourselves.
And … it is my greatest desire that this 2-part Shifts Happen episode has given you SO MUCH hope that you do have the power to heal your own and your children's and future generation's lives – regardless of narcissists.
Please know, if you have any questions about this work, both Devon and I would love to answer you personally.
(Visited 3,510 times, 2 visits today)
The following two tabs change content below.

Melanie Tonia Evans
is an international narcissistic abuse recovery expert. She is an author, radio host, and founder of Quanta Freedom Healing and The Narcissistic Abuse Recovery Program. Melanie's healing and teaching methods have liberated thousands of people from the effects of narcissistic abuse world-wide.

Latest posts by Melanie Tonia Evans (see all)