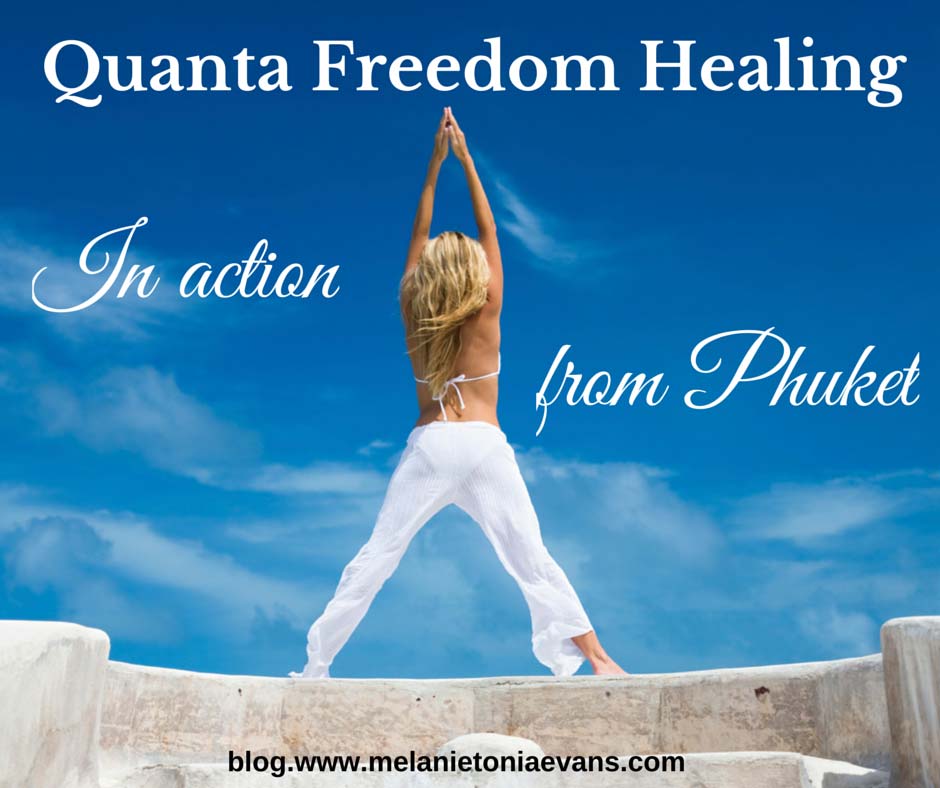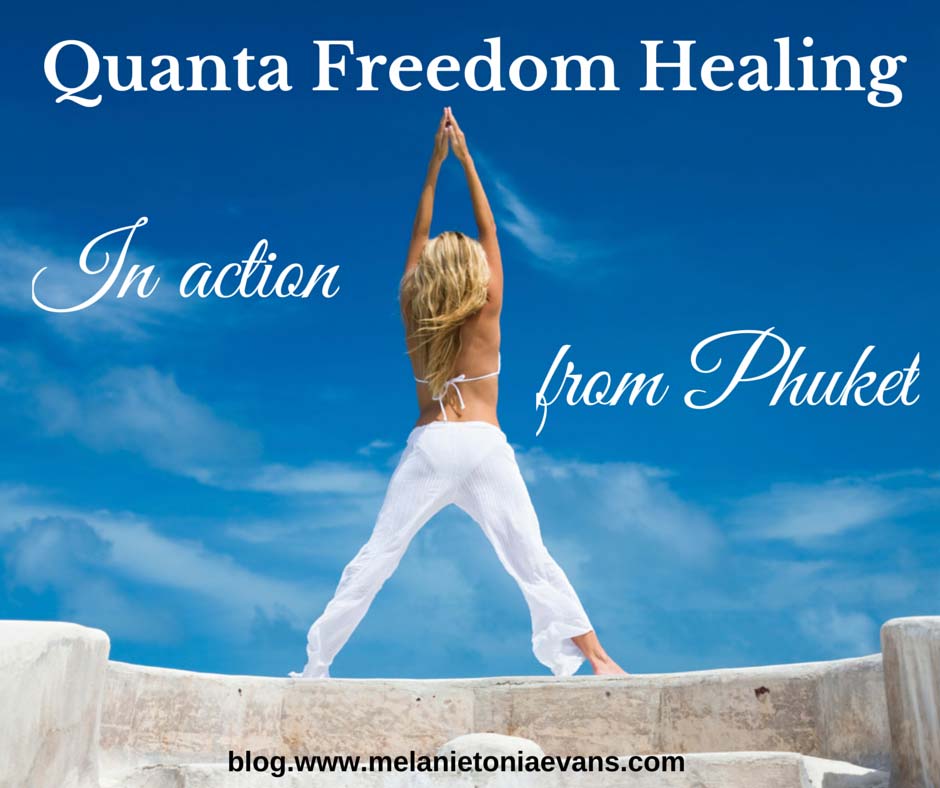 I am back from overseas now, rested up a little, and I knew when I returned that I wanted to share with you one of the highlights of my trip.
Something really special …
This happened at the beautiful Burasari Resort in Phuket, where with the help of two lovely volunteers, one glorious afternoon, I filmed real life Quanta Freedom Healing shifts.
The reason I wanted to do these videos is because so many people ask "How does Quanta Freedom Healing work?", and "How do you do it?", and "How is it different to 'hands on healing'?"
It can be so hard to explain … so I wanted to show you.
I really hope that these videos accomplish that, and give you an up close and personal feel for what happens in a Quanta Freedom Healing session.
This is the identical healing process which occurs via MP3s in all of my Healing Programs, including NARP (the Narcissistic Abuse Recovery Program).
These shifts were done in a very relaxed manner, in the busyness of the resort – which you will clearly see in the videos. There were some very humorous moments! Hilarious in fact! I hope you enjoy these, as much as we did during filming!
Quanta Freedom Healing is not always easy to explain verbally or in text … because Energetic healing is not physically tangible … it works on the inside of us, by accessing and shifting our subconscious.
It works on the unseen, emotional parts of us.
At first it can be a little hard to get your head around, as it certainly was once upon a time for me, before this immense personal journey, and when I was very logical in my thinking.
In fact there is no way once upon a time I would have believed I would be doing Quanta Freedom Healing as a career, and would have thought someone was crazy if they suggested it!
In stark contrast, these days, I know no other way to deal with the heart of any matter … and this "inner-work orientation" has saved and changed my life beyond description – as I know it has for many other people in this Community as well.
Scott's Healing
Scott and I have already done a lot of work together with QFH, and Scott has worked through many shifts on himself with the NARP Program.
What we worked on, in this session,  is a very usual symptom that people can struggle with after being narcissistically abused, and since recovering from the abuse, when wishing to expand their life out further.
We accessed and shifted the deep core reasons as to why Scott has been struggling with this area of his life.
Narelle's Healing
Narelle had experienced Reiki and other energetic concepts before, but had never heard of or accessed Quanta Freedom Healing. She had no idea what to expect!
She was wonderful and really surrendered into the process, and was so authentic. It was a joy to be able to help Narelle locate and shift some inner programs that logically she didn't realise were blocking her future success.
Thank You For Watching!
I hope you enjoyed these videos and that they give you a sense of the absolute joy I feel to be connected to this incredible healing system – which not just saved my physical life, but also emancipated my soul.
If you would like to learn more about Quanta Freedom Healing you can do so here.
It makes me so happy that I have been able to help so many people. People who I have had the absolute pleasure to meet, and many I will never personally meet –thousands of people from all over the world from 50 different countries – people who like myself once thought "How can the pain EVER stop?"
I would like to thank Scott and Narelle from my heart, so much for their courage and their hearts to share their shifts so bravely with this Community.
That was big!!
I am so thrilled to be back … and now as an even more expanded self (since travelling for almost 2 months) … embracing the continual growth, expansion and joy that Quanta Freedom Healing and Life co-creates with me!
Please know there is only 1 day until the next 3 Keys To Thriving After Narcissistic Abuse Webinar. In this Webinar you get to personally experience Quanta Freedom Healing with me. If you would like to have this experience please sign up now.
Sign me up to the 3 Keys To Thriving After Narcissistic Abuse Webinar.
I look forward to answering any of your questions and comments on the blog, and I would love you to share your personal Quanta Freedom Healing experiences below too!
The following two tabs change content below.

Melanie Tonia Evans
is an international narcissistic abuse recovery expert. She is an author, radio host, and founder of Quanta Freedom Healing and The Narcissistic Abuse Recovery Program. Melanie's healing and teaching methods have liberated thousands of people from the effects of narcissistic abuse world-wide.

Latest posts by Melanie Tonia Evans (see all)