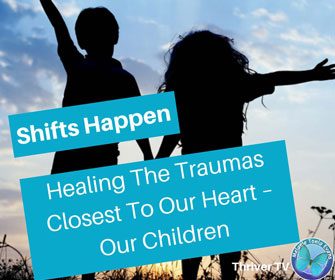 This particular Shifts Happen episode, I believe is an absolute godsend to this Community.
I will go as far as saying – this healing is my MOST passionate topic.
Because I believe humanity's future rests on our younger generation.
This necessary change of consciousness in the world begins with ourselves, and then how we can and will impact our children.
And of course as parents there is no deeper trauma (I believe) than fearing for our children's wellbeing.
This is an episode that I have been asking for with all my heart – someone to come forward and request shifts to do with their child, within the trauma of co-parenting with a narcissist.
Devon, a lovely lady for my home state Victoria, reached out in the NARP Forum for exactly that reason, and the time was perfect for us to work together on helping her beautiful three-year-old son.
What unfolded in this Shifts Happen Episode astounded even me (and nothing much does) regarding how perfectly apt the traumas within Devon's body were in regard to the most common, deepest, survival traumas that make it so hard for us to feel safe, and to believe that our children can make it through troubling times.
As parents we want to do all we can to protect our children, yet of course we know – in the world that we live in – so often we feel powerless to get authorities to recognise narcissism and to help.
And this is why we have to find another way – a way to create change, a way that does work from a deeper more alchemic level than what we have ever accessed before.
This episode shows PRECISELY what that work is.
And never before have I done a two-part series with a Shifts Happen … and the reason being is because when we wish to help our children in a Quantum Way – there is a golden rule that applies first and foremost.
We have to lead the way.
That being … the first of this two-part series is myself with Devon shifting her traumas that have been passed on to her son and are about her son, which necessitate the Quanta Freedom Healing clearing within her first.
Part Two is ALSO essential in this process of healing our children – and is coming very soon.
I can't recommend this two-part episode enough for anyone in this Community (and beyond) who is suffering the terrible fear of co-parenting your child with a narcissist.
Today's healing is SO important for us, our children and our world.
As such, I would love you to make the time to participate in this session with myself and Devon … and please make sure that you won't be disturbed to receive the full benefit.
Also it will benefit yourself and the Community greatly if you share how the healing went for you, ask any questions you wish me to clarify … and anything that you would like to know from Devon about her journey with co-parenting.
(Visited 4,481 times, 1 visits today)
The following two tabs change content below.

Melanie Tonia Evans
is an international narcissistic abuse recovery expert. She is an author, radio host, and founder of Quanta Freedom Healing and The Narcissistic Abuse Recovery Program. Melanie's healing and teaching methods have liberated thousands of people from the effects of narcissistic abuse world-wide.

Latest posts by Melanie Tonia Evans (see all)