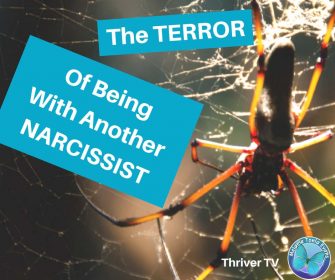 It is very healthy, normal and human to want to love and be loved – and one of the grandest ways we can experience this is through intimate love relationships.
Yet, after having our hearts, souls and life smashed by narcissists, we may concede it is safer to go without love at this level than ever run the risk of being abused again.
Or … maybe we are trying to find love, yet are continually experiencing connections with men and women, which are disappointing, painful or even downright scary!
I totally GET IT … That is exactly how I used to feel as well after being narcissistically abused.
Initially, I was alone for three and half years, because any time I tried to date, the only people who were coming into my orbit were seriously disordered and unsuitable … and I felt even more traumatised as a result of trying.
The following are two common beliefs people can have in regard to the fear of connecting with another narcissist …
The first is this … maybe in our terror we believe there are just far too many narcissists out there, and trying to find someone healthy is like playing Russian Roulette …
Meaning, get it wrong and it could be all over for you (as it almost was for so many of us).
Or maybe we think, "My attracting narcissists is to do with Law of Attraction, meaning I have to completely change and monitor my thinking in order to attract someone decent."
I promise you that sort of constant monitoring and management of yourself could drive you crazy!
When you realise what is REALLY going on, it makes so much more sense than believing your life is dictated by others, or living with the anxiety of trying to watch your thoughts …
The truth about how to leave the fear behind and step into your True Worth, has nothing to do with these two beliefs … and allows you to deeply understand HOW to take your power back and change the relationship trajectory you have been on.
In this Thriver TV episode, you will discover why you are terrified of being with another narcissist, how to completely change those feelings, and what is necessary to become TOTALLY impervious to narcissistic abuse ever happening to you again.
And … how to up-level the quality of people and kind of relationships that you WILL have access to, and what it takes to start experiencing healthy people as your "normal" organic reality.
If you are still feeling terrified of enmeshing with another narcissist in ANY area of your life (not just romantically), I know that this video can help you a lot.
It is my deepest desire this week, that this episode grants you the golden nugget to be able to shift out of the fear of being with another narcissist.
And … if you know of someone who could benefit, please share this article with them!
The following two tabs change content below.

Melanie Tonia Evans
is an international narcissistic abuse recovery expert. She is an author, radio host, and founder of Quanta Freedom Healing and The Narcissistic Abuse Recovery Program. Melanie's healing and teaching methods have liberated thousands of people from the effects of narcissistic abuse world-wide.

Latest posts by Melanie Tonia Evans (see all)