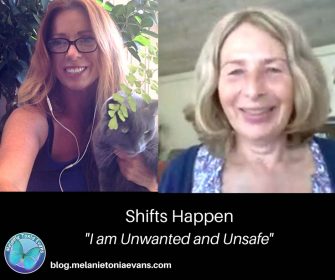 Two weeks ago I had the most amazing Shifts Happen Session with Kathy, a beautiful lady from the NARP Community.
It was an incredibly inspirational, deep and powerful healing that was a real stand out for me to be a part of.  I was thrilled to be able to help Kathy in this way …
Because … as you will discover …. there are traumas from Kathy's past that exceed anything most of us could even imagine happening to another person let alone ourselves. (You will understand as you watch this).
A day later when viewing the recording, I realised there were some major technological issues with it … ones that made the session unable to be aired.
(I SO need to do some Quanta Freedom Healing shifts on "me and technology"!!)
Anyway, immediately I knew that the solution was to contact Kathy and ask her if she wanted to do another healing – being not what we worked on originally (so much of that was healed and gone), but on the next layer of trauma to shift from her Inner Being.
I adore synchronicity and how things are so meant to be … and this particular healing session today is one that so many people in the Thriver Community can relate to – those painful, insidious feelings within of … I am unwanted and unsafe.
Those feelings stemming from when we were very little … of not being loved, cared for, supported and protected in ways that would have helped us develop a solid Inner Identity … and how these feelings can intertwine and create so much pain, fear, devastation and even self-sabotage in our Life.
These feelings are MAJOR contributors to our susceptibility to narcissists – who naturally supply EXACTLY the match of these traumas.
When we have these deeply embedded traumas we don't put our best foot forward, we don't feel free to shine, say "No" to and detach from abuse.
We also feel terribly and tragically separated from others and Life, and we don't connect to the collective wholeness … that Oneness …. or tap into the power to be our flourished and nourished Highest Self.
That is what this healing is all about … rectifying that in Quantum Ways …  and I am so pleased to be able to share it with you.
Did this episode of Shifts Happen speak to you? I know I struggled tremendously with feeling unsafe in the world … and until I up-levelled this wound, I never felt like I was free to be myself, or that Life and others had the capacity to love and support me. Please share your experience with this Shifts Happens episode and the changes you felt after taking part.
And please know, if you have any questions that you would like to ask myself or Kathy, we would love to connect with you.
(Visited 5,341 times, 1 visits today)
The following two tabs change content below.

Melanie Tonia Evans
is an international narcissistic abuse recovery expert. She is an author, radio host, and founder of Quanta Freedom Healing and The Narcissistic Abuse Recovery Program. Melanie's healing and teaching methods have liberated thousands of people from the effects of narcissistic abuse world-wide.

Latest posts by Melanie Tonia Evans (see all)