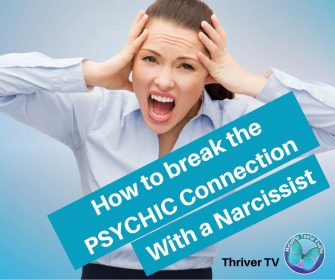 I truly believe the hardest bond to break with a narcissist is the one we can't see …
The psychic tie.
So many people report this – the terrible feeling like the narcissist still lives on inside of them – the abusive voice in their head, the reoccurring nightmares … and the feeling like the narcissist is coursing through their veins like shards of ice, or a foul black ink.
When we are living with this psychic infiltration we feel polluted.
We feel like we may NEVER get free of this feeling.
And it is so hard to exist with it … because our Life-force is being sucked out of us no matter what we do to block, cut off or escape the connection.
It's creepy, eerie, so exhausting and SO TOTALLY real!
In my experience with this, and from helping thousands of people for many years recover as well, I know how REAL this psychic phenomenon is … and how hard it is to get free from it.
That is until we know how to.
Then I promise you it isn't difficult at all, once you know how … the disconnect can start to happen swiftly and surely.
The Thriver Way to heal from narcissistic psychic bonds means not having to continually block, deflect and tie-cut. Instead it is a conclusive way that creates your Inner Being as a landscape where a narcissist's hooks, implants and energies simply can't exist.
That is what today's episode is all about – HOW we get free for the psychic entrapments once and for all, and I can't wait to share it with you.
Today's episode is very dear to me because I faced a vicious bond to my first narcissistic husband for 5 years, before I learnt how to break the connection FOR GOOD!
If you would like any further help with this issue, or if you would like to let me know how this episode helped, please leave a comment on the blog.
(Visited 16,246 times, 1 visits today)
The following two tabs change content below.

Melanie Tonia Evans
is an international narcissistic abuse recovery expert. She is an author, radio host, and founder of Quanta Freedom Healing and The Narcissistic Abuse Recovery Program. Melanie's healing and teaching methods have liberated thousands of people from the effects of narcissistic abuse world-wide.

Latest posts by Melanie Tonia Evans (see all)