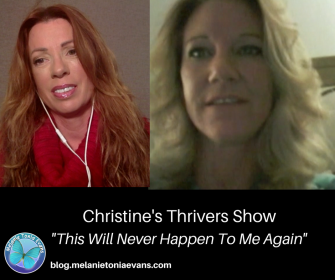 I'm super excited today because it's time for another Thriver Show!
If you are new to the community – this is a regular segment on Thriver TV where we interview a member of the NARP community to inspire you and give you hope that there is a way to recover.
This Thriver Show was one full of rich discussion and insight.
Within our interview Christine explains how her mother was diagnosed officially as an overt narcissist with grandiose tendencies.
Christine's childhood as a single child was "interesting" to say the least. Her mother's ego, according to Christine was "swirling for all to see." Christine's mother had 13 marriages to 11 different men …
And of course Christine suffered emotional abuse … which became "her normal".
After Christine's fourth narcissistic intimate love experience, Christine realised that she simply could not do it again – it was too painful. She recognised a pattern that unlike the overt narcissist that her Mother was, that these men were covert.
Christine and I have a very interesting discussion in regard to the difference between overt and covert narcissism! And ultimately how some traits between overt and covert narcissists can be the same – how overts and coverts can swap positions, and how the "hot" and "cold" narcissist operates.
However, ultimately this discussion was about Christine thoroughly realising that these patterns were in repeat for her, from her childhood trauma.
Finally Christine had come to the point where she made a solid decision inside herself that she was DONE with being the common denominator of painful relationships.
This is what she said to herself – these golden words – Absolutely this will never happen to me again.
Christine was aware enough in this last narcissistic relationship to realise that her True Self was screaming at her to get out, but she wasn't (like so many of us in these situations) listening.
She wrote in her journal often and knew that the deep soul connection she had with the narcissists in her life (especially the last one) had to be for a purpose.
When Christine stumbled upon the MTE Community, she was relieved to find that someone was talking about the purpose of a soul connection with a narcissist, and at that point in her life she was breaking down with pain in her body, disarrayed emotions and feeling more and more off centre within her relationship.
Despite the rollercoaster, Christine was hooked.
Things went from bad to worse, and the day that Christine left and returned his things, she felt so anxious and broken she said she probably should have been hospitalised.
In this Thriver TV Thriver Show episode, you will learn how Christine found the information and the Quanta Freedom Healing Modules in the Narcissistic Abuse Recovery Program to shift out the trauma she was experiencing and heal her peptide addiction which was hooking her to the narcissist.
Christine first noticed these shifts, when at Christmas 2016 there was no trauma and triggers left. She had left the narcissist, been working on healing herself, and had suffered immensely the year before at Christmas and had been dreading Christmas again.
She discovered she was free to enjoy Christmas instead! There was no emotional pain regarding it!
In Christine's journey of healing her Inner Being, what was vital for her breakthroughs, was that she discovered and healed the repeat of how her Mother had left her feeling as a child …
Small, unimportant and unheard, and not able to wake her Mother up with, "I am here, I need your nurturing. I need to be a part of your Life."
It was all there – the same trauma with narcissistic men.
As well as, for someone to be angry with her for no reason was ripping open her original wounds over and over again.
Christine knew that her mother was a narcissist – but she had not realised, until now, the impact that had had on her adult life.
During this show the awareness's are plentiful – including Christine's ability to deeply understand that the stonewalling she continually experienced in narcissistic relationships matched what had happened with her Mother, but now today it's total relevance was how Christine was not hearing her own Inner Being.
How, like all of is until now, had not realised, taken on or become the practice of self-partnering.
 I also love Christine's "teddy bear" suggestion which I think can be so helpful to the Community!
Now, today, Christine feels great, is experiencing the true joy of living and says that she has been trauma free from narcissism since four months of beginning NARP.  She states that after decades of therapy for her mother, which didn't set her free, the relief now is nothing short of miraculous.
She says the world looks different, she is connecting to healthy people now, and for the first time in her life it doesn't matter what other people think or do, she is not hooked and is totally free to be herself.
She feels total gratitude for her experience without any shame or blaming of herself.
Today, her business is great, she is attracting new friends, her health has improved dramatically, she has been dating without any hooks or expectations and she did her first stand-up comedy routine!
Christine continues to up-level – meaning shifting trauma with the NARP Program when she feels a trigger, any dense painful energy in her body and her life appreciation, expansion and joy just grows more and more.
I hope you enjoy this conversation as much as I did, and Christine and I look forward to replying to your comments and questions below.
And if you would like to join Christine and thousands of others Thrivers by becoming a NARP member you can find all the information here. 
(Visited 5,831 times, 1 visits today)
The following two tabs change content below.

Melanie Tonia Evans
is an international narcissistic abuse recovery expert. She is an author, radio host, and founder of Quanta Freedom Healing and The Narcissistic Abuse Recovery Program. Melanie's healing and teaching methods have liberated thousands of people from the effects of narcissistic abuse world-wide.

Latest posts by Melanie Tonia Evans (see all)