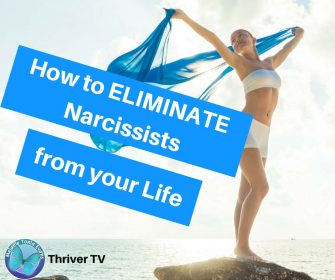 Narcissists enmesh with you mentally, emotionally and psychically; it is literally like this person unzipped us, stepped inside and is crawling around under our skin.
That may sound farfetched to anyone who has never been narcissistically abused, but for those of us who have, it is a common feeling that collectively we have suffered.
This Thriver TV episode is not about why we have that feeling, it is about what happens when we no longer do.
What does it feel like when we have eliminated the narcissist's presence and the narcissist is no longer our reality?
During this Thriver TV episode, you will learn how levels of consciousness operate, how this relates to an ancient myth that is deeply connected with narcissism, and exactly what is necessary to be at a level of consciousness whereby narcissists and narcissism simply can't exist for you.
Truly this stage of your Thriver journey is enormous … because once narcissism is no longer your reality, you are free to FULLY be Your Self. No longer is your Life-force being pulled down or sucked dry.
Instead you be-come Life-force and Wellbeing in real human form.
If you are not yet at this stage, I want to do whatever I can to help you get there!
If you have any questions about today's Thriver TV episode, please share them in the comments below and I will respond personally.
The following two tabs change content below.

Melanie Tonia Evans
is an international narcissistic abuse recovery expert. She is an author, radio host, and founder of Quanta Freedom Healing and The Narcissistic Abuse Recovery Program. Melanie's healing and teaching methods have liberated thousands of people from the effects of narcissistic abuse world-wide.

Latest posts by Melanie Tonia Evans (see all)