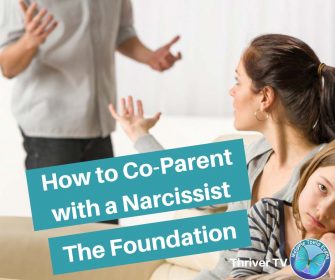 I get asked this all the time … and I really want to do quite a few episodes on this topic for Thriver TV, because I am totally passionate about helping heal our children and our future generations.
I know that many of you in this Community are dealing with all sorts of fear and pain regarding your children – such as co-parenting with a narcissist, and / or seeing the effects on your sons and daughters after you being involved with a narcissist – whether the narcissist was their parent or not.
And as parents, we would do anything for our children, we would even lay down our lives for them. But maybe we haven't realised that the ways we have been lecturing and prescribing whilst distressed and triggered has not been helping them at all.
In fact, as a result of watching this episode, you will discover how it has actually been making matters worse.
The great new is this …  we CAN all be a part of a transformational shift, creating a different way of helping our children, so that they can grow up with healthy Inner Identities, not having the fractures and traumas that we did.
We CAN empower them to generate a wonderful, healthy life even if one of their parents is a narcissist.
That is what today's Thriver TV show is all about, and it is one dear to my heart, because within it I share about the journey I had with my own son Zac, and how … ultimately … I was able to help him, against all odds, and when NOTHING else I was trying to save him did.
If you are a parent suffering the trauma of narcissistic abuse and you fear for your children, then I can't recommend this Thriver TV episode enough, because I know it hands you The Key – the essential foundation – to help our children for real.
This movement of changing the way we parent and ultimately protect and empower our children is such an important mission for humankind today and for our future generations.
If you know anyone who would benefit from this Thriver TV episode I would love it if you could share it with them.
And as always if you have any comments you would like to share with this Community, or if you have any questions you would like to ask me specifically, please post them in the comments section below.
(Visited 7,718 times, 4 visits today)
The following two tabs change content below.

Melanie Tonia Evans
is an international narcissistic abuse recovery expert. She is an author, radio host, and founder of Quanta Freedom Healing and The Narcissistic Abuse Recovery Program. Melanie's healing and teaching methods have liberated thousands of people from the effects of narcissistic abuse world-wide.

Latest posts by Melanie Tonia Evans (see all)