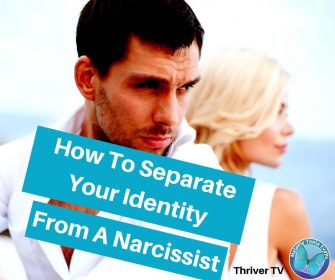 Naturally, when we realise that we have been narcissistically abused, it's normal to identify ourselves with it so closely that we are living and breathing "narcissism".
It's like living smack bang in the center of a horror show.
And … we can be forgiven for thinking that this deep identification with a narcissist is what we should be doing in order to grasp what has happened to us.
However, this is exactly what this episode is about … how the very things we think can help sometimes are making matters worse … and how until we "go Quantum" we don't realise it!
True Healing can never happen when we make our life all about "them" – spending extended time focusing on the narcissist, who they are, what they did and why they did it.
Rather, what is necessary to take our power back and change our life experience, is to change the only Being we can change … ourselves.
Plus … there is another even more insidious way, unknowingly, that we can enmesh our identity with a narcissist.
And … it makes our end goal – detoxing the narcissist from every part of our Being and healing our traumas back to wholeness – downright impossible.
I used to do it, and so many people struggling with recovery OFTEN make this very simple mistake that seems so innocent, yet has such far-reaching consequences.
Please know I understand WHY, because it is NOT an obvious one … that is until you understand what is required to heal at a deep subconscious level, and what is really going on when we are still "identity attached" to a narcissist.
If you have been battling with your recovery from narcissistic abuse, I highly recommend that you watch this episode, because it may just offer you this SIMPLE shift which is required to start detaching, recovering and becoming able to heal for real.
I promise you with all my heart, that when you make the decision to never repeat those two words again (you will learn about them in this episode) you ARE on your way to truly healing and empowering yourself!
I am so looking forward to the conversation here and answering your comments and questions …
And … if you are ALREADY aware of this and have changed "what you say" then please share the difference it has made in your life below!
The following two tabs change content below.

Melanie Tonia Evans
is an international narcissistic abuse recovery expert. She is an author, radio host, and founder of Quanta Freedom Healing and The Narcissistic Abuse Recovery Program. Melanie's healing and teaching methods have liberated thousands of people from the effects of narcissistic abuse world-wide.

Latest posts by Melanie Tonia Evans (see all)