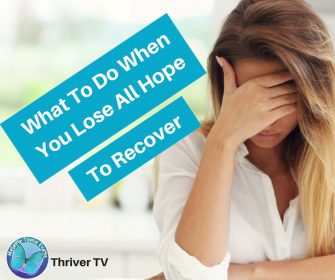 When we are broken, devastated and crawling through our life second to second and looking at the rubble of what used to be our life smashed to pieces on the ground, it may seem hopeless and helpless.
It is really common for us Thrivers to experience people in the NARP Community starting their inner healing journey who admit they feel like it's too late, they are too old, they have lost too much or they are too broken to heal.
I promise you once upon a time I felt like I was never going to heal … and I can't tell you how many people have told me the same things over the years – and many of these people I know now as incredible glowing Thrivers.
During this video we take a deep dive into why is it that some people heal and Thrive, whereas others don't.
Is it do with the level of trauma they sustained?
Yet, how can this be the factor when there are people who have suffered unthinkable damage and trauma who have come back from that? These are people who have been devastated by narcissistic abuse mentally, emotionally, physically, financially and spiritually.
Yet in the Thriver Model, despite how broken and devastated their Inner Beings and their lives are they heal … they come back, they reignite and many of them step onto brand new trajectories of love, joy, vibrant health and expressing their personal missions and soul contributions to the world.
So how did these people recover and come back from a totally devastated life?
And how did people recover who had illnesses and conditions that were deemed chronic, incurable and even terminal?
How DO they heal, resurrect their health and make their way back from the brink … to be released into their true lives?
In this episode you will learn HOW the narcissist does not have the power to take away our chances of recovery – no matter how malicious they are and what they did or do to us – and how the Level of Belief is the ONE and only determining factor.
I also provide a VERY POWERFUL mantra in this episode, that by you repeating can start shifting you out of trauma into your New Life – one free of abuse and abuse symptoms.
My heart goes out to you, if you feel like giving up hope, and it my deepest wish that this episode can help you turn it all around.
I'd love to hear from you, in regard to what you felt inside of you – at the Level of Belief – when you repeated the mantra.
Please share with myself and the Community by posting in the comments below, and let's continue this conversation in order to co-generate and access the breakthrough into True Recovery!
The following two tabs change content below.

Melanie Tonia Evans
is an international narcissistic abuse recovery expert. She is an author, radio host, and founder of Quanta Freedom Healing and The Narcissistic Abuse Recovery Program. Melanie's healing and teaching methods have liberated thousands of people from the effects of narcissistic abuse world-wide.

Latest posts by Melanie Tonia Evans (see all)