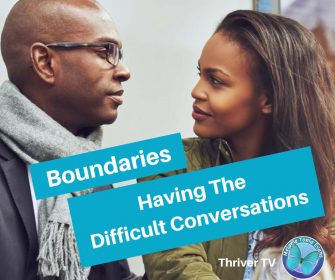 Today is a delicate conversation and a very necessary one.
It is about all the reasons why we hand power away.
WHY we don't put our best foot forward.
WHY we get tongue-tied and don't know HOW to say what we need to …
And how all of this is a deadly recipe for getting abused in a narcissistic relationship.
But not just that … It is also the total reason we don't get our needs met, get taken advantage of by other people and get emptied out to the point where we feel unappreciated, unloved and unsupported.
And the reason we do this is because of CRAP!
Now before you judge me for saying something inappropriate … hear me out!
CRAP stands for the fear of:
Criticism
Abandonment
Rejection
Punishment.
In this Thriver TV Episode not only are you going to find out how and why C.R.A.P. diminishes us, but also how to fast-forward your development where you are no longer carrying the traumas that have given you C.R.A.P. …
And, once you apply the processes I share in this video, you will be able to witness the miracle that unfolds. One where healthy people feel you standing confidently in your truth, and begin to accept your needs and wants.
If you, like my previous self, dread the difficult conversations and have no idea how to show up without the fear of being shut down, dismissed or even abused, then this Thriver TV episode is definitely for you!
If this video inspired you to work on your boundaries, I would love to hear about it!
Please share how you feel about losing your fears, showing up truthfully and being the generative force of the True Life you want to live in the comments below.
The following two tabs change content below.

Melanie Tonia Evans
is an international narcissistic abuse recovery expert. She is an author, radio host, and founder of Quanta Freedom Healing and The Narcissistic Abuse Recovery Program. Melanie's healing and teaching methods have liberated thousands of people from the effects of narcissistic abuse world-wide.

Latest posts by Melanie Tonia Evans (see all)