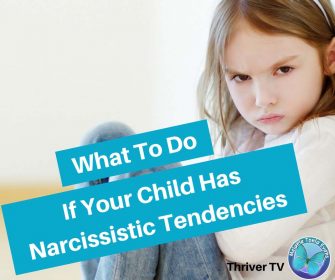 If you are currently agonising over this fear or potential reality I want you to know my heart goes out to you.
We all know that ultimately we can divorce a partner, break business ties with people, and even walk away from family members – but WHAT do we do when dealing with the trauma and drama of our own narcissistic child?
There definitely are people in the Community who have had no option but to go No Contact with their narcissistic children, however for some of you there may be hope … that the rifts, behaviour and issues can heal.
The following are the pivotal questions that so many parents in this Community ask …
How can I help my child behave differently?
How do I deal with their selfish and abusive behaviour?
Can I help them heal from their narcissism and become a healthy person?
How can I help my young child with narcissistic tendencies?
Is there any hope for my narcissistic teenager or adult daughter or son?
Within this episode I answer these questions, as well as share with you the boundaries and self-healing we can take on – in order to pass on to our narcissistic children the best possible path of development to get well.
It is my greatest wish, this week, that this episode will grant you comfort and strength if you are dealing with the heart-wrenching reality of dealing with a narcissistic child.
One of the most amazing things about our Community is how we all reach out to help hold and heal each other.
So, I'd LOVE for any of you who are applying these Thriver methods and experiencing positive results, to PLEASE share … to help inspire other parents dealing with the same issues.
Please know I understand – as a result of what I went through with my son Zac – how devastating dealing with our broken children can be.
And … I am more than happy to explain further, in my answers to comments, about what I did for Zac – in his narcissistic phase – and how myself and he healed, to have the wonderful relationship we have today.
(Visited 5,971 times, 10 visits today)
The following two tabs change content below.

Melanie Tonia Evans
is an international narcissistic abuse recovery expert. She is an author, radio host, and founder of Quanta Freedom Healing and The Narcissistic Abuse Recovery Program. Melanie's healing and teaching methods have liberated thousands of people from the effects of narcissistic abuse world-wide.

Latest posts by Melanie Tonia Evans (see all)