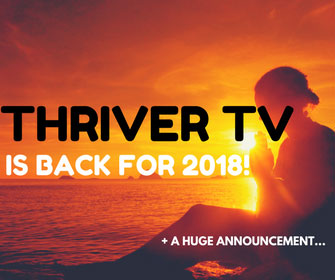 It's SO good to be back.
This is our first Thriver TV back for 2018, and I am very excited for this year!
Thank you for being so patient and letting me have such a lovely Thriver renewal break from doing videos and articles over January … it was divine!
And I hope with all my heart that you were able to have some downtime, doing the things you enjoy and being with those that you love over the holiday break, to nourish your mind, body and soul too.
It's so important for us Thrivers to rejuvenate. Personally – I feel so bright-eyed and bushy-tailed right now!
It's amazing what a holiday does … ohhh…. and I can't wait to share with you some really EXCITING news. (*Hint … there was a little more to my holiday than just cocktails, shopping and massages!) I'm busting to share this incredibly special news with you TODAY!!
Also, in this Thriver Tv episode today, I will let you know about the format for the learning, growth and Thriving that we will be doing together in 2018. And … how we are going to make this year your best year yet.
I think many of us can feel something in the air about how powerfully healing and expansive 2018 can be. I really do believe it's going to be so many people's breakthrough year.
So … its time now to reach out and link in with each other, lose our trauma and start letting life flow through us as us – because "wellbeing" is here in abundance! It absolutely is when we are in the position to receive it.
And please know, we are all in this together – this business of healing, expanding, Thriving and being the healthiest we can be, and reaching for the best life that is our destiny after narcissistic abuse.
We did not go through all that trauma for nothing – let me tell you!
And … as I said before I am so excited to share some REALLY important news with you in today's video!
Let's kick 2018 off to be a breakthrough year! I can't wait to continue this incredible journey with you.
(Visited 5,253 times, 1 visits today)
The following two tabs change content below.

Melanie Tonia Evans
is an international narcissistic abuse recovery expert. She is an author, radio host, and founder of Quanta Freedom Healing and The Narcissistic Abuse Recovery Program. Melanie's healing and teaching methods have liberated thousands of people from the effects of narcissistic abuse world-wide.

Latest posts by Melanie Tonia Evans (see all)