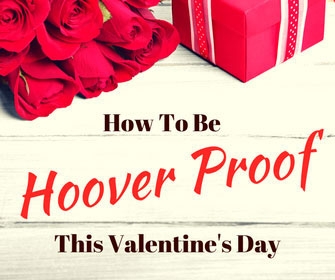 Valentine's Day can be a very traumatic and painful time for many people in this community.
From my experience, it's a narcissist's favourite time to hoover.
And naturally, if we are still reeling in the pain and confusion of being originally adored, and then devalued and discarded, we may hope we'll be able to resist a narcissistic hoover attempt.
But can we?
It is SO much easier said than done!
And then there is another potentially painful situation, which is: you may not receive contact from the narcissist this Valentine's Day at all. And, until healed from your inner trauma, this may feel devastating.
It's common to want to believe that we matter to the narcissist; to know that he or she is thinking about us.  Special events like Valentine's Day absolutely bring that to the front and centre of our thoughts and feelings.
Naturally, you may be hoping that finally the narcissist has woken up and wants to reunite and love you for real this time.
Like many of us, I have experienced both situations with narcissists. I gave in to a Valentine's Day hoover one year, for disastrous results, and another year I received no contact at all and was totally heartbroken.
Oh, I know … just how PAINFUL Valentine's Day can be!
And this is why I wanted to do this Thriver TV episode for you today – to help you be prepared, hoover-proof and have a great plan to keep you healing, moving forward and not pining for the narcissist, regardless of whether you are contacted or not.
In today's Thriver TV, I share with you not only how to be relieved of the pain, but how to turn Valentine's Day into a powerful amplification and manifestation of the very love that you DO desire!
It's such a relief now to experience Valentine's Day in healthy, happy ways with a man who genuinely loves and adore me!
And, I soooo hope and wish, with every cell of my being, that I can inspire you with the insights of this video, to bring about this beautiful change into your life too.
I look forward to answering your comments and questions below.
(Visited 5,719 times, 1 visits today)
The following two tabs change content below.

Melanie Tonia Evans
is an international narcissistic abuse recovery expert. She is an author, radio host, and founder of Quanta Freedom Healing and The Narcissistic Abuse Recovery Program. Melanie's healing and teaching methods have liberated thousands of people from the effects of narcissistic abuse world-wide.

Latest posts by Melanie Tonia Evans (see all)