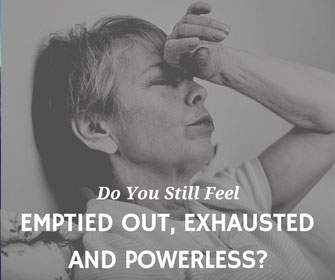 It is incredibly common to feel immobilised, guttered and barely able to function in the aftermath of narcissistic abuse. Especially when you have broken away, and are no longer tied up in the fight of survival.
Every day normal tasks may seem beyond comprehension, let alone being able to do them. In fact many people can't function, they may have to stop working, or may even succumb to being hospitalised.
We all know that narcissistic abuse is awful and tough, but I also want you to consider another reason why when narcissistically abused we crumble into total powerlessness, as if we had been hit by a truck.
The great thing about this reason is that it has nothing to do with the narcissist, meaning the necessary recognition and changes are totally something we can do something about.
I have found a common thread to be consistent with most victims of narcissistic abuse, and that is we are the type of people that are used to giving out energy to everyone else but NOT to ourselves.
This week I want to share a story with you about how I relapsed back into the behaviour of putting everything else before myself, 6 and 1/2 half years after learning my lesson of how and why not to do this.
The result was I felt emptied out, exhausted and powerless, and in order to get myself back, I had to turn around where I was going wrong, and remember how to honour me again.
How it All Started
Most of us who have suffered from narcissistic abuse are people who are capable, diligent individuals who are used to being structured, hardworking and responsible. We are the type of people who were never brought up to understand the value of 'time out', 'looking after ourself' or 'filling ourselves up with healing or personal indulgence'.
We were the type of kids that parents told us to 'Get to school' regardless of our cough, or sore throat. We also discovered in our childhoods that if we achieved stuff this was when we seemed to be the most acceptable and lovable.
We may have received glares and comments that made us feel guilty about 'wasting time', 'being a noisy playful kid', and then heard the words "(Your name)…have you finished your homework?" "Go and tidy your room" etc. etc.
Our parents didn't say to us. "It is so wonderful that you take time out to enjoy yourself and fill yourself up with fun and good feelings, because this is all a part of loving and honouring yourself ".
In fact the very thought of taking time out and giving to ourself may surface a whole heap of resistance for us, such as "What a waste of time", or "I feel really guilty about giving to myself", or "There is so many more important things to focus my energy on it"…all of these resistant feelings are manifestations of the messages that we learnt in our childhoods in regarding to: it was NOT correct to value ourself.  Rather we were ONLY valued by what we could achieve, or how much we could do for others.
The truth of the matter was, for the greater part of our adult lives, we were already running on empty inner energy tanks a long, long time before we suffered our narcissistic abuse experience.
Then of course, when we did, our whole world came crashing down. It was the straw that broke the already sagging and strained camel's back.
The once capable, competent, intelligent person we believed ourself to be, crashed into the wall, and the simplest of exercises such as getting out of bed, brushing our teeth and walking out the front door becomes as emotionally excruciating as climbing Mount Everest.
What do you think is one of the greatest gifts of the narcissistic abuse experience?
It's profound, powerful and simple
To learn how to value ourself, and know that we are worth our own self-care and self-honour…
I learnt this lesson 6 and ½ years ago – truly. And 'getting it' was as a result of smashing into the wall so hard, that truly it was a wonder I ever got up again.
There were two options, making myself the highest priority in my life with everything I could do to nourish, refill and heal me, or die…
It was a black and white case.
Thankfully I learnt the lesson and embraced it full heartedly at the time, hence why I am happy to be and live my new incredible reality that I am so grateful for today.
How I Forgot The Lessons I Had Learned
Two weeks ago week I had a huge wake up call. Just like all that time ago, when I was not honouring myself enough – not taking enough time out. Getting too serious, too focused, too hard working and forgoing self-care and balance.
I ignored the warning signs that my energy and 'self' tank was getting dangerously near empty. You see, before working on myself I was programmed as an over-functioning co-dependent, who can dissociate from what my emotional body is telling me, ignore it, push on and neglect my own self-care, and simply continue granting too much energy out to the world around me.
The old Program: "Melanie is valued for what she does, not just for being her".
The deeper Program: "I don't love and accept myself enough to value and care for me".
Yes, I've worked on these in my life – absolutely, and healed them in the past, but mindfulness is required to ensure the old programs do not creep back in. Our blind spots can easily do so if we are not consciously aware and focused on where our 'not quite right' feelings and stresses are coming from.
During a difficult past couple of months, because of outside challenges, I had slipped back into my old habits, and as a result I started not granting myself the values of self-love and self-acceptance.
So, anyway, another painful life event occurred, during this time of running on an empty tank (coincidence… I think not). And as a result I crashed. Nowhere near as bad as what I did years ago, but bad enough to be a serious problem. I found it hard to not feel overwhelmed, found it hard to function, and had virtually no energy.
I got on to my own healing (Quanta Freedom Healing) and it was helping, but so much was happening in my life that was challenging, as well as working with clients – so by the end of the day I had no energy left to do the healings on myself.
Headaches and physical symptoms started, and I lost direction and focus, I could not see the wood for the trees. Every time I thought of 'my to do list' I struggled with blocked, overwhelmed and painful emotions.
I had fallen into the trap of trying to deal with my outer world without dealing with my painful inner world first.
Which never works…
I should have known that by now, after all what do I teach other people every day?
Okay, so this is what I did – I had left it so long that I felt stuck, I know I needed help to support me, but the thought of booking help, going to an appointment and fitting it in to my life, which due to my ineffectiveness had became disorganised and chaotic, seemed overwhelming.
So I asked a good friend to help me map out time in my diary, source a local kinesiologist, find local massage and help me connect with some support and relief. I also asked this friend to sit with me and help me work through my bills to pay, and hold my hand with some other challenging things in my life.
The relief was incredible…
The lesson I learnt years ago, and needed to pick up again was:
1) Do not wait to grant yourself energy when it is almost too late, and you're at cracking point
2) Don't be too proud to outsource and get help
3) As soon as you organise help and support you start feeling better immediately
4) Value yourself enough to know that the investment you put into you is paramount and positively affects every area of your life on every level – and absolutely pays emotional, practical and financial dividends in the short and long term
5) When we honour ourself, life honours us
So anyway within one week, I turned an incredible corner. The 'body work' of kinesiology and the herbal remedies I was provided, created a spectacular difference. The massage once a week is invaluable, meditation has become a part of my regular routine again, and the facial I had last Friday is all a part of honouring me.
I am back to 'me'…the way I need to be…
I have also started going out to lunches, dinners and social occasions with very clear 'end of work time boundaries'.
Things HAD to change again…
So let's see, have I really learnt this lesson this time? Am I really ready to embrace the knowing that time-out, granting myself nourishment, nurturing and healing is paramount and is a maintenance regime, a lifestyle that I owe myself and all of life? After all I can only give out in empowered ways if my emotional energy tank is full.
A huge Law of Life that anyone who has been narcissistically abused needs to understand is
Life Can Only Grant You the Treatment That You Are Prepared to Grant Yourself
It doesn't matter how much of a nice person you are with integrity, because if you
1) Treat yourself like a machine
2) Don't look after your emotional inner world and inner spiritual self nourishment
3) Put other individuals always before yourself
4) Believe that you are NOT valuable or lovable or acceptable 'just as you', and are only appreciated, loved and valued for your productive output
….you will attract someone
1) Who dehumanises you, objectifies you and defiles you
2) Batters your inner emotional and spiritual world
3) Make it all about 'them' rather than 'you'
4) Uses you for energy, resources and possessions and will never love you simply for being yourself
Oops have I just described a narcissist…?
Make sense?…
Do you get this really vital message?
If you have noticed yourself slipping back into old patterns, I would love to hear a comment on what you did to snap out of it and start putting yourself first again. Your story could be invaluable to someone who is struggling with this.

The following two tabs change content below.

Melanie Tonia Evans
is an international narcissistic abuse recovery expert. She is an author, radio host, and founder of Quanta Freedom Healing and The Narcissistic Abuse Recovery Program. Melanie's healing and teaching methods have liberated thousands of people from the effects of narcissistic abuse world-wide.

Latest posts by Melanie Tonia Evans (see all)