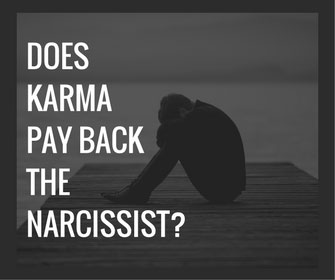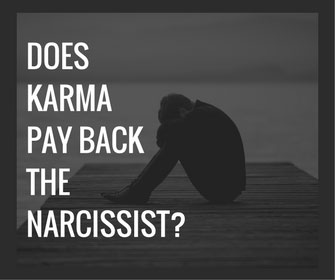 We have all heard of the word 'Karma'.
Most people know the expression 'Karma' as meaning what goes around comes around.
But what really does 'What goes around, comes around' mean – especially when we see 'bad' people in the world that don't seem to be receiving their just deserts?
Like narcissists…
How will Karma have it's retribution on them?
There are often two main ways that Karma is viewed. One is that bad deeds are punishable by an external force (such as God), and the other is that Karma occurs a result of the natural effects of causation.
I definitely veer much more towards the second ideology, yet I believe it goes to a much deeper level than simply about 'what a person does creates the payback reality'.
In today's article I want to explain my beliefs about Karma and how it relates to narcissists and those affected by narcissistic abuse.
I hope to answer the questions "Why did I karmically deserve to be narcissistically abused?"
and…
"What karmic payback will the narcissist receive for what they have done?"
My views on Karma, is about taking 'what we create' responsibility.
This responsibility starts with realising you are an energetic (spiritual) being having a physical experience.
This is also about believing that everything you experience in your life has at a deeply energetic level been called forth by yourself into your experience.
I believe these experiences (we all draw to ourselves) are essential feedback as to how much we are connected to our Soul Truth (peace and love), or how far we are disconnected from our Soul Truth  (pain and fear) regarding certain issues.
When we understand ourselves as energetic beings we can understand that the outcomes in our life are far from logical. There is no way we could mentally define that we purposely chose those painful events or person into our life.
Logically we would say "I experienced a partner who cheated on me with many different women, yet I am so faithful and monogamous! How on earth is Karma playing out here?"
Or, "I have been abused by a pathological liar who would make up any insidious fabrication to hurt me, yet I have high levels of personal integrity! How on earth is Karma playing out here?"
It is only when we go deeper that we can have any understanding on the direct correlation of 'like attracts like' – when logically it is not obvious.
We Are Here to Release Our Karma
I believe we are all working through our painful Karma – absolutely. That is why we are here.
If you believe you are an eternal being, you will have a much bigger picture view on 'life'. It will certainly not just be limited to what you see and logically define.
I believe this broader view is not only essential to make sense of life, it actually grants and helps supply reasons. It has the positive effect of reducing confusion, and takes away the complication of trying to logically and painfully define 'Why?'
It also puts the power back to where it belongs, which is within us.
It allows us to understand that we are not just a powerless victim of a random life.
The people who have experienced trauma, who can't accept that bad things have happened to them, and have not used these experiences to heal and grow within themself, suffer horrendously. They feel victimised by others and life. They feel powerless to change their life.
They don't realise that by choosing victimisation, they actually set up 'more' victimisation to enter their life.
If, on the other hand, you wish to live your life from a deeper perspective and start seeking the true reasons and the liberation from what you have been creating up to date in your life – great relief can ensue.
When we have the reasons as to why bad things happen to us, and accept them in order to heal and grow – we start working through, releasing and reducing our karmic loads.
We clean up internally what we were creating in the way of negative and painful Karma.
Karma ultimately is the 'energy' from life that allows us to know we are in fact Powerful Creators of our reality. This grants us the ultimate ability to change what we have been previously creating – so that we can create much more pleasurable and fulfilling experiences.
How Does Karma Work?
This is how I believe we create Karma….
Whatever we feel (believe deeply) about any topic is what life grants us.
There are only two ways to feel (believe) about anything in our life regardless of what presents:
From a position of authentic power (self-solidness / peace / truth / love)
or…
from a position of seeking external power (emptiness/ pain / illusions / fear )
This part is essential to understand. Our words, and actions (our surface behaviour) may be completely different from what we are really feeling / believing about an interaction or event in our life.
For example, you may spend time with someone you care about. Whilst doing so your deep inner feelings might be 'I wonder if this person really loves me. He or she probably doesn't and will reject me like the others have'.
Yet on the 'outside' it appears like you are loving, giving and even relaxed and humorous.
But truly on the inside you are not feeling this. You are trying to be the person you think this person wants you to be in order to stop this other person rejecting and abandoning you.
Some months down the track – despite you being wonderful to this person time and time again, he or she pulls away, loses interest in you and you are left alone rejected and abandoned.
On a logical level you may say "I'm a lovely person –I gave this person everything. What on earth did I do to deserve that treatment?"
Gary Zucav in Chapter 2 of Spiritual Partnerships puts it this way:
"Five sensory humans believe that actions create consequences. That is a small part of the story. Multisensory beings know that the intention behind an action creates the consequences of the action. An intention is a quality of consciousness. It is the reason for the action, the motivation for acting. The intention to support a friend by giving him information that he needs and does not know, for example, brings constructive consequences. The intention to prove that you are smarter than a friend produces destructive consequences."
On an energetic level we can understand – IF we are honest with ourself, and get to know ourselves truthfully and intimately on the inside, that it is our unseen energy which creates the ultimate truth of our life.
It is our intention which is the emotional resonance we vibrate at. This level of consciousness is what is pulling the strings. Because this is the part of us which is connected to 'all of life' (Oneness), and it is the part of us affecting everyone and everything in our experience.
Know this: your surface level behaviour is not creating anything much in particular.
Have you ever noticed that someone may do something wonderful for you – yet you don't particularly feel like granting them energy back?
Yet other times when people give to you it feels great.
If someone 'gives' to you and their intention is not about 'the giving'  but rather something like 'I want to give in order to get approval from you, because I am not generating enough of my own' – then their true intention (consciousness) which is connected to 'all of life', (which is connected to you) is external power seeking energy.
It is not authentic.
You feel this and can only grant 'more of the same' back to this person – which is 'lack of approval'.
I believe there is no avoiding what intention and consciousness creates.
Facades do not affect ultimate outcomes.
How Unresolved Wounds Create Karma
What if you are deeply monogamous, yet you receive partners who are unfaithful?
Check in with how you feel about unfaithful people. Does it feel like 'not your reality' (ideal), or does it fill you full of horror? (Not ideal).
Was your mother cheated on?
Did you take on someone else's energy regarding the anguish of infidelity which occurred to them?
Years ago did you have this experience (even as an 8 year old child with your first ever boyfriend) and the wound you felt was devastating at the time?
Did you realise that you had never released and healed that wound and have always been carrying it?
This is why I believe there is a necessity to take responsibility and go deeper if we want to heal and release our painful patterns of attracting bad Karma.
Please know this: If you have events in your life which are painful – there is something within you that you need to heal. THIS is what the painful event is showing you.
Please also know this: The person /event bringing you this painful event is simply a 'catalyst' in life showing you what you need to heal. If they hadn't showed up, someone in their place would have needed to.
How Does Karma Play Out For The Narcissist?
I know one of your burning questions is "What about Karma for the narcissist?"
It is really important to understand this. For all the grandiose behaviour of the narcissist, all of the 'moving on immediately' and all of the continuing to extract energy from the o uter world to avoid his or her inner damaged parts – the 'having a great time', 'being on easy-street' and 'getting off scot free' is not what is really going on.
I'll explain. Let's start at the start, and work our way through…
The narcissist's greatest fears are being powerless – which means being unlovable, worthless, unworthy, rejected and abandoned.
To try to escape this awful inner powerlessness the narcissist created a False Self and went after external power (taking from the outside) rather than be connected to his or her Soul, Oneness and reverence for self, life and others. (Which is the only 'place' to acquire authentic worthiness, love, personal power and fulfilment).
The wielding of egoic power is the pathological cover-up for how powerless the narcissist really feels.
This means the intention of the narcissist's interactions with others and life are based on powerlessness.
As a result of the inevitable Karma (what goes around comes around), time and time again the narcissist meets his or her worst fears.
When the mask slips, other people are disgusted, tormented and aggressive towards the narcissist, and he or she is again rejected.
When the narcissist's tactics to secure outside approval (the approval that he or she cannot generate for him or herself) constantly fail (as there is no substituting self-approval), the narcissist suffers the intense wound of narcissistic injury again.
When his or her relationship ends again (despite the egoic cover up of making out it was his or her idea all along), the narcissist suffers again the incredible injury of being unlovable and being abandoned.
Don't be fooled by the narcissist's action that makes him/her appear to have moved on like nothing happened.
When his or her amoral tactics create repercussions, negative attention and disasters, this only accentuates his or her inherent feelings of deep shame and unworthiness.
This is the perpetual 'hell' that the narcissist lives in.
Rather than deal with these fears and pain (unhealed inner wounds) the narcissist sells his or her Soul instead.
He or she has to create bigger lies, execute more tactics that lack reverence or truth, and avoid even more personal accountability which only disintegrates his or her Inner Self even further.
Creating more accumulated pain, fear and shame.
The tactics of the narcissist are not Soul Truths, and the price of continuing to exert pathological forces generated from his or her False Self is incredibly high.
The narcissist's emotional internal damage stock-piles and the narcissist has to try harder and harder with 'one-up' tactics to escape the ever accumulating horrific pain.
That is the Karma of the narcissist.
And like all narcissists, he or she at the end of the journey (this lifetime) will end up with horrendous inner pain, with no energy left to manipulate, take or avoid it (the maintenance of a False Self takes a lot of energy and effort), and probably no-one hanging around to project on to anymore, because the charm has long gone.
If a person did stay attached despite the abuse, the narcissist will reject and get rid of them anyway – as a projection of his or her own self-rejection.
The end of the road is lonely, empty and torturous.
There is nowhere to go for the narcissist, other than be face to face with his or her tortured inner demons alone – with no way to avoid them.
It is ironic that the entire life script of the narcissist has been designed to avoid his or her inner pain – and at the end of life he or she will realise all of it was to no avail.
Ever heard the expression People die how they live?
I believe the Soul is eternal, and it is designed to evolve the personality.
For those who do have past life beliefs, there can be the view: If the narcissist did not take personal responsibility (to date narcissists don't), he or she will again reincarnate on Earth with exactly the same level of personality he or she created this lifetime, and as a direct magnetisation will be born into the same abusive and torturous childhood conditions all over again.
If we do have this belief, we may assess that he or she may have been repeating this pattern for many lifetimes (as we may have too with the aspects of ourself we have struggled with).
Maybe the narcissist's Soul which is co-creating with Life states: "You get another shot at this. Are you going to take responsibility and heal your inner wounds? Because if not – you are simply going to go through more of this. Have you realised yet there is NO avoiding SELF?"
And maybe this could continue for many more lifetimes to come. Until the narcissist does take responsibility for his or her 'self'.
Now back to you…
What Is Your Karma?
Whatever you experience in your life that is not working for you (regardless of how much of a nice person you are) shows you there is something within you that requires healing.
This means your internal belief systems (feelings / intentions / level of consciousness) about this are not a match for the realities you do wish to experience.
This goes for even one off incidences in your life, and it especially goes for repeat painful incidences in your life.
It's not until you really go into yourself – and accept and feel into your pain, and take full responsibility for it that you can work out what is really going on and how to change it.
This is what self-realisation, self-healing and personal growth is all about.
I would like to leave you with an example that I think could really help you in regard to what you played out with the narcissist.
Imagine two children in the kitchen with their mother helping with baking biscuits.
The little boy picks up the rolling pin and hits his sister over the head with it. Naturally the little girl screams in pain. She is hurt physically and emotionally.
The mother is incensed, tells her son off and sends him to his room. He is grounded for a month.
She then picks up her little girl and gives her a big cuddle, and tells her she can eat the left over biscuit mixture straight out of the bowl. (Something she is not usually allowed to do).
We would believe this is justice.
Surely this is what 'should' happen.
However…That didn't happen for you in regard to being narcissistically abused.
Justice did not appear, the narcissist wasn't punished by someone bigger and tougher than him, and you weren't consoled by someone who dearly loved you, and you weren't immediately given a gift or reward to make up for what happened to you.
WHY NOT?! Surely that would have been fair!
I believe Energetic Law (Karma) just does not work like that.
Energetic Law is unconditional – it does not ascertain anything as 'right' or 'wrong'.
It is not some discerning force that watches over us and says – okay that was wrong – you will be punished, or okay you were hurt so I'll hand you something to make you feel better.
It provides 'more of whatever you are feeling and believing about yourself, life and others'.
So in relation to the little boy and the little girl as things stand:
What Karma is this little boy creating for himself as he grows up into a man?
More punishment, more unworthiness, more 'I'm unlovable', and more shame as a result of his behaviour which is coming from intentions which are not Soul Truths.
Unless he takes responsibility for his unhealed wounds that creates his aggressive and malicious acts, and changes himself.
What Karma is this little girl creating for herself as he grows into a woman who will not always have her mother there to protect her?
More abuse, violation and pain and fear if she carries fear and pain regarding herself, life and others which are not Soul Truths.
Unless she takes responsibility to heal her pain and fear, knows she can lay boundaries and does not have to take other people's poor behaviour personally and if she does not allow that poor behaviour to define herself.
I know this article is a little different to what I normally write about on the blog. I felt compelled to write this article because I think there are a lot of unanswered questions regarding how Karma relates to narcissistic abuse.
I'd love to hear what you thought of this article and if it benefited you.
Additionally I'd love to hear your opinions about Karma. Do you believe Karma is "what goes around comes around" or do you think it goes deeper than that?
Thanks for reading!

The following two tabs change content below.

Melanie Tonia Evans
is an international narcissistic abuse recovery expert. She is an author, radio host, and founder of Quanta Freedom Healing and The Narcissistic Abuse Recovery Program. Melanie's healing and teaching methods have liberated thousands of people from the effects of narcissistic abuse world-wide.

Latest posts by Melanie Tonia Evans (see all)