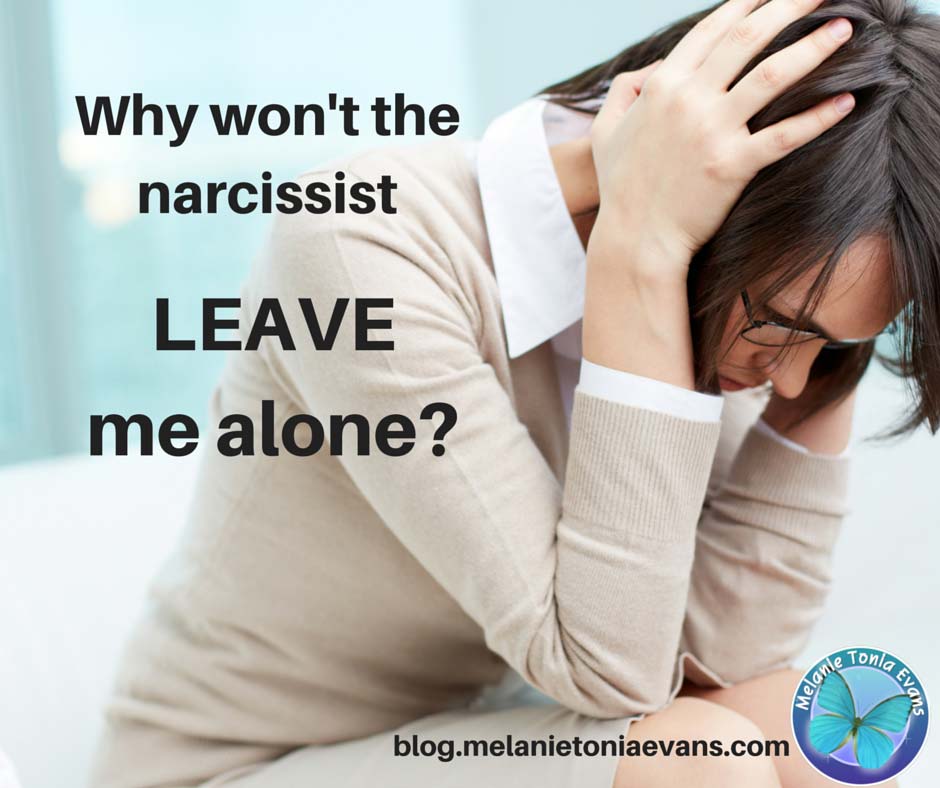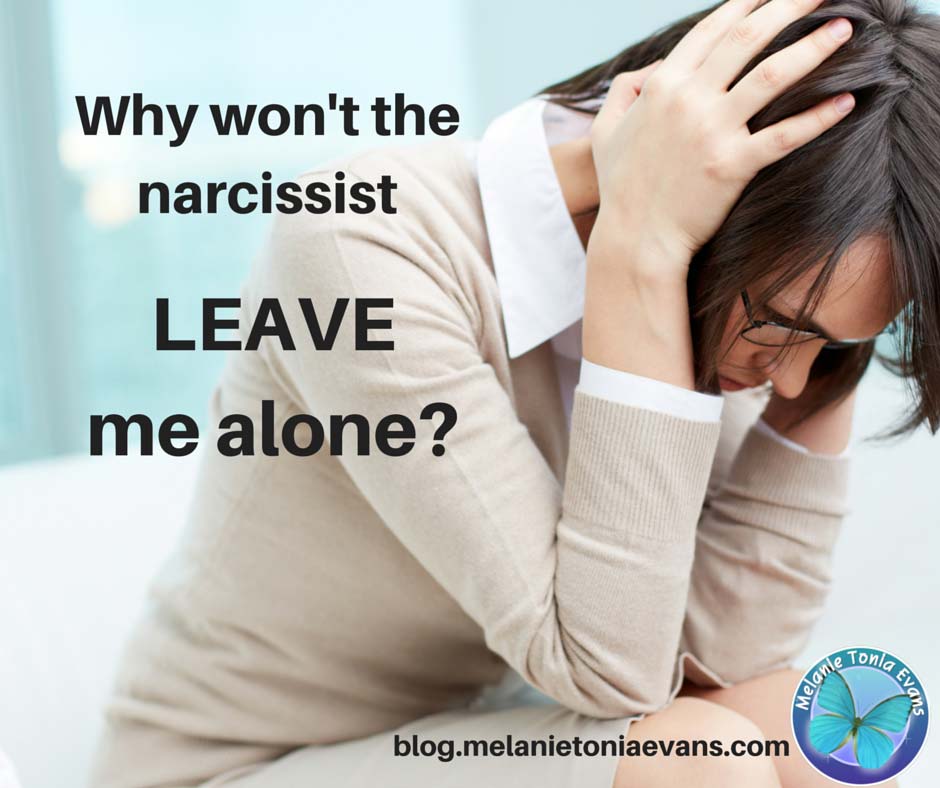 This is a great question that I have wanted to address in a blog article for a while. It's a question which is asked a lot. It's also a question that's very important to understand the answer to.
Most people think that narcissists are relentless, and they won't let up, and that there is no way to get rid of people who keep harassing, hoovering, wanting to rip your life to shreds and trying to suck you back in time and time again.
And it can seem unreal that even after years, and even after moving on with new people, that narcissists will continue to make random contact with you.
Shamelessly, out of the blue …
As if nothing happened!
As a result of reading this article I hope you understand that whether or not the narcissist leaves you alone actually has nothing to do with the narcissist – and it has everything to do with you.
And that is a good thing – because it puts the power back where it needs to be.
The Energetic/Soul Nature of Narcissistic Abuse
Narcissistic abuse and connections with narcissists are not logical. They are an energetic, psychic vandalisation.
The connection with a narcissist is a powerful experience – a huge life event that is either going to end up as a breakdown or a breakdown / breakthrough.
Narcissistic abuse is a soul lesson – a soul contract.
Soul contracts happen for our evolution, they occur in our life to bring forth the understanding and awakening we need, in order to evolve beyond who we were previously being.
When we experience soul lessons they can be relentless; they don't tend to let up until we have got the message. Sadly, in our world views we have been trained to be highly unconscious – which means not recognising that soul contracts and reasons for adversity exist.
We have not realised that dis-ease (as an example) is really all about our bodies stating to us, "You have had the emotional warnings, and now this is the only way I am going to be able to (hopefully) get your attention."
The truth is conclusive and overwhelming that people who learn through illness what they need to learn, who up-level the emotional state that created the warning, often make full recoveries. I know personally of many people (some of these close friends) who state that serious illnesses, including life-threatening cancer, was the best thing that happened to them because it woke them up. They dramatically changed their life in order to survive.
They make major life-adjustments; things like forgiving people, leaving toxic relationships, and no longer treating their bodies abysmally with stress and poor nutrition etc.
In other words they cleaned up their consciousness, their health and their previous emotional state dramatically.
For many people (myself included) personal catharsis occurs when life can no longer go on as normal.
I truly believe that narcissistic abuse is identical in intensity to life threatening illnesses, and we either awaken or we don't.
I know 100% in my own life, as well as so many others, that our previous way of operating "in love" was a co-dependent model. We were seeking love, approval and security from outside of ourselves.
Additionally, we were incredible hard on ourselves – critical, demanding and conditional. We did not love and accept ourselves warts and all, and we were always trying to be "better" and "more" in order to believe we were lovable.
Co-dependents are strong people – we are usually capable and resourceful. We are battlers. We usually get back up again and keep doing what we were always doing – try harder. Yet, when narcissistic abuse came into our life it smashed our ability to stay "as we are".
We were set fair and square on our behind with tortured emotions and a disintegrated life knowing something had to change.
We thought we could change outer situations and what they were or were not doing.
If we start awakening, we realise that we can't change the narcissist (or anyone else for that matter), and the only person we ever have the power to change is ourselves. And this is when we can start evolving.
I promise you this – the people who take on their self-evolution start getting left alone by narcissists – EVERY time 100%.
And I mean this – and I am even talking about shared custody, property settlements etc … truly …
The people who don't aren't.
Because they haven't got the lesson yet, and your soul wouldn't have it any other way. The soul contract (to help you evolve) is not fulfilled, and you haven't got the message yet if a narcissist isn't leaving you alone.
You see, your soul is only interested in you being free of the parts of yourself which aren't allowing you to be your highest and best self. And, necessarily, in an unconscious world which doesn't have this essential training as a part of its curriculum, the messages need to come in ways that do get our attention.
Such is the connection to a narcissist.
The Other Side of the Fence
Let's look at why narcissists are relentless if you have not up-levelled and healed beyond the reasons why you are hooked into a narcissist in the first place.
A narcissist's emotional driver is narcissistic supply – meaning the attention from life to allow him or her to know their own significance. As is the basis of all addictions, the attention and energy from others (good or bad) is used as a self-medication to escape "being with self".
Because the gnawing inner screaming wounds of a broken child long ago discarded and divorced with no intention of ever reviving him or her back to health – feels unbearable.
The narcissist opted for a False Self to take over – a fictitious character who is never appeased, never at peace and is an insatiable bottomless pit needing energy constantly – repeat top ups because any energy never holds and never durably satisfies.
Like all addicts the narcissist is not fussy; quantity and instant gratification is the name of the game without emotional maturity or discernment. Any hit of narcissistic supply is better than none. So what that means, like any drug addict is, whoever will hand out narcissistic supply (attention) is a prime target.
What constitutes wonderful narcissistic supply is: people who provide high emotional content. Good or bad it makes NO difference.
Please, please understand this – if you are shattered, devastated and distraught this is A-Grade narcissistic supply.
So many people want to believe that the narcissist is purposefully malicious. No – I don't subscribe to that. What I DO subscribe to is this … the narcissist is such a powerless, broken self-loathing child in an adult body that ANY high emotional content brings the temporary relief of, "I must be important to affect another person this much."
It also offers an offload of the painful trauma energy that the narcissist felt when he or she was engulfed, abused or discarded as a child and suffered the emotional annihilation to divorce the True Self and create a False Self in its place.
This original trauma has all been projected and twisted by the narcissist's disordered neuron brain pathways to mean, "you have hurt me so much" (yes the narcissist believes totally that you are a replay of the original abuser) that "you deserve to hurt now too."
In such a manner the narcissist feels the temporary relief of vindication – which like all temporary relief doesn't hold – it is only a quick fix in the moment.
I have said before that narcissists are like crocodiles that pile lumps of meat under rocks for a future chew when supplies get low. That's exactly what narcissists do – they keep contact with various drug dealers – meaning whoever will dispense narcissistic supply. They keep multiple supplies on the go so that narcissistic supply can be achieved at a moment's notice, to self-medicate horrific emotional pain, in times of need.
Now this is the "weird" thing, and I promise you this is true … you don't even have to make actual physical contact to be kept on the "hit-list". Even if you are still emotionally hooked in the narcissist will often persist. Because they feel your anguish (that's narcissistic supply) energetically – even if you never respond again.
You are still handing them energy, because they are sticking a psychic emotional hose into you and sucking your very life-force.
And this fuels the narcissist up to keep tormenting and punishing you.
Any of us who have been emotionally enmeshed into a narcissist – with our corresponding original traumas which are not yet healed – have felt this psychic drain and hook profusely.
It literally feels like your body, emotions, mind and ability to "live" have been taken over by another entity.
THAT is what needs to be broken and up-levelled beyond.
When The Narcissist Doesn't Contact You
I really want to address this part of it. Many people are aware that narcissists "hoover", meaning that they don't let completely go and they keep making contact. People often wonder, "Why isn't this happening to me?" Or maybe they have a narcissist who does make contact and then doesn't at times – creating their obsession about this.
There are two reasons – if you are still hurting – that a narcissist has let you go.
There is better narcissistic supply, or
The narcissist knows this is the thing that hurts you the most – the being discarded, not being important and worthy of the narcissist's love or attention.
I promise you this – if you are hurting the narcissist at some level feels it and will be compelled to keep delivering the silence.
Ultimately all of this is a "game" of egos and pain and fear in battle. It is not true love. True love is only possible when we are whole enough to love ourselves first. True love is not possible with a narcissist because they have a shattered Inner Identity.
The narcissist is taking out his / her unresolved original traumas on you, and you are trying to resolve your original traumas with a person who is the messenger of them and not the healer of them.
You are no more capable of healing the narcissist's wounds than the narcissist is able to heal yours.
Any delivery of "not being loved" by someone who is not ourselves, ultimately is showing us how and where we are not self-loving.
I have seen on so many occasions the reality of how things play out energetically with NARP Members (the people who work with up-levelling their original wounds).
There are many times when a person heals and releases themselves from their original wounds, which unconsciously led them into relationship with narcissist, where the narcissist makes one last ditch effort to connect – often out of the blue – and sometimes immediately.
The interesting thing is, on a true up-level with Quanta Freedom Healing, the person previously affected by a narcissist couldn't care less. They have resolved and moved beyond the soul contract – meaning they have healed their original traumas that the narcissist was bringing to their attention via abuse.
After that attempt, which doesn't even create a trigger, the narcissist often gives up.
Soul contract fulfilled – evolution achieved.
From Co-Parenting Nightmare to Major Breakthrough
I have seen people co-parent successfully with narcissists after up-levelling.
Absolutely … and I hope this gives many of you, who are struggling with this, hope.
Jean, a NARP member, contacted me excitedly to let me know that things with her ex-husband and co-parenting was incredibly calm, and even respectful. This was in stark contrast to his previous behaviour about fighting her about everything.
He used to switch things around, do things with the kids to rile her up, and not honour boundaries and orders. When Jean up-levelled all the original wounds in her subconscious connected to him, she was no longer triggered by him and then he was no longer bothered with "annoying her" anymore.
She had let go of any of the charges on his antics, and he just stopped doing them. The major breakthrough happened when one day she was discussing on the phone something to do with the children, and she heard him speak to his new partner in the background exactly the same way he used to talk to her.
Jean was amazed. The truth was she was no longer handed him narcissistic supply – the soul contact was fulfilled. She had healed all the parts of her that used to hold him responsible and be affected. This now meant he had to put his garbage onto another target that he was playing out evolutionary business with.
Jean no longer relied on him to be a provider – that had been a huge hook for her in the past. She was beyond that and now generating security and wellbeing for herself and the children without any unhealthy dependencies on him.
The greatest evolutionary work Jean had done in her subconscious was healing the fear of not being able to survive without him, and needing him to be the provider and protector of her and the kids. This was Jean's major soul lesson – as it is for many women – is to know we are capable of generating lifeforce and security for ourselves and our offspring without being dependent on a man for our literal survival.
(This is one of the many DNA survival programs that can make women incredibly susceptible to abusers.)
The truth was there was no more narcissistic supply to get from her, and narcissists will not act out and expend energy in acting out if there is no return for their invested energy.
This was why he was not acting out with her in regard to the kids anymore. What would be the payoff for him? There was none.
The Other Half of the Magnet
The Victim Model naturally is powerless.
People who subscribe to it don't take the gift of their own personal evolution (the narcissist making their unconscious wounds conscious) and they stay in the high-emotional content that the narcissist has triggered. They stay hooked into the punishing lesson that they are not "getting".
This is a path of disintegration rather than integration. It is the model of dissolve instead of evolve.
Let's look at Bonnie's situation.
The narcissist in her life represented her unhealed childhood wounds perfectly (as they do). He replayed exactly what her father had done to her mother and herself … he ignored her, threw her crumbs, waved other women in her face and told her often how she wasn't good enough.
Bonnie had modelled with him exactly what her mother did – try to get approval and love and security from a person who had no intention of every giving it to her.
In the case of the narcissist now in Bonnie's life, she had tried to love him more, be sexier, thinner, more intelligent – she jumped through every hoop possible. She had also pleaded, begged and declared her love. And when that didn't work and Bonnie was devastated and trying to get over him, she would be with girlfriends trying to enjoy herself … attempting to meet other guys, have too much to drink and text him.
When the pain got too much that Bonnie couldn't sleep, she would sometimes drive past his house in the middle of the night hoping to catch him out with another car there. She thought maybe this "proof" would help her let go. But it never did, it only made her panic more and try harder to win his love.
Bonnie was doing all of the normal things we do when we are hooked on a narcissist who is delivering exactly what we need to heal, before we start healing it.
At any time when Bonnie finally, finally summoned up enough strength to stay away and stop contacting him the panic and longing would persist. She was doing it tough – really tough.
And every now and then he would send her random texts out of the blue – ranging from something he saw that apparently reminded him of her, or even words like, " I love you, I'm sorry. I've got to thinking that we really should be together."
What was horrific for Bonnie was each time she gave in to these messages and reconnected with him – he would discard her again soon after.
Her evolution lesson was not integrated. Her childhood wounds of not feeling worthy of love, and not being important enough to be loved were repeating with the perfect person to make these unconscious wounds conscious for her.
Because these parts of her were not healed, why would her soul let go of this soul contract? Why on earth would he stop contacting her? He's not meant to until she stops holding him responsible for the healing of these original wounds, lets go and starts doing the work on them herself.
Then the nightmare will end.
Then he will move out of her experience.
The Bottom Line
It is so important to understand in narcissistic abuse that narcissists are catalysts. They are integral steps to our evolution – whether they are in our life right from the get-go as a child, or they come into our life later to replay the wounds we took on from unconscious role models who did not have the essential resources to be "whole" in their own beings either.
As children and as unconscious adults stuck in the emotional container of our unresolved wounds – we are powerless. We miss the evolution lesson and we stay snagged and connected in our traumas with the people who deliver them, replaying them over and over again.
Even if the narcissist does discard us, or we manage to move on physically without our emotional resolution and evolution, we may still be on the hit list from time to time – or be on the permanent discard list … but none of that is really important.
And, even if that abuser does physically completely move on – then another one will need to take their place.
How it plays out is only the symptom of something so much deeper.
What is vital to understand is that we may have had a breakdown experience without taking the breakthrough. This is the case if we did not take the power back to ourselves to find our original wounds to heal and evolve beyond false and painful love – meaning if we didn't self-partner to heal the parts of ourselves that the narcissist was targeting and triggering up into our full attention.
In the case of Bonnie she missed it … as do so many people … the original wounds of being unimportant, emotionally neglected and abandoned and pushed aside in favour of others was never healed – as a result she stayed hooked, abused and sustaining the damage.
And whether it is this narcissist or another, or simply Bonnie's or our own relentless inner emptiness and emotional agony delivering the pain – this is also unimportant. Because all of these things are only catalysts – symptoms of the original unhealed wounds.
Nothing gets healed if we try to deal with it at the symptom level.
The agonies are the symptoms. The symptoms are a messenger of what we need to heal.
Life is happening for us and not to us.
I promise you – just like a serious illness trying to get your attention – when you uplevel, when you no longer have original wounding chaining you energetically and emotionally to a narcissist on any level – this person will no longer exist in your reality.
It's Quantum Law – they can't.
For this to occur, you have to be self-partnered and do the work to the level of having no emotional investment in what they do or don't do. Then you will want your freedom more than anything emotionally, figuratively and practically. You will block the narcissist and have no charge in regard to whether or not they contact you, can't contact you or won't contact you – you will feel "Not My Reality" and not burn any emotional fuel on it whatsoever.
Because you are too busy up-levelling and developing yourself and creating your own incredible life from the inside out.
And when you create true love and approval with yourself from within, you will start generating and creating true, uplifting and soul-fulfilling relationships with all of life – as an outpour of the relationship you have established with yourself.
The narcissist sadly, is not on that frequency and never will be (unless they took full responsibility, self-partnered and did the work on their own original traumas).  They exist in another vibrational (emotional) Universe.
I'd love to help you up-level and snap off the narcissist's influence in every area of your life, in order to break truly free.
Please join me in my next 3 hour free tele-class, where you learn how to apply the Thriver Healing model to every area of your life.
I look forward to answer your comments and questions.
The following two tabs change content below.

Melanie Tonia Evans
is an international narcissistic abuse recovery expert. She is an author, radio host, and founder of Quanta Freedom Healing and The Narcissistic Abuse Recovery Program. Melanie's healing and teaching methods have liberated thousands of people from the effects of narcissistic abuse world-wide.

Latest posts by Melanie Tonia Evans (see all)