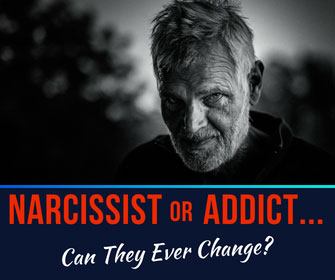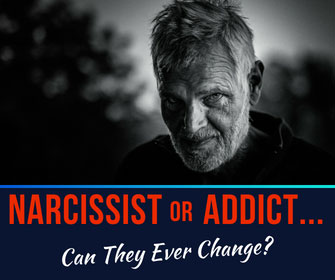 I know how painful it is to be caught up in someone's addictions – suffering the anguish of the invalidation of your needs, safety, love requirements and security – as well as seeing this person destroying themselves and others.
Of course, you hope that you can help them overcome the addiction, so that you and they can be happy and have a fulfilling relationship – whether it be your lover, spouse, child, relative or friend.
But how do we even know if this person is capable of 'becoming decent' even if they lose their addiction?
And why is it, in trying to help this person, often we just get sicker and sicker and they don't stop doing the things that are ripping our life, as well as theirs, apart?
In today's Thriver TV episode we take a deep dive into this very important question – 'Is there any hope for this addict, or are they a narcissist how can't be healthy – addictions or not?'
Video Transcript
So many people ask me this question, and maybe the following questions go round and round in your mind too.
Does this person behave like this because she or he has addiction issues?
Or … is this person simply a narcissist, through and through?
This is what today's Thriver TV episode is all about – cutting the wheat away from the chaff and working out once and for all, whether this person behaves narcissistically as a result of their addiction, or is their addiction just another part of their ingrained narcissism?
I also really hope today that you learn a little more about what drives addictions and what is really necessary to get off addictions. And I promise you I am going to tell you exactly how you can distinguish if this person is behaving narcissistically because they are an addict, or if they really are a narcissist.
Ok … let's get started with looking at some truths about narcissism. Narcissists are addicts – and their primary drug is narcissistic supply. They need it as much as an ice or crack addict needs ice or crack. Narcissists have disowned their inner being, and therefore as a result of this, their pathway through to Life, Source, Oneness, and connection with feelings of security, love, and approval are thwarted.
Narcissists are out on the raw rugged edge feeling terminally uneasy, distrusting and insecure and therefore suffer inescapable emotional trauma, meaning self-mediation is needed in order to function. That is what every addict does – attempts to self-medicate inner anxiety, terror and feelings of annihilation with a substance or pastime that drowns out (or numbs out) the inner screams.
Narcissists frenetically seek narcissistic supply – acclaim, accolades, attention, and notoriety. All of this is known as 'significance'. A narcissist without narcissistic supply is as empty and as manically depressed, panicked, nasty or catatonic as any hardcore drug addict unable to score.
The truth is this: if this primary addiction is not cleaned up then this person will never be available to truly love you and supply you with a healthy and happy life because their life is all about them – getting the drug that makes them feel better. If you are not supplying the drug of narcissistic supply adequately enough you will be punished or discarded. If someone else comes along with a better offer the narcissist will shift their attention and allegiance there.
The narcissist is not interested in healing and reviving their True Self or getting off the addiction of narcissistic supply and unless you understand that this is a self-medicating addiction, you may not realise how serious this issue is.
You may think that the narcissist's sex addictions, alcoholism, gambling or whatever it is that he or she has a co-addiction to is the true issue, because that is what we are all taught to believe – yet even if the narcissist somehow beats these issues (and some do) there is no way, as a narcissist, they will give up their nastiest primary addiction that allows them to minimalise, dehumanise, discard, punish, mine and rape people's souls and lives – namely the narcissist being hooked on narcissistic supply.
Okay, now let's look at hardcore addicts who are not narcissists. It may be very difficult to distinguish between the two. Addicts are nasty, angry, accusatory and usually refuse to take responsibility for their behaviour. Additionally, they pathologically lie in order to maintain and regulate the supply of their addiction.
Just like narcissists, they are unavailable to connect, love or care for others, because its all about them – specifically feeding the addiction going on inside them – and it doesn't matter what this addiction is, it's all the same, the addiction is a symptom of some deeper trauma
These addicts, like all addicts, are self-medicating the inner emptiness and pain of unworthiness; the anxieties and fear that are all to do with unresolved traumas. What often happens with any addicts is this: if they give up an addiction through sheer will-power, rather than do the inner work, they usually pick up another addiction to replace it because there is still the need to self-medicate the still existing inner trauma.
This is very true for narcissists too – the truth is they never give up narcissistic supply and terrible abusive behaviour ensues whether they are drinking, gambling or being sex and porn addicts or not.
Naturally, it can be heartbreaking to see someone you care about deep in addiction. You know they are destroying themselves and you want to rescue them – but there is a very hard truth about addicts and what is necessary for them to recover. And, its also the most difficult things for us to do because it is totally counterintuitive to what we think we should be doing.
I want to share this story with you because is the most perfect story I have ever heard in relation to this topic. Years ago I took a dear friend of mine to a gambler's anonymous (GA) meeting. At the tea break, I had a fascinating chat with the man hosting the meeting and his wife.  He was in his 60s and he told me how he battled drinking, drugs and gambling for 30 years.
For years his wife tried to get him help and stayed with him, but he never changed. Eventually, finally, she said this to him – 'I will no longer be with an addict. Move out and don't come near me until you have a 6-month clean bill of health.' She meant it. She was resolute. She had no idea whether or not she would be available for him if he did return clean and sober (she wasn't waiting for him) or even if he had the capacity to change.
He tried to get around it. He tried to break her boundaries (as addicts do). He twisted, turned, poured on charm, promises, then when that didn't work, anger and threats. But she didn't capitulate once. She meant it. She had no control over his life but she had fully taken back control of her own.
No more addicts in her life ever again – EVER!
Yes, she lost security, yes she had to struggle alone to look after herself and the kids, but her soul became more important than bricks and mortar.
After a brief stint in rehab, he tried to come back – but she wouldn't take him. Her agreement was ONLY written proof that he had not drugged, gambled or drank in 6 months. For two years he fell back on addictions, but with therapy and regular GA, AA and NA meetings and getting totally serious, he finally broke through.
When I met him and his wife, he had been addiction free for over 10 years. His wife expressed how she adored him and said he was the most beautiful man she could ever hope to be with – as well as father and grandfather.
He said about her, 'She saved my life. If she hadn't done what she did I would be dead.'
I want you to understand the power of Quantum Law here – so within, so without – people can only love us and treat us identically to how we love and treat ourselves. If we stay around abuse and addictions, then we are abusing ourselves and we also have our own addiction to this person – self-medicating something inside us that we haven't turned inwards to heal and free ourselves from yet. And, we not only enable this person to keep abusing us, but also to remain being an addict.
It isn't until people no longer have the roof over their head, food on the table and their bills paid, as well as any of our attention, that they are left having to face and hopefully heal themselves. Unless they get to this rock bottom they will never have the opportunity to.
This is where we have to let go, take care of ourselves properly and allow that to happen and NOT be attached to the outcome. Too many addicts get saved from hitting their rock bottom from well-meaning people, and never heal anything. And, either way – whether they return or not – we get to live our truth.
Please know a narcissist is not going to get well, however an addict who is not a narcissist like this lovely man possibly can. But will you ever know if you don't become and walk and demonstrate the truth of your own soul and what you will and won't accept as your life?
No!
Okay, I understand totally how terrifying it is to let go and set your boundaries, mean it and no longer compromise yourself, and if you are struggling with this question – narcissist or addict? – I want to show you exactly how to find, release and heal your inner traumas that are causing you to sell yourself out and self-medicate by staying attached to this person.
And that's vital because it is the only way to clean up your life and start creating it as 'addict and narcissist free.'
So … to get started on this and get relief asap, you can sign up to my free 16-day recovery course, which includes a profoundly healing workshop with me, a set of eBooks and lots more.
So until next time… keep smiling, keep healing and keep thriving because there's nothing else to do
(Visited 1 times, 8 visits today)
The following two tabs change content below.

Melanie Tonia Evans
is an international narcissistic abuse recovery expert. She is an author, radio host, and founder of Quanta Freedom Healing and The Narcissistic Abuse Recovery Program. Melanie's healing and teaching methods have liberated thousands of people from the effects of narcissistic abuse world-wide.

Latest posts by Melanie Tonia Evans (see all)