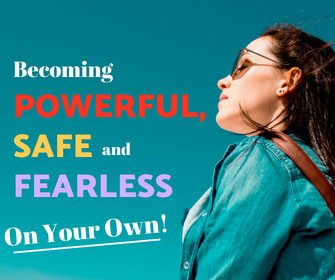 Today I'm really excited to kick-off a brand new Thriver TV Series, which is all about the next steps – how you can go from being a Survivor to a Thriver – expanding out into life and into your true potential …
So that you can achieve your goals, dreams and all that your heart desires.
Many of you have been asking me to share more than just about abuse recovery, and as such, this is exactly what this new series covers.
In today's Thriver TV episode we take a deep dive into being becoming powerful, safe and fearless on your own.
In this video, I want to help you deeply examine and discover how to outgrow your dependency on others, where you may have handed your power away and kept enmeshed with people as a means of trying to obtain your survival and happiness.
I will also be covering how I overcame the fear of not being able to do things alone and was able to breakthrough to be confident and start loving life, as an essential foundation for myself.
Video Transcript
I'm really excited about today's Thriver TV episode because this is the first of a brand-new series – about life after narcissistic abuse. This is a series where I want to help you get to where I am now and show you how I achieved it. This is all about the next steps after narcissistic abuse recovery – to create your most empowered Life.
So, this is really appropriate for those of you NARPing (using the NARP Program) … or people working with other subconscious tools to shift your inner programs to free yourself internally from narcissistic abuse …  because, as a result of this, you have created space inside to move into new trajectories in your life.
And please know this is not an 'all or nothing' deal – expanding into your True Self and True Life after abuse, or not. Because of course you may be triggered sometimes back into abuse wounds, whilst working on your forward movement, that is normal. You certainly can work with this series whilst still working on core abuse wounds.
I am so excited to be sharing this New Series with you because so many of you have been asking for it. For those of you who are still in the trenches with deep abuse wounds, and know you are not ready for these next stages yet, please don't feel left out. These videos are as faithful as housework – they are not going anywhere! They will await you until its time for you to pick them up.
Okay, let's get started by looking at the goal in regard to learning to do things on your own after narcissistic abuse. After narcissistic abuse, we are coming off the trip of unconsciously assigning someone else to be the source of something that we are not as yet providing ourselves. Without knowing it, we handed this person our power – our life, our decisions and our energy. And, until we woke up, we did not realise that some part of us was unconsciously assigning this person to provide us our life, and then we were torn apart whilst clinging to them trying to have them provide it.
After doing the abuse healing work with NARP, we discover that it's vital that we heal these gaps, these internal fractures where we are not being a source to ourselves and where we were dependent and therefore enmeshed with others unhealthily.  After experiencing how dangerously precarious that this made us in regard to staying and accepting abuse, we need to find a way to develop and love what we are capable of providing for ourselves.
On a macro level, the four main gaps that we can suffer from regarding not being a source for ourselves are: love, approval, security and survival. The great thing is if we are doing the inner work with NARP, or some other subconscious healing tool, as a result of self-partnering, being with and releasing our inner traumas and freeing ourselves back to wholeness, we became self-loving organically. We also become self-accepting because we are being present with ourselves wounds and all.
I actually don't believe there is any greater way to love and accept ourselves than to self-partner with our inner being when it deeply needs us and heal and love ourselves back to wholeness, rather than self-avoid and self-abandon. So, if you are already doing this – you have the development of your self-love and self-acceptance covered.
What I really want to talk about in this episode starts with the matters of security and survival. Feeling shored up in these areas is very much about doing things on our own. It is about melting away those stuck feelings of powerlessness which have left us reliant on other people to provide us with what we think we need, to not just survive and create our security, but … additionally also those things that give us joy and pleasure and confidence and expansion as well.
Many of us did not grow up knowing how to be a source to ourselves. We may believe that we are nothing without a partner, or life experiences are empty without someone special to share them with, or that we are like a leper if we go to an event without a partner – and we can't stand doing that. It goes like this, 'My life can only begin when I get a partner.'
Or maybe deeply and insidiously we carry a deep shame and feelings of unease and inadequacy about knowing, trusting and defining ourselves as an individual, because of the abuse and pain we have experience in our past. Maybe you were shot down for having your individuality when you were young. Maybe you were never allowed to develop and express your true unique self. Perhaps there was so much dysfunction in your family no-one modelled independence healthily. Maybe, someone completely controlled you and took over your life aspects for you.
After narcissistic abuse, the greatest goal I could encourage you to achieve, before wanting to meet someone else to complete you, is to discover what it is like to fully mate your own soul and create your own life first.
This is vital if you want to be truly full, whole and happy between you and you, instead of being precariously reliant on what other people are or aren't doing. Additionally, you start generating 'more' organically and healthily in your life, if you become the foundation of experiencing all the wonder and joy that you can connect to – within and without of yourself.
This doesn't mean, go to every outrageous party and social gathering or fun event you can. All of these things can be ways that we continue to self-avoid, distract ourselves and not really connect into a fulfilling relationship with ourselves.
What I really mean is to enjoy time in nature, time journaling, and essential time healing. These are things like time alone to walk, do further Quanta Freedom Healings (I do them constantly when in need as my go-to lifestyle), meditate, have baths, take yourself out to dinner. Go away by yourself to a beautiful destination to see sights, visit markets, enjoy local customs, learn about different cultures.
By now because you have already worked hard at releasing and healing your inner abuse programs on your couch or in your bedroom at home, you now have some space, energy and confidence inside you to 'get out there'. And simultaneously, as you do expand into life with yourself, keep clearing all the beliefs and traumas that are not allowing you to be your dearest companion, your most adoring support person and best friend to share your life with.
Also, the essential day to day relationship with yourself needs to be cleaned up totally. How do you speak to yourself on a daily, even minutely basis?
From being a person who used to self-criticise and condemn myself, to one who talks to myself lovingly now, I can't tell you what a relief that is. It is so sobering to know that people are always going to connect with us and love us in the identical ways that we connect to and love ourselves. If our relationship with ourselves is not healthy – we get with unhealthy people. If it is healthy then we reject unhealthy people and start to connect with people who mirror back to us our love for ourselves.
I really want you to understand this, you know there is absolutely no option other than to make it your greatest and highest mission to love you, love being in your body and enjoy loving life. Those of you who have achieved this know, as I do, that this feeling is indescribable. It is a return to true love, the love and life that we were always looking for outside of ourselves but was within us all along.
When we get to this point, we are coming home. We may still have trauma to meet and release but no longer are we waiting for someone else to come. That person has already arrived.
Something I knew I diligently had to do after narcissistic abuse, was break through all of those fears of doing things for and just with myself. In some areas of life, I was confident, yet in others, I wasn't.
Maybe you too can relate to what I am about to share with you … I was terrified of confrontation. I wanted other people to speak up for me and fight my battles. I hated doing certain official business and accounting stuff. My father had always done them for me. I was terrified about dealing with authorities, travelling on my own, turning up to a party on my own … the list went on and on.
When I realised that these fears and susceptibilities had made me assign other people as my source and hand my adult stewardship and power away, leaving me like a terrified child clinging to people for my survival and security, I made a firm commitment to breakthrough these fears and face doing things I had never wanted to face before.
I made a list of my fears and one at a time I confronted all the terrors and blocks in my body about them with Quanta Freedom Healing (a lot of this work is the specific healings I created for this community in the Empowered Self Course), and released these and started to expand forward, powerfully and easily.
My confidence soared as a result. My life now is flourishing and powerfully self-generative. I am now a woman who doesn't need a man to grant me my life, travel, be successful or make my own decisions or stand up to whatever challenge is thrown my way. The woman I am now bears no resemblance to the woman I once was. It was the inner work that got me there.
And, rather than 'doing things on our own' limiting us from connecting with others, it actually promotes it beautifully. Because no longer are we needy and making poor choices with the company we keep. Healthy good people gravitate to us so much easier, because we are solid, whole, confident and radiant.
So within, so without – if you are healthily self-partnered and loving your own company and blissful and extending out into life, you will be magnetic and will easily create many other fulfilling relationships.
I hope I have inspired you to love to do things on your own. It's vital to master, truly, because the relationship with you is the foundational relationship for every other relationship you will ever create.
Also, please share in the comments, any topic at all, that you would like me to cover in this new series.
And …  this new series needs a name. I had 'Thrive On' but I think we can do better, NARPers are already suggesting great names in the NARP Member's Forum, and I would love you, as my lovely YouTube and Blog followers, to also tune in and grant me your ideas! I'd love to hear your suggestions.
Okay … I just want to finish off with this … expanding into our best life after narcissistic abuse is not something we do because there's nothing else to do. That was about recovery. After narcissistic abuse recovery, gloriously we take it further because we CAN!
Lots of love, bye bye.
(Visited 1 times, 6 visits today)
The following two tabs change content below.

Melanie Tonia Evans
is an international narcissistic abuse recovery expert. She is an author, radio host, and founder of Quanta Freedom Healing and The Narcissistic Abuse Recovery Program. Melanie's healing and teaching methods have liberated thousands of people from the effects of narcissistic abuse world-wide.

Latest posts by Melanie Tonia Evans (see all)