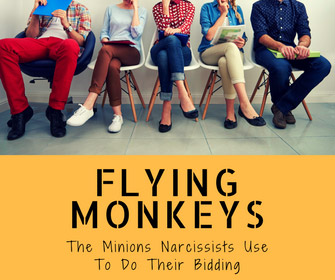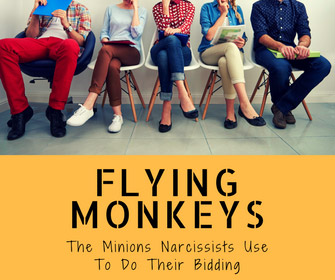 Flying Monkeys is an expression that most people in narcissistic abuse communities know about.
It's used to describe the people who the narcissist convinces to do their bidding.
Abuse by proxy (using other people to abuse us) is a such a common occurrence with narcissistic abuse, and in this episode I'm going to explain to you how to completely eradicate Flying Monkeys from your life – just as myself and thousands of other Thrivers have done.
Because I know how awful it is to not only be dealing with the heartbreak and terror of what a narcissist is capable of doing to you … but to also have a minion of people hounding you and trying to bring you down is horrific.
Understandably, because the trauma from the people who narcissists have enlisted against us may be so extreme, we can feel devastated and paranoid not knowing what has been said and what people may do to us next.
And … devastatingly, regardless of what we try to say or do to defend ourselves … these people are convinced we are the bad one.
It shocks us to see how toxic and vehement people the people who the narcissist has twisted against us, can be towards us.
I get it – I truly do. I used to detest these people and what they were trying to do to me. They became accessory enemies to me.
And initially what I was trying to do to help myself was doing nothing to help my situation at all.
Fortunately, I found another way, a way to not only survive what the flying monkeys were doing to me, but also to dissolve any influence they had in my life whatsoever.
In this Thriver TV episode it is my deepest wish that you too will learn what I did, and turn this all around … so that other people will no longer have the power to hurt you or bring your life down.
I used to want to curl up under a rock forever, when I was being smeared and tormented by the narcissist's army of followers … yet when I found the answer to free myself from them, I can't describe to you the relief and power in being able to walk down the street, conduct my life and BE myself – with my head held high!
It is my most passionate hope that this episode will free you to do the same.
I look forward to answering your questions and comments below.
The following two tabs change content below.

Melanie Tonia Evans
is an international narcissistic abuse recovery expert. She is an author, radio host, and founder of Quanta Freedom Healing and The Narcissistic Abuse Recovery Program. Melanie's healing and teaching methods have liberated thousands of people from the effects of narcissistic abuse world-wide.

Latest posts by Melanie Tonia Evans (see all)