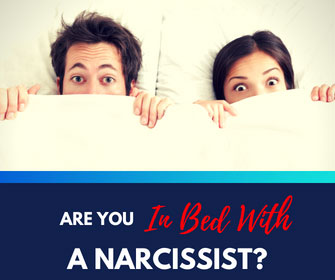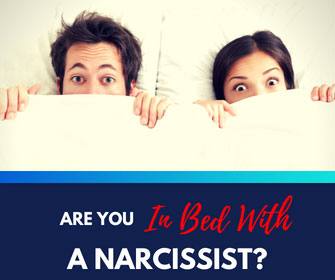 Have you had the experience of feeling like you are in too far with a narcissist?
Possibly … you feel like you have completely LOST yourself … and even suspect that your heart, mind and soul has been taken over by this person.
Goodness … narcissist number 2 in my life, with an intense stare, would say this to me: "I own your heart!"
It sent shivers up my spine! (I know I'd run a million miles from anyone who ever said that again!)
The very fact that you in this community, means you know what it is like to be 'in bed with a narcissist'. It doesn't necessarily mean that you are trapped into having sex with them (even though of course that can be part of it.)
What it REALLY means (in the context of this video today) is that you feel like this:
You can't break away …
And … when you try to leave and move on with your life, you feel such levels of anxiety, depression, and powerlessness that you feel like you may not be able to survive without this person.
In this very important Thriver TV episode, I am going to explain exactly why this is the case as well as what these enmeshments with a narcissist are REALLY about – and how you can break what seems like unbreakable ties and binds to this person.
So that you can start to experience a life that is far superior to the one you were living, even before narcissistic abuse.
Video Transcript
Ok, I admit it, this title was definitely to get your attention. But … I'm not necessarily talking about sex. This topic is actually even more dynamite, I believe!
Today, we are going to go deeply into the symbiotic energetic ties that we can form and get trapped in with a narcissist.
In the context of this Thriver TV episode, what I mean by 'being in bed' with a narcissist is being energetically trapped by and tied to them. And it's important to understand this because the connection with a narcissist comes at a hefty price, which we may not be aware of until it is too late. And if we don't awaken and rectify this by cutting off the energy leaks allowing it to happen, a narcissist could syphon us out all the way to our demise.
So … how do we awaken?
What is it that we have to do to get away and reclaim our souls and rebuild our life?
Stay with me – because I'm going to share with you in few minutes exactly how to achieve this.
Let's dive right in … the deep soul enmeshment with a narcissist is insidious, symbiotic and deadly. In this symbiotic relationship of dependency between the narcissist and ourselves, we know what is in it for the narcissist – narcissistic supply, the necessary energy and attention they require to survive – but what is in it for us to unconsciously connect up with a narcissist and continue to hang on?
As Mateo Sol, a prominent psychospiritual teacher whose work has influenced the lives of thousands of people worldwide says 'An energy vampire can never "steal" energy from us unless we consciously or unconsciously permit them to.' And this is a huge awakening for us because we can only work with and change our lives if we come home to what is happening within ourselves.
I know I always used to say 'He won't leave me alone. He won't stop doing what he is doing!' and it wasn't until I did the deep NARP healing work that I totally discovered and found out that there were many unhealed parts of me invested in hanging on.
It wasn't until I deeply admitted this, investigated them and healed those unhealed parts of myself that were clinging to him, that I finally got out of bed with him.
Yes, absolutely when we are trapped emotionally and energetically with a narcissist, there is trauma bonding involved but is there is much more to it all than just this. And as always what I really wish to do in these episodes is make the unconscious conscious, so that the truth can set you free.
If we are in bed with a narcissist literally or figuratively we are experiencing intense feelings of connection, that may feel like love but as time goes on feel a lot of the time like hell. And at first we aren't aware that something is off, but as the narcissist's mask dropped, we started to experience unease, anxiety and confusion as the true narcissistic personality appeared. By the time obscene abuse appeared, we were usually invested; metaphorically we were well and truly in bed.
This is such a different level of enmeshment than we may have with a person who is not an energy vampire. With a narcissist, this is no less than a soul fusion, an unspoken agreement, a symbiotic exchange that truly is like dancing with the devil.
We connected and committed to this person because we believed (usually unconsciously) that the narcissist can supply us with something – some form of love, approval, security or survival – or other aspects of our life that we believed were missing or lacking for us.  We did this without understanding what is really involved here.
If you were born into a narcissistic family or ended up with an abusive caretaker, you had no option other than to be bonded to this person to try to receive love, approval, security and survival. Of course, you were completely dependent on them.
Regardless of our circumstance of being bonded to a narcissist, the other side of the deal is deadly. By connecting up to a narcissist and looking at them for parts of you – such as 'finally I feel loved and there is no way I ever want to go through being single and lonely again' or 'This person has the power and security I wish I had' or 'This person makes my previously dull life full of colour and life now' (or whatever it is)  the narcissist gets to claim a stake on your soul, which goes like this: 'Now that you are conjoined with me, I will drain you and use you to fill my own energy source as well as project my demons onto you, for as long as I wish. When the time has come when you are no longer serving this purpose adequately, I will discard you.'
I can almost hear you asking, 'Does the narcissist know he or she is doing that?' Mature self-analysis and healthy honest introspection are not pastimes that narcissists indulge in. Gaining and regulating narcissistic supply is. I did this video some time ago on this topic:
Do Narcissists Know What They are Doing?
This I want you to understand – unspoken symbiotic soul contacts are powerful binds that can have tragic consequences if we don't understand them and evolve beyond them.
I'd like to help you understand this with a little story I love – it's called the Magical Kitchen Story, written by Don Miguel Ruiz.
If you haven't heard it – it's powerful. I'll condense it. Imagine that you have a well-stocked kitchen in which you regularly cooked delicious, nutritious meals for yourself. Then one day someone knocks at your door, and it's a person with a pizza.  You open the door, and the person looks at you and says, 'Hey, do you see this pizza?  I'll give you this pizza if you let me control your life. If you just do whatever I want you to do. You are never going to starve because I can bring pizza every day.  You just have to be good to me.' Naturally, because you have your own delicious nutritious food there is no way you will accept that deal. You tell the person 'No, thank you! I don't need your food!'
Now imagine if several weeks have gone by, and you haven't eaten.  You are starving, and the person comes with pizza and says, 'Hey there's food here. You can have this food if you just do what I want you to do.'  You decide to accept the food and do whatever that person asks of you.  You have food today, but tomorrow you may not have food, so you agree to do whatever you can for food.  You have become a slave because of food because you need food because you don't have it.  Then after a certain time, you have doubts.  You say, 'What am I going to do without my pizza?  I cannot live without my pizza.  What if my partner decides to give the pizza to someone else — my pizza?'
Just like the pizza dude in this story, narcissists know how to trap people – they profess to supply something to that person that this person is not supplying to themselves and then as time goes on and that person is dependent and secured as the narcissist's energy source, the deal becomes incredibly lopsided. The narcissist can start handing out a totally crap grade or even stop supplying what this person is 'needy' for all together and the person still remains hooked trying to get from the narcissist what they believed the narcissist was going to provide them.
I remember screaming at the narcissist, 'You promised to love me and never hurt me!' whilst he continued his insane abuse and I stayed there accepting it. Who wasn't really honouring their soul commitment of love and respect – me to myself of course.
This was such a huge thing I had to be so honest about in my own life. It was the hardest thing to admit and the scariest thing to meet and heal in me, but there is no true way to break free from the deadly binds of being in bed with a narcissist – having a stake on and ownership of your soul – if you don't heal beyond these dependencies.
Of course, we can play the victim and believe all of this is happening to us. But what is our stake in this? What are we holding on for? What is it that we want the narcissist to give us that we are not as yet providing for ourselves?
The thing is that we are usually unconscious to this, because when we are operating out of the container of our unhealed wounds our mind is following our body – we believe in all of the illusions that are not the real truth.  We believe we have a right to force the narcissist into accountability, and that we are doing the right and loving example by hanging on. We tell ourselves this is all about devotion and trying to sort out our relationship, but what is really going on is this symbiotic toxic enmeshment that we are playing out with the narcissist as a potentially deadly and unhealthy soul contract.
However, it really is a make or break deal – it can destroy us if we don't awaken to the truth, or if we do, it will evolve us to a far superior level of joy, freedom and power than we have ever experienced to this point.
This is the experience we have before we awaken, just like the pizza dependant person, we sell our soul to narcissists in the hope they provide us with what we feel will fulfil us. Such is the price, before healing ourselves into a solid and healed Inner Identity having a relationship directly with ourselves and the healthy components of life.
How do we know we are aligned as a True Source as opposed to out of alignment? We are self-partnered, we are no longer handing our power away. We aren't accepting levels of love that are less than loving ourselves.
We are able to lose it all to get it all, we know that we can let go of something or someone that is not working out in order to reapply and regenerate with other healthy components of life, which are plentiful and available when we are a healthy inner match.
We are no longer, like the person accepting pizza with terrible conditions – being needy, limited and living in lack because we haven't as yet become a whole, healthy source to ourselves.
I'd love you to learn how to become your own source of self, where you are full, healthy, self-sustaining and self-generative and can say 'no' to a dodgy deal.
And, after letting someone in and seeing the deal has become dodgy – which I promise you by showing up, honouring ourselves and our values and rights doesn't take long with narcissists – you will declare 'Get lost! You and that greasy pizza NO More!' and you'll turn inwards and align with your soul truth, and your commitment to be and generate a beautiful healthy buffet.
If this resonates with you, I'd love to get you started on this journey to becoming your won magical inner kitchen, which is whole and plentiful, by signing up to my transformational resources in my free 16-day recovery course, which includes an invitation to a healing workshop with me, a set of eBooks and lots more.
I look forward to answering your comments and questions below.
(Visited 1 times, 14 visits today)
The following two tabs change content below.

Melanie Tonia Evans
is an international narcissistic abuse recovery expert. She is an author, radio host, and founder of Quanta Freedom Healing and The Narcissistic Abuse Recovery Program. Melanie's healing and teaching methods have liberated thousands of people from the effects of narcissistic abuse world-wide.

Latest posts by Melanie Tonia Evans (see all)