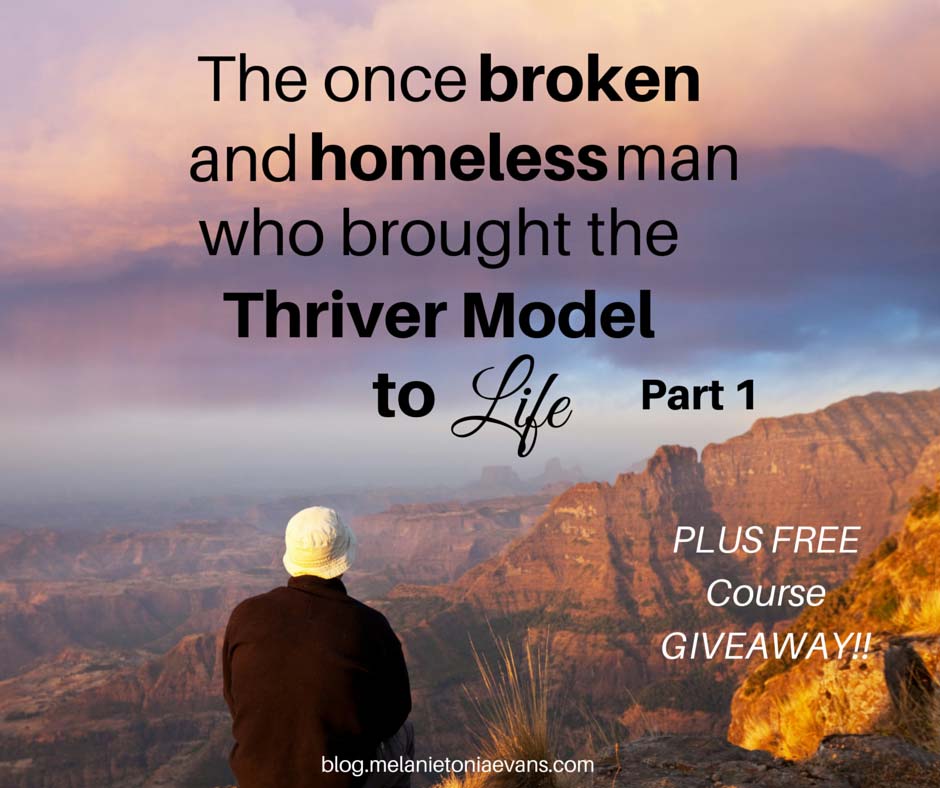 I LOVE granting you information that I KNOW can help you beyond measure …
This is one of those exciting times … which can take the Thriver Model to an even greater level of radiance and effectiveness.
Helping you to anchor into and live fundamental Thriver Emotional Truths … the ESSENTIAL commodities that can and do make every area of your Life work.
The incredible benefits of Thriving after narcissistic abuse are this …
More inner peace, a deeper more abiding love and acceptance of yourself, better relationships with other people …
… and the expanding confidence to express your Truest Self and create your Highest aspirations, purpose and dreams.
Because after all – that is WHAT we are ALL here to do!
So … over the next week I am going to be doing a three-part series, where I will be sharing with you many insights and POWERFUL shifting exercises.
I will also share with you some more personal details about my story – including the core shifts I made to start Thriving in a life, that I am pinching myself with UTTER GRATITUDE for, every day.
These key shifts – that I have NEVER publically written about before – are the Core Painful Universal Beliefs that exist in VIRTUALLY every human being's DNA.
Ones that literally DERAIL all of our chances for peace, real love and consistent happiness.
These Core Human Beliefs can be so damaging, devastating and "off-track" that they may even be taking us to our literal demise …
(Please know I am NOT exaggerating.)
The person who first revealed these Faulty Human Core Beliefs was, himself, once living a life of utter devastation and disintegration.
His name is Neale Donald Walsch, and in the early 1990's he thought his life was over, because he had just suffered a series of chaotic events.
One after the other.
A fire that destroyed all of his belongings …
The break-up of his marriage …
And a car accident that left him with a broken neck.
Once recovered, but alone and unemployed, he was forced to live in a tent in Jackson Hot Springs, just outside Ashland in Oregon.
Broke and homeless he collected aluminium cans in order to make money for food.
And just when it looked like Neale was going to find his way out into Life again, he suffered yet another blow, which led to this breakdown moment …
Where in utter desperation Neale screamed out to God, asking God why his life had become what it had.
An answer "came" and before Neale knew it, he was having the strangest yet most profound conversation of his life.
Neale has been sharing these conversations with millions of people from all over the world ever since.
Neale, unbeknown to him at the time, was about to become a Modern Day Messenger – a man deeply embodying and sharing vital information – waking up human consciousness from the old paradigm of core beliefs to new ones.
His first book, Conversations with God, was published in 1995 and became an international bestseller. It remained on the New York Times Bestseller List for 135 weeks. Six of his other books have made the Times list in the years since. He has published 28 books and his works have been translated into 37 languages.
Neale Donald Walsch is a modern day spiritual messenger whose words continue to touch the world in profound ways.
Which leads me to EXACTLY what this three-part series is all about!
It is about bringing to you Neale's incredible messages of shifting Core Beliefs and how that relates to the Thriver Way, which so many of us in this Community have learnt to adopt, live and love.
And if you haven't yet – you may be on the verge of considering this "inside out" journey that promises to set you free.
During this three-part series, you will have the opportunity to participate in some very powerful workshop exercises to start identifying, dismantling and replacing the most painful Five Core Human Beliefs, that are leading you away from peace, radiance, acceptance and love … instead of toward the freedom to become Who You Truly Are.
As well as share with you a very exciting announcement, which you will find out about by reading on!
And … finally you will have a chance to WIN any MTE course of your choosing, valued up to $225, just by joining in and participating with us on the blog with this three-part series!!
The Shift One Person At A Time And Neale's Involvement
I am adoring this exciting time of personal and collective awakening and growth this year.
At a time where our world desperately needs this shift.
As we see terrorism, fear and pain exploding all around us, as well as shake ups in our economies, country structures and alliances in unprecedented ways – we KNOW that things are changing.
Additionally, the relationship between men and women and our roles, for the first time in human history, has shifted away from gender definition and survival into conscious co-creation and mutual partnership.
How we view ourselves is changing; how we can give up being victims to the outside effects of our life is changing, and how we can heal from our personal pain and the suffering of the human collective experience is changing.
No matter what it all looks like (an abscess that needs to burst) I believe these are unprecedented and exciting times of revolutionary change, evolution and waking up from the slumber that has kept us all dimmed down, powerless and in fear.
In this incredible year of 2016, the MTE team has connected with many wonderful partnerships with renowned global spiritual and love experts – other individuals who also believe It is TIME and We can't stay asleep any longer, we need to heal – for the sake of our our own souls, each other, our planet and our future generations.
And that this development and healing shift MUST happen one person at a time.
Neale Donald Walsch is such a person, who is on the global stage doing incredible work to help people shed the False Core Beliefs that keep them trapped, in order to rise up and into the ones which will set them free.
My deep and passionate love affair with Neale's work began many years ago.
It was the year 1999 … I had suffered yet another breakup which had broken my heart.
Additionally, I had lost my job, and I was a single mother with a ten-year-old child to support with no assistance from his father, bills and a mortgage to pay … and here I was thrown into survival again, questioning everything and feeling terribly panicked by "How AM I going to Survive?"
A friend told me about the book Conversations with God.
She said to me, "The book has an energy of its own, some people have it sitting on their shelf for months and when the time is right they start reading it – they can't put it down."
I asked "Why …?"
She said, "If it's time for you you'll find out."
I was intrigued and despite all the fear and uncertainty I had going on in my life, I started reading it.
I was only two chapters in, and this book hit me so hard …
I just knew … No human could write this. This is wisdom from somewhere else.
and …
This book describes everything I have been feeling LITERALLY about the Meaning Of Life, but did not know how to put into words.
My time WAS right for this information and I couldn't put the book down.
I finished the book 12 hours later.
The next day I went to Collins Bookshop to buy Book 2 and 3.
Little did I know, the Core Beliefs of Life that the Conversations With God (CWG) Series talked about, would one day be the VERY foundation of the Thriver Model.
And it is these Five Core Beliefs that Neale first inspired within me, that I wish to share with you and help you shift … in ways that will change your life beyond description.
THAT is what this three-part-series is ALL about!
And I am SO excited about it!
The Five Core Truths
From Conversations With God came the knowing for me of the most painful Five Human Core Beliefs that separate us from from peace, radiance, acceptance and love.
In this article series we are going to be identifying, dismantling and replacing the Five Core Human False Beliefs with the Truth.
The truth that DOES set us free.
(And please know this is only MY belief about these being the MOST painful Five that need resurrection in order for us to Thrive.)
In stark contrast to the Old Core Beliefs, these following Core Truths revolutionise everything we previously may have believed the human experience to be.
Core Belief Number One: There is NO separation from our Higher Power, ourselves or each other
Meaning at the Quantum Level we are all in fact interconnected as One, and all pain and suffering comes through the illusion (and often delusion) that separation is real.
Core Belief Number Two: There is NOTHING we have to prove or do in order to be loved and approved of by our Higher Power and to love and approve of ourselves
Incredible pain and suffering comes from the beliefs "I am not enough to be loved" and "I have to earn love".
Core Belief Number Three: Behaviours are created by belief, and the only way to change behavior is to change the core belief
Meaning that trying to change behavior without addressing the actual subconscious programming (what that person really believes about any topic – good or bad) is fruitless.
We can see that evidence everywhere, as the world has tried to deal with behavior (symptoms) but has done virtually nothing to address belief (causes).
Hence why the world events of pain, fear, attacking, murdering and destroying each other and our planet have not healed.
Core Belief Number Four: "I only send you Angels"
There is no better way for me to present this Core Belief to you other than to just repeat these five words written by Neale.
This was the incredibly profound quote from Neale Donald Walsch which led me to adopt the expression A.I.Ds (Angels In Disguise) meaning that everyone we encounter is a Soul Contract to assist our soul's agenda of personal and collective evolution.
Core Belief Number Five: "There is a divine purpose behind everything – and therefore a divine presence in everything."
Again, this is a quote from Neale's CWG Series, meaning that God is everywhere.
Core Belief Number Five was instrumental for me in the understanding that if we don't accept that God is involved no matter how it looks, and There is a purpose for this no matter how it looks, then we are determined to remain a victim.
Neale's teachings in regard to "love" and "fear", were also VERY impactful for me.
As Neale wrote, "Fear wraps our bodies in clothing, love allows us to stand naked. Fear clings to and clutches all that we have, love gives all that we have away. Fear holds close, love holds dear. Fear grasps, love lets go. Fear rankles, love soothes. Fear attacks, love amends."
I realized that to stay entrenched in beliefs of fear, pain and victimization and not heal and develop myself toward love – would only mean the withholding of love, healing and soul evolution to myself, my son and my world.
So there they are, the Five Core Human Beliefs that I am going to go into in much greater detail in this article series, and grant you the Workshop Exercises to start shifting from the Old into the New Truths powerfully.
Just as I did, to not just create a great life, but to originally save my life literally from total demise.
Back in the late 1990's … as I read these books, I was "awake" … I felt these truths as incredibly REAL.
And I was excited … I believed we could reverse the Core Beliefs that had NOT been helping the human experience – the ones that had NOT brought us to the light, but had plunged us deeper into the darkness.
And I could FEEL it … the first sense of hope that there was a way to leave my victimisation and pain behind for good and be able to be the Source of God flowing through me as freedom, truth, purpose and love.
But, at this stage of my life, in my early 30's I was nowhere near embodied in this.
Even though I felt it as powerful truth, I WASN'T living it.
I was still too wounded, affected and triggered by everything that had been my life and everything that was going on around me.
And … there were two things that I had not realised yet …
Firstly, that I was yet to live an extreme experience of being so enmeshed in the darkness that it would become an "evolve or dissolve" "Life or Death" experience …
And …
How much Neale's writings in regards to beliefs create behaviours and how Human Core False Beliefs needing to be reprogrammed, would be the KEY to not just saving my own personal life, but would became a soul mission that I would personally take to the world.
But at this point – of first having had exposure to the MOST profound spiritual books that I have EVER read (I still recommend the CWG series as my number one spiritual read to people) –  I had a long way to go yet.
I was stubborn.
I was still sourcing life through my egoic fears, and I was not there yet.
The truth was, I had too much trauma in my body to allow it in …  and I was still doing everything to avoid the ONE thing I really needed to do …
Self-partner and MEET myself, to be with my wounds in order to release enough trauma and False Beliefs to allow in the new Core Beliefs that WOULD set me free.
Despite my still to come breakdown / breakthrough experience … Neale's CWG series did keep me going for a long time.
They gave me hope and relief in difficult times.
They granted me the feelings of joy that somehow we could rise above fear and pain into love and Oneness, and that if we could all heal one person at a time – as Neale states "I think that things happen individually first, and then collectively. It's not the other way around" – then we could all love each other safely and reverently.
These books for me, were the formula to totally revolutionize the ways we viewed our connection to ourselves, our Higher Power and all of life.
Radically, powerfully and FOR REAL …
In ways that peeled back the insane ways as humankind we have been achieving anything BUT that.
And … as the last bit … I want to talk a little more about this collective "push" …
… finally, here was a formula with the CWG Series to come out of the pain, struggle, fear and survival (which has been accepted as "the Human Condition") in order to claim our organic True Nature of joy, creativity and co-generating true abundance, love and happiness within ourselves, with others and all of life.
This was / is our awakening to know that the accepted "Human Condition" is drastically ABNORMAL and INSANE, and the latter is Who We Really Are.
The Opportunity in This Three-Part Series
This article is the introduction to a three-part series in which I will share the most vital keys that Neale brought to me, through his words of wisdom.
This three-part series will span over this following week.
Granting the very teachings that were an integral piece of the puzzle for the Thriver Model – the healing system that allows people to truly THRIVE in their life after narcissistic abuse.
A model which the world so desperately NEEDS, if we are going to put an end to the cycles of abuse / abused.
The teachings that I will be sharing with you are the transformation of the Five Core Belief that allowed me to heal the unhealable – a diagnosis of psychotic breakdown and adrenal malfunction that I was told would have to be managed for the rest of my life.
You will discover in this three-part series that in order to activate and live the results of the shifting of these Five Core Beliefs, we need to accept this:
True Healing is never about trying to attend to "what happened to us" (the symptom), it is about deeply healing "why this happened to us" (the cause).
Personally, if I had not made shifts at this level, I would not be alive and sharing this information with you now.
Throughout this three-part series my aim is to provide you with the tools to create more inner peace, a deeper more abiding love and acceptance of yourself, better relationships with other people and the expanding confidence to express your Truest Self and create your Highest aspirations, purpose and dreams.
Throughout this series, which starts today and finishes next week, I implore you to participate in the exercises at the bottom of the next two articles and then fill in your answers in the comments below (you can always remain anonymous if you wish).
And to give you some extra incentive to participate … After the series has concluded the MTE team will be drawing 5 winners who will be able to claim any MTE course of their choosing for FREE.
In order to be eligible you must participate by commenting on both articles.
The winners will be announced late next week and will be granted any free MTE course of their choosing (valued up to $225).
Before we conclude, I have one last special announcement that I alluded to earlier.
I am extremely excited and humbly proud to bring to the Thriver Community, my dear friend Neale Donald Walsch's free global event: Conversation With God – The 3 Secrets To Ending The Struggles And Making Your Life Work.
Just as Neale changed my life and planted the seed that would allow me to live my soul purpose, I know that his incredible work can do the same for you.
I can't recommend connecting to his incredible, ever evolving work enough. Truly his messages are on the leading-edge to help individuals and the collective evolve and heal.
Here are just some of the things that you will learn in this free event …
How to:
Engage each day with renewed purpose, energy and excitement, because you'll now know exactly who you are, why you're here, and how much you matter.
Experience deeper, more authentic and fulfilling relationships, because your new clarity and awareness will attract and create positive interactions with everyone around you.
Almost effortlessly awaken to a happier, more centered and fulfilling life.
Communicate with Divine Guidance in every moment of your day, always feeling supported by and connected to God.
I want you to know that I only recommend the work of extremely gifted and generous souls who have an incredible message that I know can have an enormous impact on the Thriver Community.
Neale's work is ABSOLUTELY no exception.
I will personally be taking part in this series …
As my love affair with Neale's work certainly isn't over!
(And as long as it exists it NEVER will be …)
Sooo …. I'd love you to join in and participate with me.
All you have to do is click here to reserve your seat and it's 100% free.
The event begins on Thursday, July 7th at 5PM Pacific Standard Time.
Now, before I go … please know that the next instalment of this series, where we get down to business by beginning to identify and unravel the Five Core Human Beliefs that keep us stuck in fear, pain and unhappiness, will be released in a couple of days.
You will get notified about the next article by being a member of the New Life Newsletter.
Soooo ….  If you aren't yet a member please click here to sign up, it's free and you will also receive my free New Life Starter Pack.
And lastly, if you have a friend or someone close to you, please share this article and the sign up page for the New Life Newsletter with them, so you can take part in the series together.
I can't wait to share this incredible SHIFTING of Core Beliefs with you.
It's so exciting – because it changes EVERYTHING!
And as always I'd love to answer any comments or questions you have about this upcoming series!
The following two tabs change content below.

Melanie Tonia Evans
is an international narcissistic abuse recovery expert. She is an author, radio host, and founder of Quanta Freedom Healing and The Narcissistic Abuse Recovery Program. Melanie's healing and teaching methods have liberated thousands of people from the effects of narcissistic abuse world-wide.

Latest posts by Melanie Tonia Evans (see all)