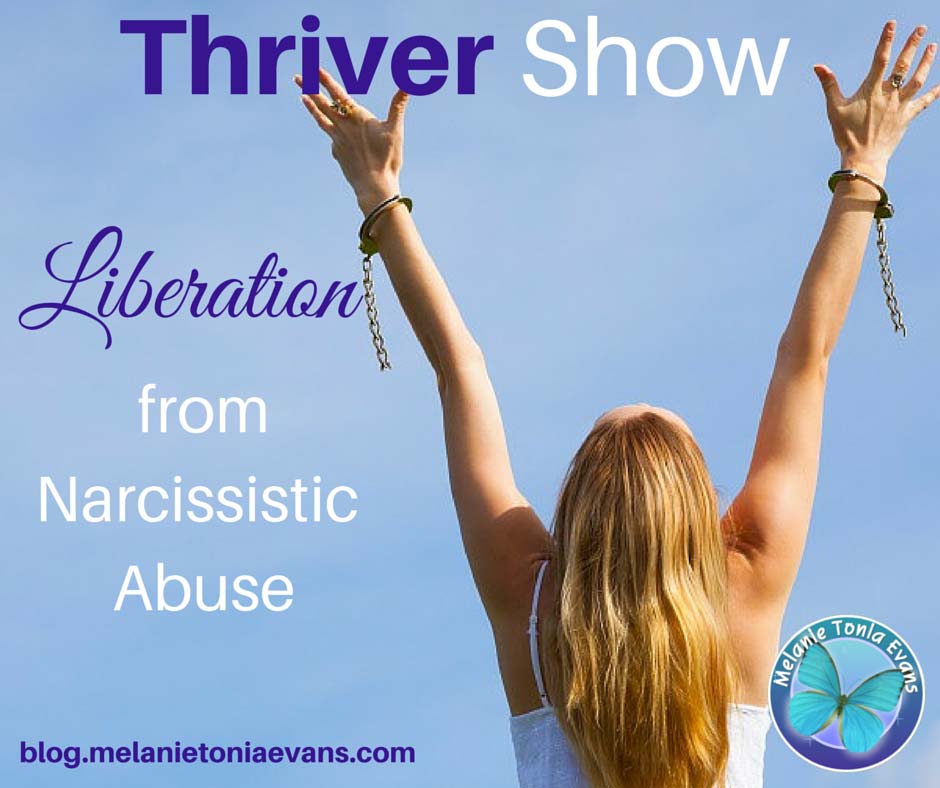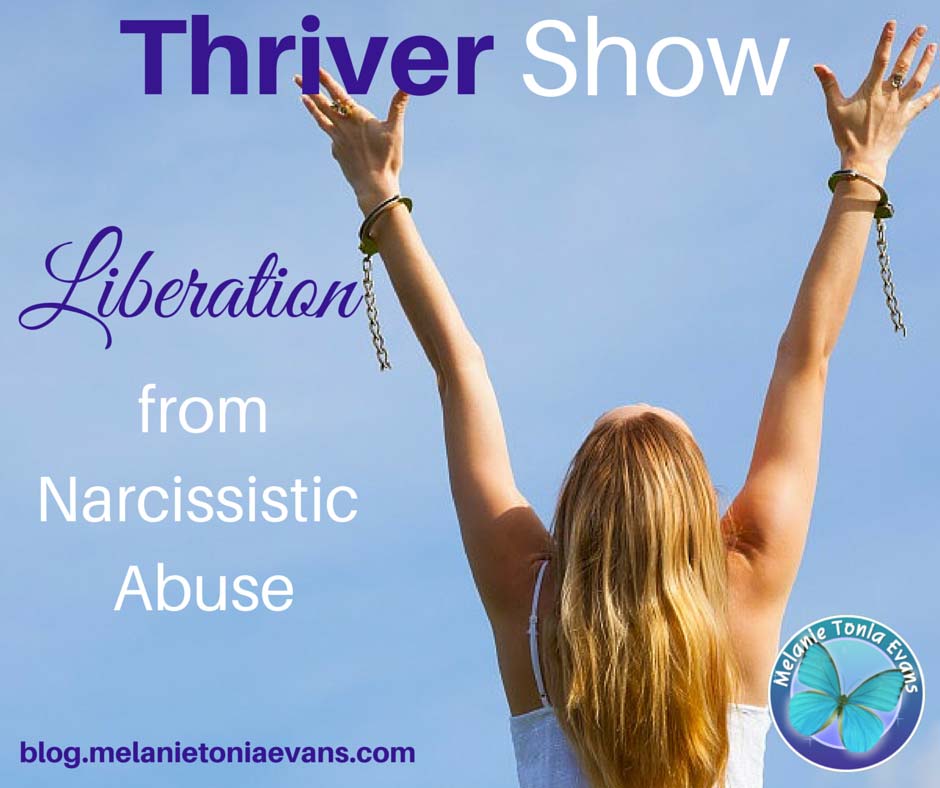 This week's blog and radio show is a Thriver Show, about a wonderful woman named Nora, who is also one of the Senior Moderators in the NARP Forum.
Nora's story is quite exceptional.
Nora is a woman who suffered narcissistic abuse, which included components such as him taking another wife without her consent, and suffering numerous affairs, neglect, and abuse until she experienced severe medical conditions, which affected her brain and heart and almost took her life.
This is a story of sheer survival for many years, and then ultimate Thriving after narcissistic abuse.
The original transcript is below, however Nora and I chatted about many more things regarding her story in a more free-style conversation …. which you can listen to by pressing play above.
Or you can read the show notes posted below.
Can you please describe your narcissistic abuse experience for the audience Nora? 
I met him at a girlfriend's engagement function. I was ideal, fresh, naïve, educated.
The attraction between us was strong and instant.  He was tall with good looks, policeman come business man, religious and seemed to be a good catch. A few phone conversations later, N was eager to seek my hand in marriage with dad. He courted me with gifts, new dresses, shoes. It was highly exciting.  I felt like Cinderella and he my prince.
By this time I was so hooked and started to witness N's eccentric behaviour, extreme moodiness, sudden withdrawals, mood swings, violence, "test" slap dates. I accepted this as the norm.  I was my family's scapegoat. Dad sole bread winner with 5 children and a schizophrenic wife was only too happy to welcome some financial aid to remove one of the burdens off his shoulder. Marriage was an escape door.
Later learnt that N was a school dropout; stories about police work were fake, he was the phone despatch in National Service, his business belonged to his mom, in frozen meat products. Little did I realize I had become a trophy, a working wife for financial security and property ownership and marriage so that N could look good in Society.
I was determined to make the marriage work, I rolled up my sleeves and got to work on myself and kept trying to fix anything that was not working for N's cause.  I excused N's eccentric behaviour to his low self-esteem and lack of education. N controlled my salary in a joint account and guarded the card and passbook. Because of cultural norms, he controlled my dressing, what we should buy and eat.  He gave me daily pocket money. I thought he was "doting" on me. I mistook his behaviour for love, but later learnt this was triangulation to manipulate and gaslight.  I accepted this because I believed, I owed him for rescuing me from the dysfunction of my family of origin.
I became a success in any field I ventured, Paralegal, exhibitions, PA to CEO, a part-time property agent, my own business in costume jewellery of making diamond and semi-precious jewellery. He was constantly suspicious and quick to accuse me of looking at other men, of dressing well for others.  Later I came to find out it was he who was doing this. With many women.
After I gave birth to my son, it was thought that I might have had cancer. He decided that he would marry another woman citing our son as bad luck which was the reasoning he used to do what he did. After this eventful trip away, he was ended up detained for 14 days and after the whole ordeal, now he was meek apologised profusely, begged me to go back, against my family's wishes.  He excused his marriage as a farce to escape detention.  He cried, apologised and promised never to repeat this.  Of course I took him back.
I was a fixer.  I succeeded easily in studies, work and other areas. I believed this marriage must work, and I could make it work.  I chose him over myself and life. I buried myself, my laughter, my wellbeing and chose to believe him and went back to our matrimonial home with our son.  I put up with his many lies.  I didn't realize I was already in the throes of C-PSTD.   I was expecting again but didn't tell anyone until I was past seven months. He wanted me to abort but I persisted to have our baby. He withdrew after our daughter was born and ended up abandoning me at my parent's home and left to attend an in camp training on National service, but really he went back to the other wife.
I found the marriage certificate for that marriage hidden under the car mat along with his "lost" International passport.  My first thought was that I had failed and life was not worth living.  But my babies anchored me.
I didn't deserve to live … this kept playing out in my mind. Truly believing I was duty bound and shamed, I put up with abuse in hopes of keeping us safe from his temper tantrums.  He was prone to physical abuse when children cried, or I refused him. We moved houses frequently, changed cars frequently. He couldn't condone any loud noises, children talking/crying, clock ticking or the sound of water pipes.
It never once occurred to me that I had rights. I could walk away and call for help and seek intervention. What played up in my mind was the shame and embarrassment that my actions will cause our families. It was all in my hands up to me to keep it quiet.  I put on a brave face on the outside but a quivering mess of nerves on the inside when he was around. It was as though he was holding an invisible whip and I danced to his every tune. I accepted this as my fate.
Home was a nightmare, his behaviour was bizarre, deviant, preoccupied.  His relationship with me was superficial, explosive and exploitative. I became more isolated, avoiding friends, family and I was in denial.
How was your health. mental and physical, as a result of your experience?
I paid a hefty price in this marriage. I very nearly lost my life and my mind.  It all got too much to bear. I was screaming but there was no sound. The psychological trauma was so unbearable I was no longer in my body. I was in self-denial and in utter disbelief that this was happening to me. I pretended all was fine.  It was a game of 'cat and mouse".  I put so much attention on him, I didn't realise I had lost my priorities, my children disappeared into the backdrop. He had been working on our children as his confidants and proxies and they were soon acting out from the manipulation dysfunction of an Altruistic Narcissistic Dad and a passive co-dependant Mom.
Work was my reprieve away from the horror of abuse, stress and drama and my passive participation in it. I was running, harder and harder but was still at the same spot, I couldn't escape. I wore myself down purposefully, uncaring of my health, my children. Facing up to the truth was too traumatizing, was unfathomable for my psyche, but I was still the good wife, gave in to him whenever and whatever he wanted;  It was demeaning yet I couldn't help it. I started to suspect I was an addict.
I was wearing masks with friends and family to hide the unhappiness and farce of this marriage. That beautiful spirit, my dad had admired, aptly named Light of the Earth, was slowly ebbing. Because the physical pain was no longer registering in my body, I couldn't tell I wasn't well.   
I dropped into a stroke, ending up in a coma on eve of Christmas 2008. I suppose from this moment I was awakened, this was my turning point.  I had an NDE, multiple brain surgeries, epilepsy due to brain scarring, coma, heart surgery and was in recuperation between 2009-2012 but I was still holding down a job! I guess I was superwoman with a mask of brokenness.
Were you seeking any help to try and get well? 
I took up counselling and psychology thinking if I helped others, I will be helping myself and find myself and my true calling. I tried confiding to some friends and family. Most times I was on my knees, for strength, to be saved, to be rescued. Prayers became second nature for relief. The relief was temporary, and pain came back. I was basing my wellness on people and circumstances outside of me. Many times I thought of ending my life. The thought of this bringing shame to my family, the love of our children and religion were the things that stopped me.
When did you discover that he was a narcissist?
Between 2010-2012 his many affairs became open and his mask really dropped.  He was threatening me with divorce as a form of control. Still looking to him for relief I was pleading with him not to divorce, for the sake of children. They had started their university degrees while I was still on heavy medication. I started in the same pattern and I was prepared to die under another stroke.
I signed up for counselling at social service for marital problems; CBT is a slow process not much healing, more trauma surfaced.
In late 2012 Melanie I chanced upon your blog articles and talk shows.  I connected to you through FB. At first I wasn't very convinced and didn't put in any work, I only researched more about narcissists.
With threats of divorce looming over my head, in Feb 2013 I went on a holy pilgrimage; a Soofie leader's wife was one of my room mates.  I cried tons of tears and wanted God to take me or cure him or give me peace, courage strength to accept the future, to face my worst fears whatever comes.  This became my daily prayers.  I got all I asked for and much more.
Shortly after that, I received emails and news letters from MTE. In late 2013 I purchased the NARP programme but I didn't contact you Mel or the forum. I went back to University, to pursue Psychology, but found it too heavy, had trouble with information retrieval. I couldn't take the stress of exams or commit to learning long term due to loss of cells that affected my memory from multiple brain surgeries.
I researched narcissism more under your articles.  I found that your information was giving me more answers and truths than anything else on the internet. I was like a sponge soaked in every piece of information, and the more I read the more clarity I found that my husband was a perfect textbook case of an Altruistic Narcissist.
The fear of dying and my assets falling into his hands by default was uppermost in my mind.  In July 2014, I had a fall and had to go for knee surgery where I discovered the onset of RA and OA bone degenerative disease.
When did you join the NARP community?
Something happened. I had an out of body experience. I took part in your Webinar when on medical leave in casts at home, and it was then I had my first encounter with my inner child.   I had lost the NARP Program by that time and I contacted the MTE team to get a copy of my lost purchase.  It was from my profound Webinar experience that I knew what path I had to take. It was from then on that I worked NARP relentlessly.
My husband had left me after knee surgery, and I was unable to walk. In casts and crutches I used this period of relief to work NARP in Oct 2014.
I couldn't self-abandon any longer so was forced to sit it out with NARP. I worked Modules every day without fail. It was then that my feelings of being hooked into my husband left me. My C-PTSD was rapidly easing and I started feeling better and better as a result of releasing all the trauma out of my body with the Modules.
Then I purchased the Family of Origins programme and Empowered Self course to make sure of keeping myself busy instead of getting hooked into my husband's many dramas.
It was incredible how I stopped being fearful of him, there was no more ice in my veins, no more agoraphobia. I was able to start making empowered choices for myself.
I bought my second hand car and became, for the first time in years, independent. I closed my weak boundaries in all areas, family, work and friends. I stopped people pleasing. Things in my life were changing dramatically.
I started getting stronger, travelled for work and leisure without fears of dying. I tapped the energies of nature, and became more anchored and alive. I also became more spiritual and more committed to meditation and prayers. I worked the NARP Forum, and because of my progress and success with NARP, I was given a chance as Moderator then Senior Moderator.
I filed for divorce on 7 January 2015, and I worked the Modules nearly daily for a whole month, deeply listening to where the Modules and my body were guiding me to.
Quanta Freedom Healing was auto-guiding me to the NARP Modules that I needed to go to or redo. The more I did QFH the more healed and the happier I became.
What were the deep hooks in your body that you discovered you needed to heal?
Whilst doing the Module work I discovered deep programs that I had been carrying my entire life, that totally explained why my life had turned out how it had – without me even knowing it at the time.
I discovered these programs that had been instilled in my young childhood years: "I am not enough", "I don't deserve life, love, support or to be alive", "Love hurts", "No pain no gain", and so many more.  I had deep seated DNA fears of abandonment, heavy feelings of guilt and of being responsible for others.
This caused me to try to be safe by controlling circumstances and others (my co-dependency), to give to get and did more than my share of caring at the expense of self.
I became conscious that these inner painful beliefs had been showing up as my outer experiences. I tracked much of the pain deep into the recesses of my subconscious and when I released these programs my freedom and liberation started to happen. Emotionally at first and then in the empowered and clear choices I started to make.
What has happened as the "real results" since doing the inner work in your life?
I understood that I attracted the dysfunction and I was a match because of my unhealed inner woundedness. I embraced the N as my greatest teacher, and forgave life and myself for the dysfunction.
I stopped people pleasing, I stopped playing small. I no longer feel I cannot survive alone, I became more balanced. I understand that money is a medium of exchange and I am part of the richness of this Universe.
I became bold, voiced my feelings, wants and needs more often, I took care of the food I consumed, exercised more and started to live fully inside my body. My health and previous health conditions improved in miraculous ways. I made peace with my past, present and now look joyously towards the future.
I started to fall in love with the light within me, because I know I am an integral part of connectedness and God Source. I was no longer waiting to be rescued; I did the rescuing myself.
I overcame codependency, I evolved from a victim, to survivor to Thriver!
I no longer questioned my body's messages, I now respond and support myself. I feel like a butterfly which had left behind her cocoon
My life has evolved into exactly all I wanted; Peace, quiet, support love and happiness.   I thrive at manifesting and create all that I wish and want.
What has happened in regards to property and co-parenting? 
In the past, I was protective of the children, I felt fearful for the children that the narcissist might manipulate, but now I accept that they too have their Higher Source guiding their evolution.  Life can work their much needed soul lessons for their healing and evolution too.
My children are young adults they are finding their way. I now, am allowing my young adults to heal and become evolved beings like myself, remotely, peaceful in the knowledge, I will get my share. There is nothing to fight, worry or stress over.  I have found a perfect living space for myself, my mini garden and my Ragdoll "dog-cat" a temporary residence away from the narcissistic dramas to activate my maternal instincts.
I no longer feel needy or want things that are out of reach, everything is now within me. I no longer feel responsible for N, others or my children.
The property settlement case was awarded in my favour, I am no longer dealing with any property issues. I was awarded 70% plus damages to the matrimonial property. My welfare was fully taken care of by the Universe
I know I created this by the use of NARP Modules. I was able to shift myself to a total place of surrender, calm and peace, without any need for any particular outcome. As a result of releasing all fear from my body regarding "what would happen or "fear for my future", I was at peace 100% that the right verdict would arise no matter what it was.
The settlement was the most incredible settlement I could have imagined, and there is no way I would have been a match for that without working your Program Melanie.
Being a Moderator in the Forum and "giving back" Nora, what has that experience been like for you?
The forum was a safe house and had the right consistency of holding space for gentle, guidance and healing. As I evolved more the forum was a good guide and gauge for my wellness.
I worked the forum and Mel you offered a chance as Moderator then Senior Moderator. I really fully support and advocate volunteering in the forum to create a bank account of a Sense of Achievement and wellness.  It's like you are fully embraced in a room full of wonderful light beings of angels. It acts to check the hooks of how much active co-dependants is still left for we always start to team up and dance with fresh pain bodies.
Go for it, even if you feel you are not good or ready, you are, because the situation is calling you to up level and step up and into your new energetic disc, and you will do exactly that.
What final message Nora do you have to share with others?
Don't let your faith or religion deter you from embracing your uniqueness;
Do the necessary inner work with commitment, faith and hope to break free;
If you are here in this energy you are a part of this Divine energy and will succeed;
Don't ever doubt your strength and power;
I will say be humble, love more, simply be yourself;
Enter the MTE angelic realm, leaving the cloak of judgement and ego behind you.
I wish to share this lovely story about feelings. It resonates so deeply with my reality and my current life…. you decide which pole you choose to be at.
Once there was an island where all the feelings lived together.  One day there was a storm in the sea and the island was about to drown.  Every feeling was scared but Love. Love made a boat to escape. All the feelings jumped in the boat except for one feeling.  Love got down to see who it was… it was Ego! Love tried and tried but Ego didn't move. Everyone asked Love to leave Ego, and hop into the boat.  All other feelings lived but love died because of EGO!
The End?  Now for the twist.  Love is eternal only Ego thinks Love died!! Make sense?
May we all embrace what we came to do finally.
Thank You For Listening To Nora's Thriver Show
I really loved having the conversation I did with Nora, she is such a special lady!
How wonderful it is that we can all connect in Unity Consciousness, regardless of our race and religion, to join in the Oneness of healing and coming out the other side after narcissistic abuse.
If this show resonates with you and you want to learn how to truly heal just like Nora and so many others have done, I would love you to join the NARP family.
You can find all the information on how to join here. 
Both Nora and myself would love to answer any of your questions and comments, so please leave them in the comments section below.
(Visited 5,443 times, 2 visits today)
The following two tabs change content below.

Melanie Tonia Evans
is an international narcissistic abuse recovery expert. She is an author, radio host, and founder of Quanta Freedom Healing and The Narcissistic Abuse Recovery Program. Melanie's healing and teaching methods have liberated thousands of people from the effects of narcissistic abuse world-wide.

Latest posts by Melanie Tonia Evans (see all)