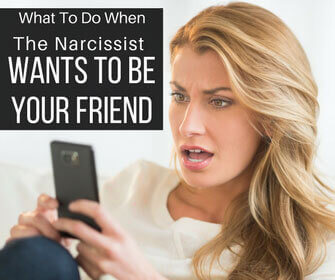 After severing ties with a narcissist it's likely that they will have tried to maintain contact in some form …
They may have even put the question to you – do you want to stay friends?
This can be a very difficult offer to say no to, after all, you most likely shared parts of yourself with this person that you have never shared with anyone else. And there were those times that they made you feel so special and understood.
The thought of saying "No" and letting this go forever can be incredibly daunting. Trust me … I've been there.
And maybe like me, you were confused with this question, "What is it with narcissists having friendships with exes?" And maybe like me, you were considering … Maybe it is possible! Or … maybe this person is not really a narcissist because they are friends with exes.
I remember feeling very confused regarding narcissist number 2 having female friendships when I thought that a narcissist, after breaking up, is all about belting your life up and making it unbearable, in the most horrific of discards … or turning the tables by smearing you to all and sundry.
The truth is: Yes, some narcissists absolutely do have friendships with exes, and it can be a key way in which they retain sources of narcissistic supply.
If you are kept in the friendship loop, as a potential hoover, or an ear to turn to whilst simultaneously making sure that you still are hurting, sad or unhealed over the narcissist – that makes them feel significant.
I have to say that I have very rarely even heard a sniff of a positive friendship with a narcissist after people have been in a relationship with them. Mostly what I have heard in this community, over the years, is the torment that ongoing friendships with narcissists have caused people.
Because they are fraught with personal agenda.
And … I have met people in this community who have been trapped as the narcissist's friend for several decades and have never moved on because of their connections to them.
This Thriver TV episode will be helpful to you if you've had a hard time letting go of the possibility of a friendship with the narcissist.
And it will help you to understand why narcissists invariably want to keep you as supply.
If you are currently on speaking terms with the narcissist it will help you understand how to start breaking away, and I'm also going to cover exactly what you need to do to release yourself from a situation that may be very painfully lopsided.
I hope that this video has helped clarify for you the truth about a friendship with a narcissist, just as I had to get very clear about this myself. I look forward to answering your questions and comments below.
(Visited 7,297 times, 22 visits today)
The following two tabs change content below.

Melanie Tonia Evans
is an international narcissistic abuse recovery expert. She is an author, radio host, and founder of Quanta Freedom Healing and The Narcissistic Abuse Recovery Program. Melanie's healing and teaching methods have liberated thousands of people from the effects of narcissistic abuse world-wide.

Latest posts by Melanie Tonia Evans (see all)