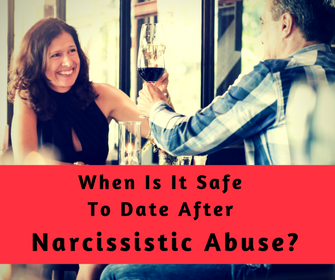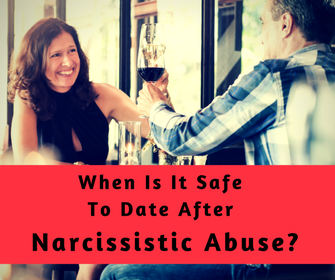 I get asked this soooo often, and I mean so often!
This is what people ask …
"Is it time to date yet … because I'm struggling with being attracted to decent men … Why is that?"
Or … "I'm comparing everyone to the narc … no-one lights me up like he / she did. Why is this? I'm dating but it's so painful …. it just makes me miss the narcissist more."
Or  … "Every person I meet I find myself psycho-analysing them – trying to work out whether they are a narcissist or not. Is this the right thing to do?"
This is such a huge topic and of course ultimately it is healthy to want to create a love relationship, whether we have been abused or not. In fact we are all coded to do so (I believe) if we wish to.
But when is it healthy to start dating after abuse?
After being hurt by narcissists we are tentative, and if we are honest with ourselves and into self-responsibility and self-development we know we have had a tendency to attract and co-create abusive relationships.
And after the massive wake-up call of narcissistic abuse – clearly there is no way we want to go through that again – yet some of us do (I did twice), and many other people I know have done so as well.
So, we really do have to be mindful. We really do need to make sure we do our homework.
So … is our homework know thy enemy? As you read on I hope you understand that the homework is really all about ourselves.
Within this article I want to cover off these questions …
When is it the right time to date? How do we know when we are ready to date? And … how do we date healthily?
These are important questions that I will have great joy in addressing –  because I know this information is so vitally important for this community.
This topic is such a big one (there are many components), this is the first of a two part series.
What Does Being Ready For Dating Look Like?
I want to kick this article series off by setting the scene of the goal and then working backwards … in regard to "how to get there."
And maybe it is the gorgeous dinner I'm out eating at the moment, as I write this, and the wonderful atmosphere that is making me feel really passionate about this.
I'm alone, I'm working … writing which I love.  I'm about to tuck into a wonderful Vietnamese seafood hotpot, and my glass of Sav Blanc is a toast to my Life – the joy I feel in my body, the purpose I have and the way I love spoiling myself in combination with working.
All because I can!
I'm going to write about two characters who I'll call Jane and Debbie. These characters represent many people in this Community – the Thriver orientation representation and the not yet Thriver orientation side of things.
Please know this is not gender specific; these characters could be Jeff and Daniel – it's just that women ask me about the dating question more often than men!
Okay so here we go …
Jane had been narcissistically abused. She realised deeply the reasons why she was narcissistically abused – that she was unconsciously attached to someone who represented her inner childhood unresolved programs, and that she used to hand her power over and cling to someone for approval and love no matter how much they hurt her.
As a result she had let go of the narcissists in her life (a partner and some family members and friends), detached completely, stopped trying to force these people to "love her better" and met and faced herself to do the deep inner work with the Narcissistic Abuse Recovery Program on these inner childhood wounds.
During this time of two years of dedicated self-partnering Jane worked at consistently up-levelling the old fears that had led her unconsciously into abuse (assigning another person as her Source of love, approval, happiness and security) and she also made it her personal mission to "partner directly with Life."
For the first time in Jane's Life, after 50 years of previous abuse, she took this on … because she had had enough of the pain.
Jane worked on expanding her consciousness – healing through previous blocks in order to express and start connecting to her highest desires and greatest personal truths. Jane was studying her life's passions, expanding her social networks, doing the pastimes that she loved and for the first time in her entire life loving life and feeling "whole" on her own.
Jane started dating when she felt that she finally had something to give to a relationship as a pure source of love and wholeness – rather than needing a partner to complete her. And in the dating and "life" process Jane was just as content to see a girlfriend on a Saturday night, or read a book and do some yoga or be out to dinner with a man.
A man (or not) was in no way any condition to her happiness and feelings of being "whole", because Jane had made it her mission to know her own self-wholeness … to never again rely on someone's approval and attention and be in precarious positions of living the lie of being with someone who wasn't right, hanging on whilst being abused or regressing back to the powerlessness and helplessness of fuelling issues when someone was not giving her the love she needed to grant herself.
And she was way past male hook-ups, interactions and attention to simply fill the gaps until "someone better" came along.
Those days were over …
She also recognised the previous avoiding of her own egoic and security fears with "men to fill her gaps" was time lost when she could be healing them … so what was the point anymore? She knew no point when Life and her soul would just faithfully keep delivering them over and over again until she did heal them.
So, Jane for the last two years (and as a continuation process) recognised any time layers of these fears came up from her was precisely the time NOT to self-medicate with male company but to self-partner and heal them herself instead.
Her goal of a durable lasting soul-mate love, generated from mating her own soul first, was the prize she firmly had her eye on. And this was working for her, because Jane, even by herself was experiencing the bliss and feelings of incredible happiness on her own. So much so, at times, her heart was overflowing with love and joy. How delicious when she would one day be sharing this in healthy ways with someone!
Now on to our next character …
Debbie had also been through a lifetime of narcissistic abuse and unconscious relationships starting from childhood, yet her approach to recovery was completely different. Debbie had the belief that if she could just realise all the things that were wrong about the men before, and choose someone different that she would be able to find the right man. Debbie didn't believe that there was any value in doing a "relationship fast".
The truth was Debbie was depressed without a man, she was putting off the things in her own life that her soul was nudging her to do – because she was living the urgency of securing a man first.
There was always a man in Debbie's life, one short term relationship after the next … and the same themes would continue to appear – control, incompatibilities, lack of respect … and even narcissistic behaviour.
Debbie was second guessing herself and confused, hanging on trying to prescribe to, change and fix men's behaviour, and when finally she would realise the relationship was not going to work, she would come back to the shock of having experienced "yet another man who did not love and support her". Like so many people who have been narcissistically abused, Debbie was terrified that her "partner chooser" was broken.
Did attraction mean he must be wrong? Was it better to pick someone that she had no chemical attraction to?
Why on earth, she mused, was she NOT attracted to men who turn out to be genuine and decent?
And this was a BIG question, which held some vital answers that would change everything.
Who We Are Attracted and Attractive To
I can't tell you how many people over the years (woman and men) in this Community have asked me "Why can't I be attracted to 'decent' people?"
I used to ask this question myself.
It has people baffled … and they think maybe it's because "nice" people are not good-looking or boring … or maybe they are not "edgy" or "interesting" enough to be sexy.
Nope! It's none of those things – but as always our mind is great at giving us all sorts of logical (false) justifications that are no-where near the real truth when life isn't working out for us healthily.
The real reasons are not logical, they are deeply embedded in our subconscious programming. The reason we are not attracted to "decent people" is because we didn't have love translate for us as "decent" when we were young – and therefore such a love is totally off our energetic radar.
What is our true point of attraction / attractiveness is identical love patterns to what our Inner Identity has translated as "love" (good or bad).
This is the subconscious interpretation of our childhood: "Mum / Dad you are hurting me but I will keep trying to prove to you that I am worthy of your love so that you will stop hurting me, and FINALLY I'll be loved and FINALLY I will be safe."
Now just slip in the next potential love partner's name into the space where (Mum / Dad) was written …
This allows you to understand you are locked into ground-hog day love replays – re-experiencing the most profound of your inner childhood wounding over and over again.
And the SOOO Interesting thing is – even if you "know" your childhood wounding, (but have not healed it) you may purposefully choose someone you think is "decent" who turns out to be a pathological narcissist pretending to be "decent" (who ironically you get real attracted to when the bad behaviour starts) , or you simply cannot get physically and sexually stimulated by someone decent and the relationship becomes one of passionless convenience, or you downright push away and sabotage someone decent because it feels so incompatible with you.
I also promise you, that when you have "indecent" wounding which still exists in your subconscious you will have a completely different interpretation of what "decent" is to someone who doesn't have indecent wounding in their subconscious.
You may argue about someone's "decency" yet other people view their behaviour and character and shake their head.
When you heal, you will look back at the parameters you had as "decent" and you will be shocked that you thought that they were representative of healthy people and healthy relationships.
One of my Thriver girlfriends and I often laugh as we reminisce and laugh, "What were we thinking?!" … those previous women are a Universe away from how we feel and think today, yet back then it was so real for us.
In short … what will feel compatible with you is the person who is a perfect match for your childhood wounds. Someone who will bring up for you the matching terror of abandonment, fear of engulfment, the triggers of not being heard, of not being seen, or not having rights, or not be acceptable as you are … and the list goes on and on …
Now this may just seem like a really bad deal, a terrible function of the subconscious – replaying trauma over and over again, in such a "sneaky" way where you are chemically attracted to it, and will even experience "compelling justifications" in your mind to go down those paths – even when evidence presents to the contrary.
But it's only "sneaky" when we don't understand how important it is to wake up from the trance of unconscious human living to make our inner journey a high priority.
Because truly you are meant to do this. You are meant to go down these paths – because it's a "soul contract."
And what I mean by a soul contract is this: people are helping you heal something that you have never healed before – by smashing these unconscious parts open to make them conscious and bringing you to your knees to finally self-partner and resolve and heal your own inner wounding.
The unconscious parts that you weren't going to and healing, despite previous lower level disappointments and reoccurring patterns, and even maybe some teachers crossing your path giving you the clues (Life does try to wake us up gently at first), and maybe the emotionally unhealed parts within you had tried to get your attention by appearing as physical issues.
And then maybe when that was not working, Life, working in partnership with your soul had to turn the volume up and take relationships from disappointing to painful and then to abusive in order to really get your attention.
The person bringing you the startling evidence of your wounding was never meant to heal it for you … and in fact as an adult no-one is coming to heal it for you – you are your own saviour – and then other people will start reflecting to you the essential relationship that you have up-levelled with yourself.
So … if you recognise that you are not attracted to "healthy" people … now you know why.
This I promise you … when you start healing and up-levelling your previous traumas you will lose all attraction to the people who represent them.
These people will no longer be an energetic match for you – and the people that will start standing out and shining to you will be the people who are healthy. They are the ones who will start to chemically "light up" for you, and these are the people you will start forming relationships with and be able to sustain healthy relationships with.
I can't stress the following enough …
If I can inspire just ONE person who is struggling to be attracted to "decent" and "healthy" people to stop dating and do the inner work first – this article has done its job.
Can Someone Make You Happy?
This I will say … no-one can make you happy, and no-one can give you "yourself". And once upon a time I resisted this truth. I struggled with it.
In fact "life" to me couldn't happen unless someone else was involved.
The thought of taking myself out to dinner? Forget it!
The thought of enjoying my own company? Forget it!
The thought of travelling alone to experience the wonders of our earth?
No WAY!
I totally understand what it used to be like thinking, "I am no-one without a partner," "I'm a failure without a partner," and "Life is one dimensional without a partner."
I was probably embarrassed to admit that in the past – but it was the truth. And this was an extremely dangerous position to be in, because when it came to continuing or walking away from a relationship my head would "convince" me why to continue, and I'd justify all the reasons away why I shouldn't.
Also my neediness was preventing my necessary hiatus from men to truly heal the one real relationship I needed to get right – the one with myself.
The real reasons I didn't spend time alone to deeply self-partner? Quite simply because I did not want to face the emptiness and the pain of my life being alone. So, naturally, my choices were coming from fear and neediness and certainly not from soul-alignment.
This is what I was doing … "You're really hot and cute even though you are clearly a 'bad boy', I'm sure I can tame you", or "On paper I think there is enough to choose you … things don't feel really right, but I'll "try" this on for size anyway …"
Yep, I had that whole "Bad boy big attraction – nice guy no attraction" thing going on.
And I'd get sick and tired of waiting and being single, so I'd chose people that weren't right for me. And not all of them narcissists … but one thing was for sure these people rather than being able to turn my life from one dimensional into something more fulfilling and pleasing instead kept delivering the evidence of my inner wounds – over and over again.
How on earth would I attract and connect with a soul-mate, when I hadn't mated my own soul yet?
I couldn't and never would, because soul-mates come into our life after we become our own unconditional lover, healer and source of salvation … cell-mates come into our life to show us how we haven't achieved that yet.
So these are the vital questions that we need to ask ourselves: "Am I happy without a lover in my Life? And … "Do I feel 'whole' on my own?" And … "Do I feel that I have resolved my inner pain, emptiness and previous relationship resentments (including from childhood)?" And … "Do I take responsibility for filling and healing my own neediness, or do I revert to the quick fix solution of needing to connect with potential mates to ease it?" And incredibly importantly … "Are I working at being my own Source of love, approval, mission, goals, purpose, growth and happiness?"
Because if you aren't, what have you got to offer a relationship anyway? And no matter how much you disguise it as "loving", you will be "giving to get" – and that can only ever be a love relationship fraught with conditions, partners who stay on with you reflecting back either co-dependency or / and narcissism, and unhealthy enmeshment and toxicity with at least one people trying to force the other person to grant them their own sense of self, and the other pushing back trying to force the same, or trying to pull away to escape the engulfment.
And the real truth is this: until you have truly accepted and loved yourself warts and all you will be terrified of someone else TRULY connecting with you. How can you allow true intimacy (In-To-Me-See) with someone else if you have not yet connected with yourself in this way?
You can't …
This is what most relationships look like for this reason – they get close and someone pulls away, then someone desperately tries to reel it back in because of childhood abandonment wounds, then someone needs to sabotage again because of intimacy fears.
It's called "drama".
Healthy relationships comprising of two individually healthy people don't have it … they just get on with Life and individuality which healthily connects as Love in the middle.
Healthy Love needs space to breathe …
Healthy Love needs the ability to NOT have the expectations of "getting" happiness or love.
True Love is the ability to "be" love and then share that without requirement.
Healthy Love requires being very real, and accepting others as they are, just as you accept yourself.
True Love is the honest sharing of what is inside of you with calmness, self-responsibility and without the fear of abandonment, rejection and criticism as a result of appearing "defective".
And there is no way any of us can "do" Real Love, until we learn how to be that model in Life with ourselves and Life directly without a partner.
I hope this helps you realise you really need to date, love, heal and "be" with yourself in a very healthy capacity before dating.
And if you are not prepared to face those facts – then you will receive more of the same painful dances with potential mates until you do.
What Is Your Relationship With Life?
If you don't have something that you've got going between You and Life, than you will make your partner "your Life" which is too much a burden for any human being, and it is NOT their job.
Your goal is to be a grown up looking for an equal partner in Life (Unity Consciousness) – having evolved beyond being a wounded child in an adult's body looking for a "parent" to save you from Life (dependency, attachment and victimised consciousness).
So what does "partnering Life directly" look like?
It means having your own thing that has nothing to do with a partner, something that "lights you up" and gives your purpose.  And by no means does this have to be lofty … It may be that you donate time on a humanitarian level and this fulfils you enormously. Maybe you start studying a hobby you've always been interested in. Maybe you decide to start you own small business – one that expresses your unique contribution to the planet and humankind.
The truth is this: if you don't have "your" sense of love and fulfilment that has nothing to do with a partner, then you are going to assign them with the impossible job of fulfilling you.
This is really dangerous, because now rather than have a relationship directly with yourself and Life, you have assigned another human being as your "Source" … which means this person now has the power to run and control your Life.
They can literally become "Your God" with the power to decide on your behalf what the state of your Life will be. And we need to stop blaming people for "imprisoning us" – when we willingly handed them that power.
This is the epitome of relationship powerlessness, and it is a terrible trap that virtually everyone who has been narcissistically abused fell into in some capacity – the assigning of another human being to be their Source of love, approval, purpose, happiness, security, survival, lifestyle etc.
This is the greatest relationship truth: People will always treat you in the identical ways that you treat yourself … and if people have not been supporting you, adding to you, and happy with you to have purpose and "self", the reason is NOT because "people aren't nice people"– it's to do with people reflecting back to you the lack of support and self-partnering that you are already doing with yourself.
Now … just to clarify … in no shape or form am I suggesting that narcissists if you were healthily self-partnered would be different. If a person is unconscious and not self-partnered they are NOT capable of genuine love. What I am saying is that we will always attract and be attracted to people at the level of self-love that we are or aren't being to ourselves.
Therefore, in regard to this section, my hugest recommendation is this …
Don't date if you are not happy in Life on your own – because the relationship you end up in will only add to your unhappiness.
It certainly won't improve it.
Should You Learn Everything There is to Know About Narcissists?
It's pretty normal after being narcissistically abused to be paranoid about who you may date, but it's certainly not healthy or safe to be like this. So many people purport that learning everything there is to know about narcissists will keep you safe in the future as you start meeting people.
I am here to adamantly tell you from personal experience –  as well as being privy to thousands of people who have been narcissistically abused – that not only is this no defence, its actually one of the most dangerous orientations possible that will almost ensure you will hook up with another narcissist again.
One of the falsest expressions is "Knowledge is Power" … in fact I cringe any time I see anyone post this on social media. Because I know these people are firmly in their head and are not doing the work on their inner subconscious programming.
Knowledge is NOT power, it is information. The shift into a New Self is power – anything less than that is some "mind material" that has no real power. The reason being is because your logical mind is only responsible for 5% of your entire life generation, as opposed to where your life is really emanating from – your almighty subconscious, which is 95% of your life unfoldment.
And this is regardless of what your "head" would prefer to choose and do, and it has nothing to do with how much information you obtain about narcissists.
Seriously … narcissistic abuse is NOT logical. The reasons we were prone to it were not created logically, and if it was logical we would never have clung to someone experiencing so much destruction when everything we knew logically made doing so "insane".
Abuse is not lived out "logically" and it will never be solved with "logical" information – if it was we all would have SIMPLY learnt what we needed to know, leave and be recovered!
If you go onto standard Abuse Forums which share copious amounts of information about narcissists – every imaginable source of information available on the internet – you will see these people are in terrible shape. In fact the more information shared about narcissists the worse off people are.
Why is this?
Because these people are NOT healing for one vital reason – every moment they spend in shaming, blaming and learning about narcissists is another precious moment they are denying themselves of their own self-partnering love and healing.
With what I know about true narcissistic abuse recovery today (which works prolifically in this Community) I am astounded how anyone logically can deem that IS recovery. In fact it is ONLY re-traumatising people deeper and deeper than the original job the narcissist did to them.
Rather than these people get well and avoid narcissists, what happens is they attract more of their own focus (energy flows were attention goes) more of their traumas, more of their peptide addictions to abuse and victimisation chemicals, and they certainly have not healed their Inner Identity in order to access another life trajectory that is not abuse-riddled.
These are the people MOST likely to suffer ongoing abuse consequences with present narcissists, and attract more abuse from a variety of sources in the future.
Therefore IF you believe that you will get armed with knowing every red-flag about narcissists so that you can be safe in the dating process …
I urge you NOT to delude yourself.
So … I hope that Part 1 is already starting to answer your questions, and in Part 2 next week, I want to share with you how to show up in the dating process, and how that is a powerful gauge granting you the feedback as to whether or not you are ready to date.
… as well as much more!
Please know my 3 keys To Thriving After Narcissistic October Webinar Group is now open for registration. ]
Today we are starting an amazing journey together which includes 17 days of interactive workshops, powerful healing tools, a chance to connect to people all over the world who are healing just like you … as well as my free 3 hour tele-class coming up in October.
I'd love you to join me and other people from all over the world, to heal from abuse and up-level to true freedom, empowerment and love.
And True Relationships!
If you have had a positive dating experience after narcissistic abuse i'd love you to share it with the community. Please share insights such as when you knew it was right, how you changed your approach to dating and what did the end result feel like.
(Visited 41,141 times, 4 visits today)
The following two tabs change content below.

Melanie Tonia Evans
is an international narcissistic abuse recovery expert. She is an author, radio host, and founder of Quanta Freedom Healing and The Narcissistic Abuse Recovery Program. Melanie's healing and teaching methods have liberated thousands of people from the effects of narcissistic abuse world-wide.

Latest posts by Melanie Tonia Evans (see all)