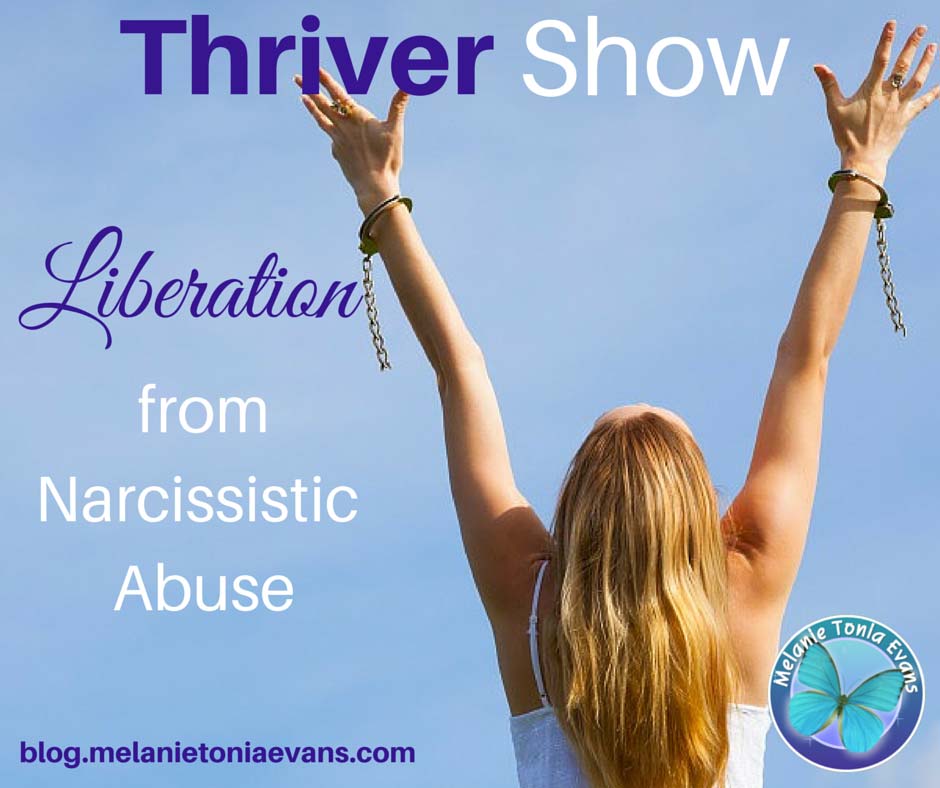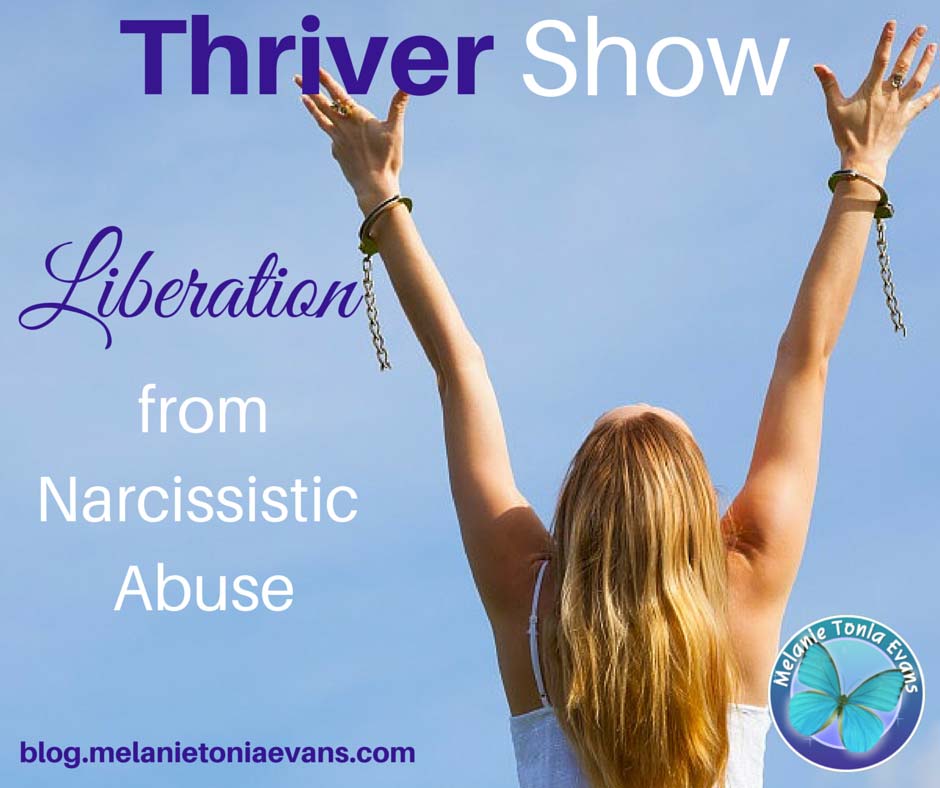 This radio show is Clarie's Thriver Story.
An incredible one that I know many people will relate to.
As a result of Clarie's traumatic childhood she had developed avoidance and dissociation disorders.
She had very little memory of her childhood, and had through she had dealt with it, and that she was "okay".
Clarie ended up in a relationship in her 50s with a narcissist, which cracked that illusion wide open.
The journey of this radio show is about her N-experience and then how Clarie realised she was sick, and that life could no longer carry on as normal. Clarie tried through intense therapy to be able to connect in her body to her "being" and to life, but could not access her emotions.
In this show you will learn how Clarie finally came home to herself and was released from what she described as "looking through a window pane at life but not being able to be in life."
After Clarie was able to find and shed layer upon layer of trauma that her True Self had been buried under for years she was finally freed, and able to be fully herself … as well as connect to life and living.
Find out how she achieved this by listening to the show above or read the transcript below.
Clarie could you please describe your N-experience?
He was fairly typical for a covert narcissist. He was strong, resilient, very charming, intelligent but in an unsophisticated way and very good looking. He seemed to me to have a normal character. He wasn't outrageously charming, he was consistent. He didn't put a "spell" on me, he danced my dance and didn't miss a step until he was ready to. He's a very talented mechanic who can fix or make anything he sets his mind to. A very useful talent and he is admired by many for it.
We were close in age, had similar interests (or so I thought). Our relationship had all the usual initial hallmarks and it had the narcissistic hallmarks as well. The mirroring, long, constant, very intimate conversations to gain information which I was all too happy to give. He put me at ease, made me feel comfortable, smiled at me often, kissed my hand, opened doors, pushed in my chair, deferred to me.  It was all packaged so attractively, so perfect.
In conversation he offered personal information in a kinda quirky, charming, boyish way. It made me pay attention to what he offered. In a way it was like contract negotiations. He put out the offer and I put out mine. He had met me through an acquaintance so I imagine he already was quite familiar with my immediate circumstances. We were so polite, so comfortable, I was so accommodating.
Hitting all of the right social buttons was important to me, it served as a rather inadequate reality test that he passed with flying colours. He appeared to live simply, cleanly, in an organized way, which is something I admire. I have to say, that's where he went to great effort to present himself to me right from the start.  As time wore on these impressions gave way to a very different reality.
He certainly acted the part of a smitten man. He swept me off my feet and I let him. I fell for him replete with the feeling of falling! The one thing that hadn't happened in any previous relationship was that I literally had a high from him. Giddy, silly, giggling high from even just thinking about him. My subconscious was trying to give me warning. That excessive hit of dopamine and seratonin was powerful enough to literally intoxicate me physically. I did wonder about it but I thought that must be what "real love" was. I was so naive. I reasoned that this was different because it was meant to be.
The truth is, it was my time, I was ripe fruit ready for picking. I might as well have had a large neon sign over me flashing "Pick me, Pick me!".
He easily controlled my free time, I let him! My empathy towards him was nurtured with sad stories of victimhood through previous relationships and he gained my trust with his charm and reinforced it by telling me what he knew I wanted to hear.
It was easy to manoeuvre me into vulnerability, isolation and dependence. That was the dance. I played my part just as well as he did. I was all too happy to teach him about me. That's what I thought a "normal" relationship was. His stealth approach, though not exceptional, was effective because it was consistent and even when the mask was off, he could appeal to my codependency and my avoidance which he frankly was much more aware of than I was.
It reminds me of looking in the mirror. As if the mirror image was someone who looked just like what you expected to see but you didn't know it wasn't. His reaction time was good enough to cover the missed cues because I wasn't looking for them. I was seeing exactly what I expected to. Sure he flubbed a few times but he could easily recover because it was my own expectation that worked against me. He knew I had very thick glasses emotionally and mentally! As time went on he could slowly and inevitably relax his effort. I was barely a challenge.
The relationship progressed very quickly, a classic red flag, and within 4 months we were moving in together. Things changed rapidly from that point.
He was never violent with me physically but the threat became apparent over a short period living with him, palpable, in the air. What started out as offhanded comments distributed oddly through normal conversation like, "I was a biker for a while and knew people who did things" turned into "I did some things I'm not proud of while I was with these bikers". I can tell you he doesn't look like he ever was a biker, no tattoos, no colors/ patches, very little swearing, very polite, socially polished but not too much. He had a Honda, but it was no Harley or a chopper. He was always hinting at some sort of existing residual danger from this involvement.
These evolved into statements interlaced with normal conversation like "You know, there's a swamp over there that a body could be dumped in and no one would ever know". Later on interactions like: we would be getting ready for bed, after having a nice time at a fire or watching a movie and statements like "You know there are times I could just throttle you" would come out of his mouth with no provocation whatsoever.
I kept thinking things would get back to "normal, that this was a transition. But amongst the storm of manipulation, constant lies, gaslighting, triangulations, veiled and not so veiled threats, I lost my grip and the last shred of control I thought I had just slowly whittled away.
The ambient threat was reinforced with weapons in our home, which I was not accustomed to. He stored them improperly. Friends of his who were police officers, knew he stored his firearms improperly, and said or did nothing about it. He spoke of other more sophisticated weapons stored at a friend's house that I trusted he had but never viewed personally.
Then there was the food. He took over all of the cooking. It was very rare that I was ever permitted to do any of it. I like cooking but I realize now this was part of the "making me dependent" process, it's called infantilization. Hard to say, easy to fall into. Also, he took morphine for pain. When I moved in with him my entire sleeping pattern changed very quickly. I used to read for a half hour before bed every night. Living with him, I couldn't keep my eyes open after a meal. I was always freezing cold. I'm from Scandinavian stock historically, we like the cold, tolerating it very well, but this was different. It could be 30 degrees Celsius outside and I was freezing cold, goosebumps, discomfort and this overpowering fatigue. I just thought maybe there was something wrong with me, I didn't even consider that it could have something to do with my food. He almost daily remarked that he had never seen anyone fall asleep as fast as I did. He watched me often while I slept, poking me, disturbing me awake, accidentally hitting me at times. It was like he was playing with an object, or annoying a pet, causing deliberate frustration. He often said I had a child like appearance while I slept, looking like a porcelain doll. Idealization, objectification. I missed all of that.
Comments evolved to how to poison someone and get away with it. Again interlaced in unprovoked, normal conversation. He would say, "You always take a little bit of it yourself every day so that you build up an immunity and you have it in your system as well so when it happens, you don't get caught". I only put those pieces together after I had gone no contact and was well into NARP. The survival mechanism turned a very blind eye to all of that ambient threat. That was the depth of my unconsciousness, and my own cognitive deficits. It gives me chills and a sick awareness sometimes to think what he was serving me each and every night on my plate.
My sleeping habits reverted to normal as soon as I went no contact. I'm no longer cold or fatigued as I was. I sleep for long healthful durations, undisturbed usually, except for noisy neighbours.
All this and to know he was just the tip of the iceberg. The very top of a veritable mountain of unconscious stored emotion and beliefs from a very traumatic childhood that I thought I had a framework and context for but in reality it was a bomb, ready to explode and destroy my sanity, my identity and truly threatened my ability to survive. But I only became aware of this after I started NARP.
How were you Clarie as a result of being narcissistically abused?
It didn't take long to wear me down. He took my personality and defenses apart piece by piece. I know now he started that process from the moment we met. Every gain he made seemed to take something away from me. Within months I had gone from this giddy, happy woman who was in love, full of life and hope for the future with this wonderful man, to a woman who was wondering what the hell was going on? What had happened? Why was I living in this and where was the man I fell in love with?
The devalue worked with my unconscious self-critic, the self-loathing, the constant looking to myself as the problem… I couldn't see him for who and what he was. I was completely blind to my own condition. This was the man I loved and I clung to that. In a few months, I was starting to show acute C-PTSD symptoms including frequent flashbacks (the traumatic childhood was rearing it's large ugly head) I was dissociating, losing chunks of time. I was fatigued, distracted, confused, overwhelmed and gaining so much weight! I had lost myself and I was very close to a nervous breakdown though you couldn't tell me that!
I had this illusion that I was capable, that I could tough it out, bulldoze right through it to a workable and liveable conclusion. My bulldozer was falling apart and the only person who didn't realize I was in big trouble emotionally and mentally was me! Then something happened.
The narc had a huge drinking problem that I had not known about until he was arrested 3 times over the course of two months for Drinking and Driving. Yes, I said three times! The first event was late October, the last early December.  We had moved in together in July, packed up and moved house again in mid November. (Great dis-regulation tactic that was.)
Normally, people go to jail for a long time for that sort of thing. But the narc was charming. Not extremely so, he was just consistent enough with it that he was able to charm the police, me – over and over again, even the judiciary. In total, he spent one night in jail after being arrested for his third offence and was released on his own recognizance the next day. He was fined $1,600.00 and his licence was suspended for 1 year. There was a write up in a paper associated with the local press but miles away from our location! Charm and dumb luck!
I insisted at that point that we see an addictions counsellor. He got on the phone, made the appointment and assured me that everything was going to be alright. This was a glitch and he had overcome it before and could do it again.
By this time the cracks were exposing my underlying issues quite prominently to anyone who could see it except me. I was a mess. By fluke, the addictions counsellor accidentally triggered me into a dissociated episode during a session I had alone with him. I was "gone" for about 5 minutes. When I came to, he told me what had happened (I had no recollection). He said I became child like, I cried, was frightened and didn't know where I was or who he was. He told me "You are having a problem and you need help with this!".
It was hard for me to believe. I told him that I had already had received counselling from several professionals who pronounced me quite well. He insisted, telling me it was his best professional opinion that I see someone right away and he made sure I was going, checking in on me several times before and even after my appointment with a Sexual Assault and Trauma Abuse Counsellor he knew from an organization in the area.
I was on a fast track to breaking down completely. I just wasn't aware of it. There was a distinct split between what I thought was happening and what was really going on. I didn't realize it but this addictions counsellor did, I was in a fight for my identity, for my sanity, which really means I was fighting for my life.
So what happened with the Sexual Assault and Trauma Abuse Cousellor?
The Sexual Assault and Trauma Abuse Counsellor was actually the best therapist I have ever encountered. She knew my number when I walked in the door. We worked on cognizance first. Getting my perception to line up with my reality.
Once this happened that's when the full recognition, the shock of what I was going through mentally hit me. I realized how fragile I really was. For someone like me to be reduced to that, was a horrible and terrifying blow. More than any trauma in the past that I know now or experienced then, nothing compared to the knowledge that I was experiencing a very serious mental health crisis.
Had this therapist had any confidence in the current psychiatric system in our area or a more qualified professional, she would have referred me. But she knew all too well what would happen to me. I would have been drugged under. Unable to recover. I would've been a number, a file name passed from one to the next cog in the wheel, under these conditions my prognosis was not good.
She saw ME buried alive under all those layers. She thought she could help and used what turned out to be her considerable personal knowledge and skill, her empathy and her strong intuition. She asked me to trust her and I knew I could. I'm so glad I did!
The transference that happens between a client and their therapist is what saved me from the tactics of the narcissist. He certainly upped the ante. I would have fallen to pieces, become catatonic or close to it, in order to serve his purpose which became clearer slowly over the course of the next year and half, he would make more money on disability and be able to dispose of it as he wanted (drinking) if I was his helpless dependent. It wouldn't have surprised me at all if he had a sizable life insurance policy on me. He was able to get people to do just about anything for him.
When I transferred my dependence onto the counsellor from him, it left him at loose ends struggling to get me to stop therapy. Once the transference was in place there was no way I was going stop recovering.
This is when I started to realize I was dealing with a narcissist. I didn't understand what that was, but it was the start of unmasking him and eventually each one that has participated in my life experience so far.
My determination was strong. I told him if he didn't like it, he could leave. This was a tiny but mighty thread in my bid to save my sanity. The counsellor and I worked next on the C-PTSD calming the symptoms significantly over the next year or so. We also started to crack the codependence and underlying issues from the childhood trauma that I had either repressed through defence mechanisms – there were terrible things that had happened to me, violation for prolonged periods of time as a child – and I had blocked them out as a defence…..or I had simply re-framed only my remembered incidents through previous therapies, which is why I thought I was alright. This was essentially the reason why I could live one experience and interpret it another way. My sanity had been hooked up to what essentially is a time bomb by neglect, incompetence and a lack of proper professional attention at the proper time. The child protective system here failed me horribly. But that's another story that is far too involved to get into here.
What I've found is codependent people tend to look at involvement in therapy like tasks, even tests. We "perform" during therapeutic sessions, trying to "gain" the approval of the therapist, needing that validation. This is giving to get at it's most refined. The therapist is the person who has the control and hoped for knowledge and experience to qualify the interaction and look for these signs. No one did that for me. Even this new therapist had trouble detecting this in me. What I would end up doing is doing the "work" to the satisfaction of the therapist. Trying to impress or gain validation. When I could tell them what they wanted to hear, they pronounced me healed and I thought that meant I was.
Now what does that sound like? What a perfect match for the narcissist condition! Narcissists tell people what they want to hear for supply to their ego, and codependents do it for approval, and we are so unconscious we don't even realise we are doing that …. We really are psychologically the other side of that coin! Fortunately this counsellor and I were able to pick up on this which made my recovery much more transparent and accountable. Finally I started doing the work for myself, rather than for the therapist's approval.
Then we came to the avoidance. This was like hitting a brick wall. There comes a time when you have to experience the emotions, connect them with the trauma event and release the pain. This is a cognitive therapeutic principle and is a strong principle in NARP as well but to get there in cognitive therapy you have to "think" your way to feeling it. That just wasn't going to happen.
My ego had my mind so wrapped up in survival that I couldn't stay connected to any emotion for even a few seconds, let alone experience it fully. I was all in my head, disconnected from my body. We worked technique after technique for about 2 years, but we didn't break through. I had reached the conclusion that this was as far as I could go and that I was stuck there for the rest of my life! For me it was a long way to come just to be stopped short of having a full, natural expression of my own. Which also meant not having a fuller cognition and that maybe my integration thus far had peaked.
This was hard to take. For me it was like living through a glass window. I could see what I wanted to experience very clearly but I couldn't feel it, touch it, be it. Conversely it (whatever form that took, person, desire, etc.) couldn't get through my defences (the window) to touch me. This was the underlying issue that made me need other people to fill my requirements to make me happy. I was cut off from being able to do this for myself. Or so I thought.
So how did that change?
During therapy my counsellor encouraged me to go online and research codependency, avoidance, C-PTSD and manipulative relationships. I endeavoured to do so and to show the research! There's a lot of junk out there. As most of you are aware you can only go through it to realize that. Some of what I found was useful. It took a while but I happened upon Sam Vaknin's videos and around the very same time found your website, more importantly your blog!
I can't tell you how many Aha! moments I had reading your articles. It was affirming to have the situation written in a format that didn't concentrate on the victimization. I knew I had enough of that! I would print off your blog and study it at the coffee shop, on walks, anywhere I could do it without being interrupted or having my activity co-opted by the narc. He was very resistant to my therapy, to any self help and tried his darnedest to sabotage me and vilify the sources in various ways.
Sam's videos were a little less accessible to me because they required a knowledge and relation I just could not connect with at the time. He's very learned, and expresses himself in professional terms but I just didn't have the capacity to relate to the subject on his terms yet. Notwithstanding, he's a self proclaimed narcissist and I wondered about his participation in this work.  I persisted with his videos because something clicked and they have since become a valuable source of information, describing the narc experience, relating to the codependent and the folie et deux that transpires between the two parties.
But for my own recovery, your blogs were always accessible, I could relate and understand them and bit by bit I was able to assimilate the information, qualify my experience using them as well as the therapy, using them to help me along in gaining awareness.
How long was it before you stepped it up from "informational" healing with the articles to "transformational" healing as a result of working with NARP?
I have to say it took me a long time to buy the program. It was a year or so after I discovered your blog and only after I had the breakthrough during the webinar. I had already moved out and gone no contact for about 4 months. Money was very tight and though I thoroughly trusted and implemented what I was learning through the blogs, I was not so sure that a "course" was going to help me heal what I understood at that time were my very significant issues.
The first breakthrough I had was with the webinar and to this day it stands as the most important and profound shift. Melanie, I am eternally grateful to you for developing and even for promoting NARP the way you do! If you hadn't have put on the free webinar in May, 2014, I would still be buried alive under all of that stored emotion, all of the perceived beliefs, all of the wounds and experience that I could remember and much of what I actually couldn't. My id would still be in there instead of out here.
You helped to save my sanity, in fact my life. Your program has brought my mental faculty back from a place even therapy couldn't get to. When you relate your experience, I connect with the desperation and the hopelessness before the inspiration for NARP happened. I too was just a shell, eviscerated and hollow. I can only outline the incredible change that has happened since that first hour when I was able to connect through my body to the stored emotion and experience it. Your Program brought me back to myself, and that made me so feel so incredibly relieved and excited.
It's so funny. With the NARP process my ego couldn't interfere with the physical aspect. It tried, believe me, but the mechanism of feeling in through the body essentially disabled the ego allowing me to get right back to the emotion through the body sensation of pain!
I couldn't believe it – it made so much sense! How can we get to our being through our brain. We can't! We have to go to ourselves through our body! I knew NARP had cracked this code that is missing from other therapies.
For what I think was the first time in my life experience, I was in my body and it was working for me! The release and shift was incredible! I was so relieved! I emailed my therapist right away. It was such a relief to know that 1) there was a "technique" that worked and 2) that I still had the capacity to do it! I still get very emotional when I think of that experience. It's like a commuted life sentence! I was imprisoned and you opened the door and let me out!
I still didn't have a full enough context of my childhood and how it related to the relationship with the narc. All of that came up after my initial experience with the program. I started NARP in July 2014 and continued my therapy as well. I learned very quickly that it wasn't about him or what he did to me. I had already been no contact for about 5 months at that time which helped tremendously with detachment.
I realized through the program, especially through the orientation and Instruction and Worksheet document (which I had to read several times to understand what the process was and to let go of my egoic interpretation of it) that I had to focus on me alone. It took all the he said, he did, he made me, stuff out of the equation.  I knew I couldn't do anything about the narcissist or the past. I had to learn to accept and just start from there.
I used the forum to gain a safe source of validation and support, and just got on with module 1 and the ebooks. For three weeks I worked on Module 1 daily. I just experienced, dug and shifted, experienced, dug and shifted. I journalled a lot through that process. I just let NARP pretty much take over the entire recovery process because my initial breakthrough was so profound and powerful. I continued in therapy and used that as a reality test, but NARP was the new fundamental vehicle. My therapist complied only because my results were so significant. My progress after working Module 1 a few times blew her away. I was having fast results and breakthroughs I had been battling for with her for over 2 years. She was very impressed.
What did you discover about your inner programs that you were carrying within you, that had co-generated the abuse in your life?
I discovered the mountain under the tip of the iceberg. Wow. NARP worked so well that it got through some pretty hefty memory blocks, some of which were in place because of the haphazard re-framing process in previous therapy. Some were in place because of the survival mechanisms of codependency and avoidance, so when these were triggered they became reinforced by the C-PTSD response.
NARP broke through to the origins of the wounds, as a result of going through the direct path in my body, and was also able to release my wounding in ways that cognitive therapy never could.
We are actually very technical beings. We have an operating system. It's amazingly flexible, but when it gets infected with abuse, trauma, being chemically based we do break down. I discovered that the narc was the highly skilled surgeon using the scalpel to take my personality and defence mechanisms apart, delicate and fragile piece by delicate and fragile piece.
He dismantled me just enough to make me aware of my rather fragile condition. He was a necessary, vital intervention and I wouldn't be intact now without him. For his part, I'm grateful as much as I would be with a highly skilled professional. And I'm glad it was him because someone else may have not been as careful. In my view, if it had have slid either way, the plot would've been lost. I hope I never have to revisit this again but if I do, I want someone just as skilled and as capable.
What has happened since doing the inner work in your life?
Nothing short of an enormous transformation. Having a proper context with which to frame my childhood experience in has freed me from the doubts, the self loathing, the self critic. Experiencing and releasing the stored emotion, connecting to my body have allowed me to heal so much more and much faster than the therapy allowed.
I was able to detach my dependence on my counsellor and completely free the N charges, connection, chords from my system. A huge endorsement of my progress and of NARP was my counsellor telling me that I was good to go it on my own just 4 months after I started NARP! This was a huge!
Shifting the inner beliefs which put me in touch with my little me's have helped me to learn to parent, to partner with myself. I've been able to connect with a higher perspective, a higher self if you will which has opened up the lens of my life to encompass so much more than the tiny, childish egoic survival lens I viewed life and experience through before.
Possibility has opened up to me. I've become much more spiritual. I incorporate information and experience into my life that not that long ago I would have dismissed or not even noticed. I feel here, present. I'm not drifting off in dissociation. No more flashbacks, panic attacks, or fear. It's all gone and I'm quite sure gone for good.
I'm a different person, though I have integrated much of the child I was, healed, parented, loved, whole back into me. She's there, but that is not who I am anymore. She's grown up and I love the me who I've become.
Clarie how has your transformation worked with the relationship you have with your son now?
My son is an adult and I raised him as a codependent, OCD, unresolved C-PTSD sufferer with an avoidant personality. We did have issues. Learning that I could heal by proxy has helped a lot. We've been able to clear the air between us to a large extent. We've always been close, but we understand that closeness much more fully. We are less guarded, much less reactive around each other. Is it perfect? No, it never will be. But it's so much better than it was. He's been very considerate, very supportive.
NARP has helped me realise just what an incredible special human being he is in his own right – and how proud I am of him. Our bond is deeper and based on mutual respect and admiration rather than the hierarchical parental model. I have come to realize what an incredible person he's become, largely through his own impressive faculty. It's not just pride, it's awareness and the bond.
What is your experience as a moderator and what would you like to share with others about the Forum?
The most important thing I'd like to share about my experience so far as a Moderator is how much the members help me too. Through them my own recovery is reinforced, refined, my skills are honed and I get better each and every day. You guys make a huge contribution to my life!
Arnel, Bob, Paddy, Ruby, DebbieK, Tarmaa, InstantRecovery, Aminath, Michal, Alex, Eileen, Altheia, Jean, Firefly, Gale, Free-at-last, please everyone, just imagine I've said your name because I would list you all if I had enough time. I've listed you in my heart for sure and you will always be there.
Even if you don't think so, if I've read your posts, comments, and I read almost all of them, if I've interacted with you at all, you've made a big difference and helped my recovery. You knock my socks off with your experiences, insights, encouragements, resources, your candor, generosity, wisdom and spirit. Individually and collectively you are quite extraordinary!
If I could have picked people that I wanted to work as a Moderator with I couldn't have picked better than Cindy, Phil, Nora and Zac! They are a dream come true!  As Moderators and members themselves each one of them is a gift, each offers a different perspective and experience, wisdom, quality and we balance each other out. We've become a great team bringing out the best in each other and our friendships and respect for each other have deepened through this experience.
I hold them in high esteem which they've earned. I know we follow in the footsteps and have all been helped by some excellent examples like Christine, Suzanne, Fiona, Debbie, Galeet and so many others. It's amazing to be able to thank them, all the members, Moderators, The Administration, Yes Harry, that's you! :), Zac and especially you Melanie this way.
How do you feel about life now Clarie?
My life is very different then it was a year ago. I started NARP July3, 2014. My brain is functioning properly, not operating so much out of survival, so the clarity in thought is just incredible. That in itself is worth everything I've been through!
I am connected to me, my body, this incredible vehicle that I hadn't acknowledged my whole life, and it's here for me, it does for me, completely loyal, it wants to please me, it wants to be well.
I'm in touch with my higher self, which is my internal parent! For the first time in my life I know how to take care of me and my body. My higher self is so wise, so dignified. It's very loving, compassionate, connected to everything, mature and responsible. I'm so grateful for this connection, for the expanded awareness my higher self provides. It's like new glasses with a panoramic view. I can see things I didn't see before. Know things I couldn't perceive before.
And you know, I have to say, little Ego and his pet dog Fear are grateful too. That's how I picture them. It's such hard work to drive a life you have no idea how to. Little ego just can't do it. And Fear is just getting so tired of having to bark and growl all the time. They just need to be parented, up-leveled so that they aren't afraid anymore. They don't need to be desperate, trying to drive a bus they have no capability do drive. They diminish in frequency, content to stay at activity table, occupied with learning, being parented, becoming more secure all the time.
The thoughts and fantasies of the perfect life including a husband, or any significant other don't come up much anymore. When they do, I know, oh, there's something to work on. I am complete and whole on my own. It's not that I resist a relationship, I just won't settle for that flat cartoonish Disneyesque image of happily ever after again. It's funny how those images and messages persist and how that impossible depiction of a very natural process pollutes our reality.
We try to make what we see. If all we see is impossible or toxic, then we can't help but to keep creating that. The higher self, the adult knows the image isn't real. So not having that connection is such a detriment because the child in us can't decide in it's own best interest. With no internal parent to show the child what is possible the child clings to the image, comforts itself with it, uses it like a pacifier and tries so hard to make it real. Now I am that internal parent, I let go of the pacifier. I think it's important to realize what we feed our children's minds. I'm a great example of how all of that can go very wrong. Thank goodness I have a happy ending… now that doesn't sound like I meant it to…
I enjoy my solitude now. It's not loneliness. I don't have that thought that I'm alone because something is wrong with me.
I'm working on projects and plans but I'm in no hurry. I'm enjoying being me without being pushed here, there, trying to please everyone, running around like a chicken with my head cut off just to be accepted or validated.
This amazing unexplored territory has opened up to me, my innerverse and I'm captivated by it's depth, the knowledge, the beauty that's in here. I've become quite spiritual, but not in a conventional sense. It's not about following orders. It's about being. It's enough to be and anything else is just playing the approval game. Giving to get. That's not who we are. It's something we do because we don't know better. I now know better. Much better.
What final message Clarie would you to share with the listeners?
The most important thing to share is that this life experience is our own. It's not the people in our lives that make the experience of it good. It's the way we participate in the experience that makes it good!
Before I found NARP I was really struggling for an answer, a breakthrough. It was like living a 3D life but capable of only feeling 2. I knew there was more, I wanted more, I could see the more but I couldn't do it no matter what I tried. I just couldn't do it. I couldn't connect to my emotions. I couldn't control the mechanism that was interfering. I couldn't progress. I was ready to accept that I just couldn't do it. That this is all I get.
It wasn't someone else that brought me to NARP. Melanie, by your own ability developed something and put it out there to the best of your ability for the rest of us to find. You can't make us read it but you can make it available. The information was there, in my purview and had been for some time, about a year. I had reasons for why I couldn't do it. Then something changed. The reasons not to do it got set aside, the obstacle was removed. A free webinar, a chance to try it first.
This entailed me signing up, I could do that, putting time aside, I had time, I could do that, sitting my rear end down in a chair, I had a chair, I could do that, turning on my media device, had that too, I could do that, putting head phones on, well, you don't need headphones but if you have them I recommend them so yes, I could do that, and listening to a broadcast. "I could do that too!"
All my couldn'ts changed to coulds. Who made it a could? I did. My desire to breakthrough helped to create the circumstances that I needed to do it. If I had have thought, no, I don't have enough time, I don't have a comfortable enough chair, my computer is not the best, then my reality would be "I couldn't do it". I would be living in that reality right now.
This is what I really want to impart to the listeners. If you're saying to yourself that you can't do it, then you are making that your reality. It's your choice. I hope this resonates with you because I know I do that myself and I have to remind myself all the time, if I say that, I'm going to live it.
The codependent mechanism led me to let others choose for me. I had the belief I couldn't do it myself. I just didn't know better. So my reality reflected my belief "I really couldn't do it".
He, the narc, someone who was never capable of doing it for me but in his illness believed he could, accepted the offer. How did that work out? What was I to him? I was an "I can't do it!" So whatever he chose to do, however he chose to do it, was his "I can do it". It was his permission to come into my life and take over my life. LOL! It sounds like a joke but it's really not! Because I couldn't, my life couldn't.
Now, because I believe I can, I live in a reality of "I can!". Whenever it's a can't, I gotta work on that. We make our own can'ts. We also make our own cans.
I Hope You Enjoyed Clarie's Thriver Show!
I can't believe that show went for over 2 hours! That might be an Empowered Love Radio record! I enjoyed talking to Clarie so much we found it hard to stop …
I truly hope you enjoyed the show and got some insight into the incredible person she is and the support that she provides to NARP members in the community.
If you are not yet a NARP member I would love you to join me in my next free live Webinar called the 3 Keys To Thriving After Narcissistic Abuse next week.
We will be covering the exact process to Thrive after narcissistic abuse just like Clarie and so many other Thrivers in the community have experienced. And you will also get to experience Quanta Freedom Healing, the tool which makes this process possible.
Click here to reserve your space for this event. 
If you have any questions or comments you would like to share with Clarie please post them below and Clarie and I will respond to them personally.
(Visited 4,924 times, 1 visits today)
The following two tabs change content below.

Melanie Tonia Evans
is an international narcissistic abuse recovery expert. She is an author, radio host, and founder of Quanta Freedom Healing and The Narcissistic Abuse Recovery Program. Melanie's healing and teaching methods have liberated thousands of people from the effects of narcissistic abuse world-wide.

Latest posts by Melanie Tonia Evans (see all)