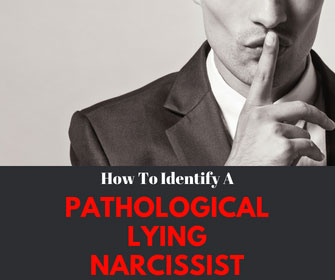 Have you ever been in a situation with someone where you have no idea whether you are being told the truth or not?
Have you experienced events and circumstances that leave you feeling dubious as to whether or not you can trust them?
Or have you received point blank evidence that this person is a liar?
The truth is this: we can't have a safe and healthy relationship with a pathological liar because trust, faith and belief are smashed.
There is a very pertinent saying – that when we become a detective in our relationship that things are very wrong.
Sadly, for most of us, we gave the narcissist the benefit of the doubt, we wanted to believe them.
So … how do we make sure that we don't go through (or continue to experience) someone's pathological lying, putting our heart, life and sanity at risk?
In this Thriver TV episode, it is my greatest wish that I have provided you with some powerful pointers that can help you unravel the rubbish and get to the truth regarding whether this person is someone with high-integrity or not.
Video Transcript
One thing you can be certain of with a narcissist is that they lie. They don't stick to the truth and there is one main reason for this – they are a False Self. Meaning an insecure ego construction that has forfeited living as an authentic self, because of believing this self is not enough – not enough to have needs met or be fulfilled as itself.
The narcissist is trying to be someone else, a fictitious character who gleans feelings of significance from others because their self-esteem is so devoid on the inside.
The truth is pathological lying is about 'not being real'. Not being honest also means not being responsible for actions or accountable, as well as severely lacking the ability to understand how one's pathological actions, including lies, affect others.
This is all connected with the lack of empathy that narcissists are so famously known for – the inability to step into someone's else's shoes and view life from their perspective.
As a False Self, narcissists lie profoundly to themselves also – they have a narrative going on in their fabricated inner world as to what they believe they want as reality. Narcissists believe they are above reproach and immune to other people's criticism or scrutiny of them.
This fabricated version of themselves requires a delusional reality of life itself, necessarily spinning the onus and responsibility back on others, rather than employing the essential self-reflection, growth and learning that may be able to lead them out of pathological narcissism.
When other people bring forth a reality that threatens the fragile basis of the False Self, which needs to uphold significance and 'be right' at all costs, the narcissist will go into delusional denial and stick to their narrative. This is why narcissists will blame you, refuse to stay on topic and spin things around – including all the incredible defence mechanisms that narcissists will employ to retain their fabricated versions. They are blind to their narcissism and will often continue with lie after lie, even if caught out.
This is the thing – emotionally intelligent people may lie, slip up and hurt people as a result of their behaviour – yet when they are discovered and confronted, confess and tell the truth. They have the ability to be genuinely remorseful and seek forgiveness.
Narcissists don't do this. Their False Self will not allow them to.
As a result, the narcissist leaves in their wake a trail of broken relationships, ones where trust, faith and belief in them are destroyed. That to them is just a necessary casualty of not disturbing the false narrative of the False Self, the only identity that they can cling to – one that their entire inner identity structure relies on. To expose a narcissist as a liar means that you will be set upon. You will be lined up and the narcissist will go for your weakest points and all evidence and influence to make you out to be the liar, wrong or sick one.
This is when you need to realise this is 'game over' – pull away, stay away and start separating. What choice do you have if you want to retain your life, sanity and soul?
Naturally, if we are still hooked in and needy and dependant on this person for our own love, approval, survival or security – we may make excuses and stay with them, suffering the terrible abuse of being with someone who is a pathological liar – a person who we can never be safe with.
So … how do we spot this? How can we tune into our intuition and know when someone, especially a narcissist is lying to us? What are the hallmarks of a narcissistic pathological liar?
Excuses and Rationalisations
If someone does something that hurts you, and you let them know and they provide excuses, diversions and rationalisations which leaves you thinking 'Can you please acknowledge what happened here?' and 'Please just stick to the topic', there is a good chance that a False Self with a false narrative is pulling the strings of this person.
The False Self sees it their way – the fictitious story necessary to avoid scrutiny or any criticism whatsoever. If there was a wrongdoing, there needs to be an elaborate explanation as to why this 'wrong' thing was actually 'right' and therefore you have it wrong, and it's you that is the problem all along.
You will experience this as a complete invalidation of your feelings, and what this person has done. This is where we can be thrown off, because we get involved in the debate and the argument of trying to get person who is avoiding the truth to face reality, rather than just trusting our own inner being who knows something is wrong and we have been violated and treated without care, and or lied to.
Because of this, we may doubt ourselves.
The great thing is that when we wake up from the trance, we know that elaborate justification, excuses, diversions and refusal to acknowledge wrongdoing and apologise, is simply not acceptable and it is not emotionally healthy or conducive to healthy relationships. We are simply better of without it. We deserve authentic and genuinely loving behaviour.
Of course, no-one is perfect, yet emotionally aware people are responsible for their behaviour, care about others and can make amends and generate healthy connection when it is required. Narcissists simply don't operate from that viewpoint.
We may not realise, until we discover it first-hand, that this the person who avoids accountability and taking personal responsibility is also very capable of pathological lying, over small things and bigger things. The upholding of the False Self narrative is not only about avoiding accountability, it is also about positioning this person in life where they are favoured and it is all about them to get what they want – the results for them will be procured in whatever ways that they need to.
A pathologically lying narcissist knows what is 'right' and 'wrong' (hence why they lie to cover their tracks) yet the entitled False Self doesn't care and will use whatever methods necessary to secure its significance and privilege. It's of no consequence to the narcissist that their untruths would hurt you if you knew about them.
Many narcissists sexually cheat on their partners. Many narcissists smear the people they are connected with to procure sympathy and advantage with others. Many narcissists work things so that they can use and financially take and steal from those close to them. Narcissists will tell people what they want to hear to create deals that render people off-guard so that the narcissist can mine whatever they want from them. Narcissists make false promises.
Of course, this is all cloaked in deception, because If you knew the truth you'd run a mile. Just like the vampire who offers the victim eternal life before sucking them dry, narcissists will make out that no one will ever love you as much, or be as wonderful to you as them – but this also is a lie when you start to experience how your energy and life-force diminishes and you start becoming an angry, anxious person who is often triggered by their self-absorbed, grandiose, entitled, invalidating and selfish behaviour.
This is because your soul is not being nourished, it's being torn down instead.
False Promises
Another sign of pathological narcissist is someone who says they are going to do something and then they don't – without any explanation.
People who have emotional intelligence and a conscience will say to people after they haven't delivered, something like this: 'I am so sorry that I didn't get to do this today' and then they will follow through and get it done for you another time. Narcissists don't even bother explaining why their words actually meant nothing. The truth is they didn't mean anything, and the narcissist is so entitled and propped up on faux superiority that they don't believe they need to explain.
If you are in a relationship with someone who you can't rely on and who doesn't back up their word, this person is not someone who has integrity who can be trusted – point bank.
Decent high-integrity people just don't roll like that.
Narcissists Play By Their Own Rules
Narcissists don't care about boundaries or doing the right thing. Their decisions and operations are about serving themselves. If it is to the detriment of others, that is of no consequence to them. If their actions do serve others, this is only to ultimately position a narcissist for what they want.
They are a law to themselves who says 'Who writes the rules? I do.'
Admiring Without Wanting to Know You
It can be hard to detect a person as a pathological liar when they seem to be so complimentary of you.
But think about this … if someone is full of compliments and even 'I love you's' but doesn't bother to get to know you as a person, and is not interested in who you are, or what makes your soul tick, this is not really about 'loving and supporting you' at all.
As far as the pathologically lying narcissist is concerned, this is about getting you to give them what they want – things like sex, money, privileges, the ego hit of an attractive partner, or a better lifestyle … whatever it is.
The real question here is: Do you feel cherished and seen, heard and held at a heart level by this person, or do you feel sexualised and objectified? Do their words feel warm and genuine, or leave you feeling empty, anxious and manipulated? Do you receive the actions, care, tenderness and generosity with this person that makes you feel deeply cherished? Or do you see the selfishness, lack of care and exploitation from this person that makes it all about them despite what loving words supposedly come out of their mouth?
If you are in a genuine relationship with a genuine person, you will feel like you love that person for who they are. If you in a relationship with a narcissist you won't be able to honestly say 'My partner is such a wonderful and great guy or girl.'
So, I really hope that these pointers have helped you identify the warning signs of a pathological narcissist. If we want to live a healthy, truthful, safe and authentic life we need to stop lying to ourselves about the people who we are in a relationship with and stop trying to fix or change or tolerate people who have a deficient character despite them saying 'I'll change.'
A person's character is a person's character, it is the composition of their inner identity. We all can seek, align and connect with people who have high integrity. Please know good people do exist.
I'd love to help you heal from patterns of low integrity pathological people, and the truth is, we may know all we think we need to about them, yet it is the inner programming of our old trauma patterns that get us over the line in order to connect with much healthier and safer people.
The first step to help you achieve this, is connecting you to my free 16-day recovery course which includes an invitation to a healing workshop with me, a set of eBooks and lots more.
So until next time … keep smiling, keep healing and keep thriving because there's nothing else to do
(Visited 1 times, 40 visits today)
The following two tabs change content below.

Melanie Tonia Evans
is an international narcissistic abuse recovery expert. She is an author, radio host, and founder of Quanta Freedom Healing and The Narcissistic Abuse Recovery Program. Melanie's healing and teaching methods have liberated thousands of people from the effects of narcissistic abuse world-wide.

Latest posts by Melanie Tonia Evans (see all)