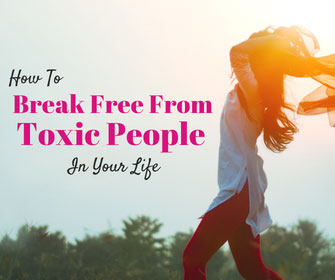 Have you ever felt the absolute confusion, angst, anger, despair and pain of trying to leave a toxic person behind?
You may say, 'I know they are NO good for me!"
Are you still confused as to why, despite what this person has done, that you still feel in love with them?
Or maybe … you don't even like this person and believe their behaviour and values are terrible, yet it feels like they have permeated your being and occupy way too much space in your head.
How you get them OUT?
How do you get the SPACE and RELIEF in your thoughts and emotions to restart your wellbeing and your life?
In this Thriver TV episode, I take you through the deeply unconscious reasons that we feel enmeshed to people who are not good for us, and how to evict them powerfully out of your being and life so that you reclaim your soul and your life.
Video Transcript
When we release ourselves from narcissists and painful toxic patterns, it is no small feat. We may think we are trying to free ourselves from a toxic other, but it really is so much deeper and more entwined than that.
Many people, in regard to narcissists, say 'I had never felt a love so deep and real than with this person.' However, I can assure you there are also people struggling to disconnect who never felt a deep love for a narcissist, and in many ways didn't even like that person. And that is really interesting.
So, is this really about 'love' or is it far more complicated than that?
Let's think about this. Why is it that we can struggle to leave and even stop thinking about a person who we know is no good for us? Why is it that we can struggle to leave and detox ourselves from a person that we may not have even loved, or even really liked?
And, for all of us (feelings of deep abiding love or not) why, even though we know this person doesn't have the same values as us, who behaves in ways that we find distasteful and even disgusting, do we still struggle to get away and stay away from them?
This has confused so many people who don't understand that simply physically 'leaving' someone and logically knowing why we must leave, is not nearly enough.
What IS really required is a soul and spiritual detox of the highest level. The releasing of ourselves, not so much of them, but more the reasons why we are emotionally and psychically enmeshed with this person in ways that really do defy all logic.
I can assure you this: if leaving and not thinking about a person anymore, as well as stopping doing the things that hurt ourselves was simply a logical decision, it would be easy. You would make up your mind and that would be it. But it's not that simple because your mind has very little to do with this. Rather, what is involved is your entire being.
The people who we have shared our heart, body, personal space and bed with are ones who we get enmeshed with. And naturally, this can happen with any impactful person in our life that we have combined energetic, emotional, physical and psychic energy with.
This is the reason why I believe we enmesh with certain people; because we have a soul contract going on with them. Through 'relationship' this person is offering us the gift to confront, find and heal within us the disowned parts that are not our true self (our traumas) so that we can release them and evolve to the next highest version of ourselves.
In some relationship cases, two people may be willing to turn inwards and do the self-work and can, therefore, evolve the relationship. In the case of narcissists, who self-avoid and self-medicate with people and things outside of themselves (to procure narcissistic supply) rather than be accountable and turn inwards to self- heal, these people are instead our grist to release and heal from.
In a nutshell, there are two ways to try to stop the toxic patterns in our life. The first is: we can see what has happened to us as unfortunate, even a waste of our time and life and a terrible mistake that we would rather have not experienced. In this mindset, our best attempts to feel relief are usually by attempting to keep busy or self-medicated with people and situations that hopefully replace the pain. This is trying to just 'get through' this.
Or, the second way is that we chose to see what happened as a gift that pushed on our wounds and brought them up to the surface, forcing us to heal them and grow.
When we do this, we seek to turn inwards to heal and evolve ourselves beyond this painful past pattern and into trajectories that are far superior to the people and situations we wish to leave behind. This equals growing through the experience.
The first version, without personal evolution, means that we are highly susceptible to our painful patterns re-emerging in other relationships. And the second way of dealing with toxic relationships and patterns means that we become seriously and authentically emotionally extended and happy within our own process and skin, blissful even, as we start to experience incredible gratefulness for what we have been through.
Naturally, this takes time. It takes self-dedication, and the hero(ine)'s journey of fully facing ourselves … but it works.
That is the Thriver Way.
I want to share with you my process regarding breaking the pattern of toxic relationships in life.
Releasing Ourselves From the Matching Painful Beliefs
The first step always is to go within to start releasing and reprogramming painful and defunct beliefs that keep us enmeshed with people, thoughts, feelings and situations that are not our truth.
I use Quanta Freedom Healing as my process, because personally I haven't found anything as effective to target, load up the wounds and replace them with Source, my Higher Conscious Self – shifting them swiftly and effectively.
This means to go beyond logic and go within to find the beliefs and traumas that are keeping us connected emotionally, physically, mentally and spiritually to toxic people and patterns which are no longer appropriate and healthy in our life.
This can start by asking ourselves in the deep inner-seeking process, 'What is the trauma within me that is keeping me connected to this pattern or person?' This is where we start to discover childhood traumas, epigenetic ones (generational), and also past-life traumas and their associated beliefs that keep us enmeshed and attached to toxic people and situations.
These can be beliefs such as: 'Without a man (or woman) I can't be whole', 'If I try to live alone I'll die', 'If I leave I'm dead', 'If you don't fight for me I'm not worth loving', or simply 'I'm not worth loving', and 'the people who love me hurt me', 'the people who love me leave me for someone else' and of course we may have held within our energetic being many, many more.
It isn't until we start releasing ourselves from the power of these traumas and beliefs which are holding us in deep and painful survival programs and traumatic relationships, where these beliefs play out to the letter, that we start to open up space within us to feel different, free and released.
Setting Ourselves Free From Vows
Then as Step 2, I believe it is very helpful to consider that, in regard to a person or even a 'thing', we could have made vows and contracts with this individual or situation, consciously or unconsciously, in this lifetime or even previous ones, that can be incredibly energetically binding. If we don't find and locate these within us we could be stuck in a holding pattern of not moving on, and or repeating relationships or habits that are similarily painful and unfulfilling.
These vows can go something like this: 'I am promised to you for life no matter what', 'I will never leave/abandon you', or even, 'I vow never to be with someone I truly love again because it is too painful', and so many more. (This last one may relate to the pattern of connecting to people who we never really feel it for).
Make no mistake, we may have had vows with substances and patterns as well as people. I used to have this vow with cigarettes: 'Without your comfort, I will never cope.'
The relief and power that we regain after releasing vows are immense.
Dissolving the Psychic Ties
Then the third clearing out step is to find and release the psychic ties with this person. Module 9 work in NARP is incredibly powerful for this, and there are other processes to tie-cut and cleanse ourselves.
What I believe is also hugely important with tie-cutting, is to locate the related inner traumas. The wounds within us which may be unconsciously hanging onto a psychic connection with this person, meaning we feel them and even want to keep feeling them, despite our energy getting sucked out and plummeting every time we focus on them instead of our own healing and recovery.
This is done by signalling your body to reveal the parts and traumas that are psychically connected and then loading them up and clearing them out every time you feel the pull or urge to think about that person, and/or feel their energy coming at you. By doing so, you will free yourself and detox them out of your being very quickly.
I promise you, that if you leave, break away and create strict no contact (or modified contact if you know you will see or have to be in contact with this person) detach, fully turn inwards to claim your gift and evolution (namely the growth through this situation) and actualise these three steps, you will break free from the trauma and painful patterns in record time.
You will literally evolve yourself from lifetimes of junk and can achieve this in a matter of weeks or months, freeing yourself into higher experiences.
We are not supposed to just go through painful and toxic experiences. We are supposed to evolve and grow through them because that's where our emancipation, liberation and true joy lies.
So if you'd like to learn more about how to powerfully disconnect and heal deep in your core, for real from toxic relationships and patterns, you can sign up to my free 16-day recovery course, which includes an invitation to a healing workshop with me, a set of eBooks and lots more.
Click here to get instant access.
So, until next time… keep smiling, keep healing and keep thriving because there's nothing else to do.
(Visited 1 times, 48 visits today)
The following two tabs change content below.

Melanie Tonia Evans
is an international narcissistic abuse recovery expert. She is an author, radio host, and founder of Quanta Freedom Healing and The Narcissistic Abuse Recovery Program. Melanie's healing and teaching methods have liberated thousands of people from the effects of narcissistic abuse world-wide.

Latest posts by Melanie Tonia Evans (see all)