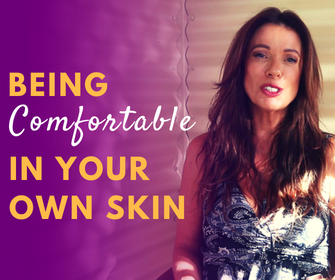 All of us want this.
We want to feel free, happy, whole and healthy.
After narcissistic abuse being comfortable in our own skin, as your natural state of living, may seem like a very big stretch to get to.
Yet, I am here to help you believe that it is possible.
In fact, in today's The Thriver's Life episode, I want you to understand it is probable.
When you adopt what I am going to share with you today.
Video Transcript
Welcome to the Thriver's Life series, the creation of your highest and best life after narcissistic abuse.
This is such a relevant topic for me right now, and I really want to share my experiences around this topic with you, as my deep desire that this will inspire you.
I put this topic together as I was sitting in a café in Western Australia. And I'm filming now from the beautiful little porch connected to my present Airbnb place.
I'm travelling alone at this time and relishing the opportunity to truly, truly be with me. This is essential because Thriving and expansion are about being whole, being able to generate your own happiness first and foremost, regardless of what is or isn't happening in your life.
This information is important for you, because after we have been involved in narcissistic abuse, absolutely we lose ourselves. When we have been enmeshed in relationships with false selves we experience people who pathologically lie, who compromise our values and who use us for their own egoic gratifications.
As a result, we lose our souls. We become disjointed, anxious and unhappy. Previous behaviours and lies cause us to be on edge and distrust, and we lose the ability to know what we can or can't trust.
It's a process to come back. It takes self-dedication.
So, what does getting comfortable in our skin look and feel like?
How do we achieve it?
To me, the first thing to get there is the hugest. It's acceptance and knowing that there is a gift in everything that happens without exception. If we want to embrace loving ourselves, then we need to understand the entire system of Creation adores us too. This is the Quantum Way that changes everything, accepting that everything is happening FOR us and not TO us.
And this is regardless of 'what' has happened or continues to happen.
Because here is the thing, no matter what shock, disappointment or painful event occurs, there is a glorious evolutionary opportunity in it. There is something happening outside of us to trigger and release something inside of us. All roads lead to 'home', meaning helping us to awaken, release our false selves, which are the traumas and beliefs that aren't our truth, and embrace and become more of who we really are, which is our highest potential when we live trauma free.
I want you to do this with me right now, think of something or someone that is very painful and has hurt you. Now say to yourself (if you still think like this), 'What a waste of time and a terrible, horrible thing that was. I regret it and have no idea why I needed to go through that.'
Take note of how this feels in your body. Does it feel awful? Or does it feel like warmth and relief? When you project yourself into the future, do you feel comfortable, blessed, relieved, healthy and blissful in your own skin now? Or do you feel angry, ripped off, devastated and disjointed?
Listen to your body, not what your head would like to think. Your inner being, your emotions know the truth that is in store for you.
A previous girlfriend comes to mind. After her last relationship, she didn't go within, and she had no idea or desire to look at what it was within her that she needed to heal. She said repeatedly, 'I have no idea what that was about or why I had to go through it.' Her current relationship is now even more disappointing, with her still playing out her wounds that were never addressed in the relationship she had 'no idea about.'
Our soul is ingenious, it turns up the message louder and louder until we wake up. If we don't wake up, we have as many repeating lifetimes as necessary of the same pain until we do. We are all going back home to consciousness, meaning being happy in our own skin. It's not a matter of 'if', it's a matter of 'when'.
Until we awaken, there are two things we do other than go inwards to process our wounds and get the gift. (Which I promise you, used to be my gig too.)
The first is obsess.
Obsessing equals thinking about it over and over again despite not getting any relief or true embodied peace and answers, namely a shift from the old order (pain) to the new order (liberation).
This then leads us to try the only other option we may think we have when we get sick of our own 'stinking thinking'.
Self-avoidance and self-medication.
Self-avoidance means burying it, keeping busy and not thinking about it.
Self-medicating is done by attempting to find something or someone to take the pain away.
Neither of these things will lead you home to yourself. They will not generate you becoming comfortable in your own skin.
When we understand that the brain follows the body and not the other way around, we know that trying to think our way out of terrible inner feelings, our traumas and fears, is not the way to go.
The reason being is that our trauma associated neuron pathways only have access to the thinking within the range of the trauma. Higher consciousness is not available when we are triggered into survival programs. The only thinking that is available is outer focused, 'If I can attack, run from or change my environment, then I will survive.'
However, this does not effectively (in any way at all) deal with the complexities of our emotions and inner subconscious programs.
When we understand the Quantum Truth of 'so within, so without', and that our life is unfolding according to the composition of our inner identity, we know there is only one place to do the work to get a shift and change our emotions and then our life, and that it is inside of us.
Most of you know I went through a relationship breakdown recently. Even though I am in the process of opening up to loving someone else deeply again, there is also the incredible journey of connecting back to me, and the joy and love of life, meaning being genuinely happy in my own skin. I know its not anyone else's job to give me that. I know that if I needed someone else for that, I would have no possibility to be a whole person connecting with other whole people in this incredible journey of life. Being in Bali with my girlfriends was beautiful, and now a deeper level of appreciation and love for life, my soul, my journey and my future is taking place.
Time alone is such a powerful time to fully meet, breathe into and load up and release with Quanta Freedom Haling everything that is not my True Self. In my morning walks along the beach, or any time really, while I am alone, I do this as soon as dense energy arises for me.
This includes all past toxicity, traumas and disappointments, as well as any need for validation or truth, and the shifts I am processing bring in of more and more of my own higher consciousness, that heals what I logically have no ability to.
As always, the shifts felt are incredible. They are liberating, expansive and joyous. Things have changed dramatically from years ago when I didn't have either the awakening to realise how vital inner trauma work is or have Quanta Freedom Healing as the powerful tool to achieve it.
Years ago, I was so agoraphobic I couldn't leave my front door. Nowadays in record time I go wherever and experience anything I want, more and more joyously, releasing any new wounds that appear, so that I can be freer and freer.
These days and for so long now, I know that being happy in my own skin is not about 'I'll do this or that and then I'll get happy.'  Yes, I am getting my hair and nails done whilst I'm travelling, eating beautiful foods and sipping on delicious cocktails whilst watching some of the best sunsets in the world, yet that is not what is giving me happiness.
These are things that I can connect to and feel blissy about because there is enough space in the cells my body, freed of trauma, to have life-force and wellbeing, which is our natural state without trauma, flowing through me to connect to the beauty and joy all around me.
This is the biggest joy that organically arises as a result of being dedicated to purposefully meeting and releasing our inner traumas to become 'happy in our own skin'. It's a deep gratitude and thankfulness for the opportunity to have experienced a painful emotional triggering so that we can find and release more parts of ourselves that are not in alignment with our True Self, to open up more and more space to allow in what is.
I want you to do this with me right now, think of something or someone that is very painful and has hurt you. Now say to yourself 'This person or thing is truly an A.I.D. in my life, an angel in disguise as an abuser, granting me the opportunity to free myself into my grandest self and life even more.'
Take note of how this feels in your body. Can you feel the truth of this? The truth feels like relief. It feels like warmth. It feels like expansion. It feels healthy and right.
Listen to your body, not what your head would like to think. Your inner being, your emotions know the truth that is in store for you.
Please know this – I live this lifestyle determinedly.
Why wouldn't I, when I know that no matter what, I just become happier, more whole and more able to connect to situations and people who represent more of this love, joy and wholeness?
I hope that you can deeply feel what I am talking about today.
I'd love you to connect to my travel pics on Instagram so that you can vibrationally feel the joy and expansion that can be yours too!
Okay … I'm very excited to answer your comments and questions regarding this episode!
And remember, after narcissistic abuse recovery, gloriously, we take it further!
Why?
Because we CAN!
(Visited 1 times, 14 visits today)
The following two tabs change content below.

Melanie Tonia Evans
is an international narcissistic abuse recovery expert. She is an author, radio host, and founder of Quanta Freedom Healing and The Narcissistic Abuse Recovery Program. Melanie's healing and teaching methods have liberated thousands of people from the effects of narcissistic abuse world-wide.

Latest posts by Melanie Tonia Evans (see all)