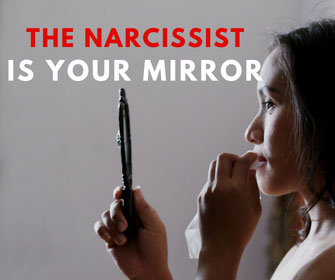 If we wish to Thrive after narcissistic abuse, there is ONE thing that will start that journey.
Turning our focus inwards …
To heal the only person we can heal to heal our life – ourselves.
But … what is it that we need to heal?
And … how do we discover exactly what it is?
We may not have realised (I certainly didn't initially and no-one was talking about this) that the answers are RIGHT in our FACE.
The narcissist is, in fact, a mirror, holding up for us and reflecting on to us those unhealed, unconscious parts of us that need our healing attention.
It's SO ironic that the person abusing us also hands us the key to liberate us … if we know how and where to look.
This Thriver TV episode is about the make or break experience we have after narcissistic abuse – whether we regress into victimhood or evolve.
So … how can we awaken to not only recover from the trauma and the pain of what happened to us but also be freed to experience much higher, pleasant and wholesome relationships in the future?
Watch this episode to find out!
Video Transcript
Many people get really upset with the premise of so within, so without, feeling quite miffed about what we may need to look at and heal within ourselves as a result of being in a relationship with a narcissist.
And, of course, things can get even more confronting when we look at 'the narcissist as our mirror'. This does not necessarily mean that we are the same as the person, such as a pathological liar and conscienceless, but what it does mean is that the narcissist's behaviour and the things that they have hurt us with, as well as hooked us in with, are the things that are reflecting back to us our necessary soul messages and lessons to learn and evolve from.
Our painful relationships have a purpose to them. They are impactful. They affect us in significant ways and we have a choice as to whether we are going to go within to realise and then take our inner gifts forward, in order to have much more pleasant and rewarding experiences in the future, or whether we are going to regress into victimhood and be forever scarred, defensive and limited going forward.
The Narcissist Shows Us Who We Want to Be
One of the first ways that narcissists provide a mirror reflecting back to us our vital healing lessons is when we first meet them.  If we have an incredibly powerful pull, the feeling like we have met our soul mate, this relates to them 'being' all the things that we think our perfect mate needs to be.
Things like attractive, attentive, interested in us, supportive, successful, nourishing and like-minded. If we find ourselves swept up very quickly into heady feelings of love, without getting to know a person for real, this is often an indication that we have entered obsession and enmeshment rather than healthy feelings of connection.
What this really equates to is believing: 'I think this person is the one'.
But here is the thing, narcissists know how to appear and position themselves to be your everything and we fall for it, and later down the track we keep projecting onto this person who we 'want' them to be, rather than accepting 'who they really are' and we pay a terrible price for not facing reality.
And, even if this is a healthy person that you have met that has got it going on for real, when we decide to 'love' someone because of their attributes, especially aesthetic and accomplishments, rather than what their values are and who they really are on the inside, then we are unconsciously seeking the things that we don't feel anchored in within ourselves.
Our emptiness inside causes an inability to connect to another person's true 'inside' and gauge a relationship from that real place.
Our best inoculation against false-selves is to be a whole self. Our best way to make relationships work with a whole self is to enter the relationship as one ourselves.
The Four Internal Deficits
Let's look at what we may be seeking through another. To me, this always fits into four categories, love, approval, security and survival.
If we don't love ourselves and feel love and bliss through our veins as our own identity, whilst loving life and loving being alive (which are all normal and organic feelings when we start to lovingly self-partner, go within and release ourselves from trauma to be our True Self) we will frenetically need to be in a relationship to have someone else 'loving us'.
This leads to deficient self-approval. When we are devoid of love flowing through us as us, then our approval of self is conditional too. It goes like this: 'When I have a partner I will be whole. When I have this in place, or when I have reached this milestone, or when I get these things or states, then I can approve of myself.'
We think approval is about other people believing we are good enough, but its actually always to do with ourselves. And the irony is if we don't approve of ourselves and instead try to have other people supply us with what we believe is necessary to feel worthy, such as attractiveness, lifestyle, wealth or acquisitions, we will be left without them. We inevitably come back to that same place of necessary healing within us what we have been seeking from outside of ourselves.
Ironically our healing is never about getting the stuff. It is actually about loving and approving of ourselves as we are.
And isn't it strange (not!) that until we make this journey of self-healing, we will never love people for themselves. We may only place value on them for how they look or what they have to offer. Narcissists are more comfortable about being objectified and sexualised because their egos love that level of ego feed (even though a relationship will never work with a narcissist because enough will never be enough), but real people will dislike it and be turned off by it immensely.
Naturally, the missing feelings of security and survival also fit into the categories of trying to source from outside ourselves the acquisitions, success and lifestyles that may make us feel secure, but really this goes much deeper.
The Need For Survival
Our survival terrors are about deep primal survival programs, and often these are highly involved when we are in narcissistic relationships.
Maybe we have always felt unsafe and even had an insidious inner fear of being abandoned, annihilated and cast out. Maybe in times of confrontation, we have handed our power away and found ourselves automatically freezing, tongue-tied, not honouring ourselves and trying to keep the peace to avoid C.R.A.P. (criticism, rejection, abandonment and punishment).
Or maybe we overreact and hook right into situations with unhealthy pathological people, who are abusing us, despite the insanity and simply can't pull away to look after ourselves, even when we know we need to.
Those survival programs go like this: 'If I don't stay attached and fix this, I'm dead.'
If you have never as yet delved deeply into past life and epigenetic generational traumas, please take it from me, they are responsible for so much of our unconscious behaviour that simply does not serve us, and they can be WAY too huge to overcome until we go inwards and find them and resolve them.
I personally would not be alive, let alone Thriving if I hadn't sorted out mine.
Becoming What We Wish to Receive
We don't need to match potential partners, to receive the goodies that they may share in relationships with us, but we do need to be clear of trying to seek out what we feel is missing. The reason is very clear, it's because of Quantum Law, 'so within, so without'.
Whatever we feel is missing stays missing. We either get with a narcissist where that 'thing' was never for real anyway or in a relationship with someone who is not a narcissist where we will lose that commodity by losing that person because it was never their job to fill our deficits in the first place. It's our own.
All relationships are powerful mirrors reflecting back our unhealed parts so that the unconscious can become conscious and we can heal them if we choose to wake up and go within. Yet, narcissistic relationships magnify that mirror dramatically in a way that we can't avoid the lesson, because not only are we back at square one without that thing we unconsciously tried to seek through another, we are even further behind now than when we started.
Life and our souls ingeniously turn up the impact of the lesson until we get it.
Discovering The Area Which Require Healing
So, let's jump straight into a self-exploratory session with the mirror that was being held up to you. And I really suggest pausing this video and working with a journal through this stuff.
What were the things that you idolised about with this person that you may still be struggling to let go of?
Write them down.
Now… which of these things don't you believe, cogenerating with life, you can provide for yourself?
Do you feel you need another person to do this? If that's how you feel you are in 'Wrong Town'. It won't work. If you don't understand this, you aren't healing and getting the lesson.
When you do accept this lesson, you know there is the necessity to apply one of these two healing solutions, either healing your own blocks and limitations in order to become a whole source of that thing to yourself, non-reliant on another providing it for you or letting go of the need of it in your life, which means healing the conditional self-approval that you have been applying to yourself regarding it.
Now, either way, there is the space and the freedom for what you are already being, 'wholeness', to come into your life and add more to what already exists.
Now, let's check out the survival programs, the reasons that you stayed attached despite unhappiness and even severe abuse.
List the times when you stayed attached, made excuses, chose to forgive unforgivable behaviour and did not leave the relationship and/or break all contact with an abusive person. And check into why you still may obsess and 'want' them, after leaving, or being left, even though you know that is logically ridiculous.
There is only one way to recognise and embrace what it is that this person was teaching you.
Go within, and ask your inner being, 'Why is it in that situation I didn't leave?'  And, 'Why can't I accept that this person is no good for me and move on?'
I want you to get really real and vulnerable with yourself, because that small still inner voice within will grant you feelings and information like 'I felt like I was going to die', "I feel like I would never have love again', 'I felt like my life would be finished' and, 'I would never cope alone' or 'I felt like I would never survive on my own'. Whatever it is.
Record what you receive in your journal.
I promise you that these are beliefs and traumas that you have in your energy field that once addressed will not feel like this. In fact, when you do address and heal them, not only will these terrible feelings of conditional enmeshment and addiction dissolve, you will also feel more liberated, free, expanded and joyous than you ever did even before you were in this relationship with this person.
Why?  Because they were a mirror reflecting back to you. If you go within, what you needed to heal in order to become the next highest and most expanded version of your true self, without exception.
Does that make sense?
I hope this episode has been big food for thought for you and helped you turn inwards to heal the only person you can heal. To heal your life yourself.
And if you'd like to learn more about how to powerfully heal this stuff for real, you can sign up to my free 16-day recovery course, which includes an invitation to a healing workshop with me, a set of eBooks and lots more.
So, until next time… keep smiling, keep healing and keep thriving because there's nothing else to do.
(Visited 1 times, 32 visits today)
The following two tabs change content below.

Melanie Tonia Evans
is an international narcissistic abuse recovery expert. She is an author, radio host, and founder of Quanta Freedom Healing and The Narcissistic Abuse Recovery Program. Melanie's healing and teaching methods have liberated thousands of people from the effects of narcissistic abuse world-wide.

Latest posts by Melanie Tonia Evans (see all)