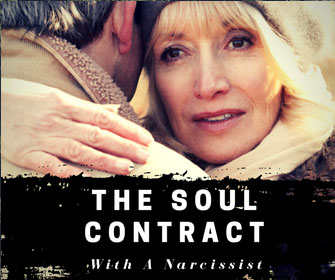 Most people don't come out of narcissistic relationships unscathed …
In fact these relationship are far from insignificant, they have a profound impact and they create huge life choices.
I have decided to write this article because I feel the timing is right. Many of you have asked me to write about soul contacts with narcissists, and I have held off until now.
Also, I felt that it is a fitting tribute to the recently departed Wayne Dyer, in accordance with my favourite quote of his of all time.
This one …
"With everything that has happened to you
you can either feel sorry for yourself,
or treat what has happened as a gift.
Everything is either an opportunity to grow,
or an obstacle to keep you from growing.
You get to choose."
I believe this quote from Wayne Dyer is the absolute truth of the journey of narcissistic abuse; this significant and profound make or break experience – where we either evolve or dissolve.
I posted this on my Facebook Page, and many of the Thrivers responded affirmatively, and also one lady stated honestly that until accessing my teachings she had struggled with this concept.
This article today is a deep dive into what I believe is the absolute truth of the reason a narcissist came into our life – namely the very nature of the Soul Contracts we can have with these people.
The Shattering of the Dream
I believe narcissist relationships, due to their high level of impact, are ones that are big Soul Contracts.
Relationships like this mean: "This happened for a reason", because they are way too "meaningful" for that not to be the case.
If we were born into a narcissistic family of origin, that is all we knew right from the get-go in this lifetime. If we procured a relationship that was not our family or origin, usually the narcissist represented some form of "dream" that we would have as a result of being connected to this person.
Either way the "dream" that we thought our life should be (such as I should have had a loving mother / father / sibling), or could be (such as this love partner is my true soul mate who I have waited for my entire life) is smashed to pieces.
And the irony is, it is through the smashing of the dream that we awaken from the dream – the notions and illusions of "separation", "judgement", "demonization of ourselves and others", and the beliefs that peace, wholeness, worth, love and happiness are obtainable from outside of ourselves.
As children we did not have the ability to be a generative force of an "awakened self", but as an adult we do.
It is when the dream that we thought we were living becomes a literal nightmare that we start to orientate towards another dream – a dream that is a sustainable reality; a dream that will work.
I have met many people whose lives are now so much more loving, fulfilling and wondrous than they ever possibly could have been before a narcissist was in their experience. These people are amongst so many individuals in this Community who took on a Thriver Orientation, because they came firmly to the conclusion, via a narcissist, that life could no longer go on the way it had been playing out.
I also know the reasons why these people were able to transcend above the most horrendous aspects of abuse, were because they opened up to Higher Realities – the understandings of a bigger picture and the acceptance that there was a reason for what happened to them.
Not a damning, blaming reason … rather an evolutionary, liberating reason. A reason that would finally set them free … and when they looked back on their former life (regardless of containing a narcissist or not) they knew how wondrous a gift the journey of abuse was.
The gift being so much more than breaking free from a narcissist, and the total understanding that the gift always was about surviving and then evolving ourselves and the previous life trajectory we were unconsciously on.
In this article, I am going to share the exact information I discovered about narcissistic Soul Contracts that I received from the horse's mouth – directly from my Soul – as to why I experienced not one but two narcissists.
Introducing "Life Between Lives"
Some of you may be aware of Doctor Michael Newton's work – life between lives – which he wrote about in his bestselling books Journey of Souls and Destiny of Souls.
I have recommended these books to the Community before.
In essence his work is about regressing people into a Past Life and then taking them to the experience of being a Soul in the spirit world "back home" before they incarnate again. This process was something that he originally stumbled upon by accident within his clinical hypnotherapy practice.
In his work that was documented over decades, (as well as scientifically monitored and recorded) he found that people in this state of regression reported astoundingly similar details about what it was like as a Soul experiencing the Soul's existence on the spiritual plane before re-incarnating.
As a former Past Life Regressionist I was fascinated with his books and work. Because I had previously performed dozens of regressions myself over a period of two decades, and found incredible truths reported from people that checked out completely with history (names, places, dates and events) that they had no conscious knowledge of – as well as experiencing this countless times myself within my own regression sessions – I had no doubt that Life Between Life Regression was real and possible.
And as I read the information in his books something stirred deeply within me. I already knew that my Life had a Soul Purpose (which I am living), yet I felt drawn to really understanding my Soul's journey from the absolute soul perspective.
The truth is this: I'm inquisitive … I'm a seeker … I want to know. I want to expand and develop. I will never just stay with "what I know now."
In fact each month, I look back at who I was the month before and I barely recognise that person – such is my quest to eternally grow and develop my consciousness.
That is Quantum Law –  limitless growth and being … plus it is SO much fun!
And when we are prepared to grow, we are prepared to say "I don't know." This is one of the most powerful orientations we can have in order to grow and evolve. And this means literally waking up out of old conclusions and beliefs that we thought were previously "it" – if we want to grow.
Quantum Science and epigenetics now reveals that the far greater part of our life is going on multi-dimensionally beyond our level of conscious five sensory understanding. The old paradigms regarding our understanding of ourselves and Life are now becoming obsolete.
We may argue, "Do we need to know more?" or "Why open up a tin of worms?" My belief is, if your Life is not working, and you are not finding answers, then you may wish to consider expanding your consciousness beyond where it previously was.
Let's face it, at one point our world pushed the belief the world is flat! Some people who opposed that belief were put to death and labelled heretics! In the evolution of humanity, that wasn't so long ago!
My orientation to life goes even further than this. My belief is the entire reason for our existence is to expand our consciousness more and more toward the Infinite Consciousness of Who We Really Are.
Quantum Physics now purports that we are all a personal macro cosmos – that we all have The Universe literally inside us. I believe this – totally.
Incidentally, expanding my consciousness was the only way out of victimhood that I have ever experienced. The old paradigms certainly did not grant me relief or answers, and they certainly did not provide my healing.
Different Beliefs – Separation and Unity, Judgement and Love
I totally understand that Past Lives, let alone "life between lives" work, may fall totally outside your belief system. That is fine because I have no need to change your mind or convince you about anything new.
I am only presenting information about my journey and sharing truthfully from my heart. Additionally, my Inner Identity unconditionally allows anyone to have their own beliefs – because my Identity is not dependent on whether or not anyone agrees with my life view.
I will say this though … you may wish to consider, before you judge or demonise someone else's beliefs, doing your research. Look into it … and if you are not prepared to do that, please then live and let live.
From a Higher Perspective let go and let God. And know, that if a person is working against Divine Law, then Life / God will deal with it. It is not your job, or your right to persecute. The ultimate lesson I believe for the human race is our evolution towards Love … meaning waking up and realising that whenever we judge anyone (including ourselves) we are withholding love from ourselves and others – and in effect the entire Field of Life gets polluted as a result.
How can we be "loving" when we blame and demonise … the truth is we can't.
Additionally, it is a ridiculous notion to think we will all agree, or even should agree. It is also an insane notion to believe that our way is the only way, and if people do not take on our way then we need to ostracise, ridicule, demonise, punish them or try to force them to do it our way.
Or heaven forbid kill them!
I had a woman on my Facebook Page recently completely spew at me that I was demonic and narcissistic because I suggested "self-love". Thank goodness this is not the 1600's because I am sure she would have put me into authorities and had me put to death!
Such is the insanity of people when they believe they are ordained by a Higher Power to "judge" and "condemn".
Look at the state of the world and we can see the mess that has landed our entire planet into. We were taught about a wrathful, demanding deity as our Higher Power. My views (that you may or may not agree with) are this: How on earth could a Higher Power have any need or requirement when it already is All That Is?
From the scientific Quantum standpoint, consciousness exists everywhere and is all things, all states, all energies and all statements of energy – good, bad or indifferent in multiple realities in multiple dimensions, in all time simultaneously. Therefore any requirement or lack of anything is literally impossible.
Thus, I believe, if we put judgement, division and separation in front of love and unity, this is not where we need to be heading.
So … where this is all leading to, is my appeal regarding the information I am about to share with you … that if you don't agree, and it is too much for you, then by all means tune out and pursue information that is aligned with you.
I am asking no more than I expect from myself. When I read information I don't agree with, I allow it to be. I don't attack, shame or judge. I simply move my focus to what resonates with me and leave alone what doesn't.
That's the Thriver Model of unconditional love, "I have no need for you to be a certain way in order for MY life to be whole, healthy and happy."
It's a model of: If I don't agree, I don't need to change you … but I can still love and allow anyone to live out their life journey directly with the effects of Life / God anyway they choose to.
Not being aligned with this model, and being stuck in judgment was one of the most horrendous hooks of narcissistic abuse, which as Thrivers we learnt to evolve beyond.
Naturally … of course … you will make you own choices and decisions.
Now on to it …
My Life Between Lives Session
My Life between Lives regression was with the LBL's President Peter Smith in Melbourne.
Ever since reading the books Destiny of Souls and Journey of Souls I had a strong urge to book a session. Then coincidentally (not!) one of my wonderful clients from New Zealand told me that she was a professional LBL therapist. She put me onto Peter.
I rang up and enquired in June 2014, but I didn't book the session. I was too busy with commitments at the times. I then forgot all about it.
Then in June 2015, I had a strong urge one day out of nowhere to book a session. The same day, out of the blue, my client from New Zealand emailed me (the first time in months) asking if I had had my session and how did it go. I knew this was a total message not to be ignored. I rang up, spoke to Peter who informed me he had a cancellation, which meant I could get in soon, and it just happened to fall on a rare day when I had the space (allow 4-5 hours).
As I drove to Peter's therapy room, I was excited. I had no idea what I was going to experience. I had my list with me of the pertinent questions I wanted to find out about whilst in a hypnotised state experiencing the truth through my super-conscious.  I was eagerly anticipating the experience; I knew it would be easy for me to get there, because I had already been so attuned to regression and theta brainwave states for years.
After discussing my list and Peter taking notes, we got down to it. After a brief hypnosis deepening process, Peter took me into a Past Life regression.
I loved this, because it was not a Lifetime that I had ever been regressed to before.
It was a Roman life. I was in a colosseum, perhaps "the colosseum", as a young girl, feeling appalled about the brutality, cruelty and ugliness of "sport" that my family, and significantly that my father was supporting.
Time progressed forward. I was made to marry a man identical in cruelty to my Father. After years of abuse I took my own life – I did this by taking a poisonous snake out of a basket and letting it bite me.
Then came the awesome part …
I became aware of myself floating upwards towards a light, I was in a tunnel. Peter was talking to me asking me questions, and I was answering. I told him about the indigo coloured lights coming to meet me.
I knew these were members of my Soul Group, and that these Souls were deeply familiar. They were here to escort me back home. Peter asked me how I was feeling about all this … and I said "All good, I'm still carrying the abuse consciousness, and the effects of the venom, but I know where I am going, I've done this so many times before. All I have to do is relax and enjoy the trip."
And I did, with the indigo lights glowing ahead of me leading the way.
I then arrived to a capsule where a Healer Soul put me in and shut the lid. In here I was being detoxed from the abuse consciousness and the effects of the venom, leaving behind the last human remnants of that lifetime.
This did not take a "specific" amount of time … because on this dimension there is no "time" and in this state of superconscious you just know that.
I was then taken to the "meeting room", and again I had such a strong sense of familiarity – I had already been there so many times before. I knew the room and the entire drill. There I met with my soul advisors, and significantly my High Mentor "Xui", who I recognised as my main guide in this lifetime.
From him I felt so much love, joy and connection. I knew Xui, because I have met him in my dreams, meditations and life events (in times of need) in this lifetime ever since a small child. I had the absolute knowing in this LBL that Xui and I have been advisors for each other, swapping roles, in many lifetimes.
"Hello Little One" he said with such love (the exact words I have heard in my head so many times in this life), except the communication was totally telepathic here, that's how all Souls communicate.
My Soul name is Alena, and I felt profound love, and such acceptance here in this meeting room. There was no judgement, only love and absolute transparency. No avoidance, hiding or delusions, only pure honesty. I also became very aware that as a Soul Energy we chose certain "humans" to merge our consciousness with in particular lifetimes specifically for the purpose of our soul evolution.
I had merged with a lady with victim consciousness in the life in Rome. I had chosen her for my evolution purposefully. Part of that reason was because I was still living out the resolution of having spent lives as an abuser myself (this was no surprise … I had already found that truth in my subconscious and released it with Quanta Freedom Healing prior to this LBL), and this was necessary as a part of the evolution of abuse / abused, and transcending abuse for the collective – experiencing it and transcending it.
Meaning – releasing our judgments of ourselves and others and waking up out of unconsciousness, and releasing and resolving the inner wounding that either creates us as perpetrators or as victims.
However, in the Rome lifetime, rather than overcome and transcend her victim consciousness, I had given up. I didn't fight hard enough to overcome her depression and despair. She had had opportunities to raise consciousness and help people around her, but she had been so engrossed in her own misery that she decided to opt out – and I hadn't guided her out of her misery.
Xui and I and the other advisers discussed this. I admitted to them that I was still punishing myself for the lifetimes where I had taken wrong turns, where I had sold out my mission because of my neediness to be with a man (co-dependency), and let myself as well as spiritual templates to evolve humanity, and others, all be destroyed as a result of my poor choices.
(I already knew about much of this from previous Quanta Freedom Healing sessions and Past Life Regressions … this just confirmed it.)
In this Roman Lifetime, I believed I deserved to pay, and I deserved to suffer, and then when I had had enough of that agony I decided to abort the entire mission.
There was no judgement at all from my advisors. No shaming, lecturing or telling off. Only discussions about where I was at as a Soul, what my next steps where and what that would be.
And I had the most incredible sense there was only Love here. The only judgment was what I held against myself – and it was pretty severe. In stark contrast Xui and my advisors offered only endless unconditional patience and encouragement.
And I understood perfectly that everything that I would undergo in the future was entirely my choice – I was never held to any requirement or condition. That's how it rolls in this place … every Soul naturally makes evolutionary choices at the pace that they wish to evolve at.
Then I got to reconnect with my Soul Group. Here I met with other indigo coloured souls. Souls that were working, as I was, at their missions to help raise consciousness specifically on Earth.  Souls who had come from many parts of the physical Universe to converge together on this galactic mission of evolving this planet.
I understood simultaneously certain things (everything happens simultaneously here), and one was that my journey into the human being known as "Melanie" was a choice I had made. I could have had a break from difficult lives and gone back to a physical reality that was far more evolved and "relaxing" and "together" than Earth for a rest, but I knew Earth had an urgency, and was in a pivotal time of reaching critical mass before ascension. I wanted to do all that I could to help.
My consciousness, as part of this LBL session, was also taken into my mother's womb. At a time when I was merging my consciousness with "Melanie", and Peter asked me why I picked "Melanie" and how my integration with her was going.
The answer I gave him was, "Because she is strong and determined and damaged. She is the exact combination that I need to get this job done."
Whilst I was in the womb merging consciousness with Melanie, Peter asked me what was going on, and I told him that my Mother was anxious, and I could feel her fear and pain, but I stated there was something much more disturbing going on … and this was that I was struggling. I wondered if I had made the right choice.
I was already feeling the dense heavy energy of Earth, the abuse to come and be reactivated in my Energy Field (which I had purposefully chosen to help ascend myself and others beyond abuse), and I was wondering if I had made the right decision, and if I would survive my choice this time.
I was terrified that I wasn't up to the challenge.
As a side-note, interestingly my Mother's pregnancy went past term with me. My Mother had said to me many times, "You didn't want to come out!" And she was right, I didn't! I was terrified about being on Earth again – I knew how hard my journeys here have been.
My parents also said that I cried uncontrollably for the first three years of my Life. I remember as a child looking around me and thinking, "Why am I here in this terrible place?" (Oh boy I know with all my heart how many of you fellow travellers here doing Angel's work have also felt like this!)
So … back to the experiences in my LBL state "back home" … this part I think will really fascinate you!
The Deal With The Narcissists
Up to this point, there was really nothing that had surprised me. The feelings of love, expansion, and Oneness were beyond words that I could use to describe them … but there was no real new information, just lots of confirmation, and of course Universal Love.
I already knew that I was working through abuse / abused, and that I had experienced both sides of the fence … I had been an abuser, I had been abused … and my ultimate mission was raising consciousness on this planet.
I already knew through my own journey of expanding and up-levelling my consciousness, that like many of us at this time now on planet Earth, I am doing the work of helping the ascension of the planet.
I already knew that … and I know and hope that many of you recognise the same truth about your journey with narcissistic abuse too. I meet new "Angels" every day on this path in this Community, doing this self-evolution work.
This ascension work that we are doing is not just a personal mission, we are also helping raise the consciousness of everyone and everything we touch. And energetically we are affecting others that we have never physically been in contact with – we are doing this work for the collective.
So as I said … there were no surprises … just beautiful loving powerful confirmations that made this lifetime journey even MORE real and incredible for me.
Then, came the curve ball – something that I had never expected in my wildest dreams …
It was to do with my question "Where do the narcissists fit in?"
I wanted to see from the Soul perceptive. And truly I already knew they were Soul Contracts (the first one I totally believe was Twin Flame) and that both these men were in my experience for me to evolve and become the expanded being I am today. I already knew they were a total gift … but I wanted to know where they fitted into the picture. Were they a part of an ascended Soul Group just playing out the role of "abuser" to evolve others? Or was there some other twist to the truth?
Peter stated the intention to "find out" and experience the narcissistic truth. Immediately I saw them both in a "Larrikin" Soul Group. Like with all the Soul Groups (I had checked out different people in my life already) total transparency prevails.
Nothing can be hidden at all, and telepathically you know everything about the souls you are focusing on, and they you.
Now, before you get confused about, "How can they be in the spirit world if they are still alive now?" let me explain a Quantum Reality and how it works. An essence of their soul is always "back home", the same applies for ourselves. We are all multi-dimensional and Omni-present. As an aspect of Divinity expressing itself – this is Who We Really Are in all space and time as multiple potential.
So, the narcissists were in this Larrikin Soul Group, and I had the absolute knowing that these Souls were polluted, meaning that they had been completely taken over and corrupted by personalities whilst in Earth incarnations. This meant the Souls were tormented to the point of being incapable of evolution and would have been sent back to Oneness for re-absorption and recycling (to be reproduced as a brand new Souls) except there was a purpose for why they weren't yet.
Before I get to the purpose, let me tell you how these Souls would spend their "time". They weren't doing any higher study or learning (as other evolving Souls did), instead they would spend their time conjuring up egoic delusions constantly – such as: "I own the biggest casino", or "I have the most lovers," and "I have more money / power / notoriety than you."
My Soul Group and other Soul Groups would watch them for amusement sometimes … as they conjured up one delusion after another and were constantly one-upping each other.
There is a sense of humour back home … truly. We found these poor delusional Souls thinking that their fantasies had "value", and trying to outdo each other, quite frankly hilarious.
Now here was the deal, the narcissists were as happy as polluted Souls could be doing this stuff, but they were always keen to incarnate because if they came to Earth they could have stuff for real –they could physically get to experience it.
That excited their egos TOTALLY!
Now, here is the reason why these contaminated Souls weren't sent back for recycling to become brand new Souls again … because we were enlisting them.
We would contract with them to match up with us in our lives and abuse us.
That is exactly what my Soul Group was doing.
The evolved beings purposefully choosing to raise consciousness on the planet required narcissistic abuse in order to do their jobs.
Because, it was only through being submerged into the absolute bowels of darkness that we could bring Divine Light to darkness and up-level it. Not just for ourselves, but for the entire consciousness of the planet.
This was a grand mission to help liberate the collective consciousness on Planet Earth from abuse, suffering and victimhood.
This is exactly what I did. I enlisted two narcissists to make sure I would go where I needed to go, and be forced to find out and heal what I needed to heal. Other people in my Soul Group had chosen the identical path of one or more narcissists.
Sometimes new contracts would be made, or were on standby if the previous contract had not procured the desired result – self-evolution.
Maybe this was / is your path and reason too, if this deeply resonates with you. Maybe narcissistic abuse for you was another reason … I can't for sure say what that could be, because I am not doing your journey … but one thing I will say is this: If you were narcissistically abused, I believe you had a Soul Contract whatever the reason was / is.
And that Soul Contract will always be for the purpose of your Soul Evolution.
I also had the absolute knowing in my LBL that some souls who have taken on helping raise the consciousness of the planet fall. They may not make it in certain lifetimes. They can be taken over by the victim mentality of the human they merge with, and they may cling to and enmesh with a narcissist until they are destroyed. They may forget Who They Are.
They may not accept the cues, assistance and sign posts that their Soul and Soul Group back home is tirelessly delivering them to help them wake up. (Messages through intuition that we can only access if self-partnered.)
They may choose to stay a victim, remain unconscious and become polluted by their judgement, demonisations of themselves and others and the resulting withholding of love from themselves.
But even that is okay, just as it was for me in the Rome Lifetime and prior Earth Lifetimes – because we still get the chances … and quite literally we are indestructible. Even the polluted souls of narcissists (and toxically deranged victims), at some point will be reabsorbed, and will start over as a new fresh soul … on a new journey … if they become contaminated past the point of being able to continue evolution.
Because there is only Divinity expressing itself – for a Higher Purpose – as Divinity, no matter what that expression or form is.
This was one of the most incredible total knowings back home – there is no good or bad or right or wrong or even evil. There is only the path of Soul's evolving back to the Oneness of Divinity from where they have all come.
In Conclusion
I am writing this article now, because the time has come for me to be totally exposed and authentic. A part of that was releasing Quanta Freedom Healing on YouTube last week.
And this is a "risk" from a practical standpoint, because my presence is mainstream. Narcissistic abuse is certainly not just an issue in spiritual, self-development communities. It happens everywhere across all races, creeds and religions.
Many of which find their way to my information.
However, what is true about my work is that it is NOT mainstream. My work is Quantum Level work – that works directly at reprogramming our subconscious wounds to a Higher Self state – it is Soul Work. And this is the only reason that this Community has the highest success rate of unprecedented Thriver narcissistic abuse recovery anywhere in the world.
So, really there is no point "hiding" what that is REALLY all about anymore!
I also know that this Community over the last few years has shifted light years in consciousness. As I have grown and evolved, many others have too … and what I find now is that people are capable of breakthroughs in timeframes that once upon a time – were not possible.
Many of these individuals were already "spiritual" before finding my work – but many also weren't.
The reason I am fully exposing now, is because I believe all of us are in the dawning of "the age of authenticity" … meaning it's time to Get Real … to move out from behind our defences and shine the truth of Who We Really Are.
Big things are happening on our planet, we are in times of incredible ascension and total necessity for transparency, love and healing. and it is my greatest wish that this article – for those of you who are attuned and open – will provide a deep resonation that will not only help set you free from the agony of narcissistic abuse, but can also awaken you to the true mission and purpose you have on Earth at this time.
I know many of you are already on to this …
Often people report that my articles come out in perfect timing for where they are at now, and are totally relevant given what is happening in their life.
I promise you, I know with all of my heart, for many of you this article is totally relevant and in perfect and Divine timing now.
In closing … something incredible happened the next day when I googled my Soul Name "Alena" …
It discovered it meant "light" …
Could that meaning have been any more perfect?
I cried with joy and gratitude and said to All That Is … "I accept this mission with all my heart .."
I hope you can too …
I look forward to responding to your comments and questions.
Please find my next 3 Keys To Thriving After Narcissistic Abuse Webinar, where you can join with other dynamic and Divine souls on the path to transcending abuse for themselves AND the collective of our planet.
I'd love you to join us!
The following two tabs change content below.

Melanie Tonia Evans
is an international narcissistic abuse recovery expert. She is an author, radio host, and founder of Quanta Freedom Healing and The Narcissistic Abuse Recovery Program. Melanie's healing and teaching methods have liberated thousands of people from the effects of narcissistic abuse world-wide.

Latest posts by Melanie Tonia Evans (see all)