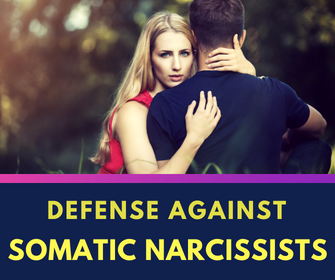 You may not realise it but somatic narcissists trigger your DNA chemically in a significant way.
Unconsciously, women are innately drawn to the strong hunter-gatherer with broad shoulders, just as men are attracted to women with superior procreation potential.
And when a somatic narcissist uses irresistible good looks to their advantage, coupled with excessive charm … it's very easy to go weak at the knees!
Somatic narcissists are dangerous because although they may not seem as "evil" as their cerebral counterparts, they have a very real ability to suck your energy, resources, and livelihood dry with their excessive entitlement and constant need for attention.
That's why today, in this new Thriver TV episode, I wanted to cover the most common and devastating behaviour they exhibit, as well as the susceptibilities they are likely to target within you.
I also share with you how you can clean up these susceptibilities so that you will never fall victim to a somatic narcissist again.
Episode Transcript
Many many people in this Community have been abused by somatic narcissists. Even though these are the most classic and obvious narcissists they can be so downright magnetic, charismatic and sexy that they can be irresistible. Especially before we have done the inner work to be impervious to them.
Let me explain what a somatic narcissist is.
Many people believe there are two main known types of narcissists – namely cerebral and somatic narcissists. Cerebral narcissists use their minds to gain admiration, significance and acclaim, and somatic narcissists use their bodies and sexuality to achieve the same results.
Somatic narcissists are flashy and attractive. They are the people who turn heads in the street. They have an air of confidence and bravado about them. They can be funny and loud and often have big personalities.
A woman I knew years ago had a mother – now deceased – who had seven different husbands, and she was stunningly attractive, loved a party and according to her daughter was funny, loud, outrageous and hilarious. She also had numerous affairs with her six daughter's husbands and partners. Her motto was, "I'm here for a good time not a long time and I will do whatever I want to do. If it offends people – too bad!"
She was a classic somatic narcissist, totally concerned with appearances, and used them to gain attention for the people that she preyed on.
And let's face it, if a super attractive person focuses their attention on you, it can be hard to resist. Somatic narcissists know this and of course, like all narcissists, the high functioning ones have the personalities and the charm to captivate people.
People can even know they are self-absorbed, and fall for them anyway, being mesmerised or bewitched by their looks and personality. For example, this woman's daughter told me that even though she behaved so poorly, everyone gave in to her mother and incredibly her husbands and daughters, even after her affairs, kept forgiving her.
The truth about somatic narcissists is they over-compensate in their personable behaviour and the intense sculpting of their looks, all to get adequate acclaim from the outside to help fill their inner emptiness within. This brings to mind the selfie culture, people needing to constantly take body photos of oneself and post them on social media in order to get a hit of attention.
There is a much greater awareness around this sort of behaviour now, and many people are aware of what somatic narcissists are up to, yet they are still formidable … because hard wired into many women's DNA is a chemical attraction to a man with broad muscular shoulders, hard pecks and a six pack. He is the perfect primal protector– the hunter and gatherer her DNA craves. Just as a woman with formidable beauty is a chemical cocktail causing a man to lose his logic when struck by his biology, recognising her fertility and procreation potential.
But apart from and including manipulating our senses and biology with their attractiveness, what are some of the ways that somatic narcissists lure their victims? And how does this differ slightly between male and female narcissists?
Let's start by looking at female somatic narcissists. And please know I am talking about the stereotypical female somatic narcissist – there of course may be exceptions to the following information. Also, there are absolutely female and male somatic narcissists who are gay and who have abused members of our Thriver Community. Even though I am discussing this in the context of female and male, please know that same sex relationships also apply.
Absolutely, female somatic narcissists use their appearance as well as other formidable charms. The quest of a somatic female is to snare a sensible, solid partner who is financially stable, generous and good hearted, to fall for her and give her exactly what she feels entitled to. To fund her entitled lifestyle.
Because her looks are a full-time profession, she needs clothes, beauty treatments and plastic surgery. She needs to be seen wearing the "right" apparel and at the "right" restaurants and venues. She also is interested in flashy homes, cars and holidays. Absolutely, she is superficial, and parasitical. She believes she is entitled to the best and why should she have to work and pay for it all?
I have met so many men in this community, really great guys, who fell for female somatic narcissists. In fact, that is the most common type of narcissistic woman, who is successful with getting partners and draining them of their life-force and acquisitions – as well as moving easily from partner to partner when it all goes belly up.
These guys thought they had met 'the one', a beautiful woman, who was stunning in appearance who was interested in him! Many of these men were taken by surprise to think they could be attractive to such a woman. Of course, in the early days she grants him tons of compliments, attention and adoration.
As always, beware if someone is instantly into you and moves a relationship forward too quickly. This is exactly what narcissists do in the love bombing stages – male and female – and female somatic narcissists are experts at it. Men, you'll need to keep your head on your shoulders or truly you will be putty in her hands!
Female somatic narcissists know what they are doing. They are not likely to pick a male somatic narcissist as a partner. They don't want someone to compete with their beauty, they need someone to be completely bewitched by their own.
Like all narcissists female somatic narcissists are very good at finding people's weaknesses and playing on them. What are a good guy's susceptibilities that she can take advantage of and use to her parasitical advantage? Acting helpless, sick or incapable are ways that she can activate his protective, caring and supportive nature.
I can't tell you how many times I have heard of female somatic narcissists in this community being sick or incapable or reliant on their good guy partners, draining their money, resources and energy more and more – and hooking these men so that they feel incredible guilt regarding letting go, protecting themselves and leaving these women.
Many of these women will feign suicidal tendencies or do whatever it takes to not let him go – especially when he has had enough and wants out of the relationship. Many nice men struggle with this histrionic out of control behaviour that she turns on to manipulate, guilt him and control him. She may lead him to believe that she has no one else to take care of her.
Of course she does! If you leave her, she will suddenly get well, become a powerhouse of attractiveness again, target someone else, start to drain him of resources and then will get 'sick' again so that she completely leeches off him and controls him. Not all female somatic narcissists act like this, but many do.
When I have done healings for men who get trapped in this sick dynamic with somatic females I have generally discovered that that these guys suffered narcissistic fathers and had mothers they couldn't protect. As a result, these men may have urges to rescue that are over and above healthy levels, which the somatic narcissist knows how to activate to her full advantage. Or if a man was not able to make his mother happy, no matter what he did, then he may be trying to please this woman over and over again, whereas – as the bottomless pit that her narcissism is – nothing he ever does can durably make her happy. And that's the good guy's quest more than any other – to make his lady happy.
Another way these women hurt nice guys terribly is to have multiple affairs, even ones that he knows about, whilst simultaneously keeping him hooked in.
This sort of behaviour is awful but what we have to understand is this: What we allow in our life continues.
This is no different and it won't stop with narcissists, until we clean up our original traumas and become full and loving sources to ourselves who could no longer accept abuse any more than we could flap our arms and fly to the moon.
Sadly, these are often lovely men who don't have their own formidable dating prowess, who believe she is the one, and don't want to let go. There is a lot of healing and recovery necessary for any of us who get stuck in these illusions of: 'I have to hang on, because I may never meet another again who is right for me.'
This makes us put up with terrible abuse rather than letting go to be our own source and generate true and healthier realities. Because of a somatic narcissist's charm and often formidable physical attractiveness, this can be dangerous. I have heard so many victims of narcissists say 'I just can't get attracted to anyone else'. 'I don't think I will ever have that level of attractiveness again.'
I promise you that when you heal the wounds that keep you connected to a False Self, these people will never be attractive to you again. You will see straight through it. Rather, real people with hearts, souls and the ability to self sustain will become your speed and it is them that you will share physical attractions with. But it takes the inner work to get there.
What are some of the tell tales signs of a narcissistic somatic female? I think the biggest is entitlement. She has no problem spending money on her looks and lifestyle … and if it's someone else's, that's far better. She wants beauty treatments, label name clothes and accessories, the best vacation spot, upgraded accommodation, business class flights, expensive wine and exotic cocktails.
Even though she may appear sweet and loving, her seething anger and insecurities are brewing just under the surface. One of the greatest signs of a chronic insecurity is the acting out of obscene superiority. The somatic narcissistic female can treat people terribly that she doesn't believe are treating her the way she feels entitled to be treated. Waitresses, as an example, may be common targets.
How do you inoculate yourself against a female somatic narcissist? Realise that beauty is skin deep and healthy relationships require more traits and qualities in a partner than just having someone on your arm who is super attractive.
Lay boundaries with people who come into your life who are entitled. Don't just say 'yes'.
Take note of people who are genuinely grateful for what you do for them, instead of appearing entitled and as if it is expected. Does a woman offer to reciprocate and buy you a drink back, or is she trading her beauty for your wallet? Do you feel that you have to pay for someone to love and appreciate you? These are all a part of the shifting values and orientations that men and women are undergoing, moving away from gender definitions into shared power.
Please know I think chivalry is lovely, yet we are no longer living as our forbears did where mostly men were breadwinners; women are now as well. Yes, be generous if that is your nature, but pay attention to how any woman responds to that. Is she gracious, humble and grateful or haughtily entitled about it?  Does she offer to reciprocate or is she just in it for what she can get.
And again, beware of people that hook into you hard and fast. Don't be susceptible to love bombing, take your time to get to know people before committing your life, bed and heart. If you don't it could be a very expensive exercise to your soul and wallet – especially if you have children with her.
Now let's check out male somatic narcissists and how they hook into and hurt people.
Again, please note that the following is the stereotypical profile of a male somatic narcissist, but there can be variations – absolutely. Also, even though I am discussing the men in the context of female partners, absolutely same sex relationship dynamics also apply.
Even though woman can be lured aesthetically – just like men – the good women with the resources that narcissistic men like to mine, are usually not taken in just by looks. There is often more that they require, such as some faith in the man's integrity and heart.
Like all high functioning narcissists, the narcissistic male knows how to find out what it is that has hurt her in the past. He will act in a sympathetic way and vow to protect her, mimic total alignment with her and promise that he would never harm her in this way.
The unhealed woman who has yet to do the inner work on herself, often succumbs to him, believing that not only has she found someone she is incredibly attracted to, she trusts him and feels that he is the perfect soul mate for her.
The male somatic narcissist is not as likely to settle down as his female counterpart. She is about securing someone to provide her expensive lifestyle for her – she may even indulge in affairs, but she wants a solid partner.
He is more about sexual hook-ups and feeding his monstrous ego. It's the thrill of the chase, the excitement of the conquest. However, he also may secure a relationship to create the stable foundation and appearances he needs for his 'flashy' egocentric life.
He may also seek a partner with enough security, financially and socially to parasitically empty that person out – as narcissists often do. And, oftentimes, while having a partner at home, he will lie about his marital status and seek extra-curricular sex.
The kick to him is all about being able to make people fall for him. Once he has, and they are well and truly snared, he can just as easily discard them and keep moving on to the next conquest. Or he may keep people who are affairs on the hook while he toggles other sources of sexual attention simultaneously.
It is common for both the female and male narcissist to lose sexual interest in their 'committed' partner. The thrill of the ego feed and random, non-committed sexuality, without emotional connection, is much more appealing (and much less threatening) than true connected intimacy.
How can we avoid male somatic narcissists? As females when we heal our insecurities, which were not allowing us to feel safe so that we can look after ourselves, we are not as chemically taken in by big, strong, masculine men.
Ok, so I admit we could still look at men like Dwayne Johnson and say, "okay….!!!'' But we realise that love and relationships require traits and qualities that are not just charm, saying the right words, having flashy possessions and being handsome. Successful love requires character and values.
As we get older everyone has a past and therefore baggage, but we need to ask ourselves, has this person evolved and taken responsibility for their part in things, or are they blaming other people and continuing the same patterns? What are their previous relationships like?  And, what I do believe is important is this: What is a man's relationship with his mother, and if it has been poor has he done healing around that?
For both sexes, if we are not choosing people who are decent, solid and responsible people with compassion, empathy and kindness, and we are not embracing and developing these values in ourselves, we can easily be led down the garden path through the powerful chemical cocktails of our biological imperative that can lead us into VERY deep and hot water.
So … I hope that the information today in this Thriver TV episode has helped, and if you'd like to learn more about how to heal for real from toxic relationships and narcissistic abuse you can sign up to my free 16-day recovery course, it includes an invitation to a healing workshop with me, a set of eBooks and lots more.
So until next time… keep smiling, keep healing and keep thriving because there's nothing else to do.
(Visited 7,201 times, 6 visits today)
The following two tabs change content below.

Melanie Tonia Evans
is an international narcissistic abuse recovery expert. She is an author, radio host, and founder of Quanta Freedom Healing and The Narcissistic Abuse Recovery Program. Melanie's healing and teaching methods have liberated thousands of people from the effects of narcissistic abuse world-wide.

Latest posts by Melanie Tonia Evans (see all)