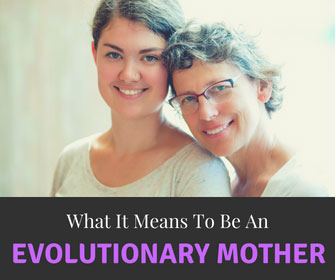 I'd love to extend out my love to you this Mother's Day. I know that today can have some very mixed and even intensely painful feelings depending on your current situation.
My heart goes out to those of you who have suffered the terrible trauma of parental alienation from your daughters and sons and those of you who have a narcissistic daughter or son.
And of course, there are those of you who have a narcissistic mother.
Today, I want to share with you my beliefs about how as Mothers we can heal and grow and become Evolutionary Mothers, helping teach our daughters and sons, through our own healing and examples, how to become whole and healthy and generate relationships of mutuality, respect, and genuine love and kindness.
And of course, how to change the patterns of abuse and abused for them and their future generations.
I also want to share with you today information about how we are in rapidly changing times, which are calling us all to make a shift into wholeness and health for ourselves and the future of humanity … and how Mothers have such an incredible power and ability to affect this in incredible ways.
I also talk about how we can help our daughters emerge as beautiful, strong and smart women who will not be susceptible to abuse and handing their power away … which is exactly how women need to be in these evolving times.
Episode Transcript
I really wanted to share with you this topic for Mothers Day, because it is one very close to my heart.
And I believe it is one that is very important for the future of humankind going forward in order to have relationships of unity, trust, respect and true mutuality, cooperation and partnership.
Today we are going to talk about how as Mothers we can model this evolutionary path for our daughters, as well as our sons, to create a greater respect and healthier mutuality between the sexes.
When I discuss this topic with men, about women being more empowered (especially those men who are quite old-fashioned) I find the best way to begin is to ask them this: 'Would you like your daughter to be brought up by parents who taught her her values and worth, or would you like her to be submissive and subservient in her relationships?'
Of course, the answer is a no-brainer.
This Thriver TV Episode is not about attacking men. I am deeply passionate about equal rights and the feminine being valued, but in no way does this mean I am discrediting the masculine. Fundamentally I am a humanist, and I no shape or form do I believe that men aren't abused and treated horrifically by the opposite sex also.
Also, I am not interested in burning my bra or lifting things that tonne if a man is available to do it, and I adore being feminine and I love men looking out for me. They love doing that too, just as I love offering men what I can to assist them with appropriately as well.
Furthermore, I just want to say on the topic of divisions between men and women … many men in this community cry out and say, 'You only talk about men being narcissists and women being abused.' No, this community and my work don't, and it is also a complete fallacy that this community only caters to women. We have many men who are on the Narcissistic Abuse Recovery Program (NARP) and who are subscribers to my work and in the NARP Forum. It is just that men don't speak up and share as freely as women – that is much more innate for us. So guys please post more, share more and get more involved so that your brothers know that you are there. Myself and the MTE team and this entire community of Thrivers love it when you do.
We are all in this together, healing the terrible ways the genders have been at war with each other, as well as how we have struggled so much to embrace the healing of our own feminine/masculine within. We are in times of accelerated change that are significantly overthrowing gender definitions and roles and we are being called more than ever to integrate all of this healthily – if we are going to be able to create and maintain healthy relationships with self and others regardless of gender.
What do Mothers have to do with this? So much … I believe that this is a time where the power of women and emotional connection and healing is giving birth to rapidly ascending times and a New Earth.
What I am deeply interested in, as I know so many of you are too, is in healing abuse and the generations of abuse/abused dynamic that has plagued this word so disastrously. A big part of that is the rise in personal rights, personal value and compassion and consideration for ourselves and each other (otherwise known as Oneness), as well as a better understanding and implementation of emotional health and healthy subconscious conditioning and programing for ourselves and our children and future generations.
As Mothers, we can help midwife this shift. And we need to, as sadly the patriarchal systems have not encouraged, fostered or encouraged emotional health. Rather fear, shame and might were valued. These patriarchal systems also stripped rights away from valuing women, and even granted permission for the abuse of women emotionally, physically and financially. Thank goodness humanity is waking up to this and eradicating it. The 'No To Violence' Movement and 'Me Too' are such examples of emerging awareness and healing for women.
I can almost hear some women saying 'NO it hasn't changed! Men still slaughter women emotionally and over-power them and there is no support in the systems to protect women!'
Then there are those of you men yelling out, 'WHAT! The systems totally favour women now. WOMEN get the children, assets and destroy men!'
If you are a man who has suffered a terrible narcissistic mother or partners, please acknowledge there are beautiful women out there with hearts of gold, and your own healing can and will being them into your experience, just as the identical truth is for us women regarding the abuse we have suffered at the hands of men.
Please know you are BOTH talking about narcissists, and as I sit back overviewing this entire community, I see BOTH genders trashed financially, and legally by narcissists regularly. This only changes when you heal from the inside out – which is what the Thriver Recovery work is all about. But the actual healing work is not the discussion for today, rather this Mother's Day episode is about a vision that I feel called to stand up into, and its one that I would love other Mothers to feel passionate about as well – namely leading the way for our children, future generations and our New World.
What I want to talk about today is this evolution of woman and how as mothers we can set a new order and understanding for our daughters and our sons and also our partners.
When we empower ourselves and other women, and significantly our daughters to inspire good men to stand up and respect them and love them healthily, then no more is there the anger and victimhood of how bad and abusive men can be. Also too we minimise the potential for women to be abused. They simply become women who won't be snared by narcissistic men.
As a woman who has worked on my evolution regarding men (and I desperately needed to), I don't have a daughter, but I certainly know, if I did, how I would teach her to feel on the inside and express herself. Absolutely in no shape or form would I bring her up to be man hater or feel superior to men. Rather, I would teach her how to be powerful in a heathy feminine way and to share that power healthily.
I would also model for her how to respect and value herself, and how to never tolerate being abused or devalued. I would raise a daughter who would be prepared to lose it all to get it all – to love the sanctity of her own soul first and foremost and to live in a reality generating healthily from that place rather than unrequited potential.
What does it mean to be a powerful feminine woman?
It means to be gentle and loving, as well as fiercely authentic. It means to be our own source of love, approval, security and survival in order to no longer hand our life, soul and power away as a result of powerless dependencies.
How do we teach our daughters to be powerfully feminine?
By leading by example. We cannot take others to where we have not gone ourselves – especially our children. Where our energy goes is where they go.
It breaks my heart when I hear women in the Community with daughters who ask this question? Should I report him for being violent with me? I am scared for my family and myself and my children losing their home and tearing the family apart.
This I know, because I so often previously handed away my rights and truth and safety for the fear of loss – that it is so damaging for our children to see their mother relinquish her rights and remain locked in her disease of co-dependency being abused. Her male children lose respect for her – they sense they don't have a mother who looks after herself, so why on earth would she be qualified to tell them what to do with their life? Often this loss of respect turns into their own bad and even narcissistic treatment of her. And this is what they see and accept as normal behaviour.
Our daughters don't have modelled to them their own rights, or the boundaries that abuse and being treated cruelly is NOT on and should never be tolerated, or that there is no other option that to remain trapped in such soul destroying conditions. Naturally, our daughters will also follow the programs of being with and clinging to abusers, no matter how badly they are treated.
The compromising of these essential soul truths is far more impactful than losing bricks and mortar or what was thought to be our children's essentials. What's more, absolutely those parents who honour their truth and set the example by leaving abusive situations generally rebuild their lives in a far superior way, as well as inspiring more love and respect from their children as a result of honouring themselves and becoming healed self-generative sources.
It's Quantum Law – so within so without.
And what is fabulous is their daughters grow up respecting themselves, breaking the cycle of abuse, knowing they have rights and personal power, and their sons grow up knowing it is usual and normal for women to have their own power and command being respected, loved and valued healthily.
This is in stark contrast to the often too familiar programming our generation received from our mothers.
An extract from a 1950s Home Economics Book took the Internet by storm, because it expressed how times have changed and how far we have come.
It spoke about how a woman's purpose truly was 'her man". There were sections in this extract about having dinner ready, preparing yourself, having the house spotless, making the children clean and presentable, don't have any complaints for him, and make sure the evening is all about him.
When I read this article out to my partner Brad he smiled and laughed and said 'The perfect women!' … and then quickly said 'I'm joking babe!' when he received my glare that could kill any human at 100 paces!
You see, this is the thing, women were taught not to have rights, not to have a voice and not to make any waves or have any needs. They were taught their soul purpose and survival was to make a man happy so that he would choose her, stay with her and provide for her and the children.
It was usual for her to forego her hobbies, interests, friendships, and choice of career, all for him. Sadly, and tragically that became a recipe for women to relinquish their power to choose and generate their own life and they stayed on in relationships often even when being abused, because he was her 'everything'.
Of course, I acknowledge that there were old fashioned women who were powerful capable women, and wonderful role models to their daughters … but that is not the stereotype I am talking about. Generally, women were taught to be subservient, and to devote their lives to their men.
Now, we have a rise of the feminine, and as Mothers I believe it is our work NOW to shed ourselves of the powerless, helpless programs and fears we embodied, to claim our Feminine Power and steer our children and this world toward healthy Unity Consciousness.
Whether we are Mothers or Sisters to other girls and women we can help the Divine Feminine by leading by example.
Here are some of the ways I believe we can do this by expressing to her:
It is powerful to be feminine, and that it is not weak to be honest, loving and authentic, including sharing what we really feel and what we would really like from others.
She can establish her values, rights and truths in order to choose who and what is aligned with those, as well as boundaries and even leave people who are not respectful of those.
In this age and time, she can now shed the model of being a powerless and dependent woman on a man for love, security and success, and instead be a generator of her own full and incredible life, and share her commodities with a man who is also full and healthy.
She is allowed to say 'No' to people when things don't feel right or healthy for her in her body and Being.
Her inner relationship and her joy of being alive and creative is the foundation of her life, whether or not she has a boyfriend or husband, or a female partner if she is gay.
She is valued and valuable when she doesn't have a love partner.
Her opinions, observations and intelligence are valuable and valued.
Her beauty is within, which then shines out to the world, and she is loved and accepted and enough as she is.
She does not need to give up her femininity, heart, creativity, intuition, lovingness and authentic self – no matter how successful she is – in order to be with a partner, and in fact this is her greatest strength magnetism and ability to co-exist with great men (as well as all people and all facets of life).
I hope that has inspired the gorgeous ladies in this Community, and my heart goes out to those of you who have suffered the terrible trauma of parental alienation from your daughters and children and those of you who have a narcissistic daughter or son.
Please feel my love and blessings and I want to remind all my sisters today that you are beautiful and smart and strong.
Please pass that message on to the other amazing women you know, as well as our daughters.
And I'd love you to join me in this energy of being an Evolutionary Mother! If this is something that you are interested in, you can access my free 16-day course which includes my free Quanta Freedom Healing workshop, 2 free eBooks and so much more.
Access your free course by clicking here.
Happy Mother's Day everyone … lots of love, bye bye.
(Visited 3,210 times, 8 visits today)
The following two tabs change content below.

Melanie Tonia Evans
is an international narcissistic abuse recovery expert. She is an author, radio host, and founder of Quanta Freedom Healing and The Narcissistic Abuse Recovery Program. Melanie's healing and teaching methods have liberated thousands of people from the effects of narcissistic abuse world-wide.

Latest posts by Melanie Tonia Evans (see all)