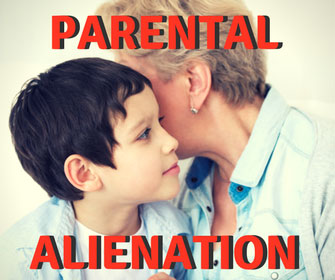 I really wanted to do an episode on this oh so painful topic, because I know tragically many of you are suffering alienation from your children, because of the narcissist in your life.
This person may be a spouse, an ex-partner, a family member or really any narcissist at all.
Maybe your children have become cold towards you and closer to the narcissist.
Or, possibly things have escalated to the point where you are receiving your children's silence or disapproval – accusing you of being and doing things that aren't even true.
Maybe you don't even have a reason for why your child is pulling away, and know untrue things must have been said.
Things may have become so terrible that you've received a court ruling whereby you lost custody rights.
All of the above are regular occurrences within this community because narcissists regularly use children – your most precious babies – to punish you with.
As a mother, who adores her son beyond measure, I can't even begin to imagine your trauma and your pain. I just wish I could reach through this screen, right now, and give you the biggest hug (I hope you feel it cyberly).
This is a topic I am INCREDIBLY passionate about, and I've been working for over 10 years to help people overcome the ghastly traumas of narcissistic abuse … including this one …. which I believe is probably the BIGGEST of all.
I too almost lost my son to the narcissist's lies and smear campaigns against me and fortunately, I didn't.
Blessedly, I have also been able to help people heal relationships with their children that could have turned to alienation, as well as assisted parents to reconnect with their children after decades of separation.
And in this Thriver TV episode it is my deepest hope that I can grant you healing, relief, and hope that there can be a different future for you and your children other than the heartbreaking one you may be living.
Episode Transcript
This is such a painful topic in this community, and one which I know many of you have suffered, or are suffering.
As a Mother, I can't even begin to emphasise with you enough. I nearly lost my son some years ago too, once to a narcissist, and then nearly to forces other than a narcissist – addictions … but I didn't. Please let me start by saying I can't even imagine the trauma that some of you have and are going through as a result of losing you children to the narcissistic parent.
I know that there are very few powerful resources regarding Parental Alienation that are 'solution based' and I hope with all my heart that today, this Thriver TV episode will prove to be a powerful Quantum Solution and Remedy for you. I can't think of any time that this is more necessary, than when our children are involved.
What is great about this episode is that it is a joint effort, I put out to the Community for updated resources and information, and I will also be sharing with you existing success stories, to help you with this absolutely devastating plight.
Today, most definitely, this resource will be informational in manner but even more so my deepest desire is that it is truly transformational – that it will help your shift you inner being powerfully in regard to what is happening, providing the highest and best opportunity for the outer experience with your children to shift as well.
Before I go any further, I want us all to be very clear about what Parental Alienation is. It is when one parent manipulates a child to have a less than favourable opinion of the other parent. This could lead to the child rejecting the other parent outright. This is a very common issue that occurs in this community, because narcissists commonly seek to punish their ex-partner. Using their own child against them is a very cruel and effective tool.
And what is so frustrating and devastating in these instances, is that the narcissist does not wish to collaborate and work for the best interests of the child. Rather he or she is more likely to try to discredit you and use the children as pawns against you. Also what is true about narcissists is the more that you try to engage them to get sanity, teamwork and decency (even concerning your children) the more they will use your contact against you to hook, bait and trigger you – which hands them the significance of knowing that they have the power to hurt you.
It is for this reason that the new concept of co-parenting with narcissists is Parallel Parenting, and myself and many others believe is far more effective and better for you and the children.
I have truly, within the last ten years heard of the incredible lengths that narcissists will go to, to discredit the other parent. Absolutely if the narcissist has any dirt on you that will be used, sensationalised and tweaked for impact. If they don't have any material to use against you, they are totally capable of making it up – even information that could potentially damage their children.
When we are 'normal' people, who just don't have the capacity to even think those things about other people, let alone lie about it. We don't think this is possible, however, I can assure you it is.
This I know – when we fighting against narcissists who are trying to destroy our lives we can't do this in the normal logical ways, because it simply doesn't work. This is why am so passionate about helping people, just like you, understand the Quantum way and the power we have when we look at, and work with our challenges, at a deeper level – from the inside out.
I'd love at this point to share with you about what happened with my son Zac. His stepfather narcissist number 1 told him that I was seeing other men and having affairs. Of course, my son was conditioned to believe that when someone tells you something in earnest and looks you straight in the eye, that they are credible.
And this is the thing: children look at authority figures as 'gods'. They tend to believe they are telling the truth. Narcissists are very convincing and the more I tried to convince Zac that I wasn't doing those things, the less he believed me.
I was triggered into the fully blown righteous anger of being accused of something I simply wasn't doing, as well as feeling so betrayed that my son (who I though knew my values) could even consider such a thing. Yet my anger made me look guilty in my son's eyes and the more I tried to proclaim my innocence the bigger a hole I seemed to dig.
It took me a long time to learn, what I finally have now – that it wasn't until I resolved my horrors of being lied about, persecuted and abandoned by those I love (for not believing me) and came to a peace inside myself, (the release and the shift of these traumas) that it was only THEN that my son, parents and so many others completely spun around, and believed me. And it was then that they stopped believing the narcissist.
I know that letting go of the fight and doing the inner work instead may seem complacent. I know it can seem like we are doing nothing and even being airy fairy about it all – but I don't know how many times I have passionate about getting this message across to all of us – that no amount of doingness can compensate for our levels of beingness.
And of course, we think that our normal reaction would never be anything else but to be upset, but really what it is about is that we have unresolved traumas from our past that means we were triggered. If we resolve them, the shock and horror become benign. That is when the traumas of what is happening can and often do go away; it all unravels and heals. The outer follows the inner always.
One of the first times I saw this with other people in action is when a friend of mine's ex- narcissist tried to smear her to everyone including her kids, and her attitude was 'Good luck with that. What a load of crap!' and she never even reacted. When people asked her about what he said, she was so calm and credible it never had legs. The truth was she had no matching wounds inside her on those topics to be triggered because she had worked so hard at releasing them all with NARP.
Please know I understand just how hard this is to do when our children are involved – with anything to do with our children, especially if they are pulling away from us, being abused by the other parent and lied to. Absolutely there are things we can 'do', but please know your beingness and healing, so that you can be solid, calm and loving, is your best shot – always.
When I realised what I needed to achieve, with my son and other people in my life who were terribly smeared against me, I stopped trying to convince them that I wasn't what the accusations were about. Instead, I just became and was my own 'loved and healed back to wholeness' self, independent of their opinion of me and I remained loving and true to them without justification or explanation.
And that's when everything switched around.
The truth was, because of the Quantum Healing I had done inside, I was free to be me, regardless of what they thought. This is the state of 'unconditional creation', which enlists all the mechanics of Creation to match your inner state.
I so understand how you can feel, as I was, initially with Zac, horrified and angry and dishevelled and traumatised. As a result of reacting to these feelings, we repel people, including our children. And why wouldn't Zac have pulled away – no mater how unfair this was – because my energy was toxic. When I became calm and loving despite his views of me, then he started to sense and know the truth.
But please know, in no way am I lecturing you or trying to minimise your experience. I totally know in narcissistic abuse how damaged and traumatised we get and how difficult it is to even think a coherent sentence, let alone mange our emotions when everything we thought was our life has become a hell storm. Truly, that is why we need super-tools and that is why I am so passionate about them.
You can sign up for a free Workshop with me where I show you how to release your trauma here.
Authenticity is your best defense – always. What I believe authenticity is, is this: being your True Unwounded Self. Because then you will show up as 'you' – the most lovable, safe, beautiful version of you possible. This True Self is not going to try to compete, win your children over, bribe them or stop laying healthy boundaries in case they lean towards the other parent.
Instead, the true goal is to keep clearing your wounds and becoming your real magnetic beautiful self – regardless of what other people are choosing to do or not to do. Yes, I know it's a MASSIVE call, but when we do the inner work and stay true to shifting out any trauma within us that is getting triggered, we organically become more and more of this person. Interestingly, and I have had this proven to me so many time, our children don't even need to 'see' these changes physically. They literally experience them across all space and time – energetically. Even from those parents who have been alienated for years from their children.
I share in my free webinar one of the most beautiful rectifications of a long-term parental alienation. Dot started working with the NARP Program in her 70s as a result of wanting to leave her narcissistic husband. But she had an even greater despair and regret than her failed marriage; she had been alienated from her children from a previous marriage for decades and had not seen her children in all that time or met her grandchildren. After Dot left her husband and healed her abuse traumas, she focused diligently on clearing the trauma of the loss of her children.
As a result, Dot reached an incredible inner peace, forgiveness and a beautiful love towards her children. Not long after, her son tracked her down after 32 years of silence and made contact. She is now lovingly reconnected with her children and grandchildren.
This is where Quantum Healing leads us to – the ultimate soul Oneness truths that we are without illusions – and it is from this place that the miracle of connection happens.
I wrote about Daniel in my upcoming book. For eight years, his children had been poisoned against him and refused all contact with him. When Daniel contacted me, he knew others had had success with the Quanta Freedom Healings to get his children back in his life, and he wanted to know how. I explained, 'You have to release and heal all the anger, trauma and pain that you have about this, and create the space inside you for them to return to you. But to be successful you have to get to the level where you feel whole and in total acceptance of "what is" regardless of the outcome.'
After several months he finally reached the point where he felt at peace and felt nothing but love for the situation even if his children didn't return. Three days after he reported this, his oldest son contacted him, and he is now reunited with all his children and his new grandchild.
I also talked about Pippa and Andrea in my book. Pippa after healing with NARP for 5 years, reported that today, not only herself was healed but her son was reunited with all his children after twelve heart-breaking years of separation and that five generations of traumatised people have all healed and reunited after extreme triangulation and division caused by narcissism in the family.
Andrea had lost all custody rights of her young daughter to her narcissistic ex-husband and his new partner and had been institutionalised after suicidal inclinations.  She started working with NARP whilst an in-patient. Within three months she was awarded supervised access and within six months she had fifty per cent access of her daughter. Two years on, Andrea was divorced, remarried with a loving, supportive partner, had received a great property settlement and had won fulltime custody of her daughter. Her ex had moved overseas for work after several relationship breakdowns.
 I can't tell you how many examples I know of in the community of children returning to their parents who do this inner work. And here are some other examples from recent Facebook stories when I asked for shares only a couple of days ago.
This one is from Michael: 'We are now divorcing again. But to my surprise, my relationship with my kids turned a corner in the last 6 months without me ever really doing anything directly to them to affect it. Specifically, I bought NARP in November and have used it to calm myself. Purge bad feelings, start to heal.
I am at peace (mostly) with the outcome of my marriage and no longer feel cheated. On the contrary, I feel liberated. Enlightened. Specifically, regarding my oldest daughter, who has also recently married, my relationship is at an all-time high.
We see each other frequently by her request. We are planning a family vacation this summer and talk more than we have in years.
I am not the angst-ridden person trying to keep our house together and control her mother's behavior anymore. Therefore my natural state of being has been coming through more often. It is a joy to be with her and not wonder what problems will be happening when her mother acts up.
I could go on and on, but NARP has definitely played a big part in this relationship renaissance.
Thank you.'
Malissa shared this: 'I lost my 2 youngest children to the narc father for 3 years. Then, because of my healing journey with NARP, I was able to turn things around. My children live with me and all that abuse is out of our lives, even the court saw through the lies. They are even able to have a relationship with their father without drama.'
Pria wrote this as her response : 'My son is almost 20. My ex took custody through manipulation when he was 15.  Since then, there have been many challenging times when I thought I had lost him.
I kept on going with the situation to keep extending my love, however, I could while continuing to work on recovery and healing.
After time periods of not seeing him at all or briefly, he has been visiting several times a month lately. With my daughter, we enjoyed a nice movie night last night.'
I also want to share Benita's story about being a child who was alienated from her father by her narcissistic mother – because I really hope it can inspire you.
'My heart goes out to all the parents suffering through alienation. As a child I was used by my mother as a pawn to make my father suffer. She told constant lies about him including that if he was given custody of me then I would be raped by him! She got custody although she never wanted me or cared for me and manipulated my new stepfather into throwing me out of the house when I was 13.
For many years I was fearful of my father and our relationship was in ruins. When I was in my twenties I slowly started seeing through the fog and did reconcile with him before he died when I was in my early thirties. Too many years were lost, but the truth has finally been revealed. I can't emphasise enough how important my father was to me. Please don't give up on your children.'
Also, I would like to recommend three extra resources, other than NARP, to help you with healing Parental Alienation which have been shared by my beautiful Thriver friends!
Anna Duggan, who is a fellow colleague and dear friend of mine said this:
'Dr. Gabor Mates book "hold on to your kids" is so good for this. Your relationship with your child is your responsibility. They feel the truth. Always. X'
Another dear Thriver friend Rebecca shared … 'I can recommend the book Understanding Parental Alienation by Karen & Nick Woodall to any parent experiencing this…xxx'
And Susie Payson shared this: ' … find Ryan Thomas Speaks on facebook….he has videos to help…he was the child who was convinced by mom to reject dad. I took some of his advice and it IS effective.'
Thank you, everyone, for your contributions so much …
Ok, so I hope from the bottom of my heart this has helped.
And if you'd like to start healing from the absolute devastation of parent alienation, and become the change you want to be for you and your children, the first step is to sign up to my free 16 day recovery course, it includes an invitation to a healing workshop with me, a set of eBooks and lots more.
So until next time… keep smiling, keep healing and keep thriving because there's nothing else to do.
I really look forward to your comments and questions below.
(Visited 5,314 times, 4 visits today)
The following two tabs change content below.

Melanie Tonia Evans
is an international narcissistic abuse recovery expert. She is an author, radio host, and founder of Quanta Freedom Healing and The Narcissistic Abuse Recovery Program. Melanie's healing and teaching methods have liberated thousands of people from the effects of narcissistic abuse world-wide.

Latest posts by Melanie Tonia Evans (see all)