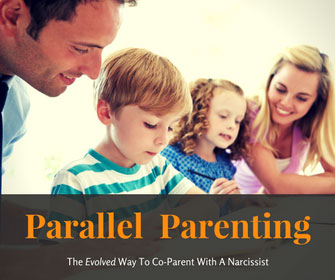 If you are currently co-parenting with a narcissist, my heart goes out to you.
I read countless stories every day from people in this community who are experiencing the daily frustrations, twist and turns, insanity and gut-wrenching nastiness that goes with trying to co-parent with a narcissist.
You may constantly be worried about how your children are being treated, including if the narcissist is poisoning them against you, or WORSE … if they are turning your child into a narcissist.
And it can be beyond horrible for your children caught in the middle, seeing your distress and pain and witnessing the conflicts between their parents.
Up until now, the term co-parenting is what we understand to be the role we take with a narcissist once separated.
However, the word 'co' would almost suggest being a team or working together with the mutual goal of caretaking our children, such as being able to collaborate healthily for the good of the child.
Yet we all know this is NOT possible in narcissistic co-parenting situations.
This is why I believe we need a paradigm shift in the co-parenting community. We need a NEW way where you can take your children out of the conflicts between you and the narcissist, and also remove yourself from the trauma of trying to deal with someone who just won't cooperate – so that you can be as healthy as possible for your children.
This can be done by adopting – Parallel Parenting.
This is a powerful, revolutionary way to have strict boundaries and even hold the narcissist accountable for their narcissistic behaviour.
Parallel parenting is about have joint custody with your children in a way that works, as effectively as possible, given the difficult circumstances.
In this very important Thriver TV episode, I explain WHAT Parallel Parenting is, how it can be done, the ways and moves you can make to enforce effective, accountable third-party communication channels … and the BENEFITS of parenting in this way.
Within this episode, I share with you my knowledge and observations of co-parenting with narcissists, which I have learned over the last 10 years, as well as a dear friend's invaluable information, regarding his incredible knowledge and experience whilst parallel parenting with a high-level narcissistic.
I SO hope, with ALL that I am, that this episode will help you if you have been struggling with this …. and I look forward to continuing this VITAL conversation by answering your questions and comments.
The following two tabs change content below.

Melanie Tonia Evans
is an international narcissistic abuse recovery expert. She is an author, radio host, and founder of Quanta Freedom Healing and The Narcissistic Abuse Recovery Program. Melanie's healing and teaching methods have liberated thousands of people from the effects of narcissistic abuse world-wide.

Latest posts by Melanie Tonia Evans (see all)