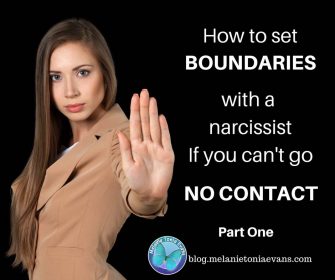 If you've been a member of this community for more than a little while, you will know I passionately believe it's best to create No Contact with a toxic person as soon as possible.
This grants you the space to turn inward and begin healing yourself, without the daily episodes that trigger your deepest unconscious wounds, sending you ten steps backwards, rather than making your way forward.
But what if this person is not someone you can cut out of your life right away?
You might have children or an existing business with this person, or an ongoing settlement or divorce that hasn't taken place yet.
Or in the case of a family member, they may be someone who is close to other family members and are present at family gatherings.
Or they could be a colleague at work, someone in a friendship group or even a neighbour, which would mean changing a big part of your life in order to remove yourself from them.
Whatever the case, there are many of us that may have to deal with a narcissist indefinitely at one point or another.
And it is for this reason that I think it's very important that you know how to deal with them.
Over the years there's been times when I've had to engage with a narcissist for a period of time, and I promise you this … they do not disturb my way of being and they don't stop anything I am generating or creating in my Life.
They literally have NO effect on me.
They can't trigger me and confuse my thinking.
They don't play on my insecurities to hook me or engage in their games.
They don't appeal to my vulnerabilities leaving me thinking I need them in any shape or form.
When around them, I don't have to dumb down, hide out or change anything about myself.
They simply don't and can't enforce any hold over me …
And what I am going to share in this two-part article is all about this, how (if No Contact is not possible) to exist with a narcissist, whereby you and the abuser may as well be living in two separate Universes.
That's the goal …
If your current situation means that you must face a narcissist, I truly hope this article series serves as a resource to manage this in the most effective way possible.
The Necessary Warning Signs
Before I get into the meat of this article … I want to be very, very clear to you … pointing out what I know I once would have done myself with the information in this article.
Used it as an excuse not to go No Contact.
I know, once upon a time, I would have used ANY excuse not to go No Contact with narcissist number one (I did that for several years nearly all the way to my death).
At the surface level I thought our love was eternal and I didn't want to let go, thinking I would never experience a love like that again.
However, the deeper real truth was this: I believed without him I could NEVER survive and be a source of love, approval, security and survival to myself.
Now I know this was nothing more than unhealed wound that are now healed, and as a result my life bares NO resemblance to those beliefs at all anymore. Nor do I have any physical, mental, emotional or psychic connection to any previous narcissist in my life.
Please know from the bottom of my heart – if you stay attached to a narcissist for the wrong reasons Life and the necessity of your evolution is going to BITE you fair and square on your butt!
You won't get peace, healing, control and safety, because the parts of you that want this person to turn around, act nicely and become your source of the things that you are not healing yet within yourself, will still be hurt and triggered.
The massive lesson is this – if we are not taking responsibility for growing these parts of ourselves up and healing them back to wholeness, the people we try to make responsible for them will not heal them – they will only tear our insecurities up more.
You may want to use another one of my previous excuses … it is good for my healing because he is pushing everything inside me I need to heal. Yes, he was – but because I was focused on him and not detaching to heal myself … so what? I wasn't addressing it.
I was just getting more abused and broken.
Please don't make the same mistake I did.
Detach and heal is ALWAYS the goal – no matter what the situation is that you are in.
What Does Not Being Affected Really Mean?
Let's investigate the goals of dealing with any narcissist who is still having any effect on us …
Stop handing them narcissistic supply, and
Take back your power by healing the unconscious wounds within you that allows a narcissist to hook you for narcissistic supply.
Because when you achieve this – the narcissist MUST and will take his or her behaviour and drama elsewhere for easier feeding.
This is the deal … a False Self cannot continue expending energy on someone where there is no energetic (attention providing) payoff.
Yet, how do we do that when a narcissist goes for our greatest trigger points with all the accuracy, intensity and impact of a heat seeking missile scud?
We may as well say, "How on earth do you expect me to NOT react?!"
Yet … I promise you there is a way to be in the vicinity of narcissists having them as family members or be in business with them, or even co-parenting and not be affected and even be able to assert your own rights.
The greatest truth is this: You will NOT be in your power whilst you are being emotionally triggered and regressing back into the emotional space of your unhealed wounds – which can range all the way from beliefs and traumas epigenetically acquired from your ancestors and were likely to be supplemented from events in your childhood as things like:
"People who love me hurt me", "I am insignificant to others and discarded and unloved by them", "I am not safe in life", "Authorities and people persecute me and punish me", "I have to earn love and acceptance", "Nothing I ever do is good enough to be loved", "If I am replaced by another I can't survive", "I can't protect and help the people I love", "I have no rights", "Everything that is valuable to me is taken away", … and there are literally thousands of other possibilities!
Whatever it is that are the core wounds of why you are affected by the narcissist, you can be 100% positive the narcissist uses this against you whilst being in contact with you, or by engaging other people and ways to hurt you.
This causes you to be immensely triggered (which our unhealed core stuff is because they are gaping, raw and painful wounds) and affected, and therefore remain hooked and play right into the narcissist's hands by handing power over.
This is when we lecture and prescribe, having conversations over and over again as if it is to a child in an adult's body who just doesn't GET common decency … we try to make the narcissist be accountable … we try to get other people to see what they are doing to us … we plead, beg, cry, yell … bang our heads against the wall.
And we are deeply disturbed and obsessing about what the narcissist is capable of doing to us and the people we love.
When this happens, we provide the perfect self-medication for the narcissist – being the "drama" that can take the narcissist away from his or her self-annihilating inner being, and we are also now the perfect scapegoat to be smeared to family, friends and associates …
We have become the "the crazy one causing all the problems."
(And let's face it IS CRAZY!!)
And … to add insult to injury you are handing over A-grade narcissistic supply – the highly charged emotional reactions that confirm to the narcissist that he or she can affect another significantly and therefore must be "significant".
We have to get out of this deadly loop if we are going to survive, heal and then Thrive (which of course is what this Community is all about) … and generally the formula for that is:
1) Go No Contact … and then
2) Start healing every trauma that arises as negative emotion for you, until the original beliefs and traumas and the narcissist (who represented them) are detoxed out of your system and out of your Life.
But what happens if No Contact just isn't possible, or done yet, and the narcissist is still in your face?
How do we stop handing over narcissistic supply so that we become a source of "no energy" to the narcissist – to the point where we don't care, don't react, don't get triggered and don't provide any emotional, physical or even psychic energy?
I really need to explain the following to you regarding psychic energy, especially for those people who say, "But I don't say anything to this person – this person gets nothing from me!" … yet they are still traumatised, and constantly obsessing about the narcissist.
Please understand, even if you are No Contact with a narcissist and he or she is affecting you profoundly, you are still handing over psychic energy.
Narcissists feel you – they are still getting a feed from you – as sure as a pipe has been inserted into your Inner Being and the narcissist is at the other side of it sucking out your Life-force.
I know it sounds "creepy" or even far-fetched but the proof is irrefutable.
And another truth is unavoidable, even if you pretend to be not affected and deeply are, energy is energy … the unseen world is pulling the strings in our Life, and our belief systems are playing out to produce the results of their literal programming despite any act we try to pull off.
Being triggered and trying to pretend we are not, is still going to create the results of our triggers with a narcissist – because the narcissist is the literal Inner Being Mirror bringing all of our greatest fears and insecurities to life.
When we heal those underdeveloped still wounded parts, then the narcissist's antics become as benign and irrelevant as Grade One lessons when we have already graduated to Senior School.
That's when it all stops.
Thank God.
The Grey Rock Method
Many abuse recovery people will tell you to work with the Grey Rock method – granting the narcissist no energy or attention – and I agree wholeheartedly with this.
However, I never recommend Grey Rock alone … even though it is a great starting position to adopt, because it helps to get the real work done. Every time we detach emotionally from a narcissist, we have more emotional energy to connect to our own necessary journey of loving and healing ourselves back to wholeness.
So what is Grey Rock, and how does it work?
Grey Rock gets back to the greatest aim when still dealing with a narcissist – stop handing them narcissistic supply.
Narcissistic Supply is the very lifeblood that the narcissist is as addicted to as any hard-core drug addict. The narcissist as an internal no self requires the energy of others to exist.
The best A-Grade supply to a narcissist is drama – the knowing that he or she is significant enough to affect you drastically. This allows the narcissist to numb out the self-annihilating Inner Being traumas that are always present, emotionally engulfing the narcissist if he or she is not receiving narcissistic supply.
So how does the narcissist hook you into handing over narcissistic supply at this level?
The answer is simple …
Piss you off.
Unbalance you.
Make you focus on and hand attention to the narcissist.
The narcissistic (if he or she believes you are still a source narcissistic supply) once the cracks have appeared and the mask has fallen, will do something, anything to make you react or feel anger, rejection, cruelty, injustice or any other negative emotion that gets under your skin in regard to yourself or the people you care about.
It's ALL to get a reaction, it's all to get a narcissistic feed.
And as I said previously, even if the trauma is still going on inside you and you say and DO nothing – the narcissist is STILL getting a feed.
Grey Rock is about taking yourself out of the firing line, by becoming so bland, disinterested, boring and non-engaged that the narcissist tires of trying to use you for narcissistic supply, and needs to hit someone else up for it.
It means answering the narcissist in monotones, offering NOTHING emotional, or beyond the absolute basic necessities – meaning after a time the narcissist will need to go elsewhere for his or her dose of self-medicating drama.
Grey Rock For Real
In my experience of a decade of helping people world-wide recover from narcissistic abuse for real, I have seen many people adopt Grey Rock and grant the narcissist no emotional energy, yet energetically they still have the trauma, resentment and judgement wedged inside their bodies which means that the narcissist is still hooked to them energetically and therefore still impacting their life.
The worst thing is – these people are still hurting and NOT thriving.
The Quantum Truth is, as Pema Chodren famously said, is:
"Nothing ever goes away until it teaches us what we need to know."
Narcissists truly are like "the Terminator" in our Life, and how we flick off their switch of coming after us, or living on as an energetic terror campaign in our Inner Being (whether they are out of our life or not) is to heal ourselves from the triggers, the original wounds, which allowed them to hook us, hurt us and get to us.
The following is a profound truth …
When someone no longer emotionally affects our mind or spirit in any shape of form, THAT is when they cease to have any power over us.
Yet, when we try to do this at a head level (rather than at an Inner Being level) this is the result … we have to BURY it … we have to go into denial, or dissociate from the trauma that is pushing our buttons via the narcissist and living on as an unhealed force within our Being.
Disowned trauma inside us only does pushups in the background gathering strength … because it wants and needs to get our attention in order to activate our love and healing towards these parts of ourselves – in order to come back to our True Self state of wholeness.
No different to ANY signal of something that is out of balance, and not being as it is intended to be (unified and whole).
Like a motor that starts makes noises because of an engine fault, or a roof that starts dripping water because it has sprung a leak, or an issue appearing somewhere in the body signalling a cancer.
When we suppress trauma, it is felt and experienced as depression (internalised trauma), or addictions (needing to burn off the anxiety of the disowned trauma), or anger bursting through to the surface (as a projection of the trauma that unfortunately can damage the people we love) or a handing over of our power at the most inopportune moments with the narcissist when a big enough trigger is hit that we can't detach from it.
This is why Grey Rock is best done, like all things, from an authentic space.
In regard to trauma, dealing with it is NOT authentic when it has been buried, numbed down or self-avoided. Dealing with trauma for real means healing it to the level where it no longer exists.
Meaning … we internally work at being so healed from everything that the narcissist was triggering off within us, that we literally are not triggered. We are so free that we are instead focused on OUR OWN life-creation – from a position of empowerment, authenticity and inspiration (even when challenged with difficult stuff).
Fear and reaction just aren't our go-tos anymore.
Rather … detachment, ignoring rubbish and calm fearless proactive action is instead.
This means we no longer sell out; we no longer lock down, hide out or walk on broken glass, terrified about what the narcissist may do. We no longer dumb down, fear the narcissist or hand power over.
We just get on with it – our Life – knowing that Life has our back. And that is when we experience that IT DOES, and this in no way supports the narcissist thumping us anymore.
In dire comparison the narcissist's pull and influence starts to crumble.
People may think its much easier to just "do" Grey Rock and get the results. But why would we just do that and keep hurting, feeling and living the effects of what happened to us?
What I am really trying to help you understand is there are no short-cuts to evolution.
Our personal evolution is hard-work, in that it takes time, commitment and self-devotion as the most important mission to do in our Life … yet out the other side of the previous trauma Life starts going effortlessly (in comparison to how it used to unfold), and we unlock all the results and breakthroughs we wanted, yet did not receive, whilst stuck on trajectories that matched our woundedness.
Whether it takes a few months or years to release and reprogram our trauma that matches what the narcissist is dishing out to us, is really inconsequential in the bigger picture.
Naturally, I am personally thrilled I took the time out to do the most incredible inner journey and work, because my life prior to doing it was agony in comparison to what it is now – even before narcissistic abuse happened to me.
My entire previous life was spent mired in and fighting to keep my head above water whilst drowning in the inner and outer effects of what I knew as my Life.
Now it just isn't!
Also … the joy of seeing the positive changes within my family, friends, loved ones and Community is priceless.  The work we do on ourselves is NOT just about us … it has far-reaching positive consequences.
When we apply Quantum Understandings and Healing in conjunction with Grey Rock … we can genuinely detach and be totally not interested – without angst and pain and with healthy boundaries.
(Specific examples will be shared with you in Part 2 …)
Acceptance and Self-Generative Energy
Adopting acceptance is one of our most powerful antidotes to stop being victims and handing our power over.
To me acceptance was this: Don't expect or want an intensely damaged False Self to act like a normal person.
And … Stop believing that what the narcissist does or doesn't choose to do can affect your Life …
…. and instead start becoming your own self-generative force for yourself and the people you love.
A classic example is the people who are being traumatised by the narcissist's refusal to declare income and pay child support. Any reliance you have on the narcissist doing the right thing, pretty much ensures it will never happen and will only keep you hooked in the pain for longer.
This is not to say don't put your best foot forward and present your case if you have one – but don't NEED a specific outcome to happen to grant you inner solidness, forward purpose, abundance and Lifeforce.
Quantum Law operates in mysterious yet absolute ways – it states "whatever you are being you are presently creating a future of more of that".
The beingness of peace, abundance and power unconditionally, regardless of outcomes, means a lot of inner work is required, but the results speak for themselves.
Numerous people in this Community have had narcissists capitulate or be beaten in court, and every single one of these people was not attached to or afraid of ANY outcome … they were simply showing up in truth and power and inner calm as the ONLY true objective.
Victimised energy is this: the belief that we can't go on, get out of the funk, feel okay or have a healthy life unless specific "outside of ourselves criteria" changes.
This is NOT Quantum Power which must be generated within Self.
Rather, it is the automatic handing of our power away (I am not a self-generator of my own experience from the inside out) and means we have just made our Inner Being (the only centre of influence we ever have) reliant on outside conditions – which is an attempt to create life from the outside in.
That is like trying to put a cart in front of a horse and hoping to move from a stuck position, yet rather than move, it all rolls back on itself amplifying the stagnation and pain.
If we think a narcissist "should" do this or do that, we are going to expect them to, and be disappointed, angered, resentful, indignant and feel victimised by our situation.
Quantum Law "so within so without" is as absolute as gravity … (gosh please know I remember how hard and painful it initially was to accept this!) so why on earth would we continue to feel disappointed, angered, resentful, indignant and feel victimised by our situation … when it is ONLY setting up more situations to feel disappointed, angered, resentful, indignant and victimised by.
It may appear that the narcissist is continually doing it to us, but when we adopt Quantum Responsibility and understand the power that we have emotionally / energetically which plays out with all of Life, and how the narcissist is an extreme mirror or what is going on inside of us (because they can only operate from other people's energy – having none of their own) …
We wake up and grow beyond this "energetic blindness" to realise how to shift within to change what is happening without.
How do we shift all of this?
We meet our traumatised inner unhealed parts, and we release the disappointed, angered, resentful, indignant feelings … all of the feelings of being victimised by our situation (no matter what they are).
In my next Webinar coming up, I will be sharing the entire process that has been used by thousands of people in the community to achieve this – including people who are not No Contact yet with narcissists.
You can reserve your space for free if you haven't already. 
If we are still in the trance of thinking that Life operates from the outside in instead of the inside out, we may think that is letting the narcissist of the hook.
Surely we should be angry … we should be indignant and we should shout "No" from the rooftops to the narcissist and all of sundry.
Surely we should expose this person, we should whistle blow as loudly as possible … and we should tell them over and over and over and over (god I am exhausted just writing this – remembering how I used to do this) WHY they should not be doing this to us and the people we love.
We SHOULD hold them accountable.
Yet – it doesn't work! EVER!
Why not?
Because as soon as you pour any extreme emotional energy into anything, needing it to change as a condition for your own wellbeing, you grant it masses of Life against you – delivering  you the evidence of how this orientation defies all the Quantum Laws of wellbeing.
In effect what you think you have been screaming "No" at, you have been saying "Yes" to.
The life-force for a narcissist is drama, conflict, violence and notoriety … it's all ego (False Self) food. How do you energise something bad? Feed it more of what it is – bad energy!
This is exactly why anti-movements don't work and pro-movements do.
A pro-movement does not mean giving up and turning the other cheek, or letting yourself get walked on and having no boundaries. In stark contrast it means standing up and being and doing your truth on Who You Are and what is the truth of your soul – not from a fearful position, but rather from a place of inner mature integrity, solidness and calm.
Don't take action to make the narcissist accountable, pay them back or seek to hurt them as much as they have hurt you … instead simply live out the truth of your rights with no apologies, victimhood or feeling guilty or fearing criticism, rejection, abandonment or punishment.
These are the parts we need to grown up – the unhealed parts of ourselves from childhood which have been handing power over to others, specifically authorities and abusers – carrying the terrible beliefs that they will abuse us if we assert ourselves and our truth.
Yes, authorities and narcissists do abuse power – but it only happens to the people who still carry the wounds and the beliefs of that.
This may be a hard pill to swallow if you are currently still in contact and / or being abused … but I promise you the evidence is overwhelming when people work hard to heal their wounds, and stop focusing negative attention on narcissists, and take actions purely from a place of inner aligned integrity with no need for specific outcomes.
That's when the magic happens … when Life starts to reflect back the new Inner Beliefs Everything is as it should be. I am free to be myself regardless of what others do. Life supports me abundantly regardless of what things look like now. I am safe.
When we genuinely know this to be true in our body – so it is.
The right help lines up, the right judge appears, the narcissist slips up and makes mistakes … or simply senses being cornered and gives up the fight … truly.
There is another very powerful Quantum Law that was HUGELY necessary for me to align with in my Life … and I know it can help you too.
As adults, if we have not yet healed the helplessness and fear of not being able to create security and safety in our own life and cling to others for it , they are only going to bring us more insecurity, danger and pain.
It is only when we stop doing that, holding others responsible, regardless of who they are, and start orientating to heal and grow up our parts so that we can be a fulfilled and inspired self-generative force (which, by the way, I promise you is the only mode of living that will genuinely satisfy you) that you will receive the glory of other people and situations coming into your life who match you … as stability and security and support.
You needed to become that self-generative force all along.
Be it and it will come.
That is what be-come means (Quantum Law 101).
Boy did it take me a long time to a) accept that lesson, b) stop trying to avoid it by clinging to others and c) take it on to be-come it.
My freedom now is indescribably wonderful, and please know there are members of this Community from all ages and all walks of Life who have been able to come back from the direst of situations emotionally and financially, and even decades of unemployment to find and create their life's missions.
Ride the narcissist off … truly … he or she is NOT your source of security, solidness or fulfilment ever. Anything you get or retrieve from them is a bonus, and do NOT depend on it.
The narcissist truly, one way or another, needs to become as irrelevant as possible to you – even if co-parenting.
Free yourself from that unhealthy attachment, because I promise you, wherever you are on the spectrum, when you get aligned you will have unlimited Life Resources and permutations to start creating you real and healthy life for yourself and your loved ones.
Many people have done it, even in the trickiest of situations, such as co-parenting.
Quantum Law is unconditional and it does NOT discriminate. Statistics don't apply in the energetic world, only Inner Truth does.
Now please read part two, where I give you clear real life examples of how to do boundaries with a narcissist healthily – at work, within family and in love relationships … and I also answer the most commonly asked questions from members of the community when it comes to setting boundaries with a narcissistic.
The following two tabs change content below.

Melanie Tonia Evans
is an international narcissistic abuse recovery expert. She is an author, radio host, and founder of Quanta Freedom Healing and The Narcissistic Abuse Recovery Program. Melanie's healing and teaching methods have liberated thousands of people from the effects of narcissistic abuse world-wide.

Latest posts by Melanie Tonia Evans (see all)