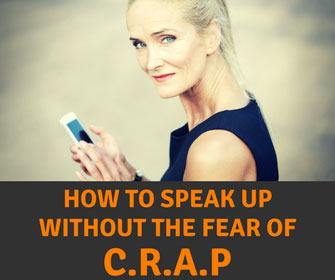 Do you relate to feeling like you don't have any rights regarding you opinions, values or needs?
Perhaps this has made it very uncomfortable for you to speak up in your relationships.
If so, it's also likely that you've experienced first hand, being silenced, invalidated or abandoned when you've tried to speak up.
Maybe, you were made to feel wrong or defective for attempting to assert your rights.
Or perhaps the fear was so intense it literally felt like this for you: If I speak up I'm going to get hurt, REALLY hurt. … or maybe even annihilated.
At some level we all knew when our inner warning bells push us to stand up and confront a situation; yet why can it be so difficult to speak up for our needs?
And … why does it often bring disastrous results when we do?
This is something I struggled with all my life until my life and death narcissistic experience. I had always tried to keep the peace, play it safe and go along with other people's opinions and needs rather than honour my own.
It was only through the utter powerlessness of narcissistic abuse, that I finally learned an incredible Quantum Truth about all of this.
Here it is:
I believe handing our power away comes down to four fears that all humans experience on some level, and until we own these fears and learn how to dissolve them piece by piece, we will continue to suffer how people treat us – regardless of whether they are overstepping our boundaries, disrespecting us, or even abusing us.
What are these fears?
Criticism
Rejection
Abandonment
Punishment.
When you understand how these fears play out in your life and learn how to target and dissolve them, then finally pain and abuse in your life can end.
And, you will feel clear, calm and confident and observe how abusive people are easily pushed out of your space, and how life starts to fill with people who support your rights, and meet you at the highest level of partnership.
Transcript
The following is so true regarding being narcissistically abused – we didn't have a voice.
I know that you, just like I have, have been through the terrible trauma of being silenced, invalidated, and abandoned when you tried to speak up.
This is what I want to dive deeply in today, explaining to you how we can change all of this –emerge from within with confidence and power, have a voice, speak up and get our rights and needs valued and honoured – regardless of what certain people are or aren't doing.
You may or may not have heard me talk about CRAP – the fears of being criticised, rejected, abandoned and punished. For those of you who haven't, this is about the fears inside us that don't allow us to a) know what our rights are b) voice them clearly and calmly and c) make decisions that align with them and honour ourselves.
Having the fears of CRAP inside us is probably the biggest susceptibility we have to narcissistic abuse. Because as soon as we can't define and be in alignment with our values and truth, it means that we will be controlled by other people's values and truths, no matter how skewered they are (in the case of narcissists these values and truths are completely unhealthy and twisted) and without knowing why we are doing it, we hand our power away.
When we are derailed with the fears of CRAP we don't back our inner being. This means when we get that inner gut twist that says 'Wrong Town' and we have a signal pushing us to say or do something, meaning 'I really need to confront this', we shut down instead. We don't put our best foot forward and we get locked down into experiencing the very fears that we are trying to avoid facing.
I want to go into each of these fears of CRAP one at a time.
The fear of criticism is the fear of being reprimanded, disapproved of, castigated, and denounced. Then things step up a gear into the fear of rejection, which is the fear of being dismissed, pushed away, overlooked and excluded. Then the fear of abandonment is something else again, these are the fears of being neglected, left alone, left behind and deserted.
The fear of punishment is the culmination of all these fears, coupled with the feelings of being powerless to stop what is hurting us – just as if one was a child overpowered by an adult, or we lived in times where there were no personal rights to be had.
Whilst experiencing the fear of punishment, we may have the heightened fear of criticism escalating to the terror of persecution … the fear of rejection could blow out to the fear of eviction or even elimination … and the fear of abandonment could become the terror of being left to die.
This may sound like I am sensationalising these fears, but those of you who have been narcissistically abused, know I am not exaggerating … the fears of CRAP range from the feelings of being overlooked and deemed wrong and defective to others, all the way up to literal, primal, deep survival programs.
Narcissists trigger this stuff powerfully, they tune into it, tap into it and detonate it within us regularly.  When we are in relationship with a narcissist, once the mask has fallen, we often experience invalidation, devaluing and dehumanising. The very fabric of our being is terrorised … and we find it impossible to assert our rights … absolutely.
The fear of CRAP runs deep, deep, deep through many of our veins, soul and spirit. I personally used to have a while hot fuzz come over me, that felt like I couldn't even think straight, let alone speak up in certain incidences. I literally felt like every cell in my body was vibrating with the possible horror of annihilation.
I know many of you who have been narcissistically abused have also felt like this, even at times before narcissistic abuse, and then you discovered in narcissistic abuse that when you did finally try to speak up because things were so bad – the fear of staying became worse than the terror of speaking up – that you were punished horrifically. Let's face it, the narcissist's False Self demands that you appease, worship and fear it. Of course when you tried to have your own thoughts, feelings, opinions and rights you were going to be punished.
The narcissist brought up for you the deepest primal fears of persecution, fearing your elimination, and the terror of being left to die, because the narcissist knew that to dismantle you and eliminate you as a threat to the narcissist's fragile identity's existence, that hitting you were it hurts the most would be the most effective way to make you powerless.
So many of you have reported that you literally felt like you were going to die when experiencing and in the aftermath of narcissistic abuse … we all felt like that. And the reason why we felt like that is because all those human terrors, lying dormant in our subconscious, that we had been trying to avoid by not speaking up, were activated, came to life and met our consciousness with the force of a hurricane.
What did the narcissist punish you with? The very thing that was stuck in your craw that was (or still is) the BIGGEST unresolved terror that you have in the CRAP department. Or maybe you had more than one terrible unresolved terrors stuck inside. Maybe you can relate to all of what I am sharing with you today.
I know for myself all the fears of CRAP, criticism, rejection, abandonment and punishment applied and they all kept me quiet and trying to keep the peace and play it safe. Yet with me, as the narcissists did with all of us, the narcissist works out what your CRAP terrors are and then uses them to belt and burn you with every time you try to have your own mind and healthy autonomy. Pushing you back down into submission and obedience and being under the control of the narcissist's False Self again.
How does this get set up? Where did these terrors originally come from?
I'm going deep today, down into the Quantum, collective and energetic truth. The history of human carnage at the hands of each other on this planet is extreme. Sadly, in many parts of the globe brutal atrocities are still taking place.
I believe, collectively, all of us to varying degrees carry the trauma, the fractures of our very spirit, of what humans are capable of doing to each other in our veins. Women who worked with herbs and midwifery were drowned or burned at the steak. Free thinkers were labelled as heretics and courtmashalled and executed.
Those who were accused, regardless of what they said to try to plead their innocent, may have been set upon by a group of frenzied righteous people wanting blood as their vindication, and taking it in the way of stoning, hanging or tearing them apart with galloping horses. That was the plight of people singled out for trying to assert autonomy amongst a system of demanded compliance that favoured few and damaged many.
And … there were people who simply by virtue of their skin colour or gender were attacked, brutalised, raped or who became a cheap causality in the greatest atrocity known to mankind – genocide.
What has all this stuff caused? Unspeakable trauma to the collective spirit of humanity itself. Trauma trapped in our ancestor's beings, that was then passed on down through the generations into our beings. Neuroscientists now prove epigenetically that the effects of trauma are inherited, and then those who do inherit the terror of CRAP – the fears of speaking up, of having opinions, values and rights and asserting them – are then born into families where the parents embody trauma and therefore have their own battles with CRAP.
Which means: 1) they don't have the resources to healthily model for their children how to establish values and know they deserve to have rights, speak up for them and align with them and 2) because the parents had their voices and rights taken away from them, they are very likely to strip their children of them also.
Hurt people hurt people.
The disease of CRAP gets passed on and on and on.
Think about this: how rare is it for someone to know what their values and rights are, be able to confront any conversation, ask questions to clarify and speak their truth without fear, whininess, justifications and guilt, then be able to unconditionally without the requirement of any particular outcome hear what comes back at them, and then healthily ascertain whether or not that person of situation meets their values and walk away and keep generating their own true life if that person or situation isn't a healthy match for them?
Do you know anyone like this? If you do they are not from earth! Well actually they can be – but they are no longer carrying the earthly traumas that we all have. They either came from a family that dodged the traumas of humanity, which pretty much would have needed to be a healthy isolated tribal society, or they are a product themselves of being internally released from humanity's trauma and they are living free of it.
In stark contrast, this is the way most earthlings operate. 'I'll keep all my cards close to my chest. I won't tell the truth about how I'm feeling. I will try to work out what that other person is up to, what their motives are and what is really going down and then I'll make a decision about what I say.'
You see humans don't trust each other and the real reason why they don't trust each other is because they haven't gone Quantum yet. They haven't released their trauma and come out of the slumber of thinking that life happens from the outside in. Like so many of us, before Thriver recovery, they don't understand the total Universal System of 'so within so without', and they don't trust themselves.
They haven't realised that when they become trauma (and therefore fear) free and just start showing up truthfully and honestly, and you won't give a CRAP who tries to hit them with CRAP …. because it all starts to roll like this:
'If you criticise my values and truth, if you reject me, abandon me or try to punish me, then we simply aren't a match and that's fine. I am already whole and healthy; I don't need anything from you to grant me myself. I am only interested in merging with what and who creates more of what already is – not less.  If you are not aligned I'll take myself, my values and my life to what and who is aligned with me.'
Do you dream of being like this? Do you want to live like this? Well I promise you alien, angel Thriver you will be, when you rescue and revive your True Self who had been buried under all that trauma.
There is an incredible freedom, liberation and emancipation to be had when we focus on and start releasing the traumas of CRAP.
You realise this: you're not living in the times of being stoned, drawn and quartered, drowned or burnt as a result of being yourself. We are in golden times, evolutionary times. We are in times of the emergence of True Self, where we can rise into the glory of knowing our power to create, be happy and fulfilled and generate that en masse – significantly for our children and their future generations – simple by taking our focus off the outside and what everyone else is or isn't doing, and directing our attention within to clear ourselves of our internal trauma.
So that we do have a voice, so that we can show up calmly, clearly and honestly – knowing we are lovable, worthy, whole, healthy and deserve more of the same.
How will you be taken down from that place? How will you be abused? You can't be.
A narcissist will never get with someone who is solid and whole, who knows their values and rights and, who will not accept being criticised, rejected, abandoned and punished. A narcissist will not continue harming and hurting a person who has no need to cling to and try to define themselves through what the narcissist promised to grant – because they are a generative whole source of creating this for themselves now.
With you trauma still having a life of its own within you, your worse fears will continue to manifest into your conscious reality, until you have healed them completely from your subconscious, and set yourself free from them.
I hope you can deeply understand that your inoculation to abusers and being aligned with your greatest life requires you getting out of the fears of CRAP, so that you can show up as your true, powerful, honest, confident, radiant and self generative self.
It's a deep desire of mine that that this episode has resonated deeply with you – because it's a very important one; it's not just about us all personally, it is about all of humanity collectively. And I'd love you to share your comments and questions with me about this, by scrolling down and writing them below.
Okay, so If you get it and you know its time to unleash your True Self and True Life, I'd love to show you how myself and thousands of other Thrivers in this community have achieved this. It all starts by signing up to my 16 day recovery course where you will access to my powerful healing resources, including an invitation to a Quantum healing workshop with me, a set of eBooks and lots more.
So until next time… keep smiling, keep healing, and keep thriving because there's nothing else to do
Lots of love, bye-bye.
(Visited 7,993 times, 2 visits today)
The following two tabs change content below.

Melanie Tonia Evans
is an international narcissistic abuse recovery expert. She is an author, radio host, and founder of Quanta Freedom Healing and The Narcissistic Abuse Recovery Program. Melanie's healing and teaching methods have liberated thousands of people from the effects of narcissistic abuse world-wide.

Latest posts by Melanie Tonia Evans (see all)