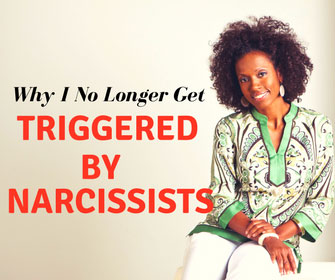 Being triggered by narcissists is excruciatingly painful.
And … the narcissist doesn't even have to be in your life.
It can be the horror of a bomb going off inside you when you see something that reminds you of them.
Or, talking to someone about what you've been through.
And, of course, there is the threat that you could bump into the narcissist, or heaven forbid come up against another narcissist in your life somewhere in the future.
How do we protect ourselves from this?
How can we not be triggered and stay safe?
Do we need to be triggered as the warning to keep ourselves safe?
We know logically that we want to feel free and safe and calm, as well as happy. But is that even possible after narcissistic abuse?
This Thriver TV episode is packed with EXACTLY the Quantum understandings to let you know HOW this is possible.
I will explain each one of them in detail to you, as well as the PRECISE belief systems that you need to embody to make your life a narcissist-free reality.
If you are still triggered by narcissists and have the quandary about how to not feel the pain, yet be warned and stay safe – then this episode is a must watch.
Transcript
I am very excited about this topic because I know it will help you so much.
Today, we are going to look deeply at why we are triggered by narcissists, what these triggers are about, and how to create our life from the inside out so that we are no longer ever triggered by them
Because this is the thing: we all want to stop experiencing narcissists and being affected by them. That feeling of being unsafe in the world, susceptible to human vampires and knowing there are dark undercurrents around us that can affect our lives and our souls in terrible ways.
Heck, narcissists have taken us to to the brink! That's why we are all here together in this community, and many of you may be right in that still, wondering how on earth you are going to recover your heart, sanity, and life from what you are going through with narcissists.
I know that today's episode can help you a lot, those of you who are out and even in deep recovery, yet understandably fear narcissists still, and those of you who are still stuck in the terrible throes with them.
I get asked this question all the time: 'Melanie how do you work with people recovering from narcissistic abuse daily, and yet not get stuck in narcissistic feelings and them being in your life'. Because surely what I do would defy Law of Attraction – meaning where your focus goes is where your life goes – right? And people also ask this question: 'Surely when you talk about narcissists you must have to relive all those terrible feelings that take you back into that trauma?'
I so want you to know that once upon a time I would agree with you, because naturally, at first, in my recovery from narcissistic abuse, narcissism was front and center in my consciousness. Yet when I powerfully realised that the most important information and work we can do on this topic – narcissistic abuse – is between us and ourselves, and not narcissists, that all changed.
What my focus became was the diligent purging from myself all the reasons why I was previously hooked up with narcissists, and purposefully liberating myself so that I could be anything and everything but that reality.
I'm going to dive in with one of the most powerful Quantum understandings that we can ever have, in order to set ourselves free. It's this: our life and the state of us has nothing to do with what other people are or aren't doing. As children it did, we were absolutely dependent on caretakers to grant us our literal survival. As adults, we aren't.
Please say this mantra out loud: 'My power to choose and generate my life means that other people have no power over me. I am free to create my life and my truth.'
How does that feel to you? If you have done the inner work it may feel clean, clear and exhilarating for you. Even if you haven't, and before the 'but's' jump in, cellularly within yourself you may recognise this truth and momentarily feel a sense of freedom and empowerment.
This is an essential belief to have anchored as a truth in your body and your being, and when we don't have this as a cellular truth within us, then we are immediately co-dependent; we are handing our power away.
We have needy, inner parts of our being that will allocate someone else to be the provider of our love, approval, survival and security. Please know of course we are humans and want connection and to share our lives, and even depend on others in certain ways – this is normal and healthy. And naturally we are going to be disappointed and even heartbroken for a time when this doesn't work out.
What I am talking about is when this becomes a tragic co-dependent danger (as it did for all of us in narcissistic abuse) when we cling to people who hurt us terribly, even destroy the very fabric of lives trying to force them to be our Source. When, all along, the only recovery is letting go, healing and becoming that to ourselves.
Where this dangerous tendency has come from for us, is being a child who wasn't allowed, supported and assisted to grow up solid inner parts that are healthily independent. We had not yet become an adult able to define, generate, share and sustain durable wholeness interdependently with others.
Narcissists exist in an energetic universe where symbiosis is necessary for their survival. They are a False Self, they have no true energy source and inner wholeness for themselves, so they seek others who also unconsciously require symbiotic relationships. With these people, narcissists enmesh and start sucking that person dry.
When we are co-dependent we are as susceptible to a narcissist as an injured gazelle on the edge of the pack is to a lion. We feel empty without enmeshment, and allow narcissists to bond with us in this way, and we will continue to until we become our own power source.
As soon as we have handed power away to another in order to try to gain love, approval, survival and security from them, we are going to be highly emotionally triggered when things don't go to plan. And of course they don't with narcissists – rather than be loved and approved of and granted safety, comfort and security, we get criticism, rejection, abandonment and punishment (CRAP) instead.
The very things that we suffered as children (to varying degrees) which had not allowed us to develop and become whole are thrust up into our consciousness again. If you came from a Family of Origin narcissistic situation, which is your abusive situation now, then this continues and amplifies. Then the trauma within us becomes so extreme that we continue to break down, all the way to the point of our personal catharsis opportunity, whereby if we want to survive, heal and then live a great life, we have no choice other than to break away from the abusive person, stop assigning them as our source, and become that healed source of essential love and life-force to ourselves.
The first main reason I'm not triggered by narcissists anymore is this: I no longer need anyone in particular to be my Source. I am that source between me and myself, my higher power and all of life. Thank goodness all three components are healthily connected now; all energetically and ecologically on the same page. Thus, if certain people, situations or commodities are not a match for my healed and established self-worth, deservedness, and values, then I can easily say 'No' now and move on. I can go without because I'm solid within until other potentials arise and then I can choose or choose not to accept them in my life and being as well.
If we are walking in a desert dying of thirst, we would drink a bottle of urine out of desperation. Yet if we are walking through our own fertile landscape, knowing that there is unlimited potentiality everywhere within and without, then we are quenched and satiated, and we can wait and choose healthy sources.
Please know it took a lot for me to heal this and I was determined to because I had lived where my co-dependency took me – almost to my death. When I assigned others, specifically men to be my voice, my decisions, my security and my protection, because I didn't believe I could be that for myself, I didn't get guardian angels coming into my life – I got hammers, not rocks. I got people that showed me, as an adult, the disastrous effects of not healing and developing myself up to be my own power source. I got the results of so within, so without – the deficit of my own personal power.
I got people who brought to life my terrible fears of 'I am unsafe', 'I can't look after myself' and, 'I can't generate my life', and the more I clung to these people and tried to force them to be, the more they ripped apart my soul and life forcing me to heal this. And I needed to if I was going to live.
I really hope for those of you who have felt like me – that emptiness, fear and lack of self-belief within – that you can understand how vital it is for us to repair this. And I promise you if I could from where I came from, then you can too.
So here is the first step of why narcissists don't trigger me anymore – because I have no requirement from any narcissist or any person to provide me with anything. Therefore, if someone is to 'let me down' I'm still whole, and I can speak up about it, and if they don't meet me at a higher level of integrity and authenticity then I just move on. No reliance or dependency enmeshes me with people now.
Ok, the next thing is this: I don't fear narcissists; meeting them, bumping into them or having them show up anywhere. I worked very, very hard on my beliefs regarding 'evil'. This was huge for me as I know it has been for many Thrivers – the understanding of so within, so without – meaning whatever we choose to have as our inner beliefs are the unfolding of our lives in our experience to the letter because after all, we are Quantum Creators.
I realised if I believe in evil, focus on it and give it life that is what I will experience. And before and even during recovery from narcissists, initially, I was shocked to see how many people around me had 'issues'. The issues that so many people have – inner wounds; many unresolved ones.
I remember asking one of my angels, my son Zac, 'Who can I trust? So many people have wounds that make them unsafe', and with that inherent wisdom that our children have, he replied: 'Mum everyone has stuff. We all have issues. You do too, so what are you going to do? Are you going to push everyone out of your life or are you going to love people?'
I got it. I got that we are all in this together, and it didn't matter what other people are or aren't doing, it mattered who I was being and how I could be in life. We are all living in a planet presently being liberated out of the darkness and painful illusions, into consciousness and personal power, and if I am going to judge others, look around me and start labeling everyone as 'narcissistic' is that going to add to this healthier consciousness?
No, of course it isn't! What would be more helpful is to realise we are all wounded to various degrees and no-one is perfect. And if I work on my wounds and keep showing up honestly, then I will allow people to also be real and grow on this incredible journey that we can share together.
Or they will unravel as False Selves do under the bright light of authenticity – and their narcissism will appear – which to me by definition is: a person steeped in unconsciousness, not taking personal responsibility that they are the generative source of their own experience, and refusing to go inwards to meet and heal their wounds in order to become a healthier self.
And of course these are people I don't want to play life with. In the process of letting them go, I can still bless them wherever they are on their journey. That is an act of love within itself.
Why do I need to hate and resent anyone? Wouldn't that simply be flooding me with toxic painful chemicals? Wouldn't that just keep drawing to me the experiences that keep showing me how effectively I am creating my own reality? You bet it does:  Whatever I haven't blessed and accepted – whatever I resist – will persist in my experience until I make peace with it and choose differently.
So this is the thing: when we heal enough and make that healing our most total epic mission, then we stop judging people. We know hurt people hurt people, and the levels of trauma on this planet have been horrific.
This is my total suggestion to stop hating narcissists coming into your life. Stop hating them. And to take it a step further this is what I did and do: I don't judge narcissists and I don't ever look out for them or try to avoid them. All I need to do is focus on being myself, and if something feels off, or wrong or needs clarifying then I can show up, question, assert myself, lay boundaries and walk away.
It all goes back to this point – I am no longer a woman in a desert dying of thirst seeing a shiny false oasis and diving straight in. Those days are gone. And once we are honest with ourselves and others, are willing to have the difficult conversations and make sure we take our time to get to know people, and do our due diligence before signing up our souls, bodies homes, money or a business deal, narcissists are not going to go through that 'getting to know you at a healthy rate' process with us.
They are instant gratification junkies; they need the hit, they need the payoff quickly. And if we are desperately empty with our own internal self-worth, self-love, self-soothing and self-solidness bars then we are as equally frantic and needy. When narcissists expend energy, that they cannot generate or maintain for themselves, they need a payoff return very quickly. They don't continue with people in their solid self-integrity.
Thank goodness I realised that I never again had to focus on the other 7.4 billion people who live on this planet, trying to monitor them, work them out or attempt to control what they do! All I had to do was develop and be myself – controlling and working with the only entity that I ever had any power to – me of course!
I hope that really puts it into perspective for you.
The other thing is, that I have spoken about in a little video on Instagram before: I purged the pain and trauma out of my being with Quanta Freedom Healing. I spent months on my couch releasing the wounds, one a time, and of course, when I did this, I discovered that so many of my internal wounds were not even about him, he was simply replaying these wounds and bringing them up into my consciousness for me so that I could heal them. (That was the incredible gift of this A.I.D. – Angel In Disguise posing as an abuser.)
And through him being the messenger of my wounds, bringing them into my full consciousness, I was able to reach deeply inside find and release tons of past life trauma, epigenetic family trauma, trauma from the collective human experience, as well as childhood trauma, in order to be finally free of it.
I'd never had a recollection of being free before. As a child, I was totally the kid that hung onto my Mum's skirts and was terrified of the boogie man at night. I even used to be terrified as a child of dying in my sleep and I didn't want to sleep. I know many of you can relate to always being fearful of people and life and even this planet!
People say young children are born clean and fresh. No, we can be born with a ton of trauma on-board in our DNA's even before we get going – and that is the trauma we have accumulated lifetime to lifetime, and it will have its way with us until we clear it.
The great thing is when we do clear it, the benefit is not just for ourselves, it assists the entire consciousness of humanity – its helps clear it for everyone.
So … today, all I have inside me is this feeling of liberation regarding narcissistic abuse. The abuse itself feels like it happened to another person in another time and there is no emotional charge on it whatsoever.
It is so interesting that whenever I tell someone parts of my story, they usually say 'Are you okay to talk about this? Is this taking you back there?' and I forget of course that they would think that, after all that is the human normal experience we were taught – that when we have been traumatised that we need to continue living on with that trauma still inside us, and just learn to live with it.
I forget that my normal is not everyone's normal – that we do have Quantum Tools, and that we can now live completely free of the effects of even the most horrific trauma, and evolve ourselves into incredible new and higher ways of living.
So, I hope that this explains and has inspired you and given you hope that you too can get to where I am – no longer triggered by narcissists.
And please know I am not Robinson Crusoe, there is no way I am a sole traveler on this journey – there are thousands of Thrivers like me, in this community, who are living exactly what I am – no more fear regarding narcissists, not caring that they exist and simply forging their own higher vibrational lives, free to be themselves, regardless of who and what is or isn't out there.
So … I hope you enjoyed this video and if you'd like to start Thriving in your true abuse-free life, to really bring home what I talked about today, at a cellular Quantum Level, you can sign up to my free 16-day recovery course; it includes an invitation to a profound healing workshop with me where you'll experience a big inner shift, a set of eBooks and lots more.
And if you want to see more videos make sure you subscribe to my YouTube channel so you're notified when each new video is released.
So until next time … keep smiling, keep healing and keep Thriving because there's nothing else to do
The following two tabs change content below.

Melanie Tonia Evans
is an international narcissistic abuse recovery expert. She is an author, radio host, and founder of Quanta Freedom Healing and The Narcissistic Abuse Recovery Program. Melanie's healing and teaching methods have liberated thousands of people from the effects of narcissistic abuse world-wide.

Latest posts by Melanie Tonia Evans (see all)