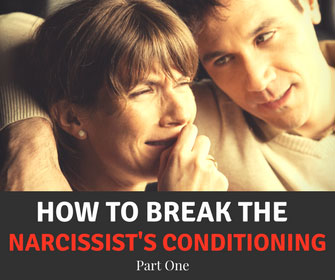 If you've been through a relationship with a narcissist or toxic person there's no doubt you have had the experience of becoming someone you don't know anymore.
After spending months, years or even decades with your rights, feelings, and thoughts being suppressed, you have no choice but to submerge your identity, dreams, and goals and become whatever you need to be in order to survive.
Which is usually a severely diminished person who has shut off their own life-force.
And … even after getting out of the narcissistic relationship, as a result of finally leaving or because you have eventually been discarded for good, you are likely to still feel like you are stuck in a cage of painful feelings and fears.
Even if the door is open, you may feel too terrified to leave this cage, and the reason is: you don't know how to live again.
The intense trauma, brainwashing, and conditioning you received from narcissistic abuse caused this …
Losing your voice, giving up on your dreams, believing you were defective, being terrified that every time you tried to assert yourself that there was a price to pay, and no longer knowing how to make your life work, because of handing your power away in an attempt to get this person to stop abusing you.
The narcissist's conditioning is a serious issue and it's common, and there is a definite recovery process that we need to make in order to recover from it.
Many people believe that there is no coming back from the abuse that a narcissist has implanted into our being and our brains, but I can assure you that there is, and that is what this Thriver TV topic is all about.
In this first part of a two parts series, we will look at the 5 major trauma programs that our Inner Identity takes on as a result of narcissistic abuse, and once we have this groundwork in place you will understand exactly how the narcissist has managed to affect your mind, heart and soul so severely and why it's been so difficult to pick yourself up and move on with your life.
Episode Transcript
Narcissistic abuse is insidious and seeps through into our inner being. Bruises and cuts and physical abuse may be easy for all to see, but, as many of us believe, the results of emotional and mental abuse are just as deadly and require attention and healing if we are to be able to move forward effectively.
This is what happens to people who have been living with substantial narcissistic abuse …
They can't speak up for their rights.
Their opinions and dreams are squashed.
They dim their light
They are not allowed to be their True Self, because their life is all about serving someone else's False Self.
How does a person come back from that?
How can you heal and reprogram yourself past these shackles?
Please know the information that I am sharing today is not about how to survive a narcissist and get well with them in your life. It is about detaching and taking your life back.
Being separated from the narcissist and going No Contact is absolutely the best way to go, and emotional detachment and regaining your self and power can also happen if you are still involved in a narcissist with parallel parenting, or at work or through family connections etc.
In this two-part Thriver TV episodes, I am going to show you how and what it means to break free from being hamstrung, repressed, diminished and even disintegrated and the ways to do it – even if this is all you have know your entire life … or, if you believe in past lives, even many lifetimes.
Maybe you have never known the experience of being your free, powerful self. Maybe you have always been conditioned to be repressed, small and not take up too much space. If you have been living around narcissists, this is 100% true, because life in the narcissist's environment has to be all about the narcissist.
The conditioning from a narcissist is insidious, it is powerful. The brainwashing and trauma are so impactful that our inner beings are changed. Many people believe this: the damage is permanent to our brains and nervous systems, and I'm here to tell you that it doesn't have to be, and I take a stand with you and for you for that. That we absolutely do have the power to heal this, but we need to be very clear about what has happened and what is necessary to break free from the narcissist's conditioning.
I want to go through with you one at a time some of the biggest programming damage that we receive from narcissists that is detrimental to our True Selves, and then one at time we are going to go through exactly how to break free from that programming.
Number 1: We are not heard
 Your life, values, dreams and day to day experiences are totally irrelevant to him or her. To a narcissist, even any thoughts and feelings which are not theirs, are totally null and void. If trying to share any of yourself with a narcissist, he or she will be disinterested, tune out, invalidate you and constantly bring the conversation back to themselves.
This causes you to shrink, and to give up. If we are not being heard and have to fight for airspace, then the degree of difficulty is barely worth it. Instead, we learn to contract, bottle up and internalise our feelings as well as the beliefs 'I am not interesting, worth listening to or valued enough by others to be important.' So what we start to find is that even in environments where the narcissist isn't, we lack confidence, we don't like to assert our ideas or opinions, and we often feel dismissed, passed over and left out when spending time with others.
Number 2: Our dreams are squashed
We learn, from narcissists that because we are unimportant, so are our dreams. According to the narcissist they are either far-fetched, unimportant or selfish. You are told how wrong it is and all the reasons why you can't do them, shouldn't do them or are a terrible person for doing them. You feel like an animal that every time you try to get up is whipped and pushed back down.
If we do try to have our dreams, the punishment and abuse escalates and causes so much trauma that we may succumb to dimming down. We learn not to have dreams and aspirations and that anything we do want depends on the narcissist being the source of it for us – which of course they healthily aren't. Any such dream is fraught with trauma and comes at a hefty price. The narcissist makes sure that the payment comes out of our very soul.
Number 3: We believe we are defective
As we lose more and more of our opinions, feelings, thoughts and dreams we become more and more empty, anxious and traumatised (because this is not the natural True Self state our soul intended to live) and in addition the narcissist is projecting their inner wounds onto us by naming all the ways they perceive we are not serving their False Self adequately.
We are damned if we do and damned if we don't. There is no way to make a narcissist happy and keep them happy because the insatiable False Self will always find fault and demand more. If you are told that you are this or that, or not enough of this or that constantly, we start to absorb these insults and believe them. We take on that we are wrong, sick, crazy, defective and even bad or narcissistic. This impacts every area of our life.
Because of the shame, confusion and pain we are feeling on the inside we may start dropping away from human interaction and become isolated recluses.
Number 4: The proverbial rug is always pulled out from under you
One of the covert ways that a narcissist punishes you for wanting your own life, ideals or dreams is to promise you what you want, dangle the carrot for maximum payoff back to themselves, and then punish you by not delivering. The justification is elaborate 'excuses' including saying that it was something bad that you did that made the narcissist change their mind. Just like a dog who leaves their cage and gets belted to go back into it – you learn that you may minimise some cruel and malicious treatment if you don't want your own life.
Number 5: We assign the narcissist as the giver of our Lifeforce
Emotionally we are a hostage. We are not allowed to have our own thoughts, feelings, goals, values, ideas or dreams. Everything we feel, think or want has to be aligned with the narcissist, otherwise pain and punishment are attached to it. Rather than being in our own bodies in heart-centered living navigating life from a place of self-wholeness, our entire existence is now focused on what the narcissist is or isn't doing and what he or she is thinking.
We try to get the crumbs of love and connection that we crave in the good times and then try to survive the onslaughts when the narcissist lashes out in the bad times. This is literally akin to Stockholm syndrome, the phenomenon of people having strong trauma bonding with their captors that they feel powerless to overcome.
This gets set up by the horror of terrible de-humanising treatment, and then when the captor hands out food, water or human basic comforts and 'you can live today' this creates such a high of relief, it can even feel like love.  Without knowing it we may have unconsciously created the narcissist as our God. Tragically this means all of our power has been handed away and we may even feel powerless to live without the narcissist. We may become literally, in our life moving forward, incapable of making decisions or taking actions for ourselves.
So you can see by these 5 examples that this is powerfully impacting brainwashing, trauma conditioning and learned powerlessness that we take on. What is necessary to get the narcissist out of our being and our head and move forward healthily with our life is to unpick this, unpack it and learn how we can overcome this programming and conditioning.
And we can, because I promise you the power to heal and overcome is within you when you know how to harness and unleash that power.
You will know by now that I am such a fan of the Quantum Work – meaning doing the work within our inner beings to release and reprogram our traumas so that we can break through into new ways of being and life trajectories that we simply couldn't, if we didn't access and heal ourselves at this level.
The truth of our lives, according to neuron-scientists, is that 90-95% of our lives by age 30 is running on autopilot from our subconscious programs. Of course, our subconscious programs by the time we have experienced narcissists are severely traumatised, and if we don't heal them, oftentimes we simply keep repeating our past, no matter what new ways we try to 'think' ourselves into.
What is necessary to get a change in our life is to get a real somatic shift in our emotional body, inside us, on that topic. This is the way we move forward as a different person and that is exactly what the inner Quantum tools allow us to achieve. When we use these we are seeking to heal the trauma at its core, to create an unprecedented breakthrough in our life – the becoming of our True Selves and living as a source of our True Power – even if we have no idea what this is to live like this yet.
And this is so much more effective than trying to have strategies to try to negate and manage your trauma, which is not what this video and my work is about. If you have significant trauma – which narcissistic abuse absolutely is – trying to battle that constantly feels like swimming upstream with a brick on your head. Those are the old paradigms of healing and why would we be interested in those when there is a so much elegant, succinct and effective way to heal?
Which is: change your beliefs directly within your inner being, because as soon as you have a shift in belief, immediately how you feel and think shifts. How you respond changes. What you choose changes. Everything changes. Then people and situations who represent your old Inner Identity simply are not in your reality anymore – so within so without.
Your entire life trajectory, landscape and all the characters within it change. That is the total key, and we only achieve this when we have a visceral shift inside us in our emotional self.
So … in a few day's time, in Part 2, we are going to do a profound investigative journey together, digging out the exact traumas that are responsible for us staying stuck in the narcissist's conditioning so that we can take our power back and become the generative source of our own True Life.
Does that sound like something you would like to join me for?
Pause this video and scroll down and comment and let me know what you would like to work on – so that I can prepare this for you.
Truly, I can't wait to share this with you, because my greatest life commitment is to help you get well. So, if you relate to this episode today and even if you are already highly committed to your inner work this is really going to give you a healing super boost.
No matter where you are at it, even if you have never done this work before, it is going to help you a lot.
I hope you enjoyed this video and to make super boosts in your healing and True Self reality your life skill, you can sign up to my free 16 day recovery course, it includes an invitation to a healing workshop with me, a set of eBooks and lots more. 
So until next time… keep smiling, keep healing and keep thriving because there's nothing else to do
(Visited 10,460 times, 1 visits today)
The following two tabs change content below.

Melanie Tonia Evans
is an international narcissistic abuse recovery expert. She is an author, radio host, and founder of Quanta Freedom Healing and The Narcissistic Abuse Recovery Program. Melanie's healing and teaching methods have liberated thousands of people from the effects of narcissistic abuse world-wide.

Latest posts by Melanie Tonia Evans (see all)