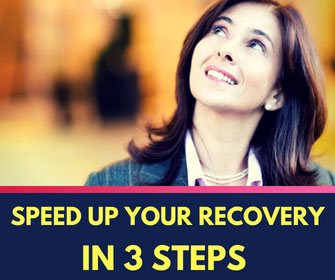 I believe, sadly, that much of what we are told about how to heal doesn't help us.
Previously, in my own journey with healing from narcissistic abuse, when I thought I had found 'the way' and did what other people advised me to do, I experienced coming up empty over and over again.
The things I was doing sometimes brought some temporary relief, yet the horrible trauma of feeling like the narcissist was crawling under my skin as well as the haunting obsessions and fear of surviving the trauma and creating a new future, kept coming at me relentlessly – and just didn't stop.
I know so many of you, like I have felt, feel like you are failing.
Why can't you just push through and get on with rebuilding your life?
And … so many people in your life may be losing patience with you, because they don't understand why you aren't get better.
I hear from so many of you, all the time, that you feel helpless, powerless and have so much despair regarding how you're not healing from this – even sometimes after years and decades of being separated from the narcissist.
Which is why in today's Thriver TV episode I want to talk to you about what I believe are the 3 most powerful steps to speed up your recovery from narcissistic abuse.
These steps are not what most people tell us to do … because they seem totally counterintuitive!
When I started applying these steps I was finally able to get well and evolve beyond narcissistic abuse in incredibly confident, whole, empowered and healthy ways … and I can't wait to share this knowledge with you!
Episode Transcript
I really do believe that there is so much miscomprehension out there, about how to heal from narcissistic abuse, and often exactly the things that we are told to believe and do are precisely the things that keep us stuck in the state of not healing.
I discovered, as a result of the Thriver Way to heal, that the three things that are vital to healing are the most counterintuitive things – the things that we initially believed were not what would help us get better –  yet profoundly do.
In today's Thriver episode I'm going to share with you these three things that you think won't help you – yet are vital to grant you any hope of healing at all, and in fact, accelerate the success of your healing journey beyond description if you commit to them.
So, let's gets started.
Number 1: Don't try to push on past the pain
Law of Attraction principles are all about training ourselves to stop thinking negative thoughts so that we can start anchoring in more positive ways of thinking. I know that once upon a time I totally thought that this was key myself – that it's a correct human quest to 'not think about it' and 'just get on with it' and that our negative emotions were something to be avoided at all costs. And after all, it was shameful to have negative emotions.
Somehow it made us defective, unpalatable and unacceptable. How could we even begin to accept our negative emotions when we have had the experience that other people can't either?
Yet, we all suffered the realisation (because of narcissistic abuse) that our painful emotions couldn't just be buried and pushed through. This was different. This time there was no more just 'getting on with it' and for most of us, clearly the strategy of just 'get up and get on with it' no longer worked.
Myself and so many others were faced with what Dr. Joe Dispenza calls a time of 'personal catharsis' – when we simply cannot emotionally go on with life as normal. This happens when we are taken down to our knees.
I love what my dear friend Simone Waddell said to me over lunch last week, 'Knowledge is not the answer.' She discussed with me that we all know what we should be doing and logically we know what right action is and even what we may need to feel better! Yet narcissistic abuse is a spiritual malady. This is not something you can just 'push through,' it is something that needs to be cellularly addressed and 'healed through,' because it is our entire spirit that has been affected.
The truth is contemporarily most people don't recover from narcissistic abuse, at best they try to manage and live with their ongoing trauma, and the reasons are because they believe they should just be able to push past the pain or find a way to shut it up.
They stay firm in this thinking that to go toward the pain is the wrong thing to do, believing it will mire them in it, make them worse and render them as a victim. Yet the experience is that the pain and the obsession do not decrease. And often the feelings of the narcissist crawling under your skin like a terrible psychic disease doesn't stop either.
People will tell you to get over it and get on with your life, because that is what they were taught to do so, and unless they had been narcissistically abused themselves they could not possibly understand how virtually impossible that is to do. As Bessel Van Der Kolk states in his book, The Body Keeps The Score: 'the more intense the visceral, sensory input from the emotional brain, the less capacity the rational brain has to put a damper on it.'
And until we realise that to resolve our trauma – if we don't go within we go without – we feel like a failure. Our helplessness and the anxiety and depression we suffer worsens as we can't improve our feelings or our life no matter how hard we try to think our way out of it. We feel exhausted, and like we are fighting a losing battle. This is where many people give up because it is too hard to push through unspeakable inner trauma, which like all trauma is just not going away.
What neurological and quantum scientists are now discovering and teaching, is that very few people can resolve emotional trauma with logic. And that trauma has a life of its own until it's met and healed.
I am so happy to say that for myself and others who did turn inwards to love and heal ourselves back to wholeness, not only did we free ourselves of the terrible unliveable holocaust of narcissistic abuse trauma, we also evolved the fears and insecurities that we had unconsciously been living with all our life as our 'normal'.
Fully meeting our wounds with Quantum Tools with the loving devotion of a mother tending to her young, allowed us to fully self-partner and trust, love and accept ourselves. It granted us the experience of 'coming home' to full inner peace and fullness.
It granted us the ability to finally understand the Quantum truth of 'so within so without' – that love must happen between self and self-first, and that no one is going to be there for us unconditionally until we turn inwards to fully be with ourselves wounds and all – discovering that these are not the times to treat ourselves with self-avoidance, abandonment and rejection, but with love instead.
Narcissistic abuse forces us to learn this soul lesson and to embody it and rise as phoenixes from the ashes as a result of it. I'm passionate about this.
I want that emancipation and true soul freedom for everyone.
Number 2:  Stop trying to combat the narcissist to feel better
We are taught to turn towards the source of the issues and try to make that person or people change or stop what they are doing. In our normal life, before the huge Quantum spiritual lessons of narcissistic abuse that requires us to understand deeper consciousness to get free and get well, to some extent confronting people and things may have worked for us.
People with a conscience can be sorry and apologetic, and their natural inclination is not to hurt people. Narcissists are like our children and difficult people in our life. The more we push against something they do, the more they push back and up the ante.
These people are all nemeses, people who bring us pain. The dictionary describes a nemesis as 'the inescapable agent of someone's or something's downfall.' Yet this is how I now look at these people – as breaking down our previous way of being to enable us to have an incredible inner breakthrough. There is no greater impetus to go for light than when we descend into darkness, and there is no greater reason to seek a Higher Power than when we are rendered completely powerless.
When we butt heads with a narcissist, we end up powerless. You can't make crazy act sane. You can't make someone cooperate when harmony and cooperation was never their goal. You will never get resolution with someone who gets a feed out of what they can mine from you and how significantly they can hook you and hurt you.
We get the urges to go in, again and again, to try to get decency, understanding, remorse, accountability, compassion, atonement, love, sentimentality or whatever it is we feel we need from this person. Yet you don't receive this at all, instead they are circling you and emotionally slicing you to pieces.
As the resolution you require slips further and further away, and matters get worse and crueller and more devastating, the panic usually intensifies causing you to go back in harder, even though the evidence is clear that this isn't working. It is our emotional drivers keeping us doing this, and unless we get control of them, they can take us all the way to our demise.
It is the most counterintuitive thing to do to let go, detach and no longer combat something or someone that is significantly hurting us. Yet with toxic people, and even those we can't affect and change, there truly is nothing else to do.
There are two Quantum laws about this that are deep, cellular, inner organic wisdom that is innate when we start clearing the traumas within separating us from these truths. And please know this applies to really unhealthy people such as narcissists as well as people we are battling with, which can include people like our children – people who are not pathological and who we dearly care about, yet are not seeing eye to eye with.
The first is: if we are triggered into deep fears and wounds, and we try to change something or someone without to feel healthier within, then we will always come up empty. From a place of inner woundedness, we don't inspire people to stand up, because we are not leading the way. We also don't have the inner resources to feel sound and whole regardless if people don't step up, as a true source to ourselves. We are not able to let go and generate our healthy full life without them, because we have handed our power away. We have made our life conditional on what this person is or isn't doing. There is no time where this is the most brutally unsafe when we play this out with narcissists, just as there is no more devastating time when we see our children going down paths we don't want them to go down when we feel powerless to stop them.
Quantum truth 'so within so without' is the psychology equivalent of co-dependency – meaning the more you try to control another to feel in control, the more you will be controlled by them and feel out of control.
Something is for sure, this state of self-deterioration is serious, and it can even be deadly. If we want to get well, we need to find another way.
The way out of this is totally counterintuitive. It is to detach from that person and situation and let go and turn inwards to partner with the triggered painful emotions inside you instead. This goes against everything we believe we should be doing, which previously was reacting to the outside and what is going on there. And the reason this feels totally counterintuitive is that we were not taught to turn inwards or how we can change our emotions independent of what is going on, on the outside.
When we do though, we can respond instead of reacting. We can lead by example. We can inspire people to meet us at a healthier level. We can lay clear boundaries. We can let go of people, and we can also allow people to make their own journeys that they need to even if we don't agree with them. This goes for narcissists and our children. How can we do this? Because we are already whole regardless of what other people are or aren't doing. We are having a relationship directly with our inner being and all of life.
No longer are we handing power away.
This is always our greatest mission in all of life – to master ourselves, not other people – because we have no power to nor do we have any right to master them. And then we discover something completely incredible. The people who do have the resources to be healthy, amend their behaviour and join us, inspired by our solid empowered self, and the people who don't have the resources to be healthy – such as narcissists – leave our experience.
So within so without – when you attend to 'emotion first' you discover the golden grail of life that is an absolute Quantum Law – my outer experience follows my inner experience always.
No, let's look at our last one …
Number 3: Stop identifying yourself as a victim
This may seem at first glance as totally counterintuitive to number 1, but it truly isn't. In number 1 we were self-partnering with our wounds lovingly to heal them. If we are viewing ourselves as a victim – which is what we have been told by so many to do – we are cementing within ourselves that we are damaged and helpless and that someone else did this to us.
I promise you I know how enticing this is and even though it is necessary in the beginning to recognise that you have been a victim of narcissistic abuse, staying in this stage indefinitely, especially in the case of the high-level trauma of narcissistic abuse, does not do us any favours.
In my latest Facebook live event, a lady asked this very powerful question: 'How do I resolve these feelings?' She was, of course, referring to the unspeakable betrayals and cruelties that narcissists do. My honest answer was that on a human level you can't resolve these feelings logically. How on earth can we when everything we know as humans cannot even comprehend how people think like this let alone unleash such unthinkable behaviour on people they profess to love?
I truly believe that the only way we can resolve narcissistic abuse is to look at a much higher spiritual picture about this. To look for the purpose and personal evolution in this. Interestingly when we do make it our mission to turn inwards and free ourselves from our inner traumas, what I am about to share with you becomes total inner knowing that feels like relief, freedom, and truth in our body.
It is this Quantum truth of so within, so without. This means that people and situations in our experience are reflecting back to us to show us how healed and integrated we are, or they are reflecting back to us that we are wounded and need to heal and integrate ourselves back to wholeness.
If we are determined to be a victim, we will see this as 'victim shaming' and I promise you I understand because I used to think this too. But it did not help me and there was no way for me to heal my inner wounds and emerge free of them if I was never going to acknowledge them.
When I started healing the Thriver Way with Quantum tools I discovered that Prema Chodren was right with her famous quote: 'Nothing ever leaves your experience until it has taught you what you needed to learn.'
The trauma of narcissistic abuse is exactly like that – it is like a terminator that just does not stop until we heal what we need to heal. What I discovered are the ways that the narcissist hurt me were all to do with fears and insecurities and unresolved resentments I had always had. It was to do with my fears of criticism, rejection, abandonment and punishment stopping me speaking up and laying boundaries. It was about me not knowing how to be a source of love, approval, security, and survival to myself and trying to assign other people as this source. It was about my own conditional love and perfectionism and never being 'good enough' for my own love.
And when I realised he was really the messenger of my wounds and a catalyst to make my unconscious conscious so that I could finally heal these wounds, the narcissist become irrelevant.
When I believed I was a victim of narcissistic abuse, and that this was senseless and not a higher soul healing opportunity, my inner identity was totally a victim – in constant despair, resentment, longing for the fantasy I believed he was (as my source) and torment … and it just did not let up. It was impossible to heal beyond this, evolve or set myself free.
However, in my shift to a higher consciousness, I was able to achieve all of these things as well as being so grateful that I was brought to my knees (as my soul had so perfectly planned) to finally be able to start living my life in my power and truth from the inside out.
This would never have come about if I hadn't been forced to self-partner and heal my wounds. Narcissistic abuse was exactly the catalyst to force me inwards to heal so that I could do that.
And that is the Thriver Way – recognise a bigger picture truth about all of this, and work with it at that level – because the truth truly does set us free.  I'll never forget what one of my community members said years ago, this: 'Thank goodness you have said there was a purpose to this. My therapist said to me this was just bad luck – it was a roll of the dice that could have happened to anyone. I didn't want to believe that because how could I heal something if there wasn't a purpose to it? How could I grow if it was random and senseless? How could I stop it ever happening again?'
I agree. Totally. We wouldn't be able to! In the Thriver Way to heal we can do all of that and more. We can emerge trauma-free from what happened to us, becoming even more confident, radiant, empowered and extended than we ever were even before this happened to us – as well as completely inoculated against narcissists in the future!
So, I hope you enjoyed this video and if you'd like to learn more about how to heal for real from toxic relationships and narcissistic abuse you can sign up to my free 16-day recovery course, it includes an invitation to a healing workshop with me, a set of eBooks and lots more. To access these, just click the link on the top right of this video.
So, until next time… keep smiling, keep healing and keep thriving because there's nothing else to do.
The following two tabs change content below.

Melanie Tonia Evans
is an international narcissistic abuse recovery expert. She is an author, radio host, and founder of Quanta Freedom Healing and The Narcissistic Abuse Recovery Program. Melanie's healing and teaching methods have liberated thousands of people from the effects of narcissistic abuse world-wide.

Latest posts by Melanie Tonia Evans (see all)