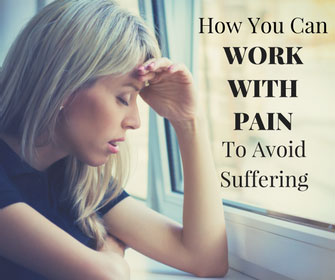 All of us know about suffering and pain.
There is so much of it in narcissistic relationships.
In fact it is synonymous with narcissistic abuse, and the aftershock of abuse.
I would really like you, though, to understand what pain and suffering really is.
Pain is inevitable; it is a part of life. Emotional pain occurs in our life when something occurs that is not to our liking. Pain happens when the 'what is' is not what 'we want it to be'.
In relation to narcissistic abuse, pain occurs when we are demeaned, when we are lied to, when the facts are twisted and turned, when we are constantly blamed, and when we simply cannot make the narcissist see what he or she is doing to us.
As we know the more we try to turn the 'what is occurring' into 'what we would like to occur' with the narcissist, the more and more pain we experience.
When this happens we enter the realm of suffering.
Suffering is Pain Amplified
The definition of suffering is to continue enduring pain. The reason we endure suffering is that we are trying to deal with the pain in the wrong way. Then the pain escalates, becomes accentuated and is extended for long periods of time, or indefinitely.
The truth of the matter is, pain is a signal. It is letting us know that something regarding what we think, how we feel, what we are doing, or what we are experiencing is not aligned with the truth of who we are.
It is like our internal GPS starts bleeping – and it is saying "You've taken a wrong turn, you need to stop and turn around and come back to your True Self path, don't continue down this one!"
An example of how this bleeping happens may be because you are hold false thoughts about yourself, such as "I'm no good," "I'm a failure", or "Who could ever love me – look at me?!" These thoughts are not aligned with our true selves, they are not how Source Energy sees us, and they are not what we want. Yet we can easily fall into the trap of thinking these thoughts, regardless of the fact we know that they are painful.
Of course we start thinking this because the narcissist is telling us this (or used to tell us this), and we have taken on the narcissist's opinion of ourselves, and our self-esteem is severely diminished.
So we think the thoughts…
And the pain is felt in our bodies.
And if we continue to think these thoughts they then become prolonged suffering.
The important thing to understand is that the pain is inevitable when we are in an environment where we are being demeaned and projected on to, and start taking on the insults and degradation.
However suffering is not inevitable, it is optional.
You see, if you can understand that the pain is the signal telling you you're off track then you can stop and make another turn, not towards suffering, but rather back towards who you really are.
It all gets down to belief systems and the alignment with where you want to go.
This means understanding that pain is a signal telling you there is a necessity to change your belief systems that are causing you pain…
And if you don't understand and act on the signal of pain, then you will suffer.
And the suffering is not going to let up on you, until you do amend the negative belief systems.
The suffering is a harder and more persistent signal…
It says "You're not getting it, you're not doing what you need to do!"
How To Avoid Suffering
Let's look at the example of telling yourself "I'm no good," "I'm a failure", or "Who could ever love me – look at me?!"
It hurts – it's presenting the signal, and the signal is that these are false belief systems. A false belief system is anything that is taking you away from your True Self function, and not toward it.
We know it's false because it hurts; anything that is not in alignment with your True Self causes pain.
So now that you have listened to your emotional body, and have felt the signal of pain
No–one else can do this for you – because they are not your belief system about yourself, and they are not your pain.
Therefore the true belief systems that will alleviate the pain are the following adjustments.
For example: "I'm no good," "I'm a failure", or "Who could ever love me – look at me?!" Is a painful false belief.
The appropriate turn on the path back to True Self is: "I know who I am, and no-one else's opinions has power over me. What is important is me believing, loving and respecting myself"
The letting go of the false belief and replacing it with the true belief (the one that sees us as source sees us), will stop the arrival at prolonged suffering, and will also transcend any pain.
It beings solutions, relief, empowerment and evolution.
We held a  false belief system way before the narcissist turned up in our life, hence why he or she was attracted into our life, and was able to identify and abuse a weakness within us. Now that you are aware of it, you have the ability to transcend the old false belief system to one that brings you joy and freedom.
And this applies to every aspect of 'pain' that you are feeling in this relationship.
That is if you keep it up…
That is If you keep using the signal of pain as a tool to identify when you are operating with a false belief that is not aligned with your true beliefs.
This is why you have pain, this is what its true purpose is…
This is how we grow…
I'll repeat again, pain is inevitable, suffering is optional.
…and empowerment is the ticket when you listen to the pain and embrace the changes it is signalling you to make.
That is why pain is so necessary…

The following two tabs change content below.

Melanie Tonia Evans
is an international narcissistic abuse recovery expert. She is an author, radio host, and founder of Quanta Freedom Healing and The Narcissistic Abuse Recovery Program. Melanie's healing and teaching methods have liberated thousands of people from the effects of narcissistic abuse world-wide.

Latest posts by Melanie Tonia Evans (see all)