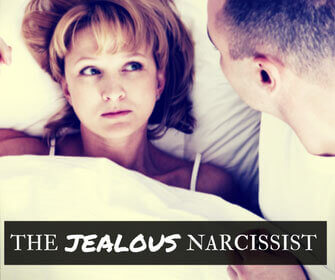 If you have ever experienced the pathological jealousy of a narcissist, you know it goes a long way beyond being merely insecure.
In today's Thriver TV episode, I explain to you the difference between the narcissist's levels of pathological jealousy and what we would term as "normal" levels of jealousy, and what the steps are to recognising it.
We also go through how narcissists play out pathological envy … and I'm going to explain to you how I released myself and healed from the pattern of jealous and controlling partners.
And, apart from recognizing what is or isn't okay behavior, healing ourselves (if we are stuck in this pattern) is vitally important. Because, if you are suffering from diminished boundaries and not knowing your worth and rights, jealousy can take on unthinkable levels – such as him or her having all sorts of license and restriction on your life, choices and movements …
Things like not allowing you to go out with friends, pursue your own interests, career or hobbies or spend time doing the things you would like to do.
Maybe the narcissist's paranoia is so great that the narcissist has made you grant them access to passwords to your electronic devices and has insisted you have a tracking app on your phone.
Why can't the narcissist be reassured that you are not going to cheat on him or her? And … why is jealousy at this level very dangerous for our health and maybe even our life?
If you have been suffering the terrible anxiety or not being trusted by a narcissist and having your every move scrutinised and interrogated, this Thriver TV episode is a very important one for you to watch.
Once I targeted and healed the traumas responsible for my lack of boundaries and limiting beliefs about controlling partners, I experienced incredible freedom.
It is my greatest wish that this video teaches them how to claim your personal freedom and rights, get your life back and know that healthy, supportive and trusting partners are available to you.
I look forward to reading your comments and questions below.
The following two tabs change content below.

Melanie Tonia Evans
is an international narcissistic abuse recovery expert. She is an author, radio host, and founder of Quanta Freedom Healing and The Narcissistic Abuse Recovery Program. Melanie's healing and teaching methods have liberated thousands of people from the effects of narcissistic abuse world-wide.

Latest posts by Melanie Tonia Evans (see all)