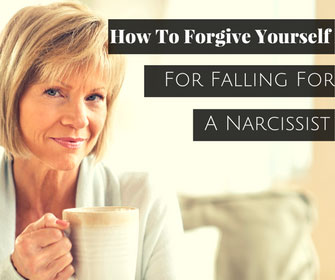 One of the hardest things about recovering from narcissistic abuse is that we have to reconcile with the fact that we put so much of our time, love and resources into someone who wasn't even real.
You may be carrying a lot of shame about the fact that your life is now in a far worse state, as a result of the relationship.
And worse yet, you may have lost total faith in yourself for making the decisions you did in the past.
I want you to understand this, right from the onset, often even more than having to forgive the narcissist – we have to forgive ourselves. And the irony is: unless we forgive ourselves we can't forgive and be released from any of this, and we can't forgive the process and what happened to us.
But how do we truly let go of the shame, forgive and restore trust in ourselves after everything we've been through?
How do we reconcile with the past so that we can move forward into the future confidently, enter into new healthy relationships, pursue new careers and passions, and ultimately live a life that brings us joy?
After spending years targeting and releasing toxic shame about falling for a narcissist, I believe there is a way to truly forgive ourselves – and that's what I'm going to share in today's Thriver TV episode.
I'm also going to be covering the deeper Quantum Truths about self-forgiveness, that you may not have previously heard, that can instantly grant you a shift once you embrace them.
I'm also very excited to announce that this is also the first episode in a new series called "Love After Abuse" where I will be covering all the most asked for topics in regard to creating healthy love after narcissistic abuse.
I hope with all my heart that this video grants you the tools to TRULY forgive yourself and be released from what they've been through.
Also … to help me choose what we are going to be covering in the Love After Abuse series, I'd like to know from you – what are your biggest hurdles in regard to creating healthy love after abuse?
Please let me know in the comments below.
The following two tabs change content below.

Melanie Tonia Evans
is an international narcissistic abuse recovery expert. She is an author, radio host, and founder of Quanta Freedom Healing and The Narcissistic Abuse Recovery Program. Melanie's healing and teaching methods have liberated thousands of people from the effects of narcissistic abuse world-wide.

Latest posts by Melanie Tonia Evans (see all)