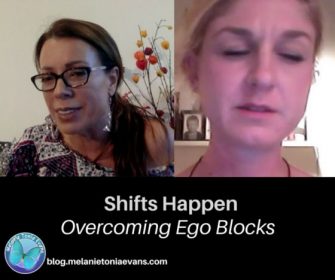 Our ego blocks can be incredibly formidable.
When we are constantly getting "the voices in our head" and the feelings that derail us from working on ourselves.
They can confuse our healing process, and even prevent it.
This was Mette's plight, and she had been trying everything she could to get past it.
I was only too happy to help her with this issue, because I knew it would not only provide a breakthrough for her, it would also unlock the solution for so many others suffering from the same problem.
If you have been struggling with ego blocks that have been preventing your healing, then this Shifts Happen episode is a really important one to watch and participate it!
If you have, deep down within your Inner Being, been suffering from the painful and terribly limiting beliefs (which also unknowingly can take us into and keep us stuck in terrible abusive relationships) …
Such as:
It's unsafe to be me,
It is wrong to be me,
I don't matter,
I don't deserve to exist,
No one is coming to help,
My feelings and thoughts are wrong, and
I AM wrong …
As well as struggling with the barriers your ego has been presenting …
Or suffering the continuation of the trauma of your ancestors …
You may receive profound up-levelled relief in this week's Thriver TV Shifts Happen episode.
I know this healing, if you have been struggling with feeling "blocked" will help so much!
Even if this has not been the case for you, yet at times (as we all do) you experience "resistance" in shifts … please watch …  because this healing provides INVALUABLE tips as to how to deal with it!
Personally my ego blocks were HUGE – and it wasn't until I applied Quanta Freedom Healing in this way, that I was able to bypass them, dissolve them and live my life free of them.
Which was LIFE-saving for me!!!
And I sooooo hope I can help you achieve the same!
Please note: I have another 3 Keys To Thriving After Narcissistic Abuse Webinar Group about to kick off (this weekend) – where you receive profound and deep training in self-partnering, Thriver Tools and Quanta Freedom Healing – ALL for free!
To sign up just click here and fill in your details.
And please know there is no need to have to participate in any of the Workshops or the Webinar live, as all Facebook Group work and the Webinar are accessible at a time when it is convenient for you.
Mette and I look forward to answering your questions and comments.
(Visited 6,258 times, 1 visits today)
The following two tabs change content below.

Melanie Tonia Evans
is an international narcissistic abuse recovery expert. She is an author, radio host, and founder of Quanta Freedom Healing and The Narcissistic Abuse Recovery Program. Melanie's healing and teaching methods have liberated thousands of people from the effects of narcissistic abuse world-wide.

Latest posts by Melanie Tonia Evans (see all)