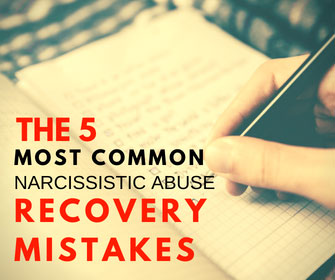 If you've struggled with your narcissistic abuse recovery, or been in a state where one step forward is followed by two steps back, I hope with all my heart that today's Thriver TV Episode will be incredibly helpful for you.
Why do I think it will?
Because today I go through with you the most common mistakes that people make when trying to heal from the terrible trauma of narcissistic abuse.
I can't wait to share this information with you (that is so obvious when you realise it) yet requires us to wake up from a trance to finally understand – True Recovery is NOT what we have been told it is!
Video Transcript
Recovery from narcissistic abuse is no easy walk in the park. In fact, it is the most gut wrenching, confronting and full on experience that I think any of us could ever go through. This is no less than the hero or heroine's soul journey.
Because of this, in today's Thriver TV episode, my greatest hope is to make it crystal clear for you – what not to do when trying to recover, so that you don't waste time going around in circles or cementing yourself deeper into the trauma, and so that you can have a clear and decisive path to shift up and out of this cataclysmic make or break situation in your life.
This is so vital, and I've seen the incredible difference in the ten plus years within this community, regarding what happens when people try to just get through narcissistic abuse in contemporary ways and the true healing that occurs by stark contrast if they apply Quantum inner healing solutions instead.
Okay, let's start with the number one thing of what not to do in recovery.
#1 Believing That Learning Everything About Narcissism Will Keep You Safe
Your cognitive mind has no ability to release the inner trauma that has hurt you and is continuing to generate your narcissistic abuse symptoms.
As Bessel Van Der Kolk, Author of The Body Keeps The Score states: 'The rational, analysing part of the brain, centred on the dorsolateral prefrontal cortex, has no direct connections with the emotional brain, where most imprints of trauma reside, but the medial prefrontal cortex, the centre of self-awareness does.' In short what this means is, if we didn't go within to meet our trauma, we go without. We miss our healing altogether.
I want you to imagine if someone shot you with a bullet. You are bleeding to death and your vital organs are shutting down. Would being left in a crumpled heap by everyone as they pursue the gunman save you? No! Would ignoring your wounds that are jeopardising your life and researching everything about the gunman's family history, psychology, pathologies, and motivations for doing what he did save you? No!
It is exactly the same as our inner trauma. Unless we stop obsessing about the person who hurt us and instead fully focus on our insides, the terrible trauma raging inside us will destroy us emotionally, mentally, physically and spiritually. Meeting these wounds is no less an urgency than a surgeon determinedly attending to a bullet destroying you.
Now, imagine your inner being which is deeply wounded, being like a child deeply hurt, abandoned, betrayed, aggrieved and traumatised. Do you think sitting down with this child not acknowledging his or her feelings and not helping heal them, and instead applying cold hard logic about the person who attacked him or her would help? Of course, it wouldn't.
In my humble opinion, I believe we have all been lied to. We were told that knowledge is power. In terms of emotional healing, this is a false and deadly premise. Yes, it is important to understand who narcissists are initially, but straight away as soon as possible, recovery necessitates aligning with this truth:  The only hope of recovery from severe trauma lies in the inner healing and emotional inner evolution beyond our wounds into an emancipated more integrated version of ourselves.
#2 Staying Stuck In Blame
Blame is one of the most counterproductive emotions we can ever have in regard to healing. It is the notion that someone is right and someone is wrong. The biggest issue with blame is that – as adults – when we hold other people responsible for how they treated us and what they did to us, we again regress to our childlike states of being powerless and assigning caretakers to provide us with love, approval, survival, and security.
And please understand I totally get why we may think that this is the way to go and even healthy – because it means no longer are we taking on the blame that abusers pushed onto us.
Yet, it isn't until we 'go Quantum' that we realise the truth of the energetic indisputable law – so within, so without – namely if we are trying to source our wholeness, safety, love and security through others, and holding them responsible when they didn't provide it for us, it means that we aren't as yet a generative source of these things to ourselves. And until we let go of this and the blame, we can't get there.
I adore what my good friend and colleague Katherine Woodward-Thomas says: 'We are only upset with others not providing us with something, to the extent that we are not providing that for ourselves.'
I used to take umbrage at this, I used to absolutely be the perpetual victim blaming the ex-narcissist for my shattered life. Whilst I was in this deeply victimised state I wasn't taking responsibility for my own healing, evolution and the reasons why I handed power away (i.e. the fractures from my earlier life that I was replaying and hadn't healed beyond), and why I was fully holding another person responsible for 'myself' who was never going to comply and be responsible for my wellbeing.
Then, of course, was the necessity to shift out of not only blaming him, which was fruitless, but also to move beyond blaming myself for all the time, love, money, devotion, and commitment I had thrown in, whilst my life was being torn to shreds and going down the drain.
Fortunately, I was able to realise that everything without exception is the result of our inner showing up as our outer traumas showing us that there is a pattern, a susceptibility, an unhealed part playing out, not allowing us to stand firm in the security of ourselves or the choices that are going to create a safe, solid, life for ourselves.
And, the ultimate gift is recognising that inner traumas create dysfunction, they create more pain, until we go inwards to claim, hold them and heal them. When we finally do, we discover we are set free from the painful choices, circumstances and people who we have found ourselves enmeshed with.
I have never seen anyone, in the ten plus years I have been in the trenches with narcissistic abuse recovery, stay invested in blame and get well. In fact, the exact opposite happens. As the years go by their life, emotions and health just get worse. This is why I urge you to shift yourself beyond blame.
#3 Distracting Yourself From the Pain
Unmet unhealed inner trauma does not go away. Our shadows are powerful and they carry this message 'You are not meant to be living with wounds and these wounds will present (one way or another) to show you what is going on in the inner you, so that you can go towards these wounds, hold them, release them and live free of them in order to become Who You Really Are.'
I am not a Law Of Attraction fan (in its classic sense) because it is all about just turn away from bad feelings to creating vision boards, good feelings, and then different circumstances. Absolutely having a great attitude to life is essential, yet when we have suffered extreme trauma which narcissistic abuse absolutely is, there is no more ignoring our traumatised emotions anymore. There is no amount of 'getting on with it' that can take away the terrible feelings of anxiety, depression, powerlessness, fear, and severe abuse symptoms such as CPTSD, agoraphobia, adrenal malfunction and the like.
This is the make or break deal where finally we come face to face with no longer self-avoiding, self-abandoning and picking up distractions, addictions, self-medications of strategies to numb out or avoid ourselves.
This gets back to being present with our inner being. If we don't go towards ourselves to love and heal ourselves back to wholeness how can we except anyone else to unconditionally love us? If we ignore our inner screams why would we ever believe life and others would support us either? Would we ignore a roof leaking or a motor engine grinding and just try to distract ourselves from it and think it is all going to just 'go away'?
No! Of course, we wouldn't. Our emotional wounding and trauma are no different to a physical wound that is festering and has not been attended to. If gets bigger, more powerful and does push-ups in the background looking for a gap to express itself.
Why do we think we have yet another narcissist come into out life? Why is it that we have terrible self-sabotage moments that are incredibly disappointing and painful? Why do we think we have broken free from a painful pattern in our life simply to find ourselves smack bang back in it again? It is because we have unattended to trauma inside us. It means that our inner identity doesn't have the subconscious programmed ability to be on any different trajectory than the ones we have painfully suffered previously.
It is only the inner work that changes this.
#4 Trying to Replace the Lost Love With Another
Of course, when you have lost a narcissistic love partner, it can be really common to want to replace this person with another lover as soon as possible to stop the pain. You may wish to get back at the narcissist for moving on so quickly – or maybe you want to get in first before this happens.
I can't tell you how vital it is for you to self-partner, love and heal you. There are many risks to your mental, emotional, spiritual and even physical health and your recovery if you don't. Many people try to replace the narcissist and then find that other potential partners come up short, which makes them pine for the narcissist even more.
You could also make some very rash decisions emotionally and sexually that damage your already fragile psyche at this time. Generally, when we are full of trauma and pain, the people who we gravitate to and attract are much of the same. You may find yourself out of the pot and into the frying pan, experiencing an even worse narcissistic experience than the one before.
One thing is for certain, when you are vulnerable you are like an injured gazelle at the edge of a pack. Narcissists know how to target, hook into and ensnare people in emotional distress.
I believe that the all-powerful lesson of narcissistic abuse is teaching us to understand that our true power is on the inside. If we don't align with the truth that people will only love, connect to and treat us in accordance to the relationship we are having with ourselves, and that we will only accept relationships at the level of love and respect and authenticity that we have with ourselves, we don't realise there is one vital relationship that we need to heal integrate and get right – namely the essential one with ourselves, and then all others can flow.
#5 Keeping Tabs On the Narcissist
This is one of the most destructive things that we can do in our recovery – convince ourselves that we need to keep one step ahead and find out all we can about the narcissist and what he or she is up to. I have also known people over the years (and I have been guilty of it myself) getting things like psychic readings trying to work out whether this person still loves you, cares about you or wants to be with you. Questions like: Is he or she missing me?
This obsessive focus keeps us stuck, paralysed and spending copious amounts of time denying ourselves our own healing and the up-levelled development of our childhood wounds.
When we track these traumas of 'having to keep connected to the narcissist' back inside us, it generally come down to these wounds – I feel unlovable and abandoned and I'm not good enough to be loved.
If we don't believe we are lovable as ourselves, we will constantly seek validation of our worth through another. This can keep people connected, checking up on and wondering 'will he or she ever wake up, and return to me and love me?' for a lifetime.
Truly – as I hope you can clearly understand now, our only remedy is to do the inner work and heal and grow these parts of ourselves up, so that we can feel whole and loveable as we are. Then we can authentically become everything to ourselves that we wished this person could be – loving, supportive, accepting and adoring. Then we start to enter trajectories of life where the people who have the resources to be more of the same start coming into focus, and we start to gravitate towards one another.
Okay, so the complete opposite of these 5 most painful abuse recovery mistakes is exactly what you can connect to with Thriver Recovery – which is the direct path to creating unprecedented true healing and breakthrough that gets you up and out of the pain, hooks and addiction to narcissists and into your True Self and Life quickly and powerfully.
Click here to get instant access to all of my most powerful resources.
And if you want to see more videos, make sure you like and subscribe so you get notified as soon as each new video is released.
So until next time … keep smiling, keep healing and keep thriving because there's nothing else to do
The following two tabs change content below.

Melanie Tonia Evans
is an international narcissistic abuse recovery expert. She is an author, radio host, and founder of Quanta Freedom Healing and The Narcissistic Abuse Recovery Program. Melanie's healing and teaching methods have liberated thousands of people from the effects of narcissistic abuse world-wide.

Latest posts by Melanie Tonia Evans (see all)