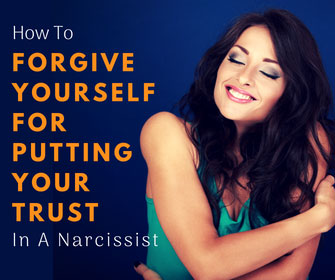 Do you know what I think is the hardest thing about trying to forgive ourselves after a narcissistic relationship?
It's this – We knew…
Behind the rose-colored glasses, somewhere deep down our gut was churning.
We heard the alarm bells, yet for some reason, we proceeded and kept reconnecting anyway.
Why on EARTH did we keep trying?
And how do we come to terms with putting our trust in someone that wreaked havoc on us and possibly many of those close to us?
I personally believe this is one of the hardest (if not the hardest) thing to get past in order to achieve a true recovery from narcissistic abuse …
Forgiving ourselves …
Soooo … how can we achieve this?
I actually don't believe contemporarily it IS possible unless you are some rare alien species of human who is able to!
Like so many of us, I wasn't that person either!
And, that is why I have so much pleasure today to share with you ANOTHER way, how I not ONLY forgave myself but also led others into Quantum self-forgiveness – allowing them to restart their lives in even more divine, abundant and flourishing ways than they ever dreamed possible too.
Video Transcript
Do you know what I think is the hardest thing about trying to forgive ourselves after a narcissistic relationship? It's this – we knew.
Our inner knowing was screaming at us that something was not right, that we were just losing even more time, money, love, effort, and health. We threw it down the drain in this relationship. And … experience showed us time and time again, no matter what we tried to do, that this ship was sinking and we were going to go down with it.
After ending your narcissistic relationship, it is very common to be left with destruction to your security, assets, connections with family and friends, and shattered emotions and health as well as all the other losses you have sustained as a result of being in a relationship with a narcissist. As you look at the rubble left lying at your feet it can be very easy to beat yourself up.
Naturally, at first, we are angered and devastated with what another has done to us. Yet, in the cold light of day, the person we are usually the most devastated with is ourselves. And the extent of regret can even be like this … I promise you I have met so many who went through incredible bouts of willpower staying away and even starting to rebuild their life, where things may have been salvaged for them, who then caved in all over again, and went back to the narcissist who then was in position to really do a big number on them and decimate their life completely. Such as those, who years later, went back, combined assets and remarried the narcissist only to lose everything again.
Can you imagine how hard it is for these people to forgive themselves? Maybe, you, watching this have done a similar thing. I'd love to hear from you if you have … I did it. There were many times in the relationship if I had kept away I wouldn't have suffered the losses I did. If that's you, pause this video, scroll down and share your experience. And are you rebuilding and healing yet?
Forgiveness is one of those things, that I really believe unless we Go Quantum is virtually impossible to do! How can we get past the haunting obsessional thoughts of:  How could I have been so stupid? How could I have let this go on so long and get so bad! Or, I have ruined not just my life but also my children's lives. It's so true the narcissistic abuse situation we went through affects everyone. It brings devastation to every part of our lives and the people in it, especially the people who love us, who no matter what they did couldn't help us.
How can we let go of these terrible recriminations and regrets of our choices in the past?
From what I have seen there is only one way – radical forgiveness – which is an incredibly Quantum concept, and it applies to not just others, but also ourselves and all of the processes of Life that have brought us to this point.
Radical forgiveness means transcending some surface level meaning of forgiveness and instead going to the soul Quantum Truth – a place where science and spirit meet. This takes us to the higher level of understanding – there is nothing that occurs that is wrong, imperfect or happening to us rather than for us. And … God is present in everything and everywhere no matter how it appears.
 You see, as soon as we judge something as wrong, we are immediately in resistance to it. We are in that computer game at this level – hiding out in the deep dungeon, while the world above us is being blown to shreds, and we are refusing to find the code to break out of the dungeon and start to restore order again.
And, because we aren't finding the healing and the resolution to our calamity right now, we can't master this level and then continue on into the next one, where we will be awarded immortality and super-powers. We are stuck.
If this WAS all happening for a reason, to ultimately free us to the next level of our evolution and life, wouldn't it be better to find the code? I know that this is a lot easier said than done, yet the longer we stay resenting Life, the narcissist, and our own choices, the longer we are in that dark dungeon with no hope of daylight.
Personally, I know I never would have got out of my emotional and mental dungeon if it wasn't for accepting this: 'If there is a reason for this that is 'for' me, I want to do everything I can to discover it.'
And discover it I did. I found and embraced that the life I was having with the narcissist was as delusional as I eventually accepted he was. I wasn't happy. I was constantly handing over power. I was always uneasy and violated and replaying old patterns and tapes of not being valid, valued and loved healthily – and trying to fix someone else so I could be. It was a false dependent, precarious life of me trying to get myself from the outside in, which was unconscious.
Why this had gone to such a terrible almost fatal level was because I hadn't woken up, even though my inner being couldn't have been screaming any louder. I was chronically self-avoiding and self-abandoning whilst trying to force someone else to love and value me – whilst not anchoring into doing that myself.
The most wonderful gift about narcissistic abuse Quantum Recovery is that we finally, finally stop trying to gain ourselves through things and others to become whole sources within – which is the only place from where all of life can flourish for ourselves and everyone we touch. That is the incredible gift.
Yet, I can almost hear you say, 'Melanie even if I accept that, why on earth did I have to lose so much, stay so long, give up my best years, lose all my resources and money and everything else that I used to have in my life?'
The answer is this: we take this lesson on with ourselves, the trip of grand unconsciousness, of holding others responsible for our own unhealed parts for as long as it takes to awaken. I personally had to lose everything and almost my life. Some people wake up long before that. Others don't wake up at all in this lifetime, and may take several lifetimes … but they always will one day. Because we are all going home to wholeness because there is actually no other destination to reach.
This is what I have seen, time and time again in the most terrible of narcissistic abuse loss situations, that the rebuild of people's lives has nothing to do with what they did or didn't lose, or even how bad their health became, or how old they were when they finally got away. It is truly to do with the radical forgiveness of themselves. Meaning coming to the realisation: my soul got this right! It did everything necessary in concert with my personality, the narcissist, and Life to bring me to my awakening.
When people do everything in their power to accept and align with that truth, the power of spiritual compensation is freaky. I have seen people rebuild and turn their lives around in the most spectacular ways you could imagine. Synchronicity, miracles and unlimited blessings are on their side, and there are no more powerful forces than those. None of this is a coincidence, because that is what Life is when we live as a True Self.
This can take all we have got to get there. When we are in the dungeon level with our world crumbling around us, we can be in the depths of despair and darkness because it is so unfair that we are set back so far. We may be so angry that the narcissist is skipping off into the sunset with all our goodies and their new love while we are devastated emotionally, practically and financially … and of course this is normal.
Yet, we have the Quantum tools available now to shift past these states, work with the Radical Forgiveness Code, heal ourselves beyond the levels we were operating at before and claim our true divinity.
Okay … so here is the Code – pure and simple.
Step 1: Reach deeply inside and release all the traumas blocking you from accepting your situation and what you went through (NARP Module 3 work is powerful for this).
Step 2: Set this goal and clear all resistance to it: 'My consciousness and freedom into my True Self function is the most valuable dream I could ever have' so that you start living life in THAT alignment. (Goal Setting Module in NARP will help you with this one).
Step 3: Is the letting go of all notions that 'I am only loved and valuable if I have a, b or c or if I do a, b or c.' Make sure you include all the things you have lost that you think are conditions for your being adored as you right now. (You may wish to clear these 'conditional love' attachment wounds with Module 1 or the Goal Setting Module in NARP).
Then … truly when you start becoming the miracle of feeling and generating life from the relief of the previous 'non-forgivness of self' trauma and, when you begin your Life as a True Self Being … just see what comes to bless you!
Again its no coincidence – because this is simply more of the blessing that you have already become.
Ok, so let me lead you straight to Radical Forgiveness! By connecting to my free resources, I promise you won't miss True Forgiveness because the Thriver Way to heal is all about it! You can start to get relief about all of this today, by signing up to my free 16-day recovery course, which includes an invitation to a healing workshop with me, a set of eBooks and so much more.
And, if you want to see more videos make sure you like and subscribe so you get notified as soon as each new video is released.
So until next time… keep smiling, keep healing and keep thriving because there's nothing else to do
The following two tabs change content below.

Melanie Tonia Evans
is an international narcissistic abuse recovery expert. She is an author, radio host, and founder of Quanta Freedom Healing and The Narcissistic Abuse Recovery Program. Melanie's healing and teaching methods have liberated thousands of people from the effects of narcissistic abuse world-wide.

Latest posts by Melanie Tonia Evans (see all)