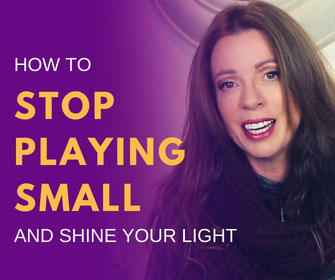 Have you ever had the feeling that you are invisible?
Or … maybe deep inside you feel like you need to be.
I know that sooooo many of us during and after (and possibly even way before) narcissistic abuse felt like this …
If I stick my head out and BE myself it's just NOT worth it because I could be critiqued, invalidated, rejected or ridiculed.
And, for many of us, the scared feelings of 'being out there as ourselves' were even more terrifying. Because really they equated to feeling like we could be literally annihilated.
100%, as a result of being in a narcissistic relationship, we were diminished horrifically … and the truth was many of us already had a startling predisposition to squashing our True Selves even before this happened.
That is exactly what today's The Thriver's Life episode is all about – what this has meant to our lives, why it is so vital for us as Thrivers to free ourselves from this bondage, and precisely HOW we can achieve our inner and outer freedom.
Video Transcript
Welcome to the Thriver's Life series … the creation of your highest and best life after narcissistic abuse.
Today's topic is one of my favourites, because this is one which has plagued me greatly, so much so that I've needed to do a lot of work around it – namely the fear of shining my Light and playing Large in life.
I adore the beloved Marianne Williamson's quote, which many of you will be familiar with:
'Our deepest fear is not that we are inadequate. Our deepest fear is that we are powerful beyond measure. It is our light, not our darkness that most frightens us. We ask ourselves, 'Who am I to be brilliant, gorgeous, talented, fabulous?' Actually, who are you not to be? You are a child of God. Your playing small does not serve the world. There is nothing enlightened about shrinking so that other people won't feel insecure around you. We are all meant to shine, as children do. We were born to make manifest the glory of God that is within us. It's not just in some of us; it's in everyone. And as we let our own light shine, we unconsciously give other people permission to do the same. As we are liberated from our own fear, our presence automatically liberates others.'
Why Do We Have a Fear of Shining Our Light?
And she is so right, but this is NOT what we were taught. Through admonishment and being told 'children are seen and not heard' or even being punished for expressing our unique selves, so many people in my generation are naturally repressed. We are terrified about fully being ourselves. This differs from many children of today who were raised with greater opportunities and encouragement of self-expression.
And … not to take anything away from men who were also dimmed down, in regard to my sisters there is an enormous female collective wound of 'playing small'. In so many women's DNA is a terror about speaking out, having her own dreams and rights, and being in her power. Centuries ago women were burned at the stake by the millions for being women expressing their womanhood. And it's only less than 150 years ago that the suffragette movement was orchestrated by incredibly brave women, who against all odds, started to allow women to have rights in the developed modern world. Tragically, in many parts of the world, this is still not the case.
As Thrivers, regardless of if we are male or female, this part of the puzzle is essential – being ourselves, shining our light and playing our Life out loud in a big way.
How else can we connect to our dharmas? How else are we going to be a soul fully expressed as Source flowing through us as us? Will we be able to actualise our missions and make this world a better place by revolutionising relationships and systems, if we hide out, tuck ourselves away and dim down?
No!
Are we able to be fully happy without living as our True Self?
No!
And, this is why this The Thriver's Life episode is so important, because most of us who were narcissistically abused already had a predisposition to hand our power away, dim down, walk on broken glass and keep ourselves 'small' so as not to put other people's noses out of joint.
Many people believe that narcissists went after us for our light. Yes, that was true, but they also could only target us if we were not fully and powerfully anchored in it. And even though we were giving and capable people, who had a lot to offer people, we were still precariously stuck in the beliefs that other people were bigger, stronger and more capable than us. We were not healthily partnered in our own power and light, and it was the smaller, broken, terrified to stand fully in the light places within us that subconsciously decided: 'You narcissist are my Source of self and I need to do all I can to retain you so that you can love me and keep me safe.'
Until we become a True Source to Self, False Sources can be very alluring – it's like the glitter that wasn't the gold.
Additionally, many of us have literally come from epigenetic wounds or past life embedded traumas in our energy fields, in regards to having to go underground literally or cloak our true identities, because if we were discovered for who we really were, we would be eliminated. Maybe we were the wrong race, or religion, or held beliefs against the system that deemed us as heretics.
So, was it any wonder, that when the narcissist grandstanded, took center stage and demanded that all and sundry gravitate around him or her (or be punished) that we stayed and acquiesced. We weren't free to express our dreams and missions. We lost ourselves, our resources and health that was needed for these dreams and missions, as we let the narcissist siphon all of that out in our attempt to survive.
So within, so without – we replay in our subsequent lifetimes and evolution the composition of our emotional energy fields. If all of this was previously familiar to ourselves and/or our ancestors, we can be highly susceptible to living the same again – until we go inside and release and reprogram these traumas.
Freeing Our True Selves
After recovery from narcissistic abuse, not only do we need to heal the deep traumas and fractures that narcissistic abuse activates within us, we also need to find a way, going forward, to be our Truest Selves, so that we vibrate in a Universe where False Selves are as repelled by us as a vampire is by a bright spotlight. And the greatest way that we ever achieve this is by freeing and then no longer dimming down and hiding our True Selves away.
Let me share with you my terrors regarding this topic, which I know is so many of yours as well.
I certainly believed if I exposed who I was that I would be targeted, torn down (even annihilated) or people would abandon me, compete with me or invalidate me (which is painful). So … as a result of this, I wouldn't let people know how I really was. I felt, 'What is the point?'
Additionally, I also strongly believed 'Men can not tolerate capable and powerful women. You MUST dim down to have a man because you can't have a man and your mission.'
(I know many many women in the community have struggled with this one also!)
Fortunately, totally expressing who I am, is something that I have been able to do in this community, and I have healed my beliefs at that level. I also have healthy beliefs that men can accept accomplished women as their partners – that definitely no longer plagues me. However, I 100% know that I still have work to do on my close intimate relationships in regard to 'who I am'.
Can a love partner fully share in and be interested in what I do and my mission? Also, if you were to meet me out socially – still to this day – I can struggle with expressing who I am and what I do. I am much more likely to ask other people about their lives and have conversations centered around that, and personally fade into the background.
Yes, I know I am doing my mission enmasse through MTE, but really isn't there countless other people I could be touching and inspiring in everyday life as well? Don't people come together in the most random ways for a reason?
And, as I am creating thus episode for you – right now – I know I have still more work to do around this topic. Much more in fact.
Okay, so let's all together now look at the beliefs that need work and shifting to fully claim and be our Light – for self, others and our planet. I fully suggest working with the Goal Setting Module in NARP, or with your Empowered Self Course Module Work with the following inner work.
My suggestion is to start by clearing all the resistance to these goals.
I am free and safe to be myself
As my True Self, I am bringing heaven onto earth, for the greatest divinity for myself and others.
As my True Self, I am heard, seen and met healthily in abundance.
As my True Self, I unlock others and inspire them to be their True Selves also.
As my True Self, I am God Godding / Source Sourcing / Creation Creating (whatever works for you). This is the most correct and natural state for me to ever be.
Now let's look at the specific wounds that we may need to target to clear (and I suggest clearing everything that feels limiting).
If I am my True Self I will be abandoned / annihilated / rejected / invalidated / ignored / punished (However it feels to you).
That specific inner work will help you so much! And … this is what I find exciting – how awesome it is that in this day and age, we can be ourselves in so many ways. We can get our messages out, we can have our beliefs and we can express who we are. This is the Golden Age of powerfully being able to create change IF we throw off our shackles and really claim and express Who We Are.
So are we in? I am. In fact, I'm going to go do Empowered Self Quanta Freedom Healing shift work on this stuff as soon as I can!
Okay, I really do believe that this episode will resonate with many of you … it's a really big and important topic and I'd love you to share with me your thoughts and feelings about this.
And, I'm so excited to answer your comments and questions regarding this episode!
Remember, after narcissistic abuse recovery, gloriously we take it further!
Why?
Because we CAN!
Lots of love, bye bye.
(Visited 1 times, 15 visits today)
The following two tabs change content below.

Melanie Tonia Evans
is an international narcissistic abuse recovery expert. She is an author, radio host, and founder of Quanta Freedom Healing and The Narcissistic Abuse Recovery Program. Melanie's healing and teaching methods have liberated thousands of people from the effects of narcissistic abuse world-wide.

Latest posts by Melanie Tonia Evans (see all)